Icelandic helicopter tours are exhilarating – and natural wonders like Þórisjökull and the Highlands can be difficult to reach without significant hiking experience.
Hovering over them by air means enjoying their scale and beauty without any physical effort on your part!
But even for places you can get to more easily, helicopter tours in Iceland will let you appreciate the country's landscapes from a unique angle. And you won't need to deal with crowds at popular tourist sites.
If you're looking for the most epic Iceland helicopter tours, you're in the right place. We'll help you discover trips designed for adventure and sightseeing… and you might just get some great pics for your Insta.
What kind of helicopter tours can you take?
Several companies operate helicopter tours in Iceland, including Norðurflug, TourismIceland and Safari Quads. Some run excursions year-round, while others only run tours in the summer.
While some tours offer hotel pick-ups, in other cases you'll need to make your way to the departure point.
Many Iceland helicopter tours are sightseeing-oriented, but some will include activities like mountain landings.
You can fly over Reykjavík and its surroundings, along with visiting more famous spots – including some of the iconic Game of Thrones locations.
The 6 best helicopter tours to take in Iceland
1. Soar over the Askja Highlands and surroundings
Iceland's north is off the tourist trail, and is a proper hidden wonder. This helicopter tour takes you over the Askja volcano crater and the Goðafoss waterfall – and you'll also get to see the stunningly remote Highlands.
In addition to the flying, you'll stop at the Herðubreiðarlindir oasis, a location so remote that a fugitive hid there for a full winter in the 17th century.
From around $700 per person.
2. See Reykjavik from the sky
This cheaper city tour, which covers Reykjavík and its surroundings, runs in the morning and afternoon.
If the weather's good your guide will land on Mount Esja – from where you can view the entire downtown area of Reykjavík and pose for pictures.
The helicopter takes off from the small domestic Reykjavík Airport in the centre of the city. Note that this is different from Keflavík International Airport; the airport code is REY, and it's a 20–30-minute walk from the city centre.
From around $250 per person.
3. Explore Game of Thrones locations by chopper
A lot of filming for the iconic Game of Thrones TV show took place in Iceland, and you can replay its theme tune in your head while flying over some of the show's spectacular locations.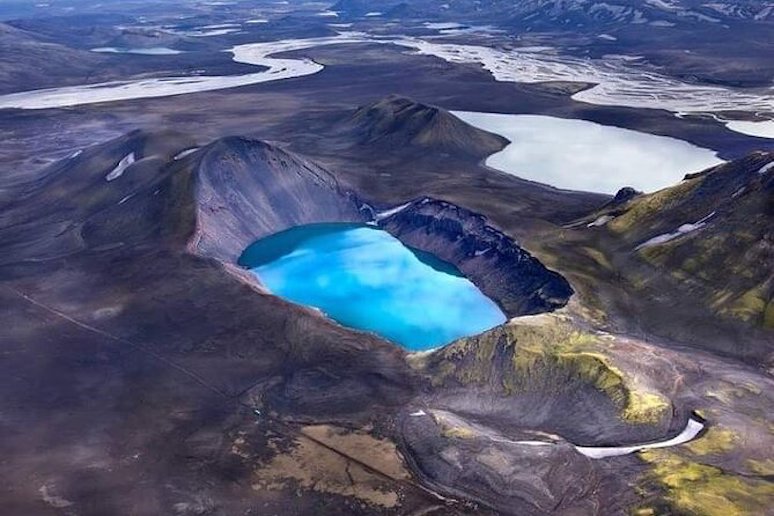 This nature-focused trip takes in some of Iceland's most famous natural wonders, including Lake Myvatn and Goðafoss and Dettifoss – the latter of which is Europe's most powerful waterfall.
From around $600 per person.
4. Get your thrills by quad bike and helicopter
For double the thrills, why not try this combination of quad biking and helicopter tour? First of all, you'll go quad-biking round Lake Hafravatn and head up Reykjavik Peak for great views over the city.
Then – for even better views – the helicopter ride will soar over Reykjavik and its surrounding mountains, coastline and volcanic landscapes.
From around $400 per person.
5. Land on the summit of Mount Esja by helicopter
This truly epic tour gives great views of the iconic Hallgrímskirkja church and downtown Reyjavík's cute houses from a new angle.
You'll also see structures like the Harpa Concert Hall and Viðey island – home to a memorial dedicated to John Lennon – from the air, before landing on the top of Mount Esja.
The helicopter tour lasts for around 35 minutes and departs from Reykjavík Domestic Airport.
From around $270 per person.
6. Touch down on a volcano (and a glacier too!)
Spend around two hours marvelling at Iceland's landscapes from the air and landing on a volcano AND a glacier with this mega tour.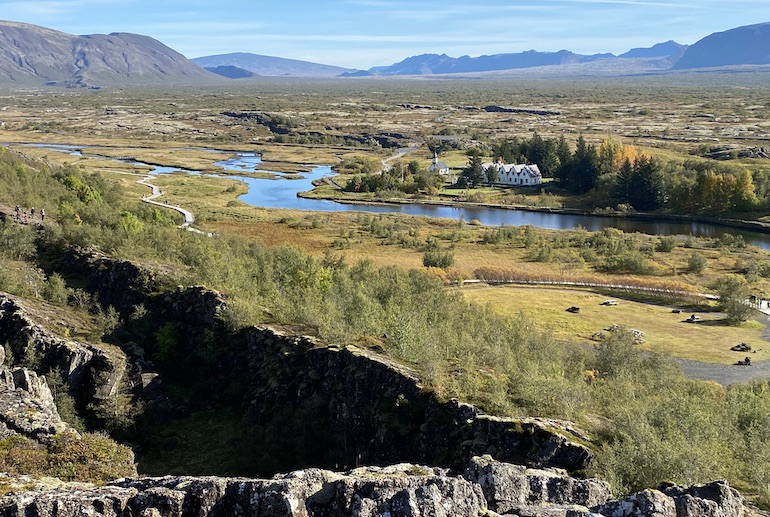 You'll fly over Þingvellir National Park, part of the Golden Circle and where Iceland declared independence from Denmark in 1944.
First you'll land on the Þórisjökull Glacier, then on Hengill, a volcano with mud pots and other forms of geothermal activity.
From around $1300 per person.
Choosing the right helicopter tour
Helicopter tours in Iceland typically start at around $250 per person for a quick 25-minute trip, but can be as much as $1,300 per person for longer tours.
The cheapest helicopter tours in Iceland fly over Reykjavík and cost just over $250 per person (this is the cheapest one we've found).
However, bear in mind that Iceland is generally an expensive country – so it's worth spending that extra money if you find a tour that piques your interest.
Remember that Iceland's weather is notoriously fickle; even in the summer, you might encounter storms and have to change your plans.
You can reschedule if the tour operator thinks it's too dangerous to fly. And if you can't make the rearranged trip, you'll usually get a full refund.
Top tip: Many tours are actually the same price for couples as they are for solo travellers (presumably because it costs a LOT to get a helicopter up in the air). So if you're travelling alone, it's worth looking for someone to share the cost with. Tour companies can usually help to pair you up with another traveller.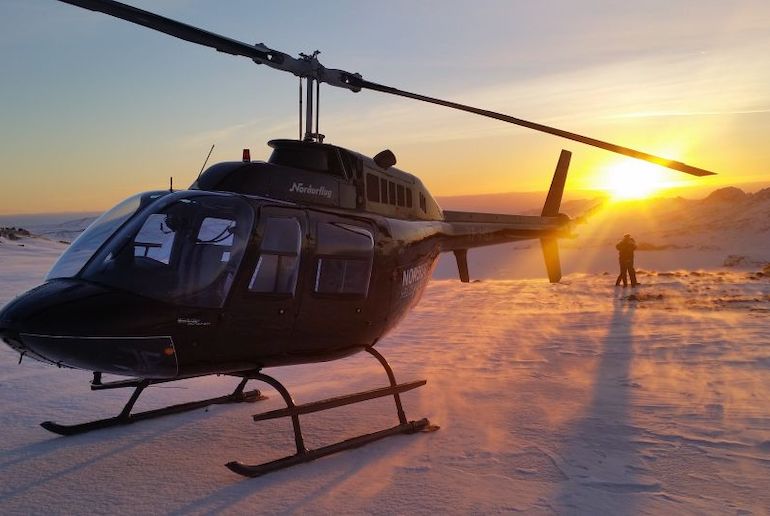 When looking for operators, choose tours with professional pilots and good reviews. Tour booking sites like Viator recognise companies that go above and beyond, and these are the safest options.
For each tour, you can prepare by ensuring you have enough food and drink. Most helicopter tours in Iceland don't include these in the price.
Moreover, ensure your travel arrangements are in place if your tour doesn't include a hotel pick-up. For example, you can check Reykjavík's bus schedule to get to the airport on time if you don't want to walk.
Staying safe on a helicopter tour in Iceland
Make sure you bring warm clothing, including a hat and gloves. If your tour includes a landing, sturdy shoes are also a good idea.
Below is a useful checklist to follow:
Follow the safety instructions provided by the tour operator and the pilot
Be mindful of weight limits and baggage restrictions
Inform the tour operator of any medical conditions or physical limitations before booking the tour
Bring your phone to capture the epic scenery!
Respect the environment and local communities by following the tour guide's instructions
Stay hydrated and bring snacks or other refreshments if necessary
Enjoy the experience and take in the breathtaking views and landscapes of Iceland.
Why we think helicopter tours are worth the money
Whether you're an adventurer or photographer, helicopter tours in Iceland are a once-in-a-lifetime experience.
You can take in some of the world's most beautiful scenery without needing to hike, and tours are typically smaller than many land-based options.
Taking an Icelandic helicopter tour will allow you to enjoy the country's beautiful landscape from a completely new angle – but of course, you'll need to fork out a lot to be able to join.
See also:
The best snowmobile tours in Iceland
The best ice climbing tours in Iceland
Whale watching in Iceland