Iceland may not seem like the most obvious choice for a honeymoon, but if you like luxury hotels, spectacular scenery, and a beautiful away-from-it-all location, it could be the place for you.
And let's face it: what could be more romantic than cosying up in a warm outdoor hot tub gazing up at the stars above in the night sky with the one you love?
Is Iceland good for honeymoons?
Well, that depends a bit on what you want. If lying on a beach drinking cocktails is your thing, then no, Iceland is not really the right place for you.
But if you like going for long windy walks, before holing up in front of a roaring fire in the evening with your new husband or wife, Iceland is a great choice.
And if you go in the midst of winter, you get only four hours of daylight each day, so you don't need to feel guilty about staying in bed late!
What's more, if you're visiting Iceland between October and March, you've got a good chance of seeing the colourful aurora borealis in the skies above – what could be more romantic than that?
Where to stay on a honeymoon in Iceland
With its smart restaurants and good range of upmarket accommodation options, Reykjavik is the obvious place to base yourself during your Iceland honeymoon.
It has some excellent hotels with all the smart facilities, such as the historic Art Deco Hotel Borg, the city's first luxury hotel, with a spa and wellness centre.
If you prefer something a little more low-key, there are also plenty of stylish boutique-style guesthouses, such as the comfortable Kvosin Hotel, where all the rooms have fridges and cooking facilities – so you don't have to leave your room if you don't want to.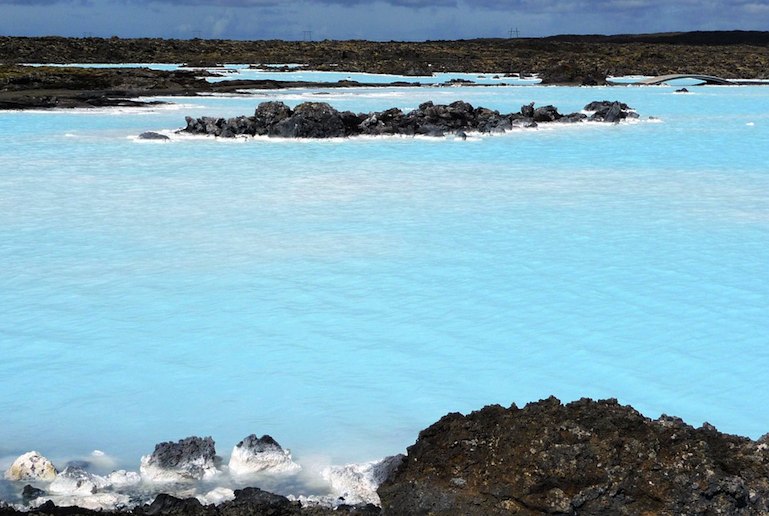 And if you are up for a bit of sight-seeing, many of the country's main attractions are within easy reach of the capital.
From Reykjavik, you can do day-trips to the iconic Blue Lagoon, or head out to sea on a whale-watching boat trip. See this guide for some more suggestions for day-trips from Reykjavik.
Best places to honeymoon in Iceland
If you'd prefer to stay somewhere off-the-beaten-track, then the north and the east of the island may appeal more.
Iceland's beautiful north coast is laced with indented fjords and pretty fishing villages, while the dramatic rural landscape is dotted with waterfalls, thermal hot pots, glacial valleys and snow-capped mountains.
It's quieter than the southwest of Iceland, and there are plenty of romantic places to stay where you can hole up for a few nights and be completely on your own, such as this cosy cabin on a sheep farm with beautiful views over the sea and snow-capped mountains.
The eastern part of Iceland is even less-populated and more remote still. It may not be a classic honeymoon destination, but if you like exploring rugged volcanic landscapes, walking on glaciers, and hiking through wild unpopulated national parks, then it could be a region to consider.
Is Iceland expensive for a honeymoon?
Well, Iceland is expensive is full-stop.
But then, honeymoons are rarely cheap too, and if you're going to splash out on a once-in-a-lifetime experience, Iceland is probably no more expensive any other upmarket honeymoon destination.
If you want to book up several tours and experiences, such as snow-mobile trips or ice-caving, and eat in the top gourmet restaurants then yes, you will spend a lot.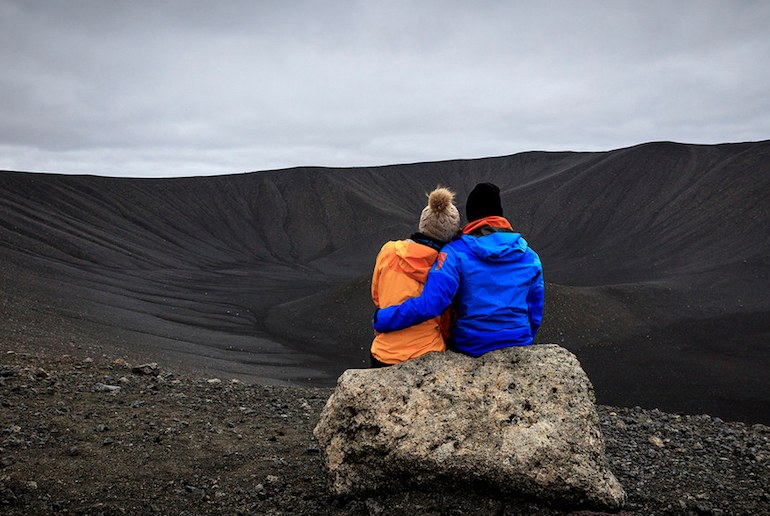 But it can be just as romantic to stay in a basic cabin – Airbnb has plenty of great choices: see here for some of our favourites – and go hiking or swim in remote geothermal outdoor pools. Don't forget that the spectacular nature and views are free – and Iceland has plenty of both.
Hiring a car and petrol costs are similar to those in western Europe, so you can access all that lovely scenery without breaking the bank.
The most romantic honeymoon resorts in Iceland
Iceland has plenty of romantic resorts, with hot-and-cold-running-luxuries, where the views are spectacular, and you'll be pampered to within an inch of your life. They're not cheap, of course, but a splurge at any one of the following will be certainly be memorable experience. After all, it is your honeymoon!
Eco-friendly luxury retreat
The beautiful grass-roofed cabins at the Torfhús Retreat are built from local materials and blend into the landscape, with rustic furniture made from reclaimed oak.
The resort may have strict environmental credentials, but there is no lack of luxurious touches too – the individual cabins have their own private outdoor geothermically heated basalt stone hot tubs, and the fine-dining restaurant serves upmarket cuisine, made from local ingredients.
Star-gazing and northern lights
What could be more romantic than star-gazing or watching the northern lights in the dark skies?
Well, the Rangá Hotel has its own observatory, equipped with powerful telescopes – and staff will wake you up when the northern lights appear during the night (only if you want them to, of course!).
It's in a remote location looking out over the Rangá river (famed for its salmon fishing), so there's no light pollution to spoil the views.
Views, views and more views
As its name suggests, it's all about the views at the 360 Boutique Hotel, where the luxury rooms have great vistas over the rural landscape, woods, rivers and snow-capped mountains. There's even a fantastic panorama from the geothermal pool.
The hotel can organize all sorts of activities, such as horse-riding, bird-watching, dog-sledding, volcano hiking and jeep tours – or you can simply sit on your terrace, sip a glass of bubbly and drink in those fantastic views.
See also:
Getting from Keflavík Airport to Reykjavík city centre
Alternatives to the Blue Lagoon in Iceland
The best boat tours and cruises from Reykjavik
Day tours from Reykjavik
Like what you've been reading? Get our best tips by email!