Whether you're looking for a city centre apartment or a remote cottage in the wilderness, Iceland has some amazing Airbnbs to rent.
Farmstays, cabins on the beach and heavenly hot tub hideaways with jaw-dropping views can all be found in this spectacular land of ice and snow. Have a look at some of our favourite finds as we check out 10 of the best Airbnbs in Iceland.
New to Airbnb? Get $40 off your first stay by signing up here!
This amazing architect-designed apartment
Near Akureyri
This stylish apartment is part of a wood-clad architect-designed villa, where the huge picture windows frame stunning views over the bay and the surrounding countryside.
Just outside Akureyri on Iceland's north coast, it's a glamorous space, yet warm and cosy with great access to nearby natural attractions including waterfalls, fjords, mountains and the local town.
This private villa with epic views
Akureyri
Huge floor-to-ceiling windows give this house on a hillside the best views over the Eyjafjordur fjord and the snow-capped mountains beyond. It's surrounded by fields, making it feel wonderfully remote.
Stylish and modern, it has three bedrooms, so is perfect for a family – and comes with its own private hot tub on the deck to really make the most of those views.
This cabin by the beach
Vik
This cosy cabin on a farm is just a ten-minute walk from a black sand beach. Close to some dramatic basalt columns, its remote south coast location makes it a great place to hole up away from the crowds.
With no light pollution nearby, there's also a good chance of getting some great views of the northern lights in winter.
This unusual eco-cottage
Laugarvatn
This unusual eco-cottage with a pyramid-shaped roof sits on a lava field and is heated by geothermal underfloor heating.
Surrounded by moss-covered lava and fields, it's just a short drive from some of Iceland's most famous natural sights including the dramatic scalding water Geysir and the powerful Gulfoss waterfall.
The house itself is light, airy and modern with a large deck where you can sit and gaze across the surrounding countryside to the mountains. There's also a hot tub in the garden, heated by local hot springs.
This cosy Icelandic-style cottage
Near Búðardalur
For a real off-the-beaten track experience, this cosy cottage is ideal for those seeking peace, quiet and solitude. Your only neighbours during a stay here may well be horses, sheep and the odd Arctic fox.
The cottage is decorated in traditional Icelandic style with a cosy wood-burner to hole up in front of after a day of hiking along ancient sheep trails and exploring the surrounding mountains, valleys and fjords.
This pad with a roof-top hot tub
Reykjavik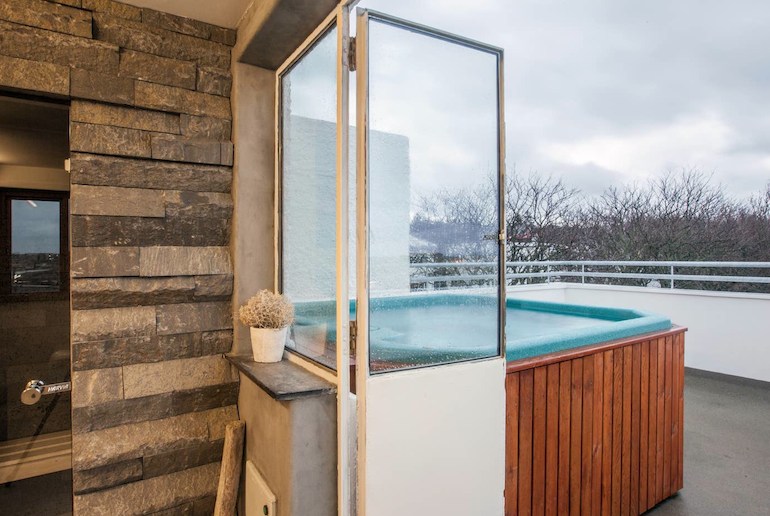 You don't have to be in the middle of nowhere to get great views from your accommodation. This 1930s' building with five rooms is close to the centre of Reykjavik, about 5 minutes' walk from the city's distinctive Hallgrímskirkja cathedral.
But, it's the roof-top spa and sauna that makes it really stand out. What could be better after a hard day's sightseeing than to relax in the hot tub and look out over the lights of the city?
This woodland retreat
Sléttuhlíð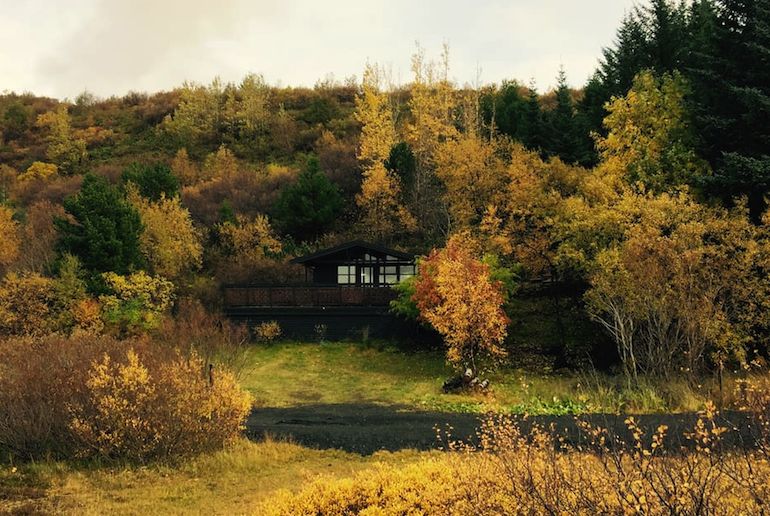 This lovely wooden cabin in the Sléttuhlíð nature reserve feels like it's in the middle of nowhere, but is really just a 20-minute drive from the centre of Reykjavik.
Its remote location makes it a great place for hiking, riding the local Icelandic ponies and just chilling on the deck looking out for the northern lights.
This fantastic farmstay
Grundarfjörður
Small but perfectly-formed, this pair of cabins sits on a farm in the shadow of the towering Kirkjufell mountain with amazing views over to the beach.
Ideal for a romantic weekend escape on the beautiful Snæfellsnes Peninsula, they make a great base to explore Iceland's west coast – if you can drag yourself away from the views on the terrace.
This remote outpost with glacier views
Hvolsvöllur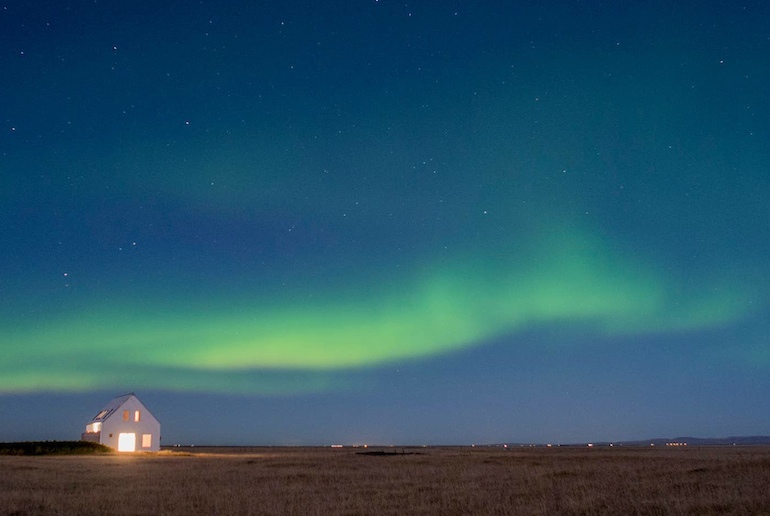 You can't get much more isolated than this modern minimalist villa which stands alone on a prairie with views over the Eyjafjallajökull glacier, Drífandi waterfall and out to sea to the Vestmannaeyjar islands.
It may be remote, but this contemporary house is warm and cosy and comes with all the mod cons you need.
But of course, it's the views that make it so special. Every room in this light and airy house has large picture windows to maximise the vista – even the bathroom has a floor-to-ceiling window looking out over the surrounding grasslands.
So you won't miss out on seeing the northern lights – even if you're in the shower!
This mountain lodge
Grundarfjörður
This traditional wooden lodge sits at the foot of a mountain on the Snæfellsnes peninsula. It's a perfect spot for hiking or looking out for dolphins and whales in the nearby fjords in winter.
In summer, you can settled down on the large wooden balcony, fire up the barbecue and admire the views – or just chill out in the hot tub in the garden.
New to Airbnb? Get $40 off your first stay by signing up here!
See also:
10 of the coolest Airbnbs in Scandinavia