Yes, it's true that Iceland is a pricey place to visit – and its capital city Reykjavík is no different. But it is possible to have a great time in this city on a budget, if you know where to go and what to do.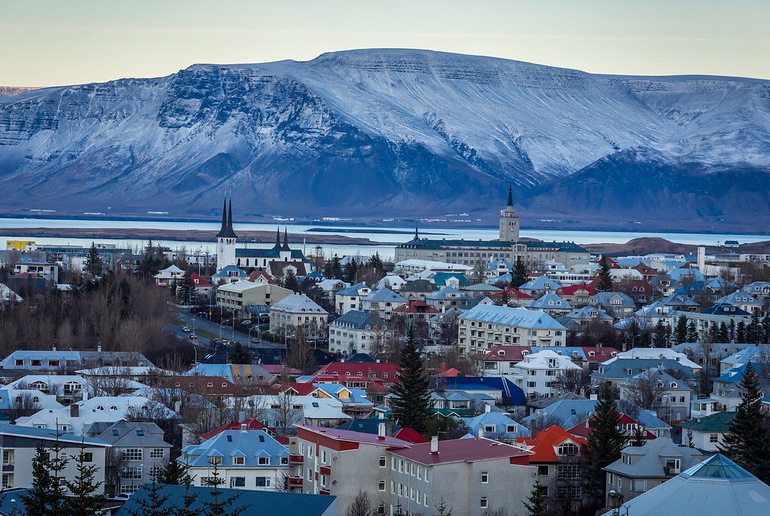 We've sussed out a load of free and cheap things to do in Reykjavík, from bathing in hot pools, watching for whales to indulging in some of the city's famous, raucous nightlife. Ready to get exploring? Then check out our guide to the 40 best free and cheap things to do in Reykjavík.
Sights and attractions
Museums and galleries
Walks and bike rides
Tours and trips
Parks and nature
Fun and entertainment
Viewpoints and lookouts
Health and fitness
Shopping
Eating and drinking
Things to do with kids
Sights and attractions
1) Visit the soaring Hallgrímskirkja, Iceland's largest church. It's free to look around the stark gothic-style interior of this imposing modern cathedral – check out the stained-glass panels and the vast 15m-high organ. The views from the top of its 73m-high tower are stunning, but it costs 1000 ISK to go up.
2) Check out the contemporary Harpa concert hall. Home to the Icelandic opera company and symphony orchestra, this music venue also hosts big-name international classical concerts plus shows by the likes of Pattie Smith, Elvis Costello and Eddie Izzard.
Designed by Danish-Icelandic artist Olafur Eliasson, the building is free to visit and has great views of the city from its 714 huge glass windows.
3) Watch one of Europe's oldest parliaments in action. On Austurvöllur square, the Alþingishúsið, home of the Icelandic parliament, is a simple grey basalt stone building dating from 1881. Anyone can visit its public gallery and watch the house proceedings (Mondays and Wednesdays from 3pm, Tuesdays from 1.30pm & Thursdays from 10.30am).
4) Look round the Dómkirkjan. In contrast to the striking contemporary Hallgrímskirkja, Reykjavík's old cathedral is a more modest neo-classical building. It's free to look round the beautiful interior, with its white walls, arched windows and ornate altarpiece.
Museums and galleries
5) Check out the artworks at the Living Art Museum. This gallery in Grandi puts on interesting exhibitions of contemporary art, photography and performance art that are free to visit.
6) Pogo with the punks. Opened by Johnny Rotten, the tiny Icelandic Punk Museum is a treasure trove of punk memorabilia. Housed in a former public toilet, it traces the history of punk in Iceland from Björk and The Sugarcubes to visiting international big-name punk bands. Admission is 1200 ISK.
7) Explore the Icelandic Phallological Museum. OK so it's not free, but it is cheap – and who could resist a peak into the world's only penis museum with its intriguing collection of more than 200 phalluses from polar bears, seals and whales to humans? Admission is 1700 ISK.
8) Be an Icelandic culture vulture. The National Gallery of Iceland's art collection is spread over four sites, with paintings, sculptures and textiles by highly-acclaimed Icelandic artists, including Erró, plus works by well-known international artists such as Munch and Picasso.
The 2000 ISK admission fee includes entrance to three other museums: the Culture House; the Sigurjón Ólafsson Museum; and the Ásgrímur Jónsson Collection.
Walks and bike rides
9) Take a sculpture tour. Reykjavík is known for its many sculptures dotted around the town. One of most striking is Jón Gunnar Árnason's Sun Voyager, a gleaming steel artwork that resembles a Viking long-ship and sits right beside the sea in the city centre.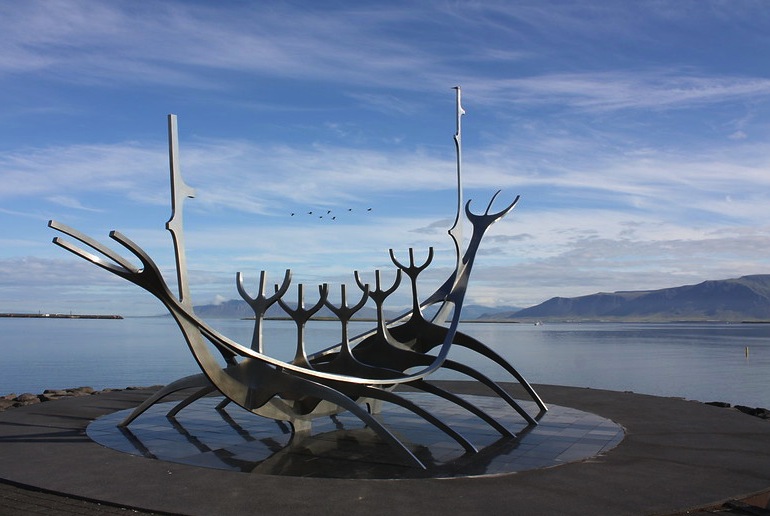 10) Walk or cycle along the seafront promenade. A path runs along the coastline from the ultra-modern Harpa concert hall to the Laugarnes peninsula, where the remains of a Viking settlement have been discovered – giving great views of the views of the Kollafjörður en-route.
11) Visit the Grótta Lighthouse. It's a lovely 5km walk out along the shoreline from the centre of Reykjavík to the white-washed Grótta Lighthouse, at the end of the Seltjarnarnes Peninsula.
12) For the best views of the city, climb Mount Esja. You can get a public bus from the city centre to the trailhead where clearly marked paths lead up to the summit for wonderful views over the city and sea. Bring a picnic and make a day of it.
Tours and trips
13) Go on a walking tour. This two-hour guided walk takes you round the main city sights including the Hallgrímskikja, the Alþingishúsið and the Harpa concert hall. The English-speaking guides give you the low-down on everything from Icelandic food, culture and history to elves and nightlife. The tour is free – just pay what you think it's worth at the end.
14) Take a DIY street art tour. Reykjavík has a thriving street art and graffiti scene, with many of the city's buildings decorated with murals, artwork and wall poetry. Download this map and take a self-guided tour round some of the best artworks.
15) Take the ferry to Viðey. Cheaper than doing an organized boat trip, this half-hour ferry ride from the old harbour or Skarfabakki pier to the beautiful unspoilt island of Viðey costs just 1600 ISK return. A magnet for birdlife, the island is home to Yoko Ono's Peace Column and has plenty of hiking and cycle trails to explore.
Parks and nature
16) Go bird-watching at Tjornin. This large natural lake lies in the centre of Reykjavík, and is home to some 40 different species of bird. You can walk round the entire lake in about an hour, but watch out for the arctic terns, who like to dive-bomb passers-by.
17) Hang out in the Botanical Gardens. Home to rose and herb gardens, forest plants and a tree collection, the Botanical Gardens have a surprising variety of flora and make a great place to chill out in the Laugardalur district of the city.
Fun and entertainment
18) Go clubbing. Yes, surprisingly, entrance to night clubs in Reykjavík is usually free. Most of the city's bars and club are centred along the main street Laugavegur and an admission fee is rarely charged, so you can simply hop from club to bar to club all night. Don't expect mega clubs, but do expect a good time.
19) Listen to live music. The Dillon Whisky Bar on Laugavegur puts on live music and DJ sets three or four evenings a week – entrance is free.
20) Check out the Sunday sessions at the Harpa Music Hall. On some Sundays, the hall hosts concerts by local up-and-coming artists and musicians at 4pm or 8pm. Some concerts are free, others cost 3500 ISK: check the website to see when the free concerts are.
21) Join the Reykjavík rúntur. On Friday and Saturday nights, the streets around Laugavegur are filled with lively locals on a weekly bar crawl that lasts til the early hours of the morning.
22) Get some great craic. You always rely on an Irish pub to provide good live music, and the Drunk Rabbit on Austurstræti is no different. For the price of a pint of Guinness, or a Viking beer, you can listen to live music nightly – and happy hour runs from midday to 7pm.
Viewpoints and lookouts
23) Climb the Þúfa (pronounced "th-oo-fha". Take the spiral path up to the top of a hill to see the Þúfa artwork, a wooden fish-drying shed, designed by artist Ólöf Nordal. From the top of this dome-shaped hill in the trendy Grandi district, you get good views over the mountains surrounding the city and Faxaflói Bay.
24) Go whale-watching. Yes, it is possible to see these graceful sea mammals from land, most commonly in summer. Head to Eiðisgrandi Beach on the west of Reykjavik, where binoculars have been installed to help you spot passing whales and dolphins – with patience and luck you may well get a sighting.
If you want to be more sure of seeing them, there are plenty of boat trips, such as this three-hour whale-watching tour that leaves from Reykjavík old harbour: expect to pay around 11,000 ISK for a half-day trip.
25) Check out the Perlan observation deck. OK, so it costs 999 ISK (free for under 18s) to go up to the Perlan dome, but 360-degree panorama from here is pretty spectacular and stretches as far as the Snæfellsjökull glacier in the north and the Keilir Volcano in the south.
26) Climb up to the base of the Ingólfur Arnarson statue in Arnarhóll park for great views over the old town and the marina.
27) Look out for the northern lights. You can see the northern lights from just about anywhere in Reykjavík if the skies are clear – especially in winter. But you'll have better views where there's less light pollution, so head out along the coast to the edges of the city – the Grótta lighthouse (see above) is a popular spot for aurora-watching.
Health and fitness
28) Go swimming at the beach. Yes, even in winter you can bathe at the city's Nauthólsvík beach, where there's a geothermally-heated pool plus hot tubs and a sandy beach for sunbathing. Access is free in summer: in winter it costs 690 ISK to use the facilities.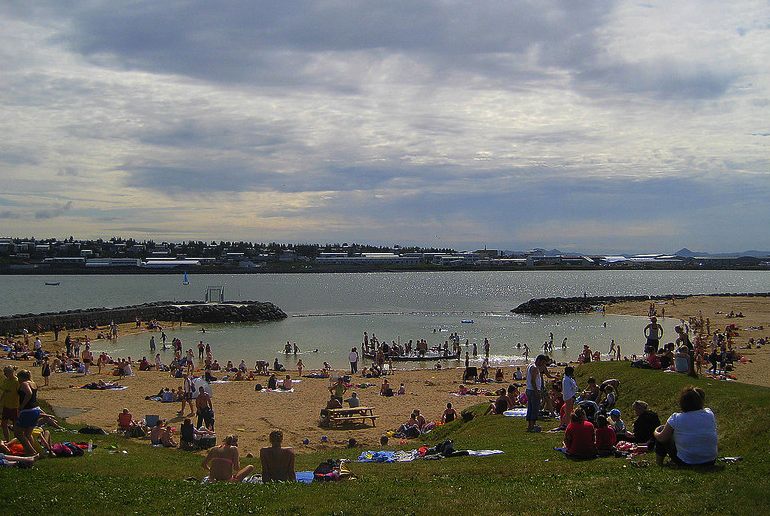 29) Chill out at the pool. The Laugardalslaug swimming complex has a great variety of watery facilities, including indoor, outdoor thermal and children's pools, hot tubs, cold tubs, sea tubs, waterslides, steam rooms and massage tubs. Entrance to the pools is free with the Reykjavík city card, or costs just 1030 ISK for adults (160 ISK for under 18s, free for over 67s).
30) Go ice-skating. Every year for the month of December, there's a free ice rink in Ingolfstorg Square. So grab your skates and take to the ice (you can rent skates here, if you haven't got your own!).
31) Go for a sight-seeing run. Check out this great 8km running route that takes in some of the city's best sights. Or do the 5km Laugardalur run, which you can finish off with a soak in the outdoor hot tubs.
32) Swim in a hot river. Just a 40 minute-drive from Reykjavík, you can swim for free in a beautiful river in Reykjadalur, or "steam valley", where mountain water mingles with hot spring water to create a wonderful warm bathing spot.
If you've got your own transport, you can park at the valley head, then it's an hour's hike through stunning countryside to the swimming spot. Alternatively, take a guided tour with all the transport included.
Shopping
33) Browse the stalls at the Kolaportið Flea Market. Fancy sampling fermented shark or fresh local liquorice? Every Saturday and Sunday, the stalls at this weekly market down by the harbourfront sell some unusual Icelandic delicacies, along with vintage clothing, bric-a-brac, second-hand books and the like.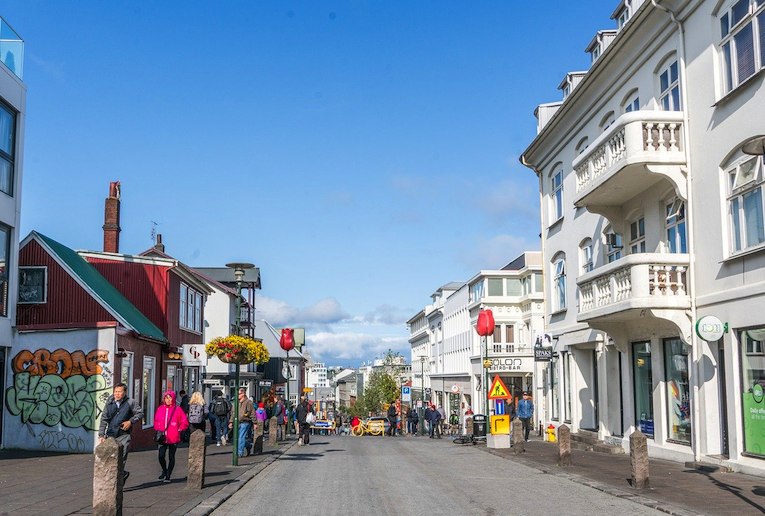 34) Window-shop along Laugavegur. Reykjavík's main shopping area is the semi-pedestrianized Laugavegur and its surrounding streets, where you can find some great quirky Icelandic designs. The shops may be on the pricey side, but you can have fun browsing the beautiful Icelandic jewellery at Aurum and fashion by local designers at Kiosk and KronKron.
Eating and drinking
35) Don't miss the famous Brauð & Co bakery. The branch at 16 Frakkastígur is worth a visit for its brightly coloured graffiti-clad walls alone, but once here you won't be able to resist popping in for a tasty home-baked cinnamon roll, warm from the oven.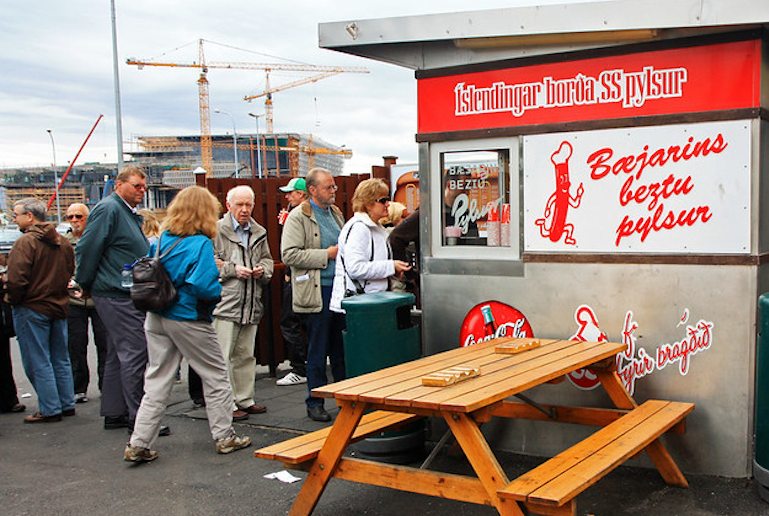 36) Have a hot dog. Queues form outside the long-established Bæjarins Beztu Pylsur (which translates as "the best hot dog in town") for traditional hot dogs made from Icelandic lamb sausages and served with onions, ketchup, mayonnaise and mustard. Expect to pay around 500 ISK.
37) For cheap eats, head to a food hall. Hlemmur Food Hall and Grandi Matholl bboth have a great selection of street food stalls, selling local and ethnic dishes at reasonable prices.
Kids
38) Go back in history at the Árbaer Open Air Museum. Kids will love exploring this recreated ancient Icelandic village with its turf-roofed cottages, working farm and animals, staff dressed in traditional clothes and play room complete with toys from the past. Admission for children is free: adults pay 1740 ISK.
39) Have fun at the zoo. Kids can pet and feed farm animals, and admire the native Icelandic animals such as seals and reindeer at the Reykjavík Family Park and Zoo. There are also plenty of playgrounds, with trampolines, zip wires and rides to keep kids amused. Admission is 920 ISK (or 700 ISK for under 13s; free for under 4s).
40) Hang out in the park. Hljómskálagarður garden has plenty of grass and open spaces for kids to run around in plus a playground with climbing frames and wooden animal sculptures. There are also picnic tables and barbecue facilities if you fancy eating al fresco.
See also:
The best boat tours and cruises from Reykjavík
10 of the best Airbnbs in Iceland