Sure, the names Greenland and Iceland are quite different – err, one says green and lush and the other doesn't – but actually they've got more in common than you might first think.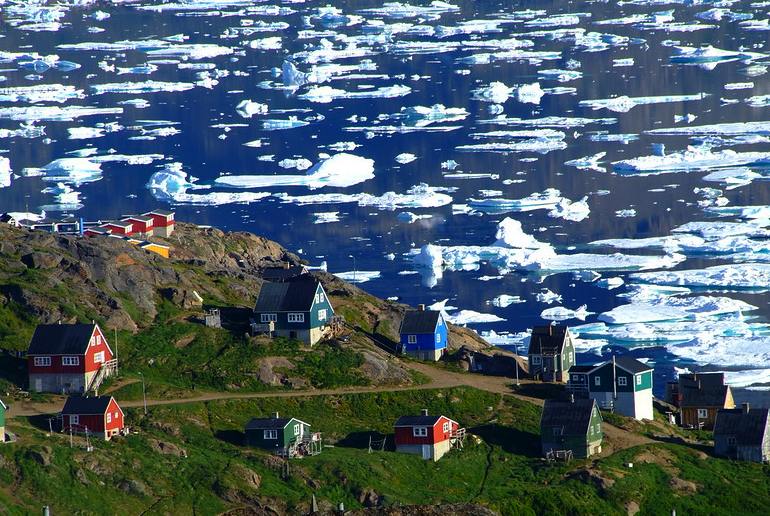 Both are islands with mountainous landscapes, glaciers, miles and miles of snowy wilderness – and rare Arctic wildlife. But which is best for a holiday: Iceland or Greenland?
Read our guide to help you sort out one country from the other, and decide which is best to visit.
Locations
Size and population
Weather and climate
The scenery
Nature and wildlife
Food and drink
Tours and activities
The northern lights
Places to stay
Getting around
Costs and prices
Our verdict
Quick comparison: Greenland vs Iceland
| | Greenland | Iceland |
| --- | --- | --- |
| Size | 2,000,000 sq km | 103,000 sq km |
| Population | 56,000 | 365,000 |
| Population Density | 0.14 people per sq km | 3.6 people per sq km |
| Climate | Arctic, Tundra | Subarctic, Oceanic |
| Summer Temperatures | Average 6°C | Average 10-15°C |
| Winter Temperatures | Average -18°C | Average 0°C |
Where are Iceland and Greenland?
So first of all, where are these two countries? And how do you get to them?
Where is Iceland?
Iceland sits in the Atlantic ocean to the west of Norway, north of the UK and to the east of Greenland and Canada.
Flight time from New York to Reykjavik is about 5hrs, 30 min, while from London it's about three hours.
And how do you get there?
Much more accessible than Greenland, Iceland is linked to major European and North American cities by its national carrier, Icelandair, as well as the Icelandic budget airline Play.
From the UK, British Airways and no-frills airline easyJet fly to Iceland, while several US and European airlines stop off at Reykjavik en route between the US and Europe.
Icelandair often offers free stopovers in Iceland on their transatlantic flights, so you get to see two countries in one trip.
Once you've landed, there are a good range of options for getting from Keflavik Airport to the centre of Reykjavik, including taxi or public bus, but the most popular choice is the Flybus shuttle that leaves 35-40 mins after each flight arrival.
For more on getting to Reykjavik city centre from the airport, see our guide.
Where is Greenland?
Greenland lies between the Arctic and the Atlantic oceans, with much of its landmass lying north of the Arctic Circle.
Its nearest land to the west is the Canadian Ellesmere Island, a mere 16 miles away, while to the east it's Iceland.
And how do you get there?
The only way to get to Greenland is by plane from Denmark or Iceland, or on a cruise ship by sea.
The main airport Kangerlussuaq is 320km northeast of the Greenlandic capital, Nuuk, and the only way to travel between the two is by air.
Air Greenland runs regular domestic flights between the two places.
However, both airports are renowned for delays as they are prone to fog and bad weather – it is not unknown for poor visibility to close both airports for several days at a time.
Air Greenland has regular flights from Copenhagen in Denmark to Kangerlussuaq, plus seasonal flights to Narsarsuaq in the south. It also has seasonal flights from Reykjavik in Iceland to Nuuk and Ilulissat.
Icelandair also operates smaller aircraft from Reykjavík to a number of Greenland's regional airstrips, including Kulusuk and Nuuk – though timetables are inconsistent to say the least.
There is presently no air link between Greenland and Canada or anywhere else in North America.
Size and population
So, which is bigger and which has more people? Simply put, Greenland is massive and Iceland isn't.
So let's have a look at the numbers – at more than 2 million square kilometres, Greenland is twenty times bigger than Iceland, which is roughly the same size as Ireland. Iceland's total size is just over 103,000 sq km.
Both places have tiny populations, though – Greenland's comes in at a miniscule 56,000, whilst Iceland counts around 365,000.
That means that while Iceland's population density is around 3.6 people per square kilometre, Greenland has just 0.14 people per square kilometre.
Climate: Greenland vs Iceland
So both countries are known for their snow and ice, but how does the climate in Iceland differ from that of Greenland? And which is colder?
The climate in Greenland
With around 80 percent of the island covered in an ice sheet of up 3km thick, Greenland has an arctic climate. Close to the southern coasts, it has a milder tundra climate.
Average temperatures in summer are around 6ºC (down to a bone-chilling -18ºC in winter!), though along the coasts in the south of the island, temperatures can reach up to 20ºC from June to August.
The climate in Iceland
Iceland lies just beneath the Arctic Circle, so has a much milder climate.
Don't get us wrong – it's still cold in winter, but thanks to the Gulf Stream average summer temperatures are 10–15ºC.
Winter temperatures average around 0ºC, though it can feel much colder due to the windchill.
The scenery
So what about the scenery? What sort of landscapes can you expect to see in Greenland and Iceland?
The scenery in Greenland
Since much of the island lies beneath an ice sheet, the scenery is, as you would expect, icy and snowy!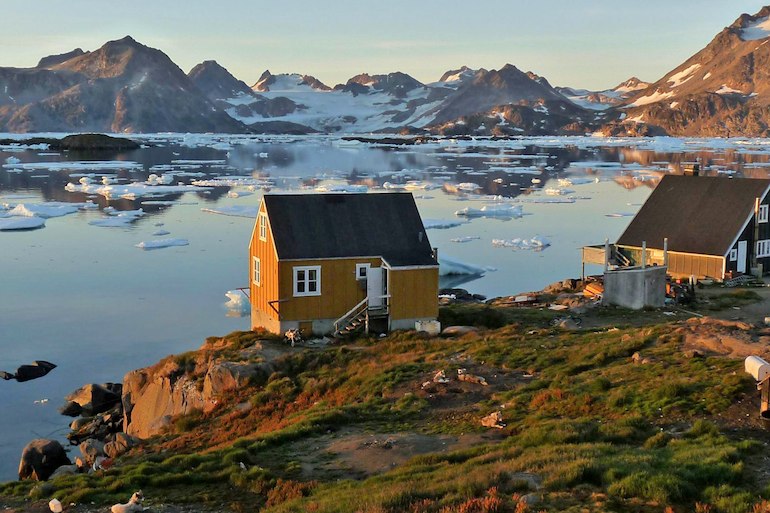 Most people visit to wonder at the awe-inspiring Ilulissat Icefjord and glacier, a UNESCO World heritage site, and the Tasiusaq Fjord in southwestern Greenland.
It's the country's wilderness that attracts, with miles and miles of unpopulated landscapes, ice bergs floating along the fjords and snowy mountains and plateaus, fringed with a green coastline.
The scenery in Iceland
The scenery in Iceland is much more varied. Yes, there's mountains and snow, but there's also miles of flat grasslands laced with wide rivers and dotted with rugged volcanoes and lava fields, gushing waterfalls and deep rift valleys.
And Iceland is the place where the European and North American tectonic plates meet – you can walk through this seismic rift valley with the rugged rock cliffs towering above, or even snorkel between two tectonic plates.
Thermal pools and rivers bubble up throughout the island, warming the earth and providing lush oases where plants and trees can grow.
And, of course, they're perfect for a warm swim – even when the weather is bad. For more on Iceland and its geothermal pools, read the 11 best hot springs in Iceland.
Nature and wildlife
So which country is best for wildlife, and what animals can you see where?
Wildlife in Greenland
With such a small population and being home to the world's largest national park, Greenland has a pretty good selection of wildlife.
Polar bears are the big ticket item – with several thousand thought to still live in Greenland – though sightings are rare.
Other animals that you may see include reindeer, Arctic foxes, musk ox, seals, whales, walrus and a wide variety of birdlife.
Wildlife in Iceland
Icelandic ponies, sheep and cattle are the most common animals that you'll see on your travels around Iceland. But the island is also home to Arctic foxes, reindeer, whales, seals, puffins and dolphins.
Whales can occasionally be seen from the land, but for the best chances of spotting them, we recommend taking a whale-watching cruise, such as this one on a carbon neutral boat from Húsavík.
See our guides for more on whale watching in Iceland and where to see puffins in Iceland.
Food and drink
Ok, so neither country is known for its culinary prowess, and their traditional dishes may make you go "yuck!", but what can you expect to eat in Greenland and Iceland?
Food and drink in Greenland
Traditional dishes in Greenland consist mainly of lamb, reindeer and musk-ok. The national dish suaasat is a soup made of seal meat, rice and onions.
Very few fruit or vegetables grow in Greenland, so pretty much everything has to be imported – hence how pricey food is.
Alcohol is mega-expensive and can only be bought in supermarkets between the hours of 10am–6pm – and not at all at weekends!
Perhaps surprisingly, Greenland is home to a two-Michelin-star restaurant, Koks, on the Ilulissat Icefjord.
Formerly based in the Faroe Islands, the restaurant has currently set up at the Ilimanaq Lodge hotel.
A meal here costs a mind-blowing 6.950,00 DKK (US$1000 or £820), though this does include a night at the hotel, dinner, breakfast and the boat trip through the fjord to get to the hotel.
Food and drink in Iceland
For a nation of fisherfolk, it's not surprising that fish is a mainstay of the Icelandic diet.
Fish soup is a popular dish, as is lamb, pylsur (an Icelandic hot dog) and skyr (Icelandic yoghurt).
Hákarl, or fermented shark is the traditional dish, and can be bought in supermarkets in Iceland, though for ethical and taste considerations, we suggest you give it a miss!
Like Greenland, much of Iceland's fresh produce has to be imported so it's pricey.
However, the country's volcanic soil is fertile and there are some thermally heated greenhouses where fruit and veg can be grown in warm temperatures.
The Fríðheimar farm is a huge geothermal greenhouse, which grows tomatoes, peppers, cucumbers and basil.
Some Golden Circle tours, such as this one, stop in here for a variety of tomato-based dishes or a Bloody Mary!
In the capital Reykjavík, restaurants are thick on the ground, offering a range of eating options including international food, such as pizza, pasta and fish and chips.
Icelanders love their coffee too, and Reykjavik has plenty of good quality coffee shops, not to mention artisan bakeries and the odd craft brewery.
What to do in Greenland and Iceland
There are tours and trips that you can sign up for in both countries, though Iceland has the best variety in terms of activities.
Tours and trips in Greenland
Many people explore Greenland as part of an organised tour or hotel package simply because of the difficulty in travelling round independently.
However, if you are travelling independently, there are some great activities you can do, such as this monster snowmobile sled safari from Sisimiut or this snowshoe hike from Sisimiut.
From Nuuk, you can explore the landscapes surrounding the city on this 4X4 private guided tour.
Or, head out from the island of Uummannaq on this dog-sledding and ice-fishing tour, where you'll cook and eat your catch for dinner!
Tours and trips in Iceland
Iceland has plenty of well-organized guided tours and day trips available, from whale-watching to ice climbing, snowmobile trips to helicopter rides and volcano hikes – and even snorkeling adventures.
A must do is the full-day Golden Circle trip that takes in some of the island's main sights, including the original active geysir, the thundering Gullfoss Waterfall and Þingvellir National Park.
Or you can opt for an organized glacier hike across the Vatnajökull glacier, with an experienced guide and all the equipment included.
Which is better for seeing the northern lights? Iceland or Greenland?
In terms of dark skies and little light pollution, Greenland is probably a better bet. On a clear night from October to the end of March, you're in with a very good chance of seeing the northern lights.
This tour from Nuuk heads out of the city in search of the northern lights – and if you don't see them, you get another tour for free.
However, when you factor in ease of access and cost, Iceland makes a pretty good destination for northern lights sightings.
The south of Greenland is on a similar latitude to Iceland so the viewing season is about the same length in both countries.
Iceland has no shortage of inexpensive tours such as this one, run by experienced guides who can take you to the best viewing points and explain what's going on – they'll even give you a second tour free if the lights don't appear first time.
Places to stay
Iceland certainly has more choice of accommodation, though Greenland has some pretty spectacular options with views to kill for!
Where to stay in Greenland
Greenland's accommodation options are limited, with the best choice in Nuuk.
The Nuuk City Hostel is a good-value, clean modern place, with a communal kitchen and shared bathrooms.
Or, for a real wow-factor, why not splash out on this private aurora dome, with transparent ceiling and walls, sea views and a hot tub – perfect for lying in bed and watching the northern lights.
Where to stay in Iceland
Unlike Greenland, accommodation options are plentiful and range from top-of-the-range international hotels to stays in cosy B&Bs.
You can find some great places to stay on Booking.com, or check out some of our favourite Airbnbs.
If you fancy a treat, we suggest splashing out on The Retreat Hotel at the Blue Lagoon, a luxury hotel with direct access to the steaming waters of Iceland's iconic Blue lagoon, with treatments and massages available too.
For more suggestions for thermal pool hotels, see 7 of the best hot spring hotels in Iceland.
Iceland also has loads of good campsites – see Camping in Iceland: the ultimate guide for more on these – some of which stay open throughout winter.
Getting around and ease of travel
Tourism is far more developed in Iceland than in Greenland, and there's no doubt that Iceland is much easier to travel around than Greenland.
Getting around Greenland
Unless you count the handful of streets in the Greenlandic capital, Nuuk, and in the other villages dotted up and down the coast, there are no roads in Greenland.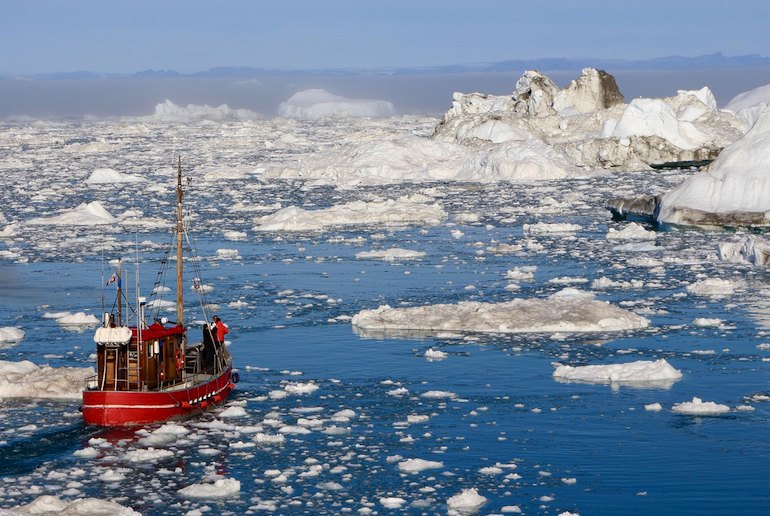 So you can forget any notion of renting a car and driving to your next destination. And don't plan on catching a bus or train anywhere either!
Instead, all travel is either by ship or by air – neither of which is particularly good value as the skeletal services that do exist are geared towards supplying remote communities rather than aiding tourists to get around the world's largest island.
Getting around Iceland
By contrast, Iceland is much easier and less expensive to travel around than Greenland.
There are plenty of options for getting around, including car rental, public buses, coach tours, ferries and domestic flights.
Renting a car in Iceland in pretty straightforward and needn't cost too much, and once you're outside Reykjavik the roads are quiet and good to drive on.
There's one main road that runs around the whole island – the ring road – and just everywhere on the island can be accessed from it, though parts of it are impassable in winter.
For ideas of travelling around Iceland, see our guide to self-drive tours in Iceland.
Costs
Which is pricier? Iceland or Greenland? Well it's true that neither is a budget destination, but overall a trip to Iceland is likely to cost you less.
Tour prices, food and accommodation are pretty similar in both countries, but because Iceland has more choice, you're more likely to be able to pick up budget accommodation or get a cheap meal there.
And transport costs are certainly higher in Greenland. Getting to and travelling around Greenland is expensive, while Iceland is well-served by budget airlines and has good value public transport once you get there.
So, if you're on a budget, we suggest Iceland is a better option.
So, which is better for a holiday – Greenland or Iceland?
In terms of visiting for a holiday each country has highly individual attractions but it's widely accepted that travel in Greenland is not only more difficult than in Iceland but is also considerably more expensive.
Iceland has easy access from Europe and the US, a good tourist infrastructure and hotels on just about every street corner in Reykjavík.
It's also a great place for adventure activities, hiking, climbing or even super jeep tours.
By contrast, Greenland is more expensive, with fewer flights and is much more challenging to travel around.
Of course, this is precisely why Greenland appeals to some people. The miles of pristine landscapes, lack of human impact and the beauty of the Arctic wilderness are all good reasons to visit.
And the fact that it sees significantly fewer tourists than Iceland means that any visit here is likely to be an altogether more authentic experience.
So, in the end the choice is likely to come down to what you can afford and what you want to do on your trip.
For what it's worth, we thoroughly recommend visiting both!
FAQS
Who owns Greenland and Iceland?
There's an important difference between Greenland and Iceland in terms of sovereignty. Iceland is an independent country; Greenland isn't.
Greenland is recognised as a self-governing territory under the Danish crown and as such is part of the Kingdom of Denmark.
Iceland gained full independence from Denmark in 1944, so it's fair to say that both countries still today share strong ties on many levels with Denmark.
Why is Greenland called Greenland?
Strangely, Iceland is greener than Greenland and Greenland is icier than Iceland.
Legend has it that Greenland was named by Viking settler Erik the Red in an attempt to lure his fellow kinsmen to the island. Meanwhile, an early Viking settler on Iceland allegedly saw a fjord full of icebergs and the name stuck.
Ironically, some scientists think that global warming will cause the names to become more apt, as Greenland's ice sheets melt and Iceland becomes colder as a result of the Gulf Stream moving south.
Were there Vikings in Iceland and Greenland?
Iceland feels essentially European when you're there, and much of its population is of Viking genetic heritage.
Obviously, its wild and untamed landscapes and North Atlantic location don't exactly make it your typical European country, but in terms of familiarity and culture, it's most definitely part of the European family.
Greenland, on the other hand, is home predominantly to people of Inuit origin and shares strong cultural and genetic links with similar indigenous groups in neighbouring northern Canada.
True, the Vikings did once live in Greenland (they even coined the name) but their settlements mysteriously died out after a few hundred years and today Inuit, rather than Viking or Danish culture, is what defines Greenland.
See also:
The best boat tours and cruises from Reykjavik
10 of the best Airbnbs in Iceland
11 of the best hot springs in Iceland
Like what you've been reading? Get our best tips by email!