Keen campers will love the idea of pitching a tent in Iceland's pristine landscapes and waking up to views of glaciers, snow-clad mountains and waterfalls. Less-hardened tent dwellers may be put off by the weather!
But there are plenty of options for camping in comfort in Iceland, with many campsites open year-round – and it can be one of the cheapest ways of exploring this beautiful island.
So, is Iceland good for camping? And can you camp wild? Read on to get the low-down on camping in Iceland, plus details on some of Iceland's best campsites.
Can you camp anywhere in Iceland?
Like most of the other Scandinavian countries, Iceland has a 'Right to Roam' law, which gives people the right of access to the countryside provided they do no damage and leave no trace.
This covers a whole range of activities in the countryside, such as foraging, fishing, hiking and wild swimming – see below for more on the regulations for specific activities.
The Right to Roam principle used to include camping, but over the last decade many restrictions have been bought in to protect the environment and prevent people from pitching up in pristine landscapes and sensitive sites.
So, in reality, the opportunities for camping outside official campsites in Iceland is actually very limited.
Is wild camping legal in Iceland?
Wild camping in Iceland is only possible in certain permitted areas if you are hiking and can carry your tent on your back.
It's governed by very strict restrictions – for example, you need to be on uncultivated land, with no campsite, facilities or settlement available nearby – and these rules apply to some 99 percent of the country.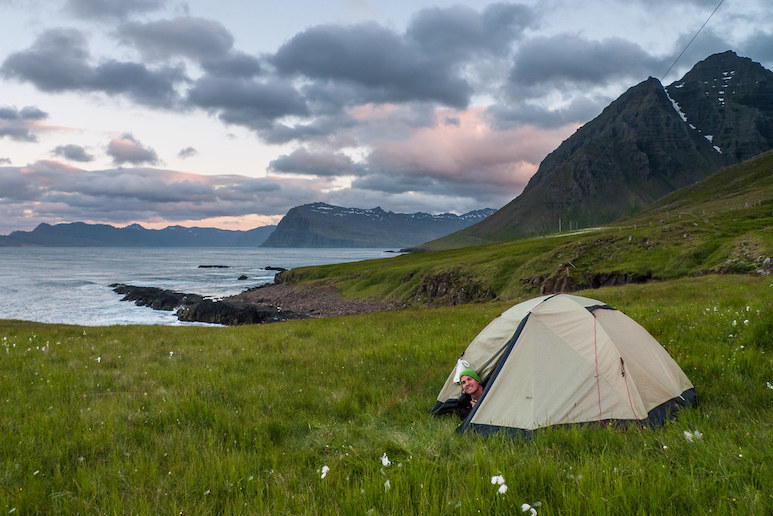 You can't just park up overnight in a car park near a beauty spot and pitch your tent. And if you are camping with an RV or campervan in Iceland, you'll need to stay in an official campsite.
So in the vast majority of cases, wild camping in Iceland is not really an option. That's a marked difference from countries like Sweden, where you can camp pretty much wherever you like, as long as you follow basic rules.
How much do campsites in Iceland cost?
Campsites in Iceland can be found to suit all budgets and requirements, so whether you're looking to pitch a two-man tent at a basic site or a large family tent at a site with full facilities, you're sure to find something that suits.
The cheapest way to camp in Iceland, especially if you're staying for a while, is to buy the Camping card Iceland.
This allows free camping for two adults and up to four children for 28 days each year.
You can stay at the same campsite for all 28 days, or you stay for one night at 28 different campsites if you choose.
The camping card costs €160 and is valid at around 40 campsites from 15th May to 15th September each year – so that works out at a bargain less than €6 a night for a family of six! Who says Iceland is expensive?
Is it possible to camp in winter?
It certainly is possible to camp in Iceland in winter, with around 25 of the island's campsites staying open year-round.
In fact, camping in winter can be incredibly atmospheric when the surrounding hills are all covered in snow.
Most campsites also have sleeping pods or cabins, and all but the most hardened campers may prefer to rent one in the depths of winter rather than braving a tent.
But if you're not hardy enough for the full winter experience, camping in Iceland in October or May can be great. The weather may not be reliable but the campsites are usually quieter and the autumn colours or spring flowers can be spectacular.
We published a round-up of good winter tents here.
Campsites in Iceland
Bearing in mind that wild camping is pretty much off the cards, you may wonder if Iceland is really a good place for camping? Well, the answer is a resounding yes! It certainly is.
Iceland has some great campsites ranging from those with full facilities to middle-of-nowhere campsites, that are wild camping in all but name.
So whether you want camping with a full range of services including showers, electricity and shops or restaurants nearby or prefer to set up camp in a field in the middle of nowhere, we've checked out some of the best campsites in Iceland.
Glamping & Camping, Vestmannaeyjar
This beautiful campsite on the tiny island of Vestmannaeyjar, off Iceland's south coast, is a joy.
Within walking distance from the ferry port, the campsite is inside an extinct volcanic crater with great views of the surrounding mountains.
You can either pitch your own tent, come in a camper van or opt for the more comfortable cabins or the cosy camping pods.
Fossatun Camping Pods
Wooden camping pods and bungalows can be rented at this riverside campsite near the west coast of Iceland or, of course, you can bring your own tent.
It has an on-site café/restaurant, outdoor barbecues, hot tubs – plus a vinyl collection of more than 3000 records that guests can choose from!
Skaftafell Camping
Inside the Vatnajökull National Park on Iceland's south coast, Skaftafell Camping is widely considered to be one of Iceland's most scenic campsites.
Surrounded by snow-clad mountains, it's great place for hiking, with marked trails from the campsite to the Skaftafellsjökull glacier and the Svartifoss waterfall.
Reykjavik Campsite
Although it's in the city suburbs, the Reykjavik Campsite is in a leafy park right by the Laugardalur thermal pools, and provides some of the Reykjavik's cheapest accommodation.
It also offers a 20 percent discount if you arrive by bike.
A large year-round campsite, it has a shop and café and is served by a regular public bus – or you can walk or cycle the 3km to the city centre.
The Djúpivogur campsite
In the tiny village of Djúpivogur on Iceland's remote east coast, the Djúpivogur campsite has lovely harbour views and is just a short walk from the beach.
It's also home to the Framtid Camping Lodging Barrels, a series of cosy heated wooden shelters that you can rent if the weather outside is too wild!
FAQ
Can I swim in lakes and rivers in Iceland?
Yes, swimming in public lakes and rivers is permitted, provided you do no damage and don't pollute the water. Using soap and shampoo is not allowed.
Boats and kayaks are also permitted on all inland waterways. One of the best ways to explore Iceland's waterways is on a guided kayak tour, such as this one on the Svarta river, which includes all equipment and an experienced guide.
Can I go foraging in Iceland?
Picking berries, mushrooms and herbs for private consumption is allowed on public land, as is foraging for shellfish, salt, seaweed and kelp on beaches.
If you're on private land, you need to ask the permission of the landowner.
Can I go fishing in Iceland and eat what I catch?
Although Iceland's rivers and lakes provide rich pickings for fishermen, including salmon and trout, they are highly regulated to protect stocks.
You will need a licence, which can be bought at N1 or Olis petrol stations, but will also need to make sure you are familiar with all the complex regulations.
These include only fishing for salmon from Tuesday to Friday, not fishing at night and not fishing for salmon in the same river as someone who is fly-fishing and vice versa.
The easiest way to make sure you comply with all the regulations and find the best, legal spots for fishing is to take a guided tour, such as this half-day fishing tour.
Can I make a campfire?
No, it is illegal to make a campfire in the wild. You can only light them on campsites where campfires are specifically permitted.
Am I free to cycle or walk wherever I like in Iceland?
Hiking, skiing and sledging is permitted on all unfenced, uncultivated land, whether private or public.
Cyclists and horseriders, however, are encouraged to stay on the roads or marked trails.
Is free camping legal in Iceland?
The answer is pretty much no! However, there's a great network of campsites around the island that are not too expensive.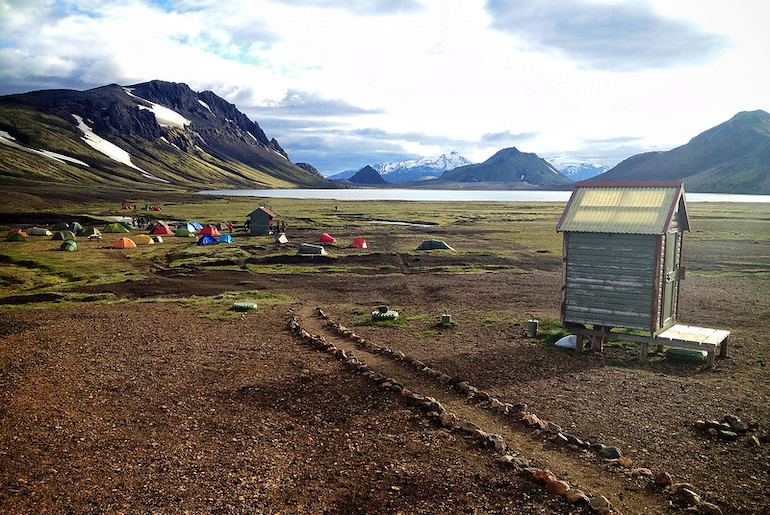 And if you like the idea of a few nights in the great outdoors, but don't fancy renting a vehicle or driving, you could take an organised camping adventure with tent, camping equipment, mini-bus and experienced guide included.
Can I go camping in Iceland's highlands?
The designated campsite at Ásgarður (Kerlingarfjöll) is a good base for exploring Iceland's highlands.
If you want to go further into the wilderness, though, you'll need to ditch your vehicle, carry your tent and head off on foot.
Can I camp near cities?
Yes, provided you stay at a designated campsite, camping can be an economical way of staying near a town.
Most of Iceland's main settlements have campsites nearby, including the handy Reykjavik Campsite, or the Hamrar Campsite on the outskirts of Akureyri.
Do I really need travel insurance?
Although Iceland is a safe place, buying travel insurance is still strongly recommended. It can make all the difference if you lose your belongings or get ill, especially if you're in the middle of nowhere.
For lots of different reasons, we recommend World Nomads – you can get a quote below.
See also:
Ten of the best Airbnbs in Iceland
Camping in Sweden: the ultimate guide
Camping in Norway: the ultimate guide
Like what you've been reading? Get our best tips by email!