One of the most appealing things about Iceland is the fact that you can immerse yourself in an outdoor bath of hot water beneath the stars, no matter what the weather.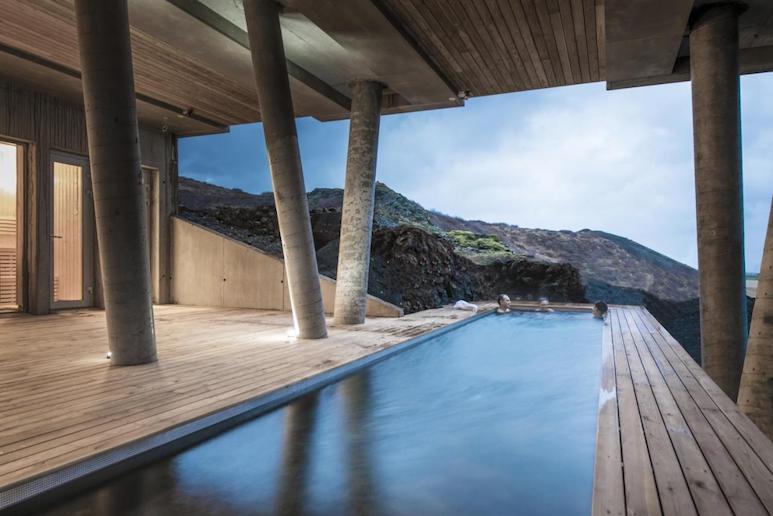 And you may even get to see the northern lights above when it's dark.
If you stay in a hotel with hot pools in Iceland, you can come back after a day's hiking or sightseeing and relax in the warm waters.
And even when there are sub-zero temperatures and snow outside, you'll be toasty warm in the geothermally-heated water. What's not to like?
Hotels in Iceland with hot tubs are very popular. Some are part of a full-on luxury spa resort, while others just a low-key hot tub on the terrace – often with amazing views.
We've picked some of the best hot spring hotels in Iceland, so you can rest, relax and recharge in the warm waters.
Iceland hotels with hot springs near Reykjavik
The Retreat at Blue Lagoon
For the ultimate luxurious Blue Lagoon hotel in Iceland, this upmarket hotel sits right on the edge of Iceland's most famous thermal pool.
The hotel has its own private spa and pool, to which guests have unlimited access, where you can chill out in the warm waters, have a pampering skin treatment or take a yoga class.
Some of the rooms have direct views over the steaming waters, while others look out over the surrounding mossy lava fields.
So, you can experience experience Iceland's iconic Blue Lagoon without the crowds.
This level of luxury doesn't come cheap, but if you're looking for hotels near the Blue Lagoon you can't get much closer than this!
For more info, see Booking.com.
The Ion Adventure Hotel
It may only be 25 miles outside Reykjavik but this smart spa hotel feels like it's in a different world.
Built into the slopes of Mount Hengill, it looks out over Lake Thingvallavatn and miles of wild empty landscapes.
One of our favourite Iceland hotels with thermal baths, its remote location means that it's also a great place for hiking, horse-riding, fishing, bird-watching and exploring the nearby Þingvellir national park.
Alternatively you could simply relax in the wonderful warm waters of the outdoor pool, and enjoy the views.
If this sounds like your sort of hotel, book here.
Resorts in Iceland with hot springs on the south coast
360 Hotel & Spa
Not far from Selfoss, on Iceland's South coast, this friendly boutique hotel has wonderful views over the countryside plus natural thermal baths with an indoor and outdoor pool, sauna and outdoor hot tub.
They can provide massages too, and the restaurant which serves a set menu at a communal dinner table is highly regarded.
For a look inside the rooms, with their awesome views, see Booking.com.
Hotel Örk
Right by the Hveragerði thermal area, the Hotel Örk is a great choice for children. It has a large outdoor thermally heated pool with a waterslide, sauna and hot tub. 
It's in a great location for hikes over to the "steam valley" and the Reykjadalur hot river (for more on this, click here) and to explore the south coast and the Raufarholshellir lava tunnels.
For further info, head to Booking.com
Hot spring hotels on Iceland's north coast
Siglo Hotel
The Siglo Hotel sits right on the waterfront overlooking the Siglufjörður on Iceland's north coast.
And if you're looking for hotels with hot pools in Iceland, it's a great choice.
It has a large outdoor thermal hot tub, from where you can look out over the harbour with a glass of wine.
Or you can heat up in the sauna that has views of the mountains and fjords.
And if you're a fan of Scandi crime dramas, you may recognise the hotel from the Icelandic police series Trapped, which was filmed in the village.
You can see pictures of the wonderful views here.
Húsavík Cape Hotel
Ok, so it doesn't exactly have its own private hot springs, but the Húsavík Cape Hotel is just a five-minute walk from the tremendous GeoSea thermal pool complex.
This thermal bath and spa complex sits right on the seashore with views over the water from its pools.
And the advantage of being nearby is that you that you don't have to splash out a fortune to stay here – the Húsavík Cape Hotel has a range of accommodation from budget hostel dorm beds to comfortable doubles and apartments.
So you can stay close to the thermal pools, without the hefty price tag. To reserve, see Booking.com. 
Blábjörg Resort
In the far northwest of the island, the Blábjörg Resort sits right on the coast with direct access into the sea.
Its indoor spa has views of the sea, with a sauna, hot tubs and treatments that include a beer bath (yes, in its own home-brewed beer), plus seaweed baths and seaweed wraps. 
To book a room and find out more, click here.
FAQ
Do you have to pay extra to swim at hot spring hotels in Iceland?
Provided you are a guest, most hotels allow access to the spa and hot spring facilities for free.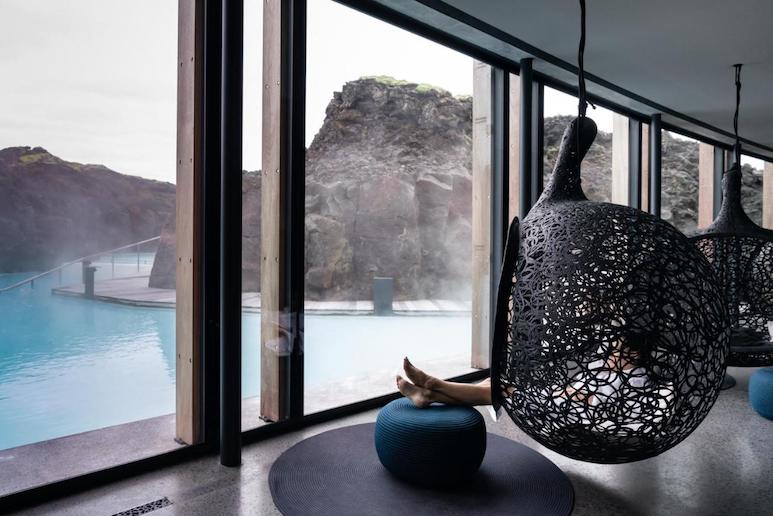 If you want any treatments, such as a massage or body scrub, they will cost extra.
Can you pay to bathe without being a guest?
Some hotels allow non-residents to pay a fee to use their facilities.
If the hotel is close to a thermal pool complex but doesn't actually own it, then it is usually open to the general public for a fee.
How many hot springs hotels are there in Iceland?
There are only a few upmarket luxury hotels with their own private hot springs.
However there are plenty of hotels close to public hot springs or with thermal hot pots or tubs in their grounds.
Since Iceland is geothermically active it has around 200 swimming pools – that's more pools per person than any other country – so you're never far away from warm water where you can have a swim!
However, not all Iceland's pools are man-made formal swimming pools – there are plenty of natural hot pots and rivers heated by thermal waters where you can immerse yourself in warm water.
How hot is the water at hot spring hotels in Iceland?
Since the water comes straight out the ground it can vary in temperature. However, most swimming pools are a pleasant 30C, while hot tubs tend to be a usually a steamy 35–40C.
See also:
10 of the best Airbnbs in Iceland
Where and when to see puffins in Iceland
The 11 best hot springs in Iceland
Like what you've been reading? Get our best tips by email!