Denmark is famous for its delicious berries and fruit, and the area around Copenhagen is ripe with places to pick your own. What better way to enjoy a day in the sun than picking organically grown, tasty local produce – and maybe hearing some stories from passionate farmers along the way?
We spent time tracking down a couple of pick-your-own places that are accessible from Copenhagen using nothing more than a few kroner (and Denmark's reliable public transport network). Do it alone, with friends, or even the entire family. There's plenty to go around: just take your pick!
A berry nice time at Rokkedyssegaard
Rokkedyssegaard is our first stop, and the closest one to Copenhagen. This farm was started as a small patch of land 26 years ago and is still going strong today.
It takes around 90 minutes to get there from Copenhagen's main train station; ride a train to Værløse station (around 35 minutes) and then hop aboard the cute little #151 bus to Lejrvej ved Kildebakken (around 10 minutes, but you may have to wait a while for the bus). If you let the driver know that you're headed to the berry farm, they'll make sure you get off at the right place. It's only a 200-metre walk from the bus stop to the entrance.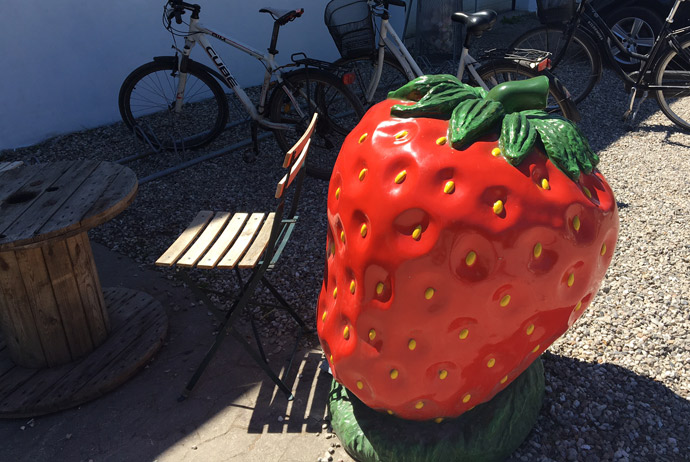 Giant plastic strawberries lead the way to the café where you can taste all sorts of berry-based products, including jams, marmalades, jellies, vinegars and even some home-made sorbet – all made from the farm's own berries.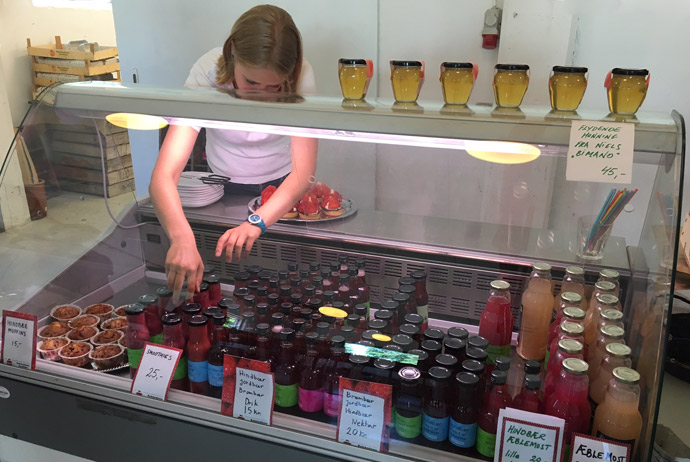 This is also the place to hand over your 25 DKK admission fee for the strawberry field, where you can pick as much or as little as you like (it costs 35 DKK per kilo). The owners happily ran us through all the types of strawberries and raspberries grown here, as well as the best seasons for picking fruit.
Rokkedyssegaard is open daily from mid-June–mid-September (10am–5.30pm). For up-to-date picking times, visit the farm's Facebook page. If a trip out of Copenhagen isn't your thing and you don't like the idea of manual labour, you can find a Rokkedyssegaard stand at the Torvehallerne Market in central Copenhagen (summer only). It stocks their full range of fruity products.
More info: rokkedysse.dk
Currant affairs at Fuglebjerggaard Farm
The next stop on our pick-your-own adventure is Fuglebjerggaard Farm – about 55km north of Copenhagen. It'll take you around two-and-a-half hours to get there using public transport, but is well worth the effort.
First, take a train to Helsingør (around 45 minutes). As you walk out of the station, three things in particular are really impressive. There's the station itself, whose tall spires lend it a bit of a fairytale vibe. Then there's Kronberg, which Shakespeare fans will know as Hamlet's Castle. Finally, across the narrow stretch of water is a stunning glimpse of Helsingborg, Sweden.
From Helsingør, bus #390R will take you on a 50-minute journey along wood-lined roads, passing lush green scenery, lake views and pastel-colored houses. At Hemmingstrupvej the bus stops, and you'll have to walk along a picturesque road for 1.1km to reach the impressive organic fruit farm, which is owned by the aptly named Camilla Plum.
Here you'll walk through a tree-lined archway and be greeted by roosters, cats, kittens, pots, plants, quirky chipped china porcelain plates and pokey barn doors in all directions. It's not your average farm and can be a bit overwhelming for those simply expecting to pick a few berries from a field.
To the left, a café serves Camilla's farm-to-table organic food (she also holds cooking classes, and many Danish households have one of her cookbooks). Out the back there's a nursery, and the farm also processes its own harvest of crops – cereals are milled here. The flour is then either sold in the shop or used in the delicacies found in the farm bakery. Wandering around you'll spot cows, sheep, pigs, and even some very welcoming chickens.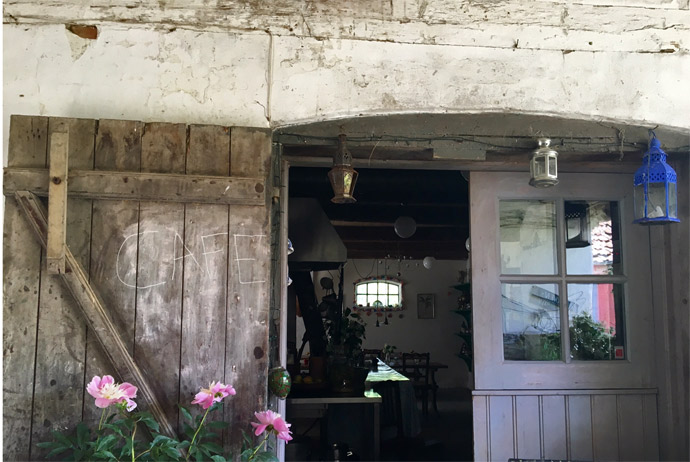 Fuglebjerggaard offers a long list of pick-your-own organic goodies, depending on time of year. Strawberries, raspberries, gooseberries, blackcurrants and redcurrants are all available, along with whatever is in the orchard – from apples and pears to cherries and plums.
Seasons can be unpredictable, but the berries will be there most of the summer until mid-August. It's a good idea to call ahead first to make sure the relatively long (albeit scenic trip) isn't disappointing. There's no admission fee, so you'll just pay a reasonable rate for whatever you pick in the field.
During strawberry season (June and July) Fuglebjerggaard Farm is open Monday–Saturday (10am–4pm). The café stays open every Saturday from June–November.
More info: fuglebjerggaard.dk
All pics © Taya Sedgman
Like what you've been reading? Get our best tips by email!