With less severe conditions than its Scandinavian neighbours, Denmark is a great year-round destination with something to offer whatever the weather. Each season has its own distinct personality, though, and your experience of Denmark will vary a lot depending on when you choose to go.
Should you go in the summer, when the days are long and the sea's just perfect for swimming? Or should you visit during winter for snowy streets and cosy cafés? Here's a breakdown of Denmark's four seasons, with some tips on how best to enjoy them. We've also added these handy weather charts to help you plan your trip.
When to visit Denmark – a quick guide:
• If you want warm weather and sunshine, visit from late May–August
• For the best chance of snow, aim to go between late November and February
• You can visit all year round without needing special gear (but do bring warm clothes!)
• There's no midnight sun in Denmark, but the days are very long in summer
• Winter days are much shorter, but you'll still get plenty of daylight in the middle of the day
Spring in Denmark
Late-March–May
Spring starts late in Denmark – usually around late March or early April, and even then it can take a few weeks to shake off the snow completely. Temperatures often fall below freezing at night (and sometimes during the day, too!) but there's a chance you'll get some good, sunny days mixed in with the usual grey and blowy weather.
By the middle of April, though, Denmark's weather has usually warmed up considerably, with flowers blooming all over the country. Even in cities like Copenhagen and Aarhus, the streets seem to burst into life around Easter time after shivering through a long winter.
If you're visiting in March, look out for CPH:DOX. This is Denmark's largest documentary festival, and it sees films popping up in cinemas all over Copenhagen. On the fourth Friday after Easter Sunday (usually in April or May), Danes celebrate Store Bededag – or Great Prayer Day – with choirs, leisurely walks in parks and hot wheat buns.
May tends to be milder and sunnier than the early months of spring, and the days become noticeably longer with plenty of daylight hours to enjoy the great outdoors.
May is also a month of celebrations, kicking off with International Worker's Day, which always falls on the 1st May and sees concerts, rallies and speeches taking place in cities across the country (especially in Copenhagen). A few days later on May 5, Denmark commemorates Liberation Day with flags and candles galore, and many shops close around Ascension Day and Whit Monday.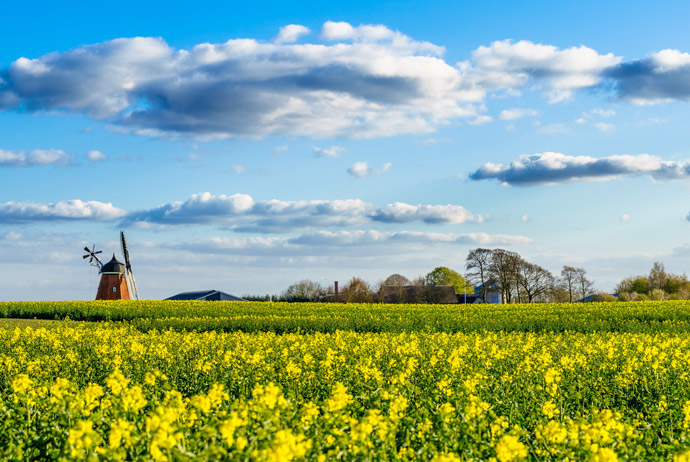 Springtime in Denmark is also when art galleries reopen their doors, and none are more famous than those in Copenhagen's museum district, Parkmuseerne. Admire Islamic art at the David Collection or drool over the crown jewels at Rosenborg Castle, which is surrounded by a lovely park. Other parts of Denmark follow suit around this time of year, including pretty beach towns like Skagen, which begin to draw tourists from Sweden, Germany and further afield.
The food truck business is still booming all around Denmark, and you'll see lots of carts starting to open again in spring. Look for Rebel Food or West Market in Inner Vesterbro, or the Verdenshjørnet carts tucked under two giant teepees in Nørrebro.
The weekend food market in the Meatpacking District opens for the summer season at the end March. If it's raining, Torvehallerne food market hall is a good all-weather standby. If it's a particularly sunny spring day, you'd do well to head out to Dyrehaven, a Unesco World Heritage Site of lush woodlands, small lakes and roaming deer, all just a short bus or train ride from the city centre.
Cycling in Denmark starts to look more appealing during the spring, too, and you'll find a few guided tours being offered on two wheels. If you want to rent a cottage in Denmark, late spring is the ideal time – rates are cheaper than in the height of summer and you won't be competing with others for availability.
Summer in Denmark
June–August
The summer months of June, July and August are probably the prettiest in Denmark. As temperatures can occasionally exceed 25c (77F) this is the perfect time to escape to the coast, practise your swimming strokes, and take full advantage of Denmark's rural tranquility.
For most foreign visitors, the early part of summer is the ideal time of year to flock to Denmark. Temperatures are mild and pleasant, and the European crowds haven't yet abandoned their office desks for summer holidays. The days seem endlessly long at this time of the year, and while the sun's out you should be comfortable without too many layers – just make sure you bring a light jacket for the evenings, which can get a little chilly.
In July and August, locals tend to travel abroad or drive out to their summer cottages (prices for rentals tend to rise during summer). Cities are markedly less populated at this time of year, though, and locals who do stick around tend to cluster around bars or parks enjoying the long and lazy evenings.
Just don't forget to pack some wind- and rain-proof clothes, as the weather can change quickly. Highlights of the season include picking fresh strawberries, eating all sorts of fruit tortes and enjoying plenty of outdoor events and celebrations.
Festivities kick off with Independence Day on June 5, which marks the signing of Constitution in 1849 (and again in 1953). Later in June, locals gather for Midsummer (Sankt Hans) around bonfires on the beach, snack on picnics and burst into song – Vi elsker vort land ('We love our country') is a favourite patriotic number.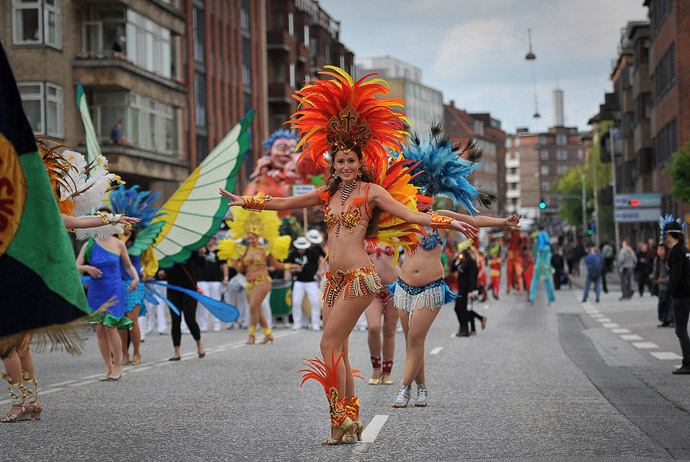 Also taking place during summer is the massively popular Roskilde Festival – it's the largest of its kind in Northern Europe, attracting around 80,000 people from all over the world. In previous years it's pulled in huge names including Bob Marley, Bruce Springsteen, Kanye West, Radiohead and Rihanna.
Other summer festivals include the Copenhagen Jazz Festival, Copenhagen Pride, the Hans Christian Andersen Festivals in Odense, Haven in Refshaleøen, Distortion, Skagen Festival, the Copenhagen Opera Festival, Stella Polaris, Copenhell and the carnival in Aarhus (pictured above).
Summer is also the season to hit the water. There are endless opportunities for mastering the art of windsurfing (on the coast) or paddling a kayak around placid inland waterways. If you're in Copenhagen, consider renting a GoBoat to explore the canals or take the helm of your own sailboat from the harbour. These 50 cheap and free activities are also worth trying.
If you're feeling more adventurous you might want to challenge yourself at the very cool obstacle courses of Urban Ranger Camp, or climb the state-of-the-art boulders at Blocks and Walls. Camping in Denmark is definitely best during summer.
Kongens Have or the 'people's backyard' is a summer favourite among Copenhagen residents. Established in the early 1600s, it's the country's oldest royal garden and is a perfect place for a lazy sunday, with rose gardens, flowerbeds, sculptures and frequent theatrical and musical events.
In fact, performing arts troupes all set their sights on the outdoors at this time of year, putting on amusing plays or ballets in public parks for free. Fans of Shakespeare should be sure to catch the outdoor performances right on the grounds of Hamlet's Castle in Helsingør.
Autumn in Denmark
September–November
September is markedly brisker than August but the weather can still go either way, with occasional warm days. As most people are back at work by this time of year, September is the ideal month for windsurfers, cyclists and other thrillseekers to head outdoors.
The trees turn golden in September and this is easily the best time of year to harvest apples, pears and plums. You'll definitely want to wear a light jacket but it isn't until October until you need to move on to heavier coats – by then, the days are shorter and the skies tend to be cloudier.
Danes do a lot to keep the autumn's chill at bay, with colourful events like Copenhagen Culture Night keeping spirits high. Kulturnatten, as it's known to locals, is a huge city-wide event, with around 250 museums, galleries and cultural spaces showing off special exhibitions and installations, all completely free of charge.
Though Halloween is a minor holiday in Denmark, you'll see small nods to the event wherever you go. The Tivoli amusement park in Copenhagen still goes all out, with pumpkin-carving sessions, dress-up opportunities, spooky decorations and even some haunted houses.
November festivities centre around All Saint's Day, Martinmas Eve and St. Martin's Day. Folk legend recounts the tale of St. Martin who, in a bid to avoid being ordained as a bishop, hid in a goose pen.
He was betrayed by the cackling of the geese, and these days Danes celebrate the holiday by roasting duck (a more easily obtainable fowl). This is a tricky celebration for tourists to join in with, but some restaurants get in on the act by serving traditional dinners at this time of year.
Danish winters
December–mid-March
Make no mistake: winter in Denmark is cold. It often snows, the wind can howl, and the nights can seem impossibly long. You can expect the sun to rise at around 9am and set again at about 4pm, and even then temperatures can struggle to get much above freezing, so you'll definitely want to wrap up in your best warm walking boots and woollen socks.
But there is an upside to all this cold and darkness. Danes really go to town with the cosy candles and cushions during winter, and their shimmering Christmas lights, strewn across town squares all over the country, more than make up for the cold.
Copenhagen in particular likes to dress itself up in twinkling fairylights. There are fewer tourists visiting the capital during winter, too, which means cheaper accommodation and quieter crowds at popular attractions. Even outside Copenhagen, you'll find Christmas markets tantalising shoppers with wafts of caramelised almonds and gløgg (hot spiced wine)
Head up to Denmark's northernmost town in January and you might catch the annual Skagen Winter Swimming Festival, an event where participants dive into the icy sea amid blustery winds and are rewarded with hot soup for their courageous efforts.
February's Winter Jazz Festival is a favourite way to warm up in what is typically one of the coldest months of the year, as is the Frost Festival, boasting 20+ days of concerts and cultural events.
Fastelavn, the Danes' version of Carnival, takes place around seven weeks before Easter (usually in February). This is a time when locals gorge on candies and pastries, and generally lark around with friends and family.
Public ice skating is all the rage in Copenhagen during winter, and admission is usually free (you can bring your own ice skates or rent them at the rinks). From the capital, you can take a train out to nearby fairytale castles at Hillerød (Frederiksborg) and Helsingør (Kronborg). Or avoid the cold altogether and steam out in a local sauna, basking in hygge, the Danish spirit of cosiness.
Ultimately, there is no wrong time to visit Denmark. Whether you fancy Christmas cheer and cosy nights, or festivals and fun in the sun, it's a great place to visit whatever the season.
What's the weather like in Denmark?
Copenhagen

Aarhus
Odense
Read more:
Camping in Denmark
Events in Denmark
The best tours in Copenhagen
Rent a cottage in Denmark