Copenhagen might just be the most bike-friendly city in the world. The amazing bike infrastructure doesn't stop at the city limits, though, and some of Denmark's most beautiful castles, beaches, and fjords lie within fifty kilometers of the capital – which is great news if you love exploring on two wheels.
A day trip by bike from Copenhagen is the perfect way to soak up some of the Danish countryside, enjoying a spot of culture, history and food along way. The trips listed below offer something for everyone: from beginner cyclists looking to get out of the city to experienced cyclists looking for challenging and beautiful day trips.
When considering your route, note that if you take a trip outside of the capital region (to Louisiana, Roskilde, Klampenborg, and Fredensborg) there is the option of taking your bike on the train back to Copenhagen – which can be a lifesaver if you arrive tired and don't fancy cycling back to the city.
Klampenborg, Bellevue Beach and Dyrehaven
Around 12 km from Copenhagen
Allow 30–60 mins each way
Bellevue Beach is one of the highlights of the Danish Riviera. White sands and shallow, turquoise waters are hardly synonymous with Denmark, but you'll find them both here – and if you're visiting Copenhagen when the weather is nice, the beach is definitely worth a visit.
The bike route to Bellevue Beach from Copenhagen takes you through Hellerup, and then follows the seaside until you reach the beach.
Just behind Bellevue and the town of Klampenborg is one of the oldest forests in Denmark, called Dyrehaven, or 'The Deer Park' (because of its thriving deer population).
Dyrehaven is also home to the 16th-century amusement park called Bakken. Take a stroll around the cutesy rides or stay on the beach for a picnic. Another option is to try the delicious food at Den Gule Cottage (if you feel like splurging) or Costa Smerelda (if you're on a budget).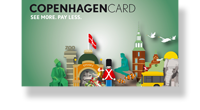 Is the Copenhagen Card worth buying?
Read this guide to see how much you could save during your trip!
Humlebaek and the Louisiana Art Museum
Around 35 km from Copenhagen
Two hours each way for confident cyclists (three for beginners)
Further up the north Sjaelland coast – accessible by bike paths that run along sandy beaches and through quaint Danish towns – lies the extraordinary Louisiana Art Museum.
Even if you're not cycling from Copenhagen, Lousiana is not to be missed (you can read more about it here). En route to the art gallery, the harbour in Rungsted is the perfect place to stop for a coffee or ice cream.
Just across the street from the harbour is the Karen Blixen Museum – the former residence of the Out of Africa and Babette's Feast author. The museum's garden is worth a quick stop, even if you don't feel up for two museums in one day. If it's warm enough, be sure to take a swim on your way north (just find a quiet spot) or once you arrive in the fishing village of Humlebæk.
Roskilde and the Viking Ship Museum
Around 32 km from Copenhagen
Two hours each way for confident cyclists, or three hours for beginners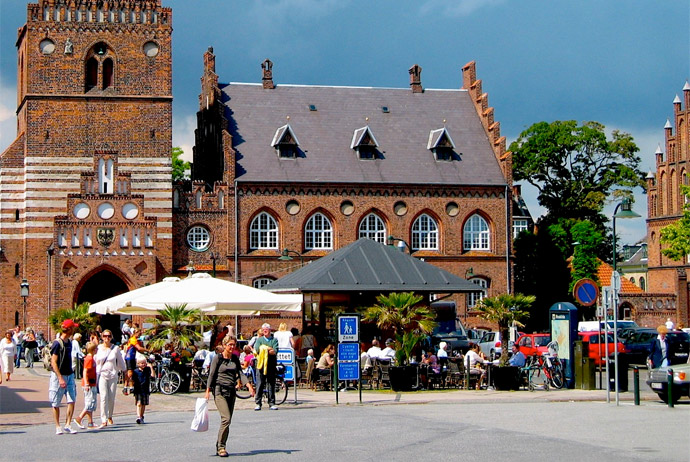 The ride to Roskilde is perhaps not the most charming on this list – but it is still pleasant enough, and it takes you through some very typical Danish countryside.
The main attraction to this day trip is the destination itself; once in Roskilde, you can get a good feel for the city in a single day. Stroll around the charming pedestrian streets and harbour area, explore the fjord-side parks, and be sure to leave at least a few hours for the excellent Viking Ship Museum.
The museum is a great place to release your inner child; take a trip across the fjord on a Viking ship, learn Viking knotting techniques, and prepare for battle by dressing up in historically accurate battle garb.
Dragør
Around 16km from Copenhagen
Allow about one hour each way
If you feel like experiencing a charming Danish town but find yourself tight for time, Dragør makes a great little day trip from Copenhagen and is easy enough to bike to.
Just a stone's throw from the Kastrup Airport, this adorable town has avoided being swamped and still retains the feeling of a small fishing village. Stroll around the harbour and nearby alleyways, which are lined with colourful thatched-roof houses.
For simple, inexpensive, traditional Danish food we recommend trying the smoked fish at the Dragør Rogeri (weekends only in winter). Otherwise, go for the smørrebrod at the Dragør Bistro. Sunny day? Consider biking past the beach in Amager (see below) on your way home.
Amager Beach
10km from Copenhagen (or 15 km via Refshaleøen)
Allow 30–60 mins each way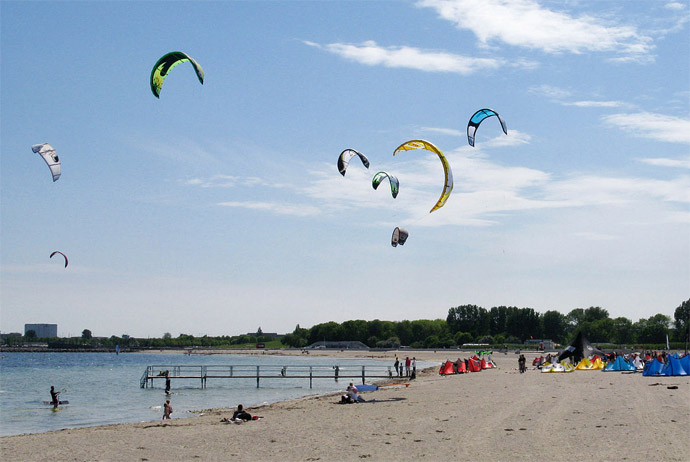 This is a bonus bike trip that doesn't leave the city limits, but offers a different perspective on Copenhagen.
If you're coming from the city centre, take the newly completed Inderhavnsbroen bike bridge across to Refshaleøen, soaking up views of downtown Copenhagen along the way.
Once on Refshaleøen – a former industrial area that's increasingly trendy – have lunch, dinner, or drinks at La Banchina. It's a small and exceptionally cosy Italian-inspired restaurant perched on a set of docks overlooking the canal. La Banchina is lively on the weekends and always has a delicious meal of the day.
Afterwards (if you haven't overindulged on the Aperol Spritz) head past Christiania, through Copenhagen University, and on to Amager beach. At the beach, you can play volleyball, swim, or kite surf with a view of Sweden and the Oresund Bridge.
It would be a shame to be in 'Ama' and miss Ismageriet – easily the best ice cream in Copenhagen. Enjoy the 1950s decor and the homemade ice cream before heading back to the city.
Fredensborg Palace
Around 42 km from Copenhagen
This trip is challenging; allow at least 2.5 hours each way
If you're looking for a challenging bike ride through beautiful countryside, this trip up to the Danish Queen's Baroque-style summer residence is for you.
Once you leave the northwest suburbs of Copenhagen behind, it won't be long before you find yourself on paths through forests and small towns reserved for cyclists and horse riders. The gardens are free to access year round, but in July the palace itself is also open to the public (along with the vegetable garden and the royal family's private gardens).
Do note that you'll have to bring a packed lunch, or otherwise eat at a restaurant in close-by Fredensborg or in Hillerød on the way.
More info and ideas for bike trips
I Bike CPH is an app and website that generates different bike routes based on info you type in. It's a great resource for planning bike trips in and around Copenhagen. For day trips (or whenever you have the time), try filtering for 'those who enjoy to see green' (Nyd det grønne).
Don't forget your insurance!
It's no good leaving Copenhagen on two wheels if you don't have travel insurance. Believe us when we say that having a good policy in place can make a world of difference if something goes wrong. For lots of different reasons, including the fact that they will insure you even if your trip has already started, we recommend World Nomads. You can get a quick quote below.
Need more ideas for your trip to Copenhagen? Start here.