Ferry prices from mainland Denmark to the South Fyn Archipelago have recently gone down, making it much more affordable to go on island-hopping adventures in this beautiful part of the country.
The little island of Ærø is already enjoying its share of the success, and rightly so – because it's undoubtedly one of Denmark's most beautiful spots (and a popular wedding destination to boot). It's also relatively easy to visit from Copenhagen, and even easier to reach from Odense.
Why go to Ærø?
Apart from offering clean air and a nice slow pace, Ærø comes with handsome old towns, yummy seafood and a lively arts-and-crafts scene. There's also a brewery, a distillery and – erm – a place that makes its own cigars. What's not to like?
Getting to Ærø
While several Danish islands are connected to the mainland by bridge, Ærø is a real standalone island – the kind you have to take a ferry to visit (unless you're travelling in your own boat, of course, as many of the islands' wealthy visitors do).
Ærøfærgerne ferries can take you to Ærø from three different harbours; from Svendborg and Faaborg on the island of Fyn – or from Fynshav in the southern part of Jylland. There are 10–12 daily sailings from Svendborg to Ærøskøbing, and 2–3 daily sailings from Faaborg and Fynshav to Søby.
The journey takes between 60 and 75 minutes and prices vary depending on the season. The cheap periods are between January and the end of June, and from mid-August to December: check the website for budget-friendly dates.
Tickets are always sold as round trips from the mainland. Prices start at around 80 DKK for an adult travelling on foot; bikes cost around 30 DKK extra; cars cost around 170 DKK return. Tickets and schedules are available at aeroe-ferry.dk.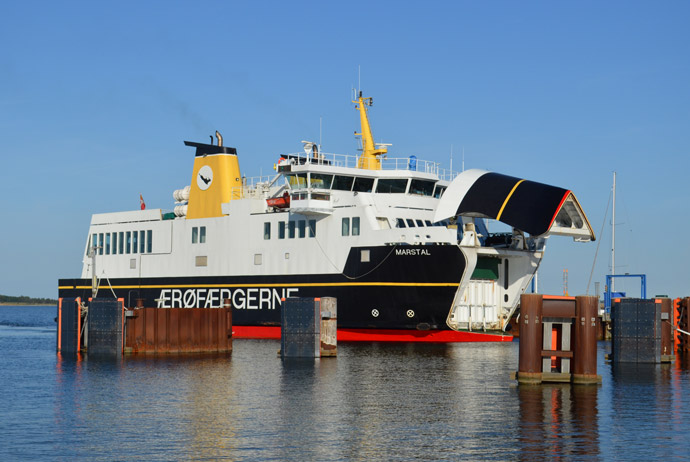 Getting around
The most convenient option is to get around by car, though it can be tempting to explore by bike, as Ærø is basically flat. There are bike rental shops in Ærøskøbing, Marstal and Søby.
If you come on foot (the cheapest option, ferry-wise), local buses will take you around the island for free. Yep, that's right: all the island's buses are free all year around, which makes this a very budget-friendly option. You can even bring your bike on the bus (restrictions apply).
Where to stay on Ærø
Ærø has accommodation ranging from small bed and breakfasts to boutique hotels, and for the budget-conscious there are campsites dotted across the island. If you fancy something a bit more comfortable then there are some nice self-catering cottages in Ærøskøbing, Marstal and Søby. For a completely different stay, try this cosy glamping option, which has good hiking and cycling on its doorstep.
Spending a weekend on Ærø
A day trip isn't long enough to explore Ærø in its entirety – it really deserves a whole weekend, with the capital Ærøskøbing being the perfect base.
Friday
Take an early ferry to make the most of the day, and let yourself get lost in the cobbled streets of Ærøskøbing. The little capital will blow you away with its romantic charm and well-kept townhouses.
The secret behind those picture-perfect facades and the neatly decorated doors? Very strict rules on upkeep, which the locals have to obey. This has created a universe of colourful dolls houses that make Ærøskøbing one of the best maintained old towns in Denmark.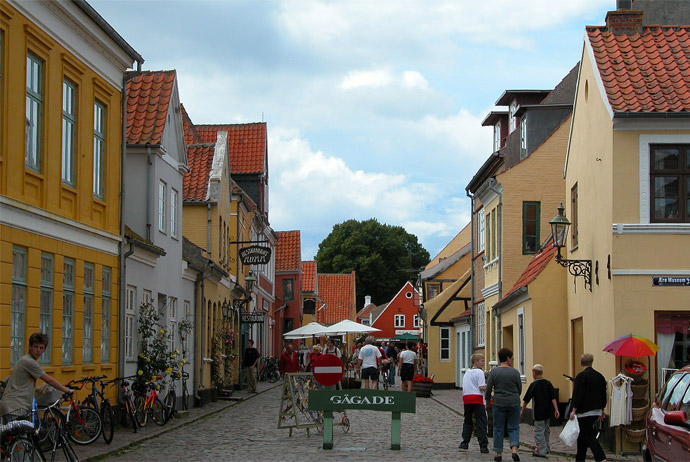 When your camera-trigger-finger needs a break, head to the idyllic central square where Den Gamle Købmandsgård stocks local arts and crafts as well as edible goodies from around the island. The star is the local whisky made at the distillery in the atmospheric courtyard, where you can enjoy your lunch in the sun and check out the small visitor centre.
Drop in at the copper-spired church across the square, then walk over to the marina – or even further out to the row of tiny, colourful beach huts. A nice alternative is to visit the new Ærø Kunsthal, where international, modern art is displayed in the rustic and authentic setting of an old merchant's house.
For a budget-friendly dinner, grab a plate of smoked fish at Ærøskøbing Røgeri on the harbour, where they serve up delicious dishes from just 39 DKK. And why not end your first night on the island with a movie at Denmark's smallest cinema Bio Andelen? Tickets start at around 70 DKK.
Saturday
Head east to the island's biggest city Marstal, which is heavily influenced by its maritime history and has its own navigation school, as well as some comfy places to stay. At the extensive Marstal Søfartsmuseum you can learn all about the city's proud maritime past, while exploring the impressive collections of everything from pictures and paintings to model ships and maritime equipment. Tickets cost 70 DKK; kids go free.
When you're all 'shipped out', explore the city's narrow streets, before continuing to the beach at Erik's Hale (Erik's Tail). Here, one beach hut in particular has become a symbol of the island in recent years – the first one with the thatched roof adorns several guidebooks and travel brochures. But there's a whole row of colourful beach huts here, lined by beaches on both sides of the 'tail'. It's the perfect place to kick back and enjoy island life like a local.
From Erik's Hale, it's a 10km drive through beautiful rolling landscapes to Rise Bryggeri, where you can refresh yourself at the local brewery's on-site shop, and sample versions of their beer sold only on the island. To go with the beer, try Ærø's most unique souvenir – a hand-rolled cigar, made from tobacco grown in the fields behind the brewery.
Sunday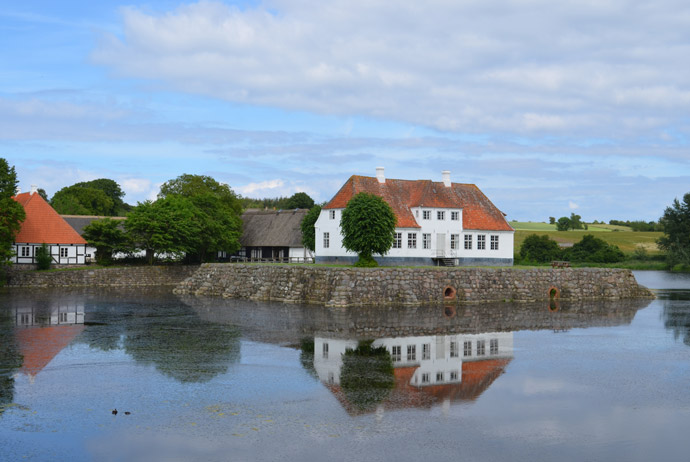 Start your day with a morning hike at Voderup Klint, a short drive across the island from Ærøskøbing. It's a south-facing coastal landscape where bumpy green hills end with a steep slope to a stony beach that you might even have to yourself.
Then follow the island's main road towards the northwestern tip and stop by the red-roofed manor of Søbygård. A former hunting lodge dating from 1580, it now houses exhibitions on art and cultural history. Tickets cost around 60 DKK; kids go free. Near the town of Søby, stop in at Sæberiet to buy ecological soaps made with herbs and flowers from the owner's garden.
While Søby itself isn't exactly a tourist magnet, head further northwest and you'll reach Ærø Golf Klub in an attractive location surrounded by the sea with a beautiful lighthouse, Skjoldnæs Fyr. This granite tower built in 1881 gives views of the golf courses and the coastline from its top.
Back in Ærøskøbing, why not stock up on some tasty treats while waiting for the ferry to come in? Grab a cup of coffee in the movie-poster adorned Café Aroma, which also runs a fish restaurant, a bed and breakfast, a home-made ice-cream shop and Hattesens Konfektfabrik, where you can sample the addictive lakridskonfekt (liquorice candy) in various flavours including with freeze-dried berries (around 65 DKK per box).
See also: