Why not experience a bit more of Denmark while you're in Copenhagen? It's easy to combine visiting the capital with a trip out to Denmark's second city, Aarhus.
Whilst it is possible to get to Aarhus from Copenhagen on a day trip, you'd be on a very tight schedule. And the city honestly deserves more than just a quick turnaround. So we recommend spending at least one night here before heading back east.
And, depending on how you choose to travel, your trip to Aarhus may well include crossing two of Denmark's impressive suspension bridges, spanning the Great Belt and the Little Belt straits on each side of the island of Funen.
Why make the trip to Aarhus?
Aarhus is referred to as Smilets By in Danish – 'the city of the smile', which adds to the general impression of the Danes as happy people. Denmark's second city has found its own unique identity in recent years and stepped out of Copenhagen's shadow in 2017 as European Capital of Culture.
The atmosphere in Aarhus is even more laid back than in Copenhagen. It's a wonderful city for a shopping spree, and architecture lovers will want to take a closer look at the futuristic cultural centre Dokk1. Housing Scandinavia's largest library, it's a keystone of the harbour front.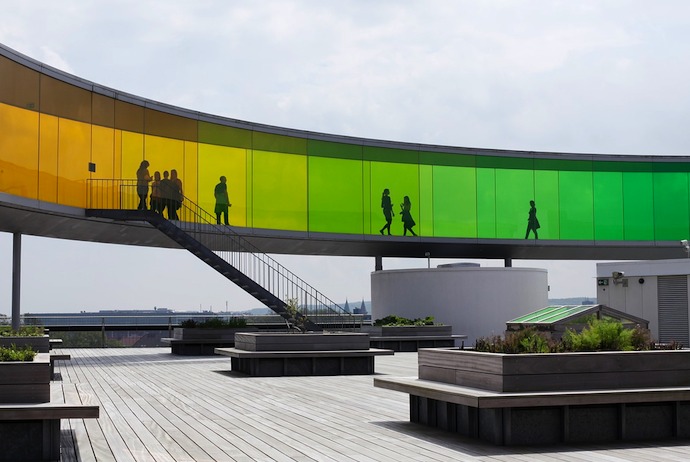 Don't miss taking a colourful stroll around the famous rainbow walkway at the ARoS art museum, or making a journey back in time at the historic open-air museum Den Gamle By.
What's the best way to get to Aarhus from Copenhagen?
There are several ways of getting from Copenhagen to Aarhus, depending on how fast you want to do the journey and how big your budget is.
By bus
If you're booking your trip to Aarhus at the last minute, you'll definitely find it cheaper to travel by bus than by train. The comfortable Flixbus buses (with free wifi) travel frequently between Copenhagen and Aarhus (across Funen) throughout the day. Ticket prices start from 99 DKK (single).
The buses leave from Ingerslevsgade near Copenhagen's Central Station and arrive at Aarhus Rutebilstation (bus station) in downtown Aarhus – a journey time of around four hours. Alternatively you can catch the bus from Copenhagen Airport. The time of the first and last departure varies depending on the day, but it worth noting that the buses don't run very late in the evening.
By ferry and bus (via Sjællands Odde)
It's possible to take a shortcut across the sea of Kattegat, if you catch the Kombardo Expressen bus (with free wifi) from Ingerslevsgade near Copenhagen Central Station.
The bus takes you west across Zealand to the tip of Sjællands Odde, where it boards a fast Molslinjen ferry to Aarhus harbour, before arriving at its final destination, Aarhus Rutebilstation (bus station) in central Aarhus. The ferry trip takes 75 minutes and it's a 3hr, 30min journey in total by road and sea.
Tickets start at 99 DKK (single, including the ferry). Check the website for details of the first and last departures of the day.
By car
If you prefer to drive, the journey down through Zealand, across the island of Funen and up through eastern Jutland to Aarhus, is approximately 300 kilometres and takes about 3 hours. You'll follow the E20 motorway from Copenhagen to Jutland, where it connects to the E45 motorway up to Aarhus. You can find a good rental car using this price comparison tool.
Along the way you'll have to pay a toll of 245 DKK (one way) for crossing the Great Belt Bridge, though the Little Belt Bridge between Funen and Jutland is free.
Alternatively, you can take your car on the ferry to Aarhus (see above). The drive from central Copenhagen to the harbour at Sjællands Odde is approximately 115 kilometres. The ferry fare for a normal-sized car (up to 6 metres) including driver starts at 199 DKK.
If you don't have your own car or simply want to save some money, you might be able to find a carpooling deal through a service like GoMore, as Copenhagen to Aarhus is a very common journey.
By train
The most comfortable way to travel between Copenhagen and Aarhus is to take the train from Copenhagen Central Station. The direct train (with free onboard wifi) travels across the island of Funen, over the Great Belt Bridge and the older Little Belt Bridge, reaching Aarhus Central Station in about three hours.
If you book way in advance, you can find fares from as low as 99 DKK (single). However, you're more likely to pay between 200–400 DKK each way.
By plane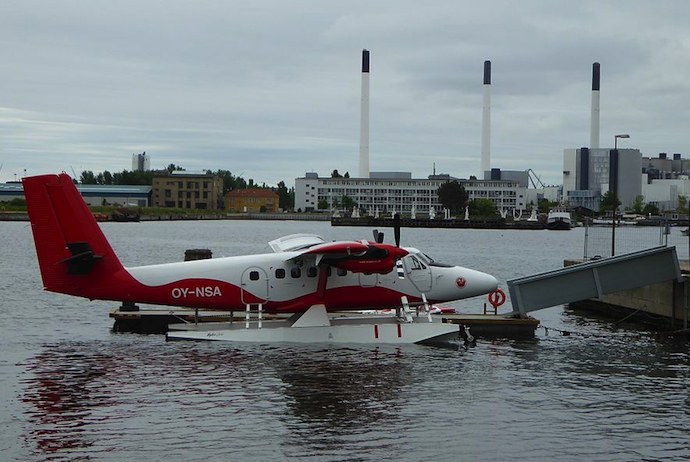 SAS flies between Copenhagen and Aarhus airports, with a journey time of around 35–40 minutes. If you book far in advance, you might find tickets from 549 DKK (single); otherwise, expect to pay between 1300–2000 DKK each way. You can compare prices on Skyscanner.
Aarhus Airport is approximately 40 km northeast of Aarhus, about a 35-minute drive by car or taxi. Bus #925x meets incoming and departing flights, with a single ticket to Aarhus costing 115 DKK.
For a more unusual flight experience, Nordic Seaplanes flies between Denmark's two biggest cities in 45 minutes. The planes take off from the water near The Little Mermaid in central Copenhagen and land on Aarhus harbour. Single tickets normally cost around 1900 DKK, though you can occasionally get special deals.
See also:
27 cheap and free things to do in Aarhus
The best hostels in Aarhus