Despite its relatively diminutive size, Aarhus is no cheaper than anywhere else in Scandinavia. If you want to see the best of Denmark's up-and-coming second city without ploughing through your kroner at an alarming rate, then look no further.
We've got you covered with this list of great value things to do for no more than 140 DKK (around US $20).
Our tips are split into the following categories, which you can jump to using the menu below.
• Historic sights and attractions
• Fun and entertainment
• Museums and galleries
• Parks and nature
• Excursions and day trips
• Health and fitness
• Window shopping
• Just chilling
Historic sights and attractions
1) Head into the heart of Aarhus to see the statue of King Christian X on Bispetorv, set against the attractive façade of Aarhus Theatre. The statue depicts the king on horseback – he is remembered for his daily rides through the streets of German-occupied Copenhagen during World War II.
2) Once at Bispetorv, you're only a stone's throw from the towering 12th-century Domkirke (cathedral). Climb to the top of the spire (entry 20 DKK; ask a member of staff) for a bird's eye view of central Aarhus.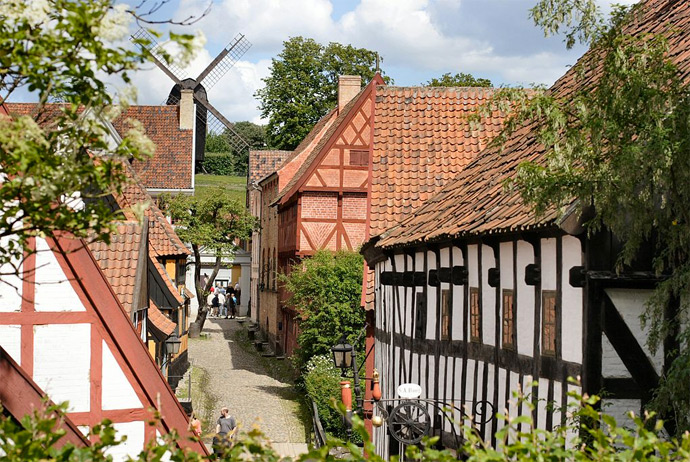 3) Go time travelling to Den Gamle By. Okay, so the entry fee is 110 DKK ((or 55 DKK for students). But kids go free and Aarhus' iconic open-air museum (its name translates to The Old Town) is such good value for money that we can't leave it out.
Actors in period dress stroll around neighbourhoods set in different historical eras, where you can buy hindbærsnitte (a type of pastry) from a 19th-century baker or snoop around a 1970s apartment block.
Try the wooden stilts in the fairground section for hours of free (though sometimes frustrating) fun.
4) For a free alternative to Den Gamle By, wander along Møllestien, a small alley tucked neatly into the city centre, with its brightly painted one-storey houses, cobbled road and creeping plants and flowers.
Fun and entertainment
5) Go to Riisvangen Stadium to cheer on the semi-pro club that proudly (and not without a hint of irony) calls itself "Aarhus' number two".
Tickets to watch second division Aarhus Fremad are wallet-friendly, the hotdogs are cheap, and kids can usually get their photos taken with the mascot.
6) Go to the races. It won't be cheap if you're careless placing your bets, but entrance is free for a day of pony and trap races and steeplechasing at Jydsk Væddeløbsbane (though parking costs 30 DKK).
7) Do your best Bambi impression. During the winter, Aarhus Municipality sets up a mobile ice rink on the doorstep of the Musikhuset concert hall. It's free to use, so get your skates on (or rent a pair for just 50 DKK).
8) Listen to locals read their poetry and prose in various languages (but primarily English) at Y Aarhus Poetry Club. If you're feeling brave, you can even step up to the mic yourself.
9) Have a laugh. There's free stand-up comedy every Sunday at 8pm at Alberts Bar – and it's in English. So get yourself down to this open-mic evening and enjoy a great line-up of up-and-coming comedians doing their thing.
Museums and galleries
10) Do the Viking thing at Aarhus' Viking Museum, hidden away in the basement of a bank. Admission is 30 DKK for adults, but kids get in free. Make your way past the cashiers and downstairs to see the interactive exhibits.
11) See a large collection of somewhat disconcerting stuffed animals along with educational displays on biodiversity and evolution at the Natural History Museum (adults 95 DKK, students 85 DKK and children free).
12) Judge Denmark's claims to being a world leader in feminism at Kvindemuseet (The Women's Museum). Entry is 65 DKK for adults and 50 DKK for students.
13) Delve deep into the wonders of modern medicine and science at the Steno Museum of science, astronomy and medicine in Aarhus University. There's a planetarium, plus displays on how the mind works, astronomy and the Danish health system, amongst other things. Admission is just 30 DKK, or free for kids.
14) Browse 400 square metres' worth of modern Danish and international art at the extensive Galleri V58, set in the stately Børnely building five minutes' walk from the town hall. Entry is free.
15) Check out Denmark's largest art collection outside Copenhagen at ARoS. And don't miss the most intriguing artwork of all, a 150-metre-long circular walkway in coloured glass, which gives great views over the city and the bay. Ok, so admission is 140 DKK, but there are reduced rates for under those under 31, and it's free for under 18s.
Parks and nature
16) Stroll down to the leafy Botanical Gardens and meander around its stony paths and trickling streams. If it's summer, bring a disposable barbecue. A downloadable map of the gardens can be found here.
17) Discover flora and fauna in four different climates at the recently-rebuilt domed Væksthus (glasshouse; free entry), located bang in the middle of the botanical gardens.
18) Follow the footpaths of the 7km-long forest belt that runs parallel to the coast, stretching from Marselis Forest at the southern limits of the city to the Moesgård manor house. In autumn, brown leaves fall like rain from the towering beech trees.
19) Soak up life on a green university campus with a walk through the University Park. Should you visit in April or May, you might find yourself swept up in crowds of tens of thousands, descending upon the park to take in Aarhus University's annual Kapsejlads (boat race) – a raucous take on a regatta involving fancy dress, beer chugging competitions and chaotic paddling across the lake in rubber dinghies. The rest of the year, the park is serene.
20) Get up close and personal with deer. Sika and fallow deer and wild boar all live at the deer park in the Marselisborg-Moesgaard forest. Bring along apples and carrots to feed the deer – then have a picnic in the woods.
Excursions and day trips
21) Visit one of Denmark's highest natural points, Himmelbjerget (the name translates rather optimistically to 'sky mountain') for beautiful panoramas of the surrounding forests and lakes. Take bus #311 from Silkeborg bus station, which is served by regular buses from Aarhus.
Health and fitness
22) Go running. Aarhus is compact enough to combine city, forest and coastal scenery into no more than a 5km-long jog. Aarhus Motion organises running events throughout the year.
23) Join the park run. Like cities the world over Aarhus has its own 5km park run, which takes places every Saturday at 9am in the district of Braband. It's fun, it's free, it's sociable – and you can stay for a cup of coffee afterwards too.
24) Go swimming in the harbour. The architect-designed harbour baths has a series of swimming pools surrounded by wooden sunbathing decks and is completely free. It's open daily from June to August and on weekend mornings year-round for hardy cold-water swimmers – there's even a sauna to warm up afterwards.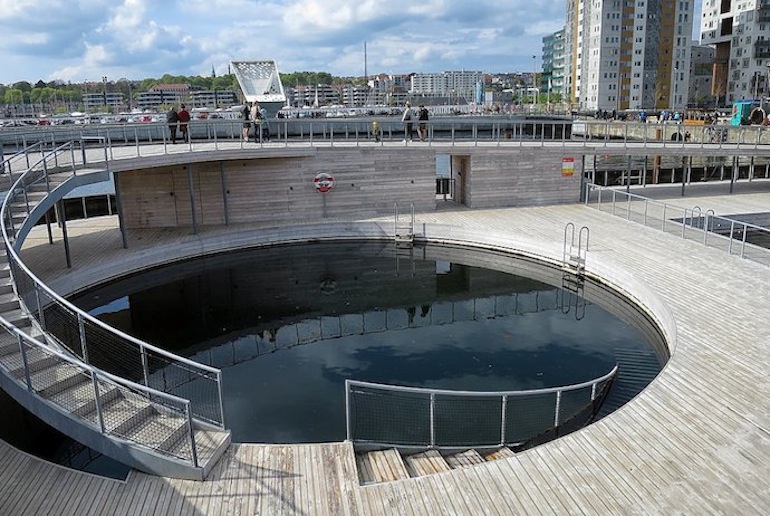 25) Tune up with a bit of non-profit yoga in the great outdoors. Classes cost from about 30 DKK.
26) Ride a bicycle (it's Denmark, so you really have to). Aarhus has broad cycle lanes and the entire city can easily be covered by bike. Rent from Cycling Aarhus from around 110 DKK per day or brave a bone-rattling bycykel for free (you'll need a 20 DKK coin deposit to operate it).
Window shopping
27) Walk slowly through the streets of the Latin Quarter – particularly along Mejlgade and Graven – and check out the offbeat second-hand shops. There are enough LPs in Vinylrock Café, toys and utensils in Heidis Bix Mix, and vintage clothes at Soul Shine for you to browse away an entire afternoon.
28) Get off the beaten tourist track at the sprawling ethnic market Bazar Vest in the Gellerup neighbourhood. Here you can find Aarhus' spiciest doner kebab; a souvenir clock in the shape of a mosque; fresh papaya in the fruit and veg market; sequined winkle pickers; and endless other treats.
29) Wander around a flea market and nose at Aarhusianers' unwanted treasures. The markets at Ingerslevs Boulevard and Ridehuset (check the calenders of both before setting out) are good places to start, but there are plenty of others. 
Just chilling
30) Go to the library. Doesn't sound exciting? You'll be pleasantly surprised. Dokk1 is the showpiece of the wave of redevelopment taking place around the harbour area.
The ultra-modern new city library opened its doors to the public in 2015. It hosts lectures, workshops, exhibitions and events – and there's even a kids' play area.
31) Admire the views. Head up to the top floor of the Salling department store, where a huge roof terrace gives spectacular 360-degree views over the city.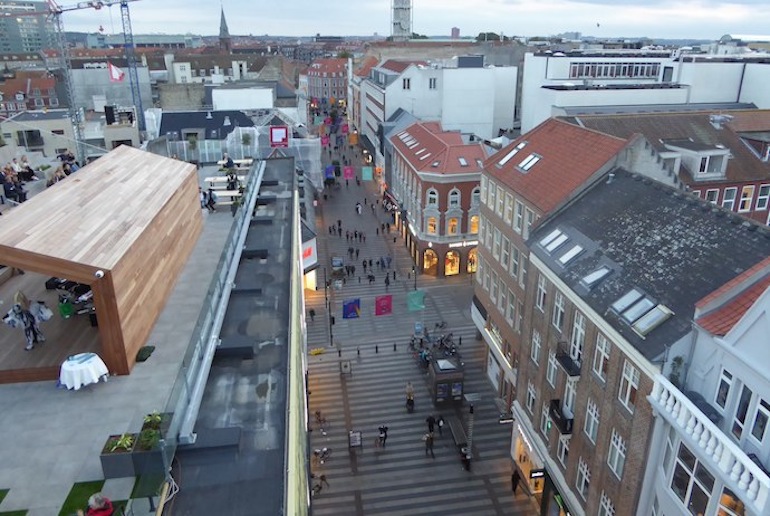 You can even venture out onto a glass skywalk that juts out over the busy pedestrianised shopping street Strøget below – if you're brave enough!
32) Have fun in the fountains. Keep the kids entertained for hours on a hot day at the Endless Connection fountain on Havnepladsen.
Two-metre high walls of water pop up from the ground then disappear again, so you can stand inside the fountain and stay dry – or run through the walls of water and get very wet!
33) Worn out after all that free and cheap activity? Wind down to some free live jazz every Sunday at 2.30pm with the enthusiastic audience in the down-to-earth Cockney Pub.
Need more inspiration for a budget-friendly trip? 
110 free things to do in Stockholm
50 free things to do in Copenhagen
Like what you've been reading? Get our best tips by email!