Chances are, you know about Lego. This huge Danish brand has spawned smash-hit movies and toy-inspired theme parks around the world, from Dubai to Japan.
But the original Legoland lies just outside the Danish town of Billund. It was opened back in 1968 as an outdoor exhibition to showcase the company's products on a large scale.
Today the theme park is officially called the Legoland Billund Resort, and has grown to become Denmark's most visited attraction – outside of Copenhagen, anyway.
Why go?
Legoland is impressive for kids of all ages, while for adults a visit to the 'birthplace' of the brand can be a bit of a pilgrimage. You'll find plenty of entertainment around the park, whether you've come to admire the cities and famous buildings built from Lego bricks, or to brave the wildest rides the park has to offer.
The park is split into themed zones based on actual Lego sets. So don't be surprised to encounter everything from pirates to Indians, knights to ninjas on your way round.
It's a whole world of entertainment and creativity, served up alongside plenty of restaurants and well-stocked Lego shops (of course). You can easily spend a whole day at the park! Usually, the park is open from the end of March to the beginning of November.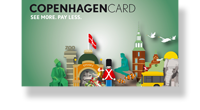 Is the Copenhagen Card worth buying?
Read this guide to see how much you could save during your trip!
Getting there
Legoland is next to Billund Airport in the small town of Billund in central Jutland. It's about 265km west of Copenhagen and about 95km southwest of Aarhus.
Billund is home to the Lego company, Legoland Billund Resort (home to an awesome themed Lego hotel) and the brand-new Lego House attraction – not to mention Denmark's second largest airport. In fact, Billund Airport was built in 1964 by the Lego company, who needed to make it easier for investors to visit.
By plane
Although it's not the cheapest or most environmentally-friendly option, it is possible to fly between Denmark's two largest airports, Copenhagen and Billund – a journey of 50 minutes. Use Skyscanner to see which routes are available.
From the airport terminal in Billund, it is just a three-minute taxi ride to the entrance of Legoland, or a short trip on bus #43. Another option is to walk (around 20 minutes) or cycle (about six minutes).
By train
From central Copenhagen, the easiest way to reach Legoland is to jump on the train to the city of Vejle in Jutland (298 DKK single, unless you can buy a discounted 'orange' ticket in advance). Check the ACP Rail site for fares and train times.
The train journey is around two hours long and takes you across the island of Funen, crossing the scenic bridges of the Great Belt and the Little Belt along the way. From Vejle, bus #43 runs approximately every 30 minutes from Vejle Trafikcenter to Legoland – a 45-minute journey.
By bus
A cheaper, if slower, route is to catch a bus from Copenhagen to Vejle, then change onto bus #43 to Billund. The bus ride from Copenhagen to Vejle takes approximately three hours (89 DKK one way).
By car
Alternatively, you can rent a car in Copenhagen and drive across Zealand and Funen to Jutland. The journey from Copenhagen to Legoland by car takes about 2 hours and 45 minutes, but note that you have to pay a toll to cross the Great Belt Bridge (245 DKK one way for a normal size car). Legoland's GPS address is Nordmarksvej 9, 7190 Billund.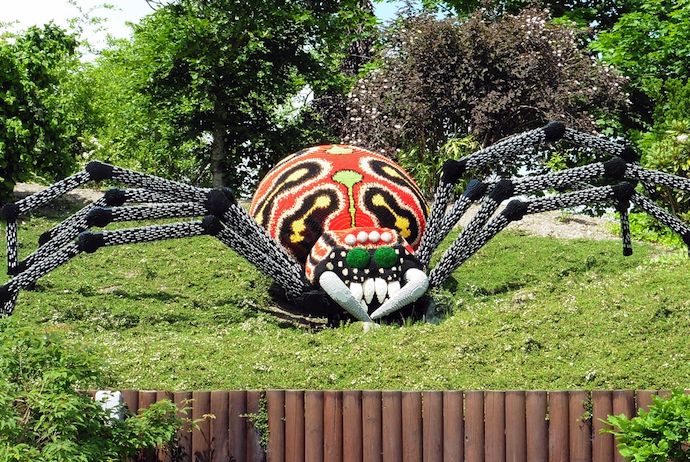 Can you do it in a day?
Travelling from Copenhagen to Legoland and back in one day is possible if you leave very early, but you'll be on a very tight schedule if you want to make the most of the park. Especially if you're travelling with children, you're better off spending the night at one of the hotels in Billund, either inside Legoland or elsewhere in the town.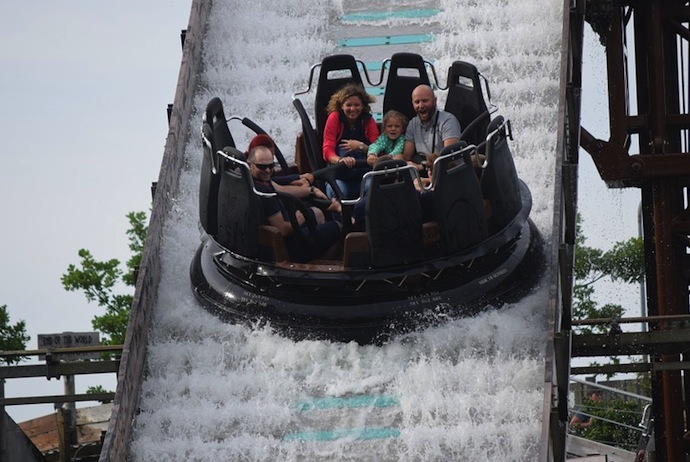 So where is a good place to stay near Legoland?
Legoland has a wide range of official accommodation both in and outside the park. Inside the park itself, the four-star Hotel Legoland has rooms themed with pirates and ninjas and everything in between. From the spring of 2019, you can also stay at the brand new castle-themed Legoland Castle Hotel. Just outside the park itself, a short stroll from the main entrance, it offers children the chance to meet knights, princesses and wizards in magical surroundings.
Slightly further afield, the Legoland Holiday Village has a pirate-themed motel, ninja and Wild West cabins, tipi-style tents and an area where you can set up your own caravan. As well as Legoland's own accommodation, there is a good selection of hotels in Billund itself.
Like what you've been reading? Get our best tips by email!