Chances are, you know about Lego. This huge Danish brand has spawned smash-hit movies and toy-inspired theme parks around the world, from Dubai to Japan.
But the original Legoland lies just outside the Danish town of Billund. It was opened back in 1968 as an outdoor exhibition to showcase the company's products on a large scale.
Today the theme park is officially called the Legoland Billund Resort, and has grown to become Denmark's most visited attraction – outside of Copenhagen, anyway.
Why go?
When is the best time to visit?
Buying tickets
Plan your visit
Food and drink options
Buying souvenirs
Getting there
Can you do it in a day?
Where to stay near Legoland
Nearby attractions
Why go?
Legoland is impressive for kids of all ages, while for adults a visit to the 'birthplace' of the brand can be a bit of a pilgrimage.
You'll find plenty of entertainment around the park, whether you've come to admire the cities and famous buildings built from Lego bricks, or to brave the wildest rides the park has to offer.
The park is split into ten different themed zones based on actual Lego sets. So don't be surprised to encounter everything from pirates to Indians, knights to ninjas on your way round.
And there are also more than 50 fifty rides and attractions, including the Flying Eagle rollercoaster and a variety of shows and displays that take place throughout the day.
It's a whole world of entertainment and creativity, served up alongside plenty of restaurants and well-stocked Lego shops (of course). You can easily spend a whole day – or even two – at the park!
Usually, the park is open from the end of March to the end of December, though it's not open every day in September and October, and often only open from Friday to Sunday in November and December.
The park's open days vary from year to year, so make sure you check the website first.
When is the best time to visit?
As one of Denmark's most visited attractions, Legoland can get busy. Weekends and school holidays, of course, are popular so if you want to avoid the crowds try and visit on a week-day out of season.
Perhaps surprisingly during the peak summer holidays, Saturdays and Sundays tend to be quieter as Saturday is the changeover day for summer rental accommodation.
During the summer holidays, Tuesdays and Wednesdays are often the busiest days of the week.
Danish schools go back towards the end of August so the park is less busy after then.
Waiting times for the most popular rides can be long, but you can download the Legoland app to check live waiting times at the various rides. Food outlets and restaurants are less busy between 11.30am and 12.30pm, so eat early if you can.
Buying tickets
There are two main tickets available that include entrance and all the rides: a one-day ticket, and a two-day ticket, which admits you to the park for any two days within six days – so you can have a rest day or two between visits.
You can also buy a variety of seasonal passes, which allow access throughout the year: the Fun season pass excludes the peak summer holidays and halloween; the Awesome Pass allows entry all year: and the Extreme Pass includes entrance all year, plus special events, parking and Christmas opening.
These passes will only be worth buying if you're planning lots of trips to Legoland or if you live nearby. There's also a Combi ticket that include a visit to Legoland and the Lego House (see below) to be used within 6 days of each other.
Adult ticket prices apply from aged 3–99, so there are no child or senior discounts. Under 3s go free. There are discounts available for groups of 20 people or more.
We suggest buying tickets online in advance to save time queuing at the ticket office.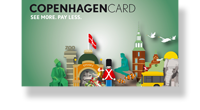 Is the Copenhagen Card worth buying?
Read this guide to see how much you could save during your trip!
Plan your visit
First thing to do is to check out the times of any show and events that you particularly want to see, and plan your day around these.
It's also a good idea to arrive early and head for the most popular rides first before the queues start to build up. And check the waiting times on the Legoland app.
A sample one-day itinerary
If you're just buying a day ticket, you'll need to plan your day to make the most of your time. The average length of time people spend in Legoland is 6–8 hours, so you'll won't be able to do everything.
Ride the Polar X-plorer
Brave the X-treme Racers rollercoaster
Take a trip in the Flying Eagle
Early lunch to avoid the queues
Explore the world in miniature at Mini Land
Watch the Castle Show
Ride the LEGO Canoe
Visit the live sharks in the Atlantis zone
A sample two-day itinerary
You may well find that one day just isn't enough to do everything there is to do at Legoland. If you've got a two-day ticket, you can do all the above but will also have time for the rides and shows below too. 
Try Unikitty's Disco Drop
Buckle up for Emmet's Flying adventure interactive ride
Take a trip on the Pirate Boats
Lunch
Climb Cole's rock
Take a Ninjago ride
Tackle Lloyds Laser Maze
Watch the Battle of the Brick with real horses
Build your own Lego creations at Brick Street
Food and drink options
There are plenty of food and drink outlets in the park, though they can get busy at lunchtimes.
Food outlets include burgers, pizza, pasta, a grill house, a family buffet restaurant and a barbecue saloon, as well as a couple of coffee shops.
A cheaper alternative is to bring your own food and drink, and eat it at one park's picnic areas.
Buying souvenirs
There are several on-site shops selling Lego bricks by the weight, Lego figurines, and a variety of rare Lego box sets and kits.
You can also buy Lego clothing and schoolbags, plus exclusive products that can only be bought at the park, such as knights' swords, princess gowns and pirate clothing.
Getting there
Legoland is next to Billund Airport in the small town of Billund in central Jutland. It's about 265km west of Copenhagen and about 95km southwest of Aarhus.
Billund is home to the Lego company, Legoland Billund Resort (home to an awesome themed Lego hotel) and Denmark's second largest airport.
In fact, Billund Airport was built in 1964 by the Lego company, who needed to make it easier for investors to visit.
By plane
There are no direct flights from Copenhagen to Billund, though you can fly directly to Billund from a variety of other destinations including Stansted, Manchester and Edinburgh with Ryanair.
British Airways also flies there from Heathrow, London City Airport, Manchester and Humberside airport.
From the airport terminal in Billund, it is just a three-minute taxi ride to the entrance of Legoland, while several buses also make the eight-minute journey including the #43, the #944x, the #143 and the #144.
Another option is to walk (around 20 minutes) or cycle (about six minutes).
By train
From central Copenhagen, the easiest way to reach Legoland is to jump on the train (2 hours, 10 minutes) to the city of Vejle in Jutland. Check the Omio site for fares and train times.
From Vejle, buses #43 and #143 run approximately every 30 minutes from Vejle Trafikcenter to Legoland – a 35–55-minute journey.
By bus
A cheaper, if slower, route is to catch the Flixbus from Copenhagen to Vejle, then change onto bus #43 or #143 to Billund (see above). 
The bus ride from Copenhagen to Vejle takes approximately three hours.
By car
Alternatively, you can rent a car in Copenhagen and drive across Zealand and Funen to Jutland.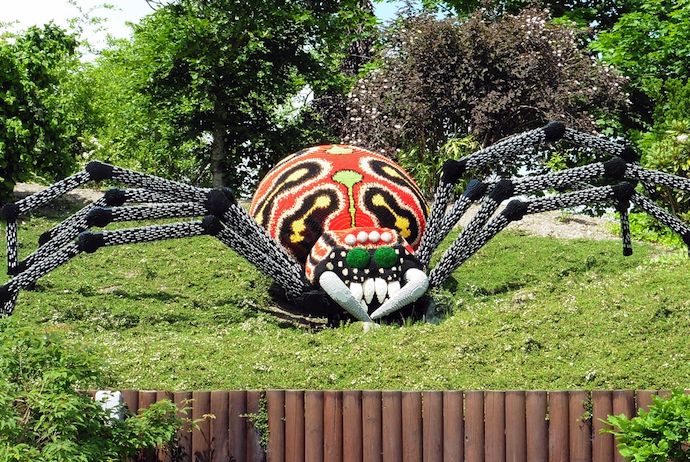 The journey from Copenhagen to Legoland by car takes about 2 hours and 45 minutes, but note that you have to pay a toll to cross the Great Belt Bridge (270 DKK one way for a normal size car).
Legoland's GPS address is Nordmarksvej 9, 7190 Billund.
Bear in mind that parking at Legoland costs an extra 60 DKK a day: parking tickets can be bought in advance online, in the Legoland shop, on the app, or you can pay by card at the car park ticket machines.
Can you do it in a day?
Travelling from Copenhagen to Legoland and back in one day is possible if you leave very early, but you'll be on a very tight schedule if you want to make the most of the park.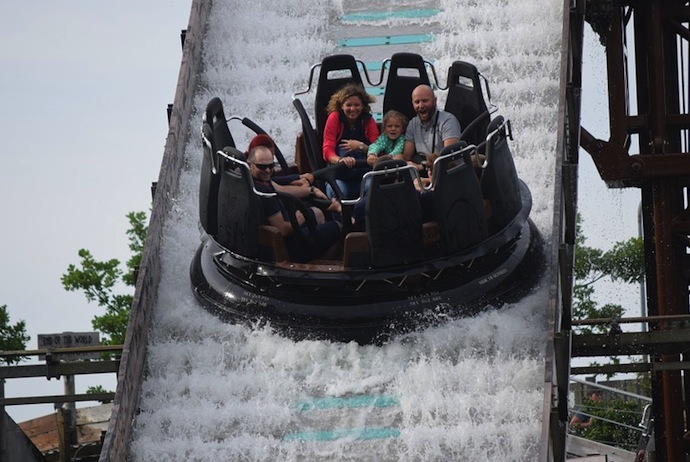 Especially if you're travelling with children, you're better off spending the night at one of the hotels in Billund, either inside Legoland or elsewhere in the town.
So where is a good place to stay near Legoland?
Legoland has a wide range of official accommodation both in and outside the park. Inside the park itself, the four-star Hotel Legoland has rooms themed with pirates and ninjas and everything in between.
There's also the pricey, but fun, castle-themed Legoland Castle Hotel. Just outside the park itself, a short stroll from the main entrance, it offers children the chance to meet knights, princesses and wizards in magical surroundings.
Slightly further afield, the Legoland Holiday Village has a pirate-themed motel, ninja and Wild West cabins, tipi-style tents and an area where you can set up your own caravan.
As well as Legoland's own accommodation, there is a good selection of hotels in Billund itself.
Nearby attractions
And if you're spending some time in the area, there are a few other attractions that are worth visiting.
If you haven't had enough Lego, you can visit the nearby Lego House, filled with 25 million Lego bricks that kids can play with, giant Lego dinosaurs, waterfalls, trees, play areas and a museum.
And the building has even been designed to look like it's made of Lego!
Kids will also love the Wow Park Billund, and outdoor adventure park where they can slide down the highest free-fall slide in Scandinavia. There are also rope swings, hanging bridges, ziplines, a maze and tree-top walkways to explore.
An altogether calmer day-out is the Givskud Zoo and safari park, just 20-minutes from Billund.
You can drive through a safari park where giraffe, zebras and antelope roam, then enter the lion enclosure before parking up and seeing other animals such as macaques, lemurs, gorillas and giant otters.
See also:
77 cheap and free things to do in Copenhagen
Day trips from Copenhagen
The Tivoli Gardens in Copenhagen: is it worth visiting?