Foodies often whizz straight through Malmö. And who can blame them? Copenhagen, with its busy food markets and cool-as cafés, is just 20 minutes away. But Malmö is also bursting with cheap and delicious eats, largely courtesy of the city's diverse immigrant population.
There are dozens of satisfyingly cheap places to graze in the city, including some surprisingly inventive takeaways and pop-up restaurants. Follow these simple tips to banish your hunger on a budget.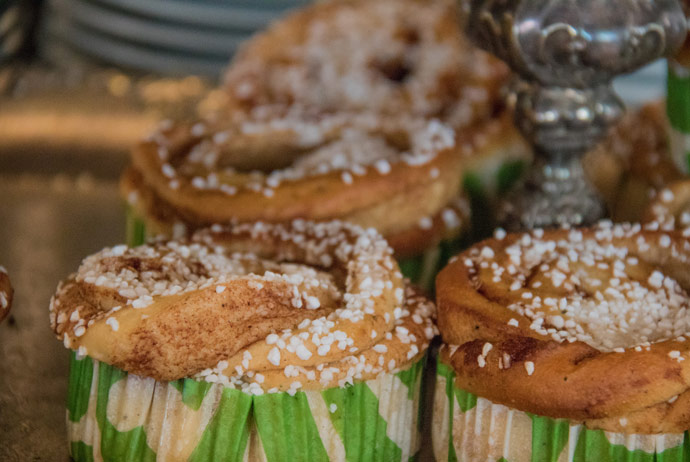 Choose cafés, not restaurants
Most of Malmö's restaurants cater to well-heeled diners, with main courses going for upwards of 200 SEK. However, the city has a great selection of cheap cafés, where you can grab tasty meals for around half that amount.
Try Kao's, which specialises in meat-free meals, or Lilla Kafferosteriet, which does classic Swedish snacks as well as budget-friendly breakfasts. Another safe bet is Noir, where you can grab delicious cakes, strong coffee and healthy open sandwiches.
Seek out Nordic Street Food
Over the past couple of years food trucks have been changing Scandinavia's dining scene. Malmö has been a bit behind the curve compared with other cities, but there is one place that pops up with pleasing regularity – and it's been described as the best food truck in Sweden.
Run by Pernilla Elmquist, Nordic Street Food serves yummy takeaway lunches made using local, seasonal ingredients. There are usually two options on offer (one meat and one veg) at around 85 SEK each. When we visited they were serving up pulled beef burgers with sour cabbage, pickled onion, horseradish and wild garlic mayo. To see where and when the truck will be appearing, head to streetkak.se.
Head to Mitt Möllan
Tucked away in a gloomy shopping mall that's in dire need of an update, Mitt Möllan is an odd place for lunch. But there's no denying that some of Malmö's best cheap eats are found here.
The food court in the middle of the mall offers a plethora of good, home-style meal options for less than 100 SEK, including pizzas, sandwiches and Ayurveda-inspired Indian food. Make room for dessert at Köld, a quirky ice-cream shop that offers at least 10 different flavours each day, including daring options like carrot cake and Gorgonzola with fig jam. Vegans, you're in luck: some of the ice cream on offer here is dairy-free.
The mall also has some interesting shops worth visiting, including Beyond Retro, which does vintage clothing, and Bee Urban, which sells honey made on rooftops around the city.
Go shopping
If you're staying in an Airbnb rental or a hostel with a kitchen, one of the best options is to stock up on supplies at the supermarket. Cheap choices include Lidl, Netto and Willy's (there are a few different branches in the city centre).
For fancier food try Malmö Saluhall, which is due to open near the main train station in late 2016. You'll save cash if you buy your booze at Systembolaget, Sweden's alcohol monopoly, rather than at bars – the most central branch is at Malmborgsgatan 6.
RECOMMENDED HOTELS IN MALMÖMORE HOTELS
Eat falafel
It's hard to think of another city that's so obsessed with one particular food. Malmö has enjoyed a love affair with falafel since the 1980s, when migrants from Lebanon first brought the recipe to town. Today Malmö has dozens of takeaway shops and kiosks specialising in the snack.
The deep-fried balls of chickpeas or fava beans are usually served in a thick wrap along with salad, sauce and optional slabs of halloumi. One of these stomach-stretching wraps (called a falafelrulle in Swedish) costs as little as 20 SEK. Here are some of the best places in the city to get a cheap falafel fix.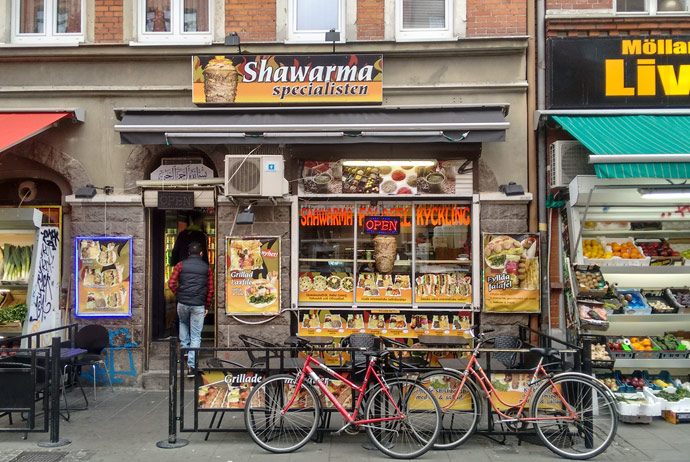 Shawarma Specialisten
Ystadsgatan 4C
If you're looking for something a little different, try the stuffed falafel here. It's crammed with caramelised onions, halloumi or feta. Specialisten also has lower prices than some of the other falafel joints in Malmö, and has more home-done pickles and salads.
Sara Restaurang and Pizzeria
Bergsgatan 24
A local favourite and open until late, this place bakes its own bread on the premises and has a good selection of toppings. The falafels are perfect – crispy yet soft, light and nicely spiced.
Falafel Baghdad
Annelundsgatan 57
This is one of the city's original falafel places. Started as a cart, it's now housed in a small corner building near Rosengård, where local hero Zlatan Ibrahimović grew up. The bread's very fresh and the falafel is amazing.
Jalla Jalla
Bergsgatan 16
Another stellar falafel joint, and popular too – this one is closer to the centre than Falafel Baghdad (see above). A wrap at Jalla Jalla will set you back just 30 SEK.
Like what you've been reading? Get our best tips by email!