A simply dressed tree with white candles next to a roaring fire and a window looking out onto a snowy scene is the ultimate Nordic Christmas look.
Simple Scandi-style ornaments and Danish design decorations are very much on trend for the festive season.  
If you like the minimalist Scandi-chic look with just a splash of colour for your decorations, check out our guide to Nordic Christmas decorations, which is packed with inspirational ideas for your home this Christmas.
What is Scandinavian Christmas decor?
The philosophy behind Scandinavian minimalism
What colours do Scandinavians celebrate Christmas with?
What are the main Scandinavian brands to look out for? 
Classic Christmas tree decorations from Scandinavia
Scandinavian Christmas tableware and textiles
Scandinavian Christmas candles, candle sticks and candleholders
What is Scandinavian Christmas decor?
If you're the sort of person who likes a full tree brimming with a mish-mash of ornaments and tinsel in bright garish colours, plus a few plastic reindeer and Santa baubles, then a Nordic 'jul' (Christmas) isn't really for you!
Simplicity is key to a Scandi-chic look for your festive decor.
Think a bushy green tree (real, of course and preferably smelling of pine), decorated with simple white or silver lights, rather than coloured ones. 
One or two carefully-placed red and gold stars or tasteful wooden baubles will add a splash of warmth to the tree, while simple white candles and pale pastel colours will add to the Nordic vibe.
However, it's not all sleek, stylish decor at a Nordic Christmas.
There's nothing the Scandinavians like more than to add a bit of fun to the proceedings, with a cheeky woollen Christmas gnome or a straw goat to liven up the tree!
The philosophy behind Scandinavian minimalism
The basis of Scandinavian minimalism is not just aesthetic and limited to decor, but it mirrors the lifestyle and values of the Nordic people.
There's an emphasis on natural elements, such as wood, flowers and greenery, with pale colours reflecting the pale wintry light of the northern countries.
For more on the background of Nordic minimalism, see our guide to Swedish design and architecture.
What colours do Scandinavians celebrate Christmas with?
The classic Christmas colours, as in the rest of Europe, are red, green, gold and silver. 
However, paler colours such as pastels, greys and neutral tones have also become popular in Scandinavian in recent years.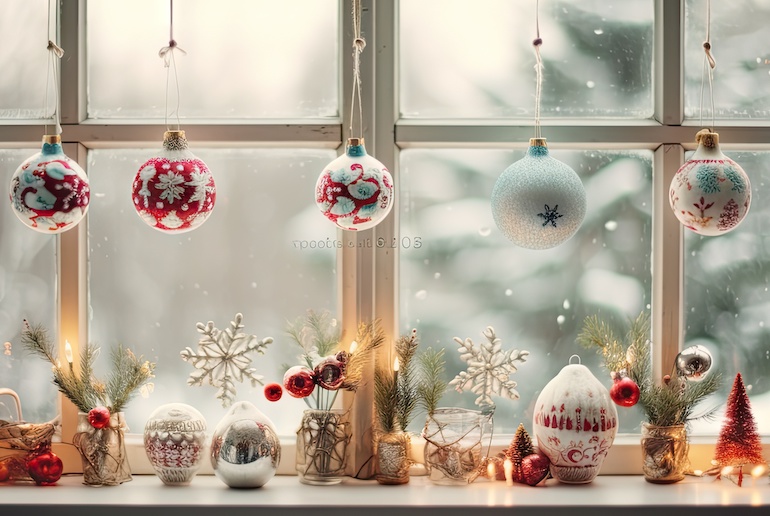 But these are usually brightened up with a tastefully located splash of colour.
Bright colours are very much part of the Nordic tradition, as can be seen in the beautiful Norwegian rosemaling art and the painted Swedish Mora clocks.
For more on the role of colour in traditional Nordic arts and crafts, see our guide to Scandinavian folk art. 
However, before you get carried away with too much colour, you can forget any garish multi-coloured Christmas tree illumiations – soft white lights are de rigueur.
We like these understated warm white string lights, which are waterproof so can be used on an indoor or outdoor tree.
What are the main Scandinavian brands to look out for?
So, you know you want a stylish Scandi look to your Christmas this year, but which brands should you go for?
Well, the Scandinavians like to blend a mix of tradition and quality with contemporary design, so brands such as Royal Copenhagen and Georg Jensen are popular.
Danish design brand Georg Jensen has been producing jewellery, homeware and silverware for more than 100 years, but has worked with contemporary designers to ensure that their products remain up to date.
While Royal Copenhagen has been making their distinctive blue ceramics and pottery for more than 250 years, but have consistently come up with new and contemporary styles.
For more on these Danish design classics, see our guide to shopping in Copenhagen.
But, of course, if you don't want to splash out on pricey decorations that will only be seen for one month a year, we need to give to a shout-out to Ikea.
Always interesting in its design and ideas and very kind on the wallet, Ikea has a great range of classic – and less traditional! – Scandinavian Christmas decorations to brighten up anyone's tree.
Classic Christmas tree decorations from Scandinavia
In line with the theme of keeping it simple, Scandinavian tree decorations usually consist of ornaments, candle holders and strings of lights and flags.
Traditionally, a star or angel is placed on top of the tree, and the decorations usually follow a colour theme, often gold or silver.
In a nod to traditional Nordic arts and crafts, painted wood, straw and felt ornaments are often added.
In Denmark and Sweden, national flags are sometimes strung around the tree, such as this Swedish flag garland.
So, we've picked out some classic Nordic Christmas tree decorations from Sweden, Norway, Denmark and Finland to give you some ideas for your own cool, fun Scandinavian Christmas decor. 
The Dala horse
This beautiful traditional red-painted horse adds a bright splash of colour to many a Swedish Christmas tree.
Traditionally hand-carved out of wood in the Dalarna region of Sweden, the horses were painted in bright red colours as toys for children. 
Today, they come in a variety of colours including blue, silver and white and can be made out of glass, silver or china, though the traditional red wooden horse is still the favourite Christmas ornament in Sweden.
The adventsstjärna
Every self-respecting house in Sweden has an adventsstjärna, an advent star, normally seen hanging in a window.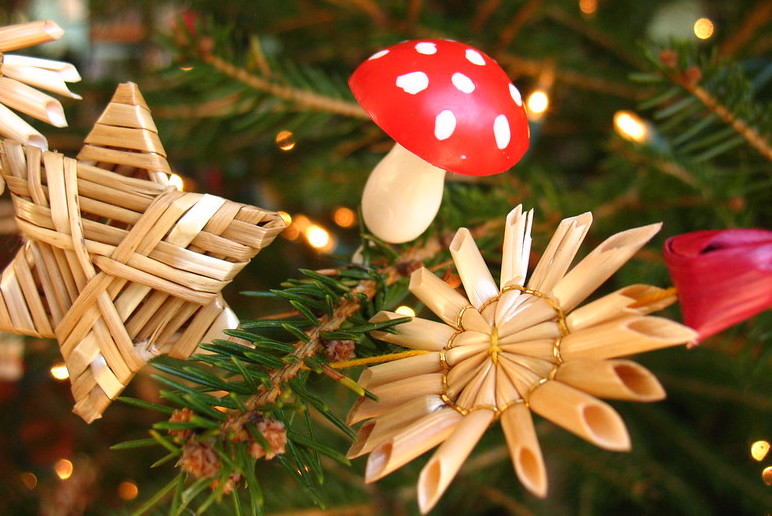 Also called a julstjärna (or Christmas star), it's usually white or silver, though gold and red and sometimes even orange, can be seen. 
Julsjärna is also the name for a poinsettia, a houseplant that's popular at Christmas for its red star-like leaves.
The julebukk
It may not seem very Scandi-chic or minimalist but hanging straw figures in the Christmas tree is popular throughout the whole of Scandinavia.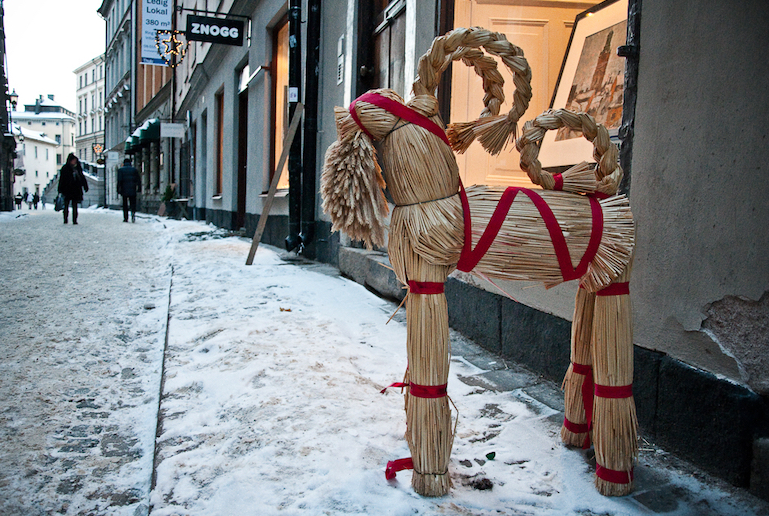 In Norway, the julebukk, or yule goat, with large curly horns, is woven from straw and hangs on most Norwegian Christmas trees, while giant versions can often be seen as outdoor decorations.
In Sweden, stars, snowflakes, angels and bells are popular traditional straw ornaments too.
The 'Christmas goat' makes an appearance in Sweden too, as people honour the famous Gävlebocken, a giant straw goat that regularly gets attacked by arsonists.
The julekurver
Just before Christmas, many Scandinavian families get together to make julekurver, heart-shaped paper baskets that are filled with sweets and hung on the Christmas tree.
Both Denmark and Norway claim this popular tradition, which some say was invented by Danish author Hans Christian Anderson in the nineteenth century. See the clip below for a quick guide to how to make julekurver.
Glass and china ornaments and baubles
Some of the most stylish Scandi trees sport Royal Copenhagen Christmas drop ornaments, such as this classic painted porcelain angel or these beautiful blue baubles.
But if you prefer glass ornaments, we love these Iittala glass baubles which are hand-blown and come in a set of matching shades.
Or, try Ferm Living Decorations, who produce a range of glass Christmas baubles in painted glass or different transluscent colours.
Paper ornaments
Ornaments made from paper are also popular on Scandinavian Christmas trees. A good brand to check out is Nordstjerne, which sells a range of pretty folded paper ornaments in different colours. 
Swedish firm ARKET is also a good source of innovative honeycomb ornaments – you can get colourful trees, snowmen, stars and baubles all made from paper or cardboard.
And for something completely unique, Danish brand Stilleben sells beautiful handmade paper Christmas decorations by the artist Lene Lykke Davidsen.
George Jensen ornaments
Danish designer George Jensen is the go-to decoration designer for stylish Danes. All the smart Danish households have a few expensive gold-plated ornaments – bells, baubles, hearts or stars – hanging tastefully from the tree.
Clip-on Christmas tree candle holders by Georg Jensen are the most stylish way or attaching candles to your tree, while a gold-plated Georg Jensen star tops many a beautiful Scandinavian Christmas tree. 
And a gold-plated or polished stainless steel candlebra makes a magical minimalist centrepiece on Danish dining tables.
OK, so they may cost an arm and a leg, but these decorations last a lifetime and add a touch to glamour to Christmas.
The himmeli
This traditional Christmas ornament made from straw can be found throughout Scandinavia, but is particularly popular in Finland.
These delicate geometric mobiles are hung above Finnish dining tables at Christmas, and are supposed to bring good luck and a good harvest. 
The word himmeli comes from the Swedish meaning "sky" or "heaven", and they consist of a series of diamond-shaped structures that can be as simple or as ornate as you like – the bigger and more elaborate the mobile, the better the harvest!
Himmeli are traditionally made out of rye straw, as it is known for having long, sturdy stems, and they can be decorated with wood, birds' feathers and egg shells.
Today, you buy them made from metal, plywood or paper, though the traditional rye straw structure is still considered the best, and a well-made himmeli can last for many years. 
The tomte
Every Scandinavian country has its own version of the Swedish tomte.  In Finland, its the tonttu, and in Norway and Denmark the nisse.
The tomte is a type of gnome that traditionally lived in the homestead's barn and looked after the farm and its people. 
At Christmas time the tomte prepares all the food and gets the house ready for any Christmas guests, and many Scandinavians still put out a bowl of julgröt (Christmas porridge) to thank them!
Today, tomte ornaments are made out of wool or felt and hung on the Christmas tree.
They traditionally have a long curly grey beard, with just a nose sticking out from beneath their pointed red hats and, and make a cute Christmas ornament for the kids. 
And, they're not just for hanging on the tree. At Christmas time, many of the usually stylish minimalist Nordic homes are filled with models of gnomes throwing snowballs and generally making mischief!
Scandinavian Christmas tableware and textiles
But it's not just the tree that makes a Nordic Christmas look so beautiful, it's the tableware and textiles too.
Porcelain, china and ceramic tableware with natural elements give the Christmas dinner table a Scandinavian vibe.
And some companies produce a specific Christmas/winter dinner set – though, of course, there's nothing to stop you using it year-round.
Royal Copenhagen's starfluted Christmas tableware has a natural theme, with a spruce wreath, bells, ribbons, pine cones and tree decorations. 
Staying traditional, mistletoe and snowdrops make up the motif on Rorstrand's Swedish Grace Winter tableware, designed by Katarina Brieditis. 
And Wik & Walsøe's Julemorgen tableware range made from bone china has a subtle design of snowflakes, Christmas trees and reindeer on a plain white background.
With a more contemporary look, Finnish brand Marimekko's Oiva Unikko tableware has a distinctive festive forest tree pattern, designed by Maija Louekari.
And, of course, using Christmas textiles for table cloths, table runners or just as decoration can add to the festive feel.
Reds, reindeers and snowflakes are all common themes, but we also like the more subtle shades and forest themes. Check out some Scandi Christmas fabric designs here.

Scandinavian Christmas candles, candle sticks and candleholders

Candles are an essential part of a Nordic Christmas, and can help combat the winter cold and darkness, creating a sense of hygge.
And in Denmark in particular, many households still use real candles on their Christmas trees. 
While this may seems like a health and safety nightmare for the rest of us, Danes seem to survive each Christmas using real candles without burning their houses down! 
A real example of Danish hygge, they certainly look very beautiful on the tree and give an authentic light to the room.
But those who don't feel brave enough to risk candles on the tree often light an advent candle instead which burns throughout December until Christmas Eve.
The Georg Jensen SEASON Advent candle holder is the ultimate candle holder, a gorgeous gold-plated crown that gives a Christmassy glow throughout December.
A cheaper option, but just as pretty, the Kähler Advent candle has a traditional Christmas motif with numbers that burn down to Christmas Eve.
Or why not get twice the use out of the two-in-one Applicata Luna candleholder, which doubles as a beautiful oak tray and a candle holder?
And if you don't want real candles, the Swedish Christmas candlestick bridge is a popular alternative, with LED or battery lights on a wooden bridge.
Their designs vary from a simple white-painted or wooden bridge to more ornate forest and Christmas scenes – check out some different styles here. 
And finally, we love this stylish polished brass Skultana Advent candle holder, which combines tradition and simplicity with a contemporary look. They come beautifully packaged too!
See also:
Christmas in Sweden: the ultimate guide
The best Christmas markets in Scandinavia
Christmas tours in Scandinavia