A simply dressed tree with white candles next to a roaring fire and a window looking out onto a snowy scene is the ultimate Nordic Christmas look. Simple Scandi-style ornaments and Danish design decorations are very much on trend for the festive season.
If you like the minimalist Scandi-chic look with just a splash of colour for your decorations, check out our guide to Nordic Christmas decorations, which is packed with inspirational ideas for your home this Christmas.
What is Scandinavian Christmas decor?
If you're the sort of person who likes a full tree brimming with a mish-mash of ornaments and tinsel in bright garish colours, plus a few plastic reindeer and Santa baubles, then a Nordic 'jul' (Christmas) isn't really for you! 
Simplicity is key to a Scandi-chic look for your festive decor. Think a bushy green tree (real, of course and preferably smelling of pine), decorated with simple white or silver lights, rather than coloured ones. 
One or two carefully-placed red and gold stars or tasteful wooden baubles will add a splash of warmth to the tree, while simple white candles and pale pastel colours will add to the Nordic vibe.
However, it's not all sleek, stylish decor at a Nordic Christmas. There's nothing the Scandinavians like more than to add a bit of fun to the proceedings, with a cheeky woollen Christmas gnome or a straw goat to liven up the tree!
Classic Christmas decorations from Scandinavia
We've picked out some classic Nordic Christmas tree decorations from Sweden, Norway, Denmark and Finland to give you some ideas for your own cool, fun Scandinavian Christmas decor. 
The Dala horse
This beautiful traditional red-painted horse adds a bright splash of colour to many a Swedish Christmas tree. Traditionally hand-carved out of wood in the Dalarna region of Sweden, the horses were painted in bright red colours as toys for children.
Today, they come in a variety of colours including blue, silver and white and can be made out of glass, silver or china, though the traditional red wooden horse is still the favourite Christmas ornament in Sweden.
The adventsstjärna
Every self-respecting house in Sweden has an adventsstjärna, an advent star, normally seen hanging in a window. Also called a julstjärna (or Christmas star), it's usually white or silver, though gold and red and sometimes even orange, can be seen.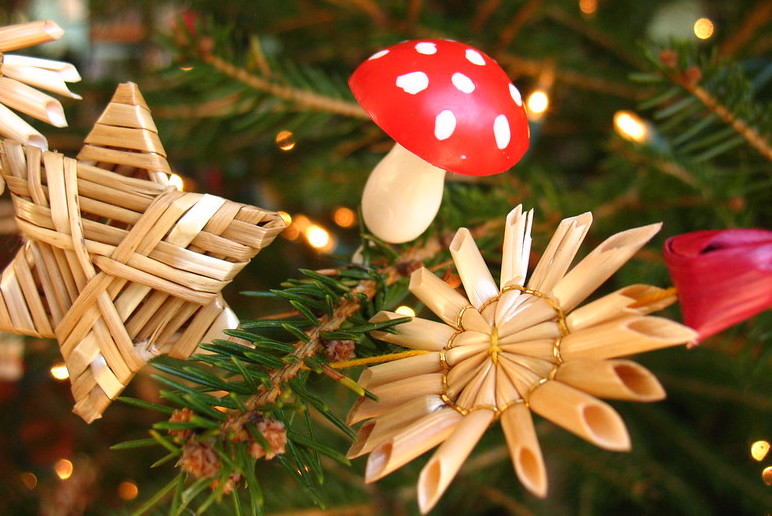 Julsjärna is also the name for a poinsettia, a houseplant that's popular at Christmas for its red star-like leaves.
The julebukk
It may not seem very Scandi-chic or minimalist but hanging straw figures in the Christmas tree is popular throughout the whole of Scandinavia.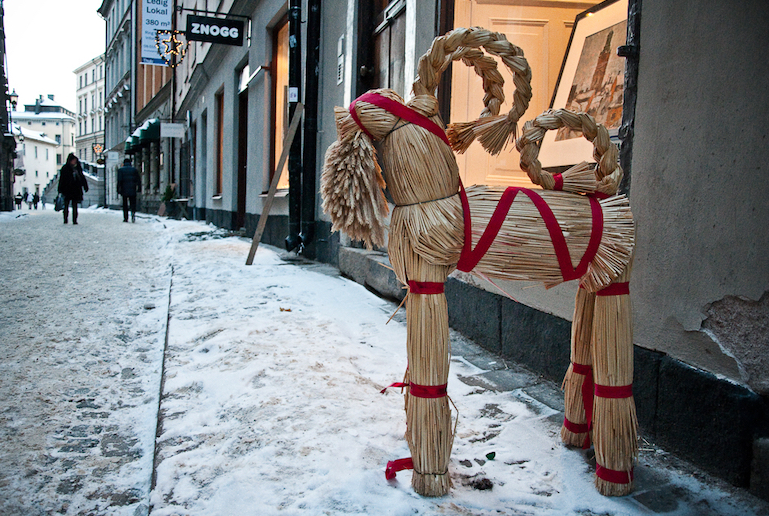 In Norway, the julebukk, or yule goat, with large curly horns, is woven from straw and hangs on most Norwegian Christmas trees, while giant versions can often be seen as outdoor decorations. In Sweden, stars, snowflakes, angels and bells made from straw are popular ornaments.
The 'Christmas goat' makes an appearance in Sweden too, as people honour the famous Gävlebocken, a giant straw goat that regularly gets attacked by arsonists.
The julekurver
Just before Christmas, many Scandinavian families get together to make julekurver, heart-shaped paper baskets that are filled with sweets and hung on the Christmas tree.
Both Denmark and Norway claim this popular tradition, which some say was invented by Danish author Hans Christian Anderson in the nineteenth century. See the clip below for a quick guide to how to make julekurver.
George Jensen ornaments
Danish designer George Jensen is the go-to decoration designer for stylish Danes. All the smart Danish households have a few expensive gold-plated ornaments – bells, baubles, hearts or stars – hanging tastefully from the tree, while a gold-plated or polished stainless steel candlebra makes a magical minimalist centrepiece on Danish dining tables.
OK, so they may cost an arm and a leg, but these decorations last a lifetime and add a touch to glamour to Christmas.
The himmeli
This traditional Christmas ornament made from straw can be found throughout Scandinavia, but is particularly popular in Finland. These delicate geometric mobiles are hung above Finnish dining tables at Christmas, and are supposed to bring good luck and a good harvest.
The word himmeli comes from the Swedish meaning "sky" or "heaven", and they consist of a series of diamond-shaped structures that can be as simple or as ornate as you like – the bigger and more elaborate the mobile, the better the harvest!
Himmeli are traditionally made out of rye straw, as it is known for having long, sturdy stems, and they can be decorated with wood, birds' feathers and egg shells. Today, you buy them made from metal, plywood or paper, though the traditional rye straw structure is still considered the best, and a well-made himmeli can last for many years.
The tomte
Every Scandinavian country has its own version of the Swedish tomte.  In Finland, its the tonttu, and in Norway and Denmark the nisse. The tomte is a type of gnome that traditionally lived in the homestead's barn and looked after the farm and its people. 
At Christmas time the tomte prepares all the food and gets the house ready for any Christmas guests, and many Scandinavians still put out a bowl of julgröt (Christmas porridge) to thank them!
Today, tomte ornaments are made out of wool or felt and hung on the Christmas tree. They traditionally have a long curly grey beard, with just a nose sticking out from beneath their pointed red hats and, and make a cute Christmas ornament for the kids.
And, they're not just for hanging on the tree. At Christmas time, many of the usually stylish minimalist Nordic homes are filled with models of gnomes throwing snowballs and generally making mischief!
Real candles
Yes, in Denmark in particular many households do still use real candles on their Christmas trees. While this may seems like a health and safety nightmare for the rest of us, Danes seem to survive each Christmas using real candles without burning their houses down!
A real example of Danish hygge, they certainly look very beautiful on the tree and give an authentic light to the room. Those Danes who don't feel brave enough to risk candles on the tree often light an advent candle instead which burns throughout December until Christmas Eve.
See also:
Christmas in Sweden: the ultimate guide
The best Christmas markets in Scandinavia
Christmas tours in Scandinavia
Like what you've been reading? Get our best tips by email!