Spending an evening in a Swedish sports bar can be a great fun – and the atmosphere in a Stockholm sports bar takes some beating, especially when there's a big game on.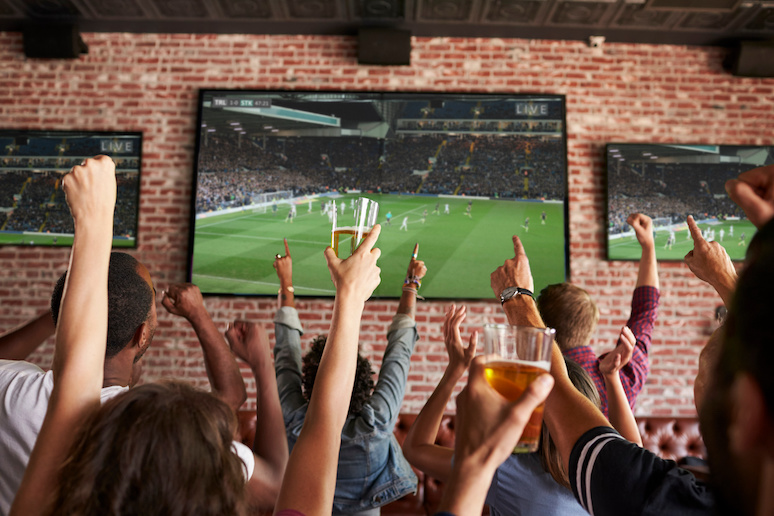 Stockholm sports bars are pretty friendly places, with a relaxed vibe. And having a drink while watching some sport is a good way to meet people and have a chat in an informal way.
There's always some sporting event being shown, even if it's just a local game – and generally people are happy to chat and explain the intricacies of their local team's progress.
Most of Stockholm's sports bars also show the big Premier League matches – and you may be surprised at how knowledgeable your fellow drinkers are about the UK (and international) football scene.
And, of course, if there's a major event such as the Euros or the Wold Cup on, then the atmosphere really ramps up and the Swedes let their hair down in a big way.
So, if you're in Stockholm for a major sporting event, or just fancy a quiet drink and a chat while watching some football, ice hockey or any other sport you can think of, then here are our favourite sports bars to try.
Birka Bowling
Right in the heart of Vasatan, Birka Bowling is a sports bar with a difference. It's got one of Stockholm's largest bowling alleys attached.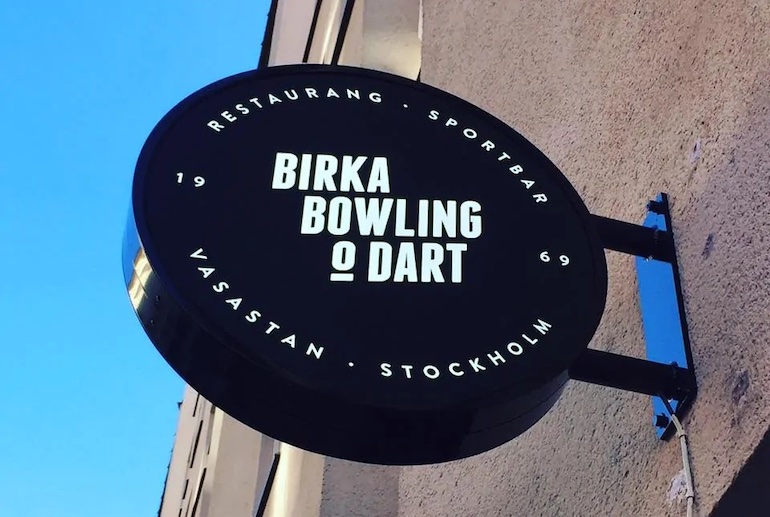 So, you can either book a lane with some friends, or just settle into the bar and watch a wide variety of sports. It shows the top Premier League matches from Sweden and England as well as live golf, darts, Formula One, hockey – and even trotting!
And if you're hungry, they do a tasty Birkaburger too.
Bryggeriet Sport bar
We love the Bryggeriet on Odengatan in Vasatan for its cosy pub-like atmosphere, with walls covered in photos of different sports, and plenty of big screens.
Pop in here for a cosy drink and to watch all the big matches from the Spanish La Liga and the English Premier League, as well Swedish football and ice hockey.
They serve a good range of beers and whiskys (including Swedish whisky), plus tasty and relatively inexpensive pub grub – we like the steak sandwiches.
★ SUGGESTED DISCOUNT
Save with the Stockholm Pass
Get up to 50% off at Stockholm's top attractions, including the Vasa Museum, SkyView Stockholm and The Viking Museum, plus discounts on some of the city's best boat trips.
The Auld Dub
You can't beat an Irish bar for atmosphere and there's rarely a dull moment at The Auld Dub in Norrmalm, Sweden's longest-running Irish pub.
Spacious and raucous, it shows all the big games including rugby and the Champions League, and will even screen specific matches on request.
There's also live music at weekends, a weekly pub quiz and decent food. We like the Auld Dub meatballs, a Swedish take on a traditional dish, that's served with lingonberries and pressed cucumber.
Retro Bar Kungsholmen
Named Official Supporter Bar by the Swedish FA, the buzzy Retro Bar in Kungsholmen is a popular place to view all the sporting action.
It has plenty of screens showing the big sports events, including action from the Swedish, English and major European Premier Leagues as well as European matches, internationals and the NFA.
Check the website for a dropdown menu of all its live screenings.
There are four other Retro Bar branches in Stockholm too, all showing the same sports events.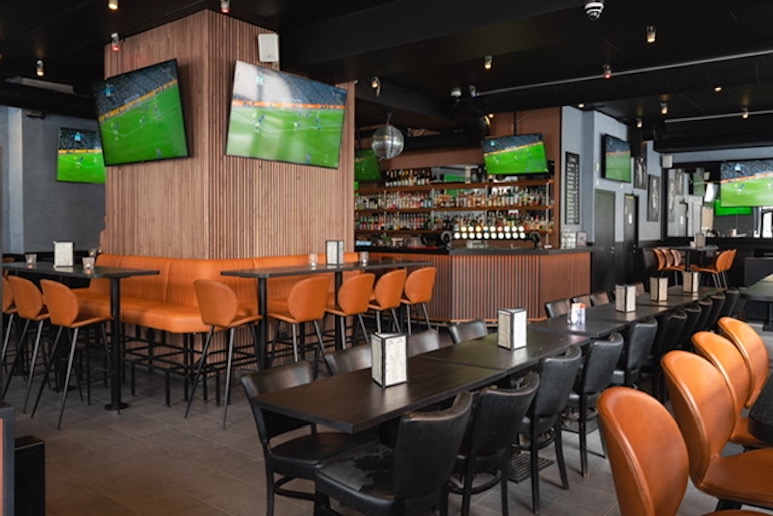 We like the one along Sveavägen, with rows of long tables and loads of screens, so you've a good chance of getting a prime view and a seat.
O'Leary's
Although there are several O'Learys bars around Stockholm, we particularly like the one beneath the Tele2 Arena (home to Hammarby and Djurgården football clubs), which is hard to beat for sheer size and atmosphere.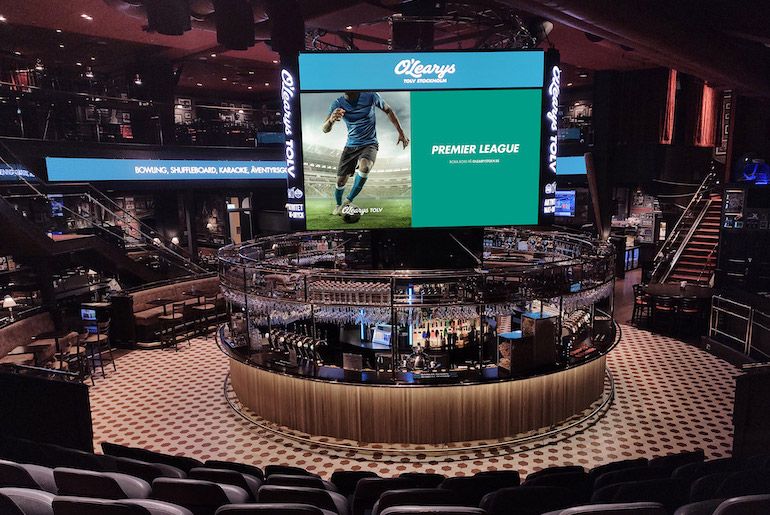 Above the bar, a massive four-sided screen takes centre stage in a vast auditorium-like room, which gets extremely lively for the live Saturday UK Premier League games.
The bar shows pretty much any sport you want to watch, such as top European soccer leagues (including the Allsvenskan), women's football, basketball, hockey and even cross-country skiing.
Check the website for a full schedule of the sports being shown.
And once you've seen enough sports, there's are plenty of other fun activities on-site, including bowling, table tennis, billiards, virtual golf, darts and karaoke.
The Flying Horse
Arsenal fans will want to head straight for the Flying Horse along Odengatan, where Arsenal Sweden (the local Gunners supporters club) gathers for matches.
But don't worry – fans of other clubs and sports are welcome here too!
This cosy dark wooden English-style pub shows all the top Premier League games from around Europe, and is known for its well-stocked bar, with some 80 varieties of beer and 120 single malt whiskies.
Wirstroms
One of Stockholm's most central sports bar, Wirstroms is a cosy Irish sports bar right in the heart of Gamla Stan.
With a warren of quirky rooms, snugs and an atmospheric cellar bar, it screens all the top Premier League matches, as well as big rugby, cricket and NFL games. You can check the website to see what they're showing each night.
They also have quiz nights, live music (including traditional Irish music) and serve up a hard-to-beat full Irish breakfast.
The Liffey
Also in the central Gamla Stan, and with a similar vibe to Wirstroms, The Liffey Irish Pub and Restaurant has multiple screens across two floors.
It shows live Premiership matches from around Europe, plus other sports. The upcoming week's schedule of games is on the website, and you can even book a seat in advance to make sure you don't miss your favourite team playing.
If you want too see some Swedish football, though, you'll be disappointed as they don't show Allsvenskan matches.
Alternatives to sports bars in Stockholm
And if you want to actually watch some live sports, there are some fun alternatives to hitting the bars.
For a really atmospheric Swedish experience, you can't beat watching a live ice hockey match.
Local teams Djurgården and AIK both play at the Hovet stadium, with tickets for league games starting from a very affordable 165 SEK.
International games are played at the Avicii Arena, which also hosts the NHL Hockey Global Series.
Swedes are soccer mad, so why not join them and watch some action in the Allsvenskan? Two of Stockholm's premier league soccer clubs Hammarby and Djurgården play at the city's Tele2 Arena, with tickets starting from 210 SEK.
And Swedish sports fan may want to head abroad to watch some top live sports with GO Sport Travel.
They sell tours from Sweden to watch live Premier League matches in the UK, as well as loads of other top sporting events, including the Golf Open at Troon in Scotland and the Monaco Grand Prix.
So if you fancy watching Arsenal play at the Emirates or Barcelona at the Nou Camp, you can get tickets or buy a ticket and accommodation package through GO Sport Travel.
See also:
Where to find the best meatballs in Stockholm
Stockholm's coolest record shops
The best Stockholm boat tours