Few countries are as smartphone-friendly as Sweden. Free wifi is available almost everywhere, and even in areas with more reindeer than people you'll usually have access to a reassuringly strong mobile signal. You don't need a phone to get around the place, but having one will definitely make things easier – especially if you're arriving without fixed plans and want to keep to a tight budget.
Here are some of the apps we use when researching guides for Routes North. Some of these apps are completely free; others will cost you a few dollars.
Budgeting
Trail Wallet
Free to try; full version $3.99
iPhone
If you have a fixed budget for your trip and want to keep track of how much you're spending, download Trail Wallet. Its super-simple interface lets you set budgets (either for a whole month, individual days or a specific trip) and then monitor your spending as you travel. The best thing is that you can enter purchases in Swedish kronor and the app will convert them to your home currency using the latest exchange rates. You'll also get a neat pie chart showing how much of your budget is going on food, accommodation, and other expenses. The app is free to download but after adding 25 entries you'll need to upgrade to the full version, which costs $3.99.
XpenseTracker
$4.99
iPhone
XpenseTracker is a good option for anyone visiting Sweden on a business trip. It's an ugly looking beast but it does a very good job of looking after all those boring expenses. Instead of collecting a wad of old receipts as you travel around the place, simply snap a photo and fill in a few details. An optional add-on for the app skims the newly photographed receipts for important info – when it works properly (which isn't all the time), you'll get away without entering anything manually. The app also allows you to export all of your expenses and receipts to Microsoft Excel, ready for you to pass to the accounts department (or file that dreaded tax return).
XE Currency Converter
Free; full version $1.99
Android and iPhone
This app lets you quickly convert from one currency to another using real-time exchange rates. It's a good, free solution that works just fine, especially if you're not too worried about keeping track of your expenses and just want an idea of what things cost. One cool feature is that it will remember the most recent rates and use those for conversions whenever you're without an internet connection. The free version of the app is supported by ads but you can pay to remove them if you want.
Getting around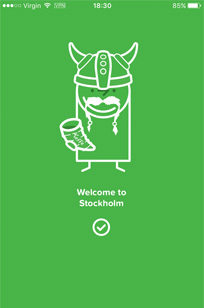 Citymapper
The super-useful Citymapper app is designed to get you from A to B as simply and as quickly as possible. It's been a big hit in London, but is now available in Stockholm, too, showing tourists and locals the best local transportation options in real time. Just punch in your destination and it'll instantly tell you the best routes, whether you want to walk, cycle, take a taxi, or use public transport. It isn't just useful in central Stockholm, either; the app covers nearby cities such as Uppsala and Västerås.
TripDoc
Free; full version $4.99
iPhone
This is one of our favourite apps for finding and saving new places. TripDoc isn't so much for getting around a new place – instead, it helps you to document your trip, or plan a journey you've yet to make. Visited a bar that you want to recommend to a friend? Just stand outside and drop a pin on the map, add a short note, and it'll save the location for future reference. Been given a few tips about awesome restaurants and galleries to try in Stockholm? Add them to the map and then, when you arrive, it'll guide you to the door. All entries are saved to your profile, which you can access online. The first 100 entries are free, but then you'll need to buy the pro version.
Google Maps
We've road tested a few different mapping apps in Sweden, from the busiest parts of Stockholm to country roads that are right out in the sticks. Google Maps is consistently the most accurate and has a good navigation function, so should definitely be in your arsenal of apps. Not all places are marked in the right locations, though, so try to double check everything online before setting off, especially if you're exploring rural parts of the country.
STHLM Traveling / Res i Sthlm
When it comes to getting around Stockholm using public transport, these apps are about as handy as it gets. Just enter where you want to travel to and from and they'll come up with a list of live departures and tell you which subway train, tram or bus to jump aboard. The best thing is that, if you like, they will use your location to tell you where the nearest station or stop is and then plan your journey from there.
Västtrafik
Visiting Gothenburg or travelling around southwestern Sweden? This app is worth a download. It's supposed to let you buy tickets for journeys on the Västtrafik network, which stretches across the region, but can be extremely temperamental. Still, it's very useful as a journey planner – just enter your route and it'll come up with a list of the available tram, train, bus and boat rides. Unfortunately lots of the info (including service disruption announcements) is still only available in Swedish.
Uber
We generally advise against taking taxis in Sweden; public transport is safe, affordable and reliable, and taxi drivers have been known to fleece tourists. If you get stuck and need to take a cab, try Uber. It's only available in Gothenburg and Stockholm at the moment, but fares are quite a bit lower than regular taxis, especially for airport runs. You'll also agree the fair upfront and pay through your Uber account, so won't have to worry about getting ripped off.
Language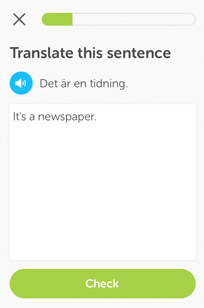 Duolingo
Rosetta Stone is a great way to learn Swedish but it sure is expensive. A nice free alternative is Duolingo. The Swedish course is available through the Duolingo app for Android and iPhone, and should get you up to a level where you understand some of what's being said around you fairly quickly. If you'd rather not be stuck to an app for hours on end, we have more tips for learning Swedish here.
Google Translate
Google Translate is still the ultimate cheat's tool – just put in a word, phrase or website and it will magically cough up the English translation. It's remarkably good in Swedish, but still quite a long way from perfect, so you shouldn't rely on it for everything. Bear in mind that lots of Swedish words are impossible to translate word for word (just try typing in kissnödig and see what happens).
Bonus: accommodation

You could download one of the big accommodation provider's apps for your trip to Sweden but in all honesty, you probably don't need to.
Sites like Airbnb, Booking.com and Hostelworld all have such good mobile websites these days that you're better off just searching those for the best deals. Our first port of call is always Booking.com as it has nationwide coverage for hotels and hostels and guarantees the best available rates.