First up, the good news: Sweden has some seriously good places to stay. And not just the really famous joints like the IceHotel and the Treehotel, pictured here. The quality of the accommodation is excellent almost everywhere, and even the cheapest hostels are usually clean and tidy, with decent wifi to boot.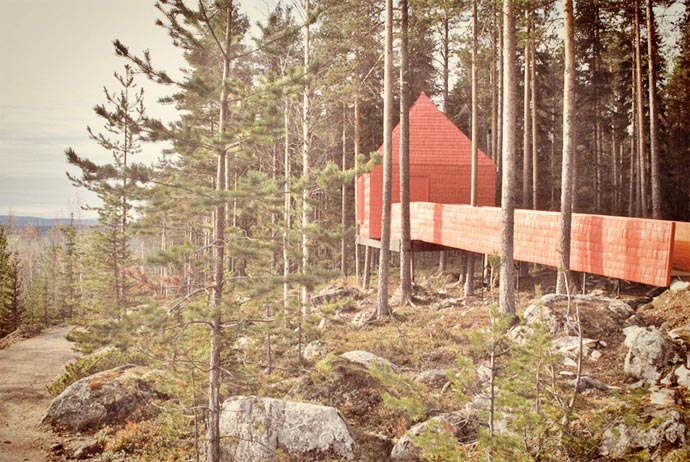 The downside is that cheap places to stay are relatively hard to come by. In the countryside, you can expect to pay upwards of 450kr for a double room in a comfortable B&B, or around 180kr for a dorm bed in a basic hostel. Stay in the centre of Stockholm, Gothenburg or Malmö and you can expect the cost of that bunk to inch up towards the 200kr mark, or perhaps hit 300kr.
Double rooms at hotels and B&Bs in the big cities start at around 500kr, but prices of 1000kr per night are fairly standard, and luxurious 2500kr-a-night hotels are springing up all over the place.
Paying through the nose for your accommodation won't necessarily add huge amounts of physical comfort. Because even the basic places in Sweden can be pretty cosy, top-end hotels tend to put the focus on service, design and in-room amenities.
Sites like Booking.com and Airbnb often have good deals on places to stay.
Hostels in Sweden
If you're travelling on a budget in Sweden and don't fancy camping, hostels are a good option. Plenty of independently run places have appeared in recent years but the Svenska Turistföreningen (STF), established way back in 1885, is still the biggest player, with hundreds of hostels and cabins around the country – many of them in scenic spots.
At larger hostels, private single and double rooms are often available, sharing toilets and shower rooms with dorms along the corridor. Most hostels also have well-equipped kitchens that are ideal for making cheap, home-cooked meals.
Bizarrely, bed linen is rarely provided at Swedish hostels and sleeping bags are almost always forbidden. So unless you like the idea of paying to hire a set of fresh sheets, or roughing it on a bare mattress, you might want to pack a set into your luggage before leaving home.
Many Swedish hostels also insist that you clean your own room after use. Check the policy when you arrive, as mucky pups who leave their rooms dirty risk getting charged on departure. Cleaning supplies are usually found in a room along the corridor.
Mountain huts
STF also has simple huts strung out every 10–20km along popular walking routes in the mountainous north and central parts of the country. These are real back-to-basics affairs where you'll usually have to chop your own wood, cook your own food, and sleep on bunks allocated on a first-come, first-served basis.
What about Airbnb?
Airbnb is legal in Sweden. And there are some good deals to be had, especially in the summertime when Swedes head upcountry to their summer houses (or out of Sweden altogether), leaving their inner-city pads vacant for your arrival.
New to Airbnb? You can get 329 SEK off your first trip by signing up here.
Our reviews
Unlike the vast majority of travel sites, we don't take freebies or discounts from the places we list online. You can read more about our approach here, or start using our destination guides here.
Like what you've been reading? Get our best tips by email!