Travel insurance isn't always a top priority for tourists visiting Sweden, but our advice is simple: you should buy some.
Yes, it's true that Sweden has some of the world's best medical care, and that some visitors are entitled to hospital treatment at the same rates as Swedes. But there are many more reasons for getting a decent travel insurance policy for your trip, beyond getting patched up after an accident.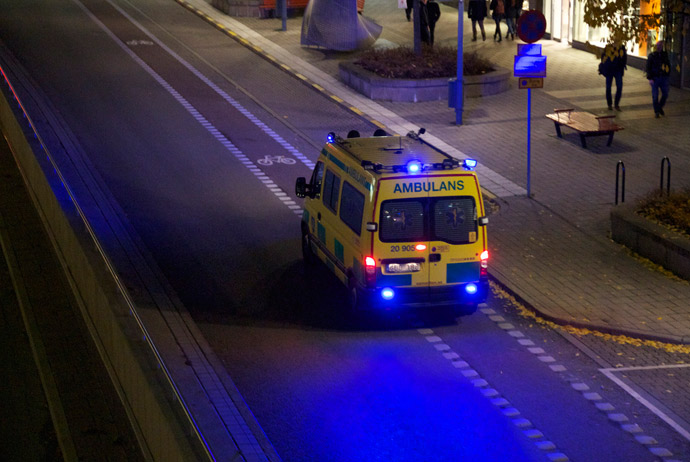 What does a good travel insurance policy cover?
Unforeseen expenses
A good travel insurance policy will not only cover the cost of any medical treatment you require in Sweden, but also any emergency repatriation costs if you're too unwell to travel home using regular transport. Other unexpected expenses, like paying for a relative to stay near the hospital while you recover, should also be covered.
Cancellations
If you get sick before your trip to Sweden and have to cancel, you run the risk of losing any money you've paid out for flights, accommodation or tours. Get yourself covered properly at the start of the planning process and at least some of your money should be protected, even if you have to cancel.
Lost or stolen valuables
Had your stuff nicked? Left your bag on the train? If you get covered properly first, you should be able to claim back some or all of the value of the things you left behind in Sweden.
Travel delays and missed departures
In the event that your flight gets delayed and you're stuck at the airport, a decent travel insurance policy will help you to pay for phone calls and food. It should also provide compensation if you miss a connecting bus ride, train journey or flight because of an earlier delay.
Money
Some travel insurance companies will pay out when you lose cash or have it stolen from you, providing that you get a police report when you're in Sweden.
Dental care
Emergency dental care is expensive in Sweden, even if you have a European Health Insurance Card (EHIC). The best insurance policies will cover at least some of the cost.
Who needs travel insurance?
In our opinion, anyone visiting Sweden from abroad should have solid travel insurance behind them, just in case. EU citizens carrying an EHIC do get emergency medical care at the same cost as Swedish nationals, but even then, the bills can add up quickly.
Crime isn't a big problem in Sweden, but it does still exist. Bag and phone theft is common in busy cities like Malmö, Gothenburg and Stockholm (especially in bars and restaurants), and pickpockets occasionally do the rounds in touristy areas.
The other things we mentioned above – like delays, lost valuables and missed departures – can happen to even the most savvy travellers (trust us, we know!). You don't want to be stuck somewhere with no onward transport and a ticket that's no longer worth the paper its printed on. Likewise, if your phone drops out of your pocket on the bus and you only realise when you get back to your hotel, having a decent insurance policy to fall back on can make a world of difference to your mood, and save you a major expense later on.
Insurance for visitors from outside the Schengen zone
Visitors from outside the Schengen zone must be able to prove that they have valid travel insurance covering Sweden and the other Schengen countries. Without proof of a policy covering at least €30,000 of personal medical costs, it's likely that your visa application will be rejected. The policy needs to be valid for the entire length of your intended stay in the Schengen zone, plus an additional 15 days. Some countries may impose additional rules regarding travel insurance – check with your local embassy.
Things to consider when buying insurance
Stingy payouts
Some providers will only pay out a low amount if your valuables go missing. For that reason, you should always check the policy details carefully. After all, if your phone is worth $1000 but you only get $200 back on your return from Sweden, you're going to end up feeling short-changed.
Exclusions for certain activities
Extreme sports aren't usually covered by the cheapest travel insurance deals. Indeed, even things that seem decidedly un-extreme (like snowshoeing, for example) are often put into the same category. Make sure you have a good read of the small print before signing on the dotted line.
Snowboarding and skiing
If you're planning on going snowboarding or skiing in Sweden, you'll almost certainly need to pay extra for winter sports cover. Most companies offer these activities as a simple add-on.
Specific countries or regions excluded
This isn't likely to bother you if you're spending your entire trip in Sweden, but it's always worth checking your insurance policy to make sure the areas you're planning to visit are covered. Some policies have exclusions targeting specific countries and regions.
Business travel insurance
If you're travelling to Sweden with a lot of expensive gear (laptops, video cameras, projectors, etc) you might want to pay extra to make sure the full value is covered. Some companies call this 'business cover', but you don't usually have to be on an actual business trip to use it.
Over-the-top excesses
There's no use getting a policy with great cover if it costs you an arm and a leg to get your money back in the first place. The best companies have their excesses set nice and low – but the only way to know how much you'll be expected to pay when making a claim is to check the wording carefully. Which leads us onto our final point…
Read the small print!
Boring, yes. But reading the legal jargon and exclusions carefully is an essential step if you want to avoid a nasty surprise when it comes to making a claim. Taking your new Samsung to Stockholm? Make sure it's covered. Flying to Lapland with your laptop? Make sure it's covered! Going skiing? Yeah, you get the idea.
Need a recommendation?
There's a whole load of companies out there offering travel insurance for trips to Sweden but our honest advice is to go with World Nomads. These guys are recommended by lots of big travel publishers all around the world, and it's the one company we'd use for a trip anywhere in Scandinavia. They offer a good level of cover for a reasonable price, and they make it easy to book and amend your policy online.
Other reasons for choosing World Nomads
• You can extend your policy online if you decide to keep travelling
• You can make an insurance claim online, even if you're still travelling
• Skiing, snowboarding and loads of other activities are easy to get covered
• Policies are easy to understand, and can be bought from practically anywhere on earth
• 24-hour emergency assistance
• There's special cover on offer for digital nomads, which means you can get your laptop, camera and phone protected nice and easily
Get a quote for your trip to Sweden here, or start by filling out the form below.
We'll get a small commission if you book with World Nomads through one of the links here (don't worry, the price you pay remains the same). Even if you choose not to go with them, please make sure you get some other kind of travel insurance – it really can help you out if things go wrong.