One of the most unusual and consistently delicious places to grab lunch in Gothenburg is Feskekörka – the fish church. It might look like a place of worship from the outside, but this A-framed local landmark was purpose-built as a place to buy fish.
The innovative design, which did away with interior walls and columns, allowed plenty of space for fishermen to display their catch at the auctions that took place here throughout the late-nineteenth and early-twentieth centuries.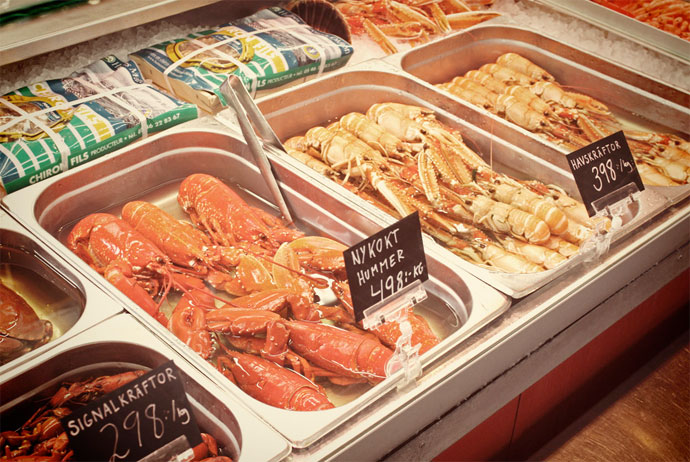 Since 1910 Gothenburg's fish auction has taken place at Fiskhamnen, a couple of kilometres west, and over the past hundred years or so Feskekörka has become considerably more consumer-friendly.
Today, traders here sell beautifully fresh seafood from counters running the length of the building, either to take home and cook or ready prepared to eat straight away.
All of the ingredients that make the west coast of Sweden such a hit with foodies can be found here: fresh prawns, lobsters, oysters, mussels and crabs. If it lives in water and has a shell on it, the chances are you'll find it somewhere here.
While the cheapest option for lunch is to grab a meal to takeaway (a prawn salad by the water's edge, perhaps?) there are also a couple of restaurants.
At Gabriel, upstairs, you can tuck into crayfish boiled with fresh dill, or plaice fried with butter and mushrooms. Most dishes are priced according to their weight, though the catch of the day (Tues–Thurs only) is always 169 SEK.
Feskekörka
Rosenlundsvägen
Gothenburg
feskekörka.se
Tues–Fri 10am–6pm, Sat 10am–5pm
Last updated: September 2014
Like what you've been reading? Get our best tips by email!