Sweden isn't exactly known for its vibrant street food culture, but an increasing number of food trucks are slowly being granted permission to open up in the big cities.
Strömmingsluckan (literally, the herring hatch) is different to most. It set up shop long before food trucks became fashionable in hipster circles, and its fresh food has built it a loyal following over the years.
Herring, the main ingredient served here, has been an important part of the Swedish diet for centuries, especially in coastal settlements. Now: the stuff sold at Strömmingsluckan should not to be confused with the famous pickled herring (inlagd sill). And thankfully, it's nothing at all like surströmming, the stomach-churningly stinky fermented herring that has its origins in the north of Sweden. If there was a stall selling that stuff here, the local shops would have cause to complain.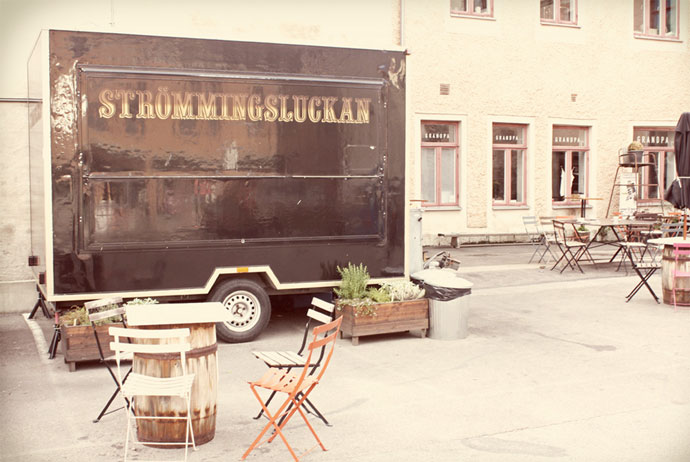 Nope, this is regular, Baltic herring, fried up and served with zingy red lingonberries and a good-sized dollop of creamy mashed potato. A variation of the same dish served at Strömmingsluckan comes with a dijon mustard and horseradish cream. Both of these dishes cost less than 70 SEK – a bargain compared with what you'd pay for this kind of homely Swedish food at a restaurant.
Lighter lunches are available here too. Herring is still the main event but instead of heavy mashed potato you'll get it served with knäckebröd (Swedish crispbread), chopped red onion and sourcream.
As a bonus, all of the fish served here is wild-caught, not farmed. A little tip for when the sun is shining: take a walk just south of the food cart, cross the bridge, and you can eat on the pretty grass slope beside the canal.
Strömmingsluckan
Magasinsgatan 17
Gothenburg
Mon–Fri 11am–3pm, Sat noon–4pm. Closed winter.
+46 732 459 907
strommingsluckan.se
Last updated: September 2014
Like what you've been reading? Get our best tips by email!