There are two branches of Dubbel Dubbel in Gothenburg but we reckon the one on Kastellgatan is by far the better choice.
This is an intimate little dim sum restaurant, panelled with timber that's been painted in shades of pink, yellow, blue and green. Bamboo baskets, shiny saucepans and bottles of inky soy sauce fill the shelves in one cramped corner where pots of water are left on a rolling boil.
None of the dishes served at this branch of Dubbel Dubbel are fried or grilled: dumplings and sweet tempeh buns are steamed in this small, makeshift kitchen just behind the bar, while slow-boiled ribs also bubble away on the stove.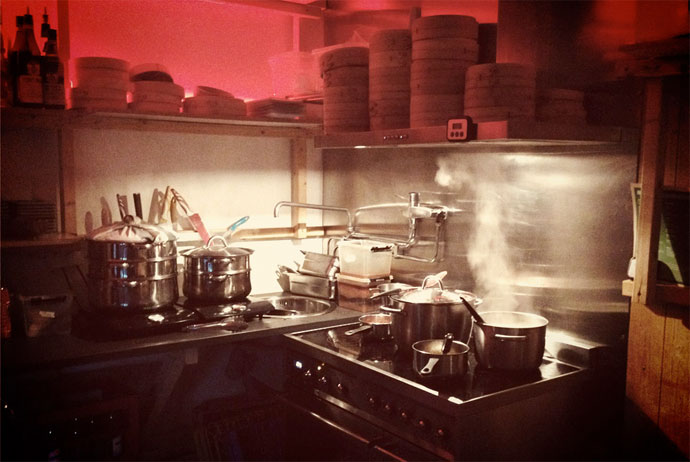 You can order a few dishes separately (they're served on tiny plates, tapas style) or go for one of the set menus that includes sides like green algae salad, edamame beans and plain rice.
Unfortunately the portions here are really small – we ordered a few different dishes, including a couple of the awesomely gooey steamed buns with duck and hoisin sauce (75 SEK) and were left wanting more.
The staff were helpful though (they made space for us at the bar when all the tables were full, and described what the different dishes were before we ordered) and the food is super tasty. Just be prepared to pay up if you want to leave here feeling full.
Dubbel Dubbel
Kastellgatan 14
Gothenburg
+46 311 304 00
dubbeldubbel.se
Tues–Sat 5pm–late
Last updated: September 2014
Like what you've been reading? Get our best tips by email!