Maybe you've already checked out Gothenburg's main sights and are wondering what's next. Or perhaps you're just keen to avoid the really popular places and find some fun, quirky and offbeat things to do.
Whether you're on a romantic weekend away or visiting Gothenburg with kids, this guide should give you plenty of ideas. Scroll down to the bottom of the page to see all of the places we mention marked on a single map.
Rent a kayak
Tourist boats run summer trips around Gothenburg's canals but if you'd rather escape the crowds and still see the city from the water, hire your own kayak. Point 65 Kayak Center, down by the Barken Viking ship at Lilla Bommen, rents out decent kayaks and lifejackets from 199 SEK per day. You can have a quick test paddle in the harbour and then, when you're feeling confident, head downriver and into the canal system for a look around town. Summer is the best time to give this a go, but it is possible (ice permitting) to kayak at other times of the year too.
Point 65 Kayak Center
Lilla Bommens Torg 2
From 199 SEK per day
Mon–Fri 10am–6pm, Sat 10am–4pm, Sun 11am–4pm
Take the tram to Nordstan or Brunnsparken
Seek out the 'special cabinet' at the natural history museum
Gothenburg's natural history museum has some really unusual exhibits, including the world's only stuffed blue whale. Before you run to check out that smelly beast, try to find the 'special cabinet' (actually called Naturaliekabinett) which is stocked with a miscellany of bizarre exhibits, including shark teeth, a stuffed weasel-like creature being squeezed by a snake, and even a two-headed cow. The museum is slowly being refurbished, so go sooner rather than later to appreciate its strange, antiquated charm.
Naturhistoriska
Museivägen 10
40 SEK
Tues–Sun 11am–5pm
Take tram 1, 2 or 6 to Linnéplatsen
Is the Gothenburg Pass worth buying?
Read this guide to see how much you could save during your trip!
TOURS AND ACTIVITIES IN GOTHENBURGMORE TOURS
Eat dreamy sushi on the cheap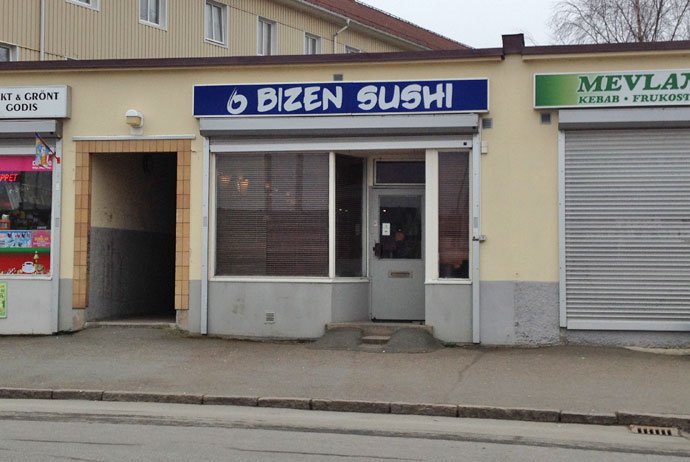 The excellent and super-authentic Japanese restaurant called Bizen Sushi looks a bit ropey from the outside and is far from the usual tourist hotspots, but it's well worth making an effort to visit.
The stern owner serves up amazing sushi in simple surroundings, and has built up a loyal following of Japanese business types who are in town to visit the local Volvo factories. Dinners are extremely expensive, but lunches are a steal.
Bizen Sushi
Lantmannagatan 2
Around 95 SEK per person
Mon–Fri 11am–around 1pm
Take tram 6, 5, or 10 to Göteborg Rambergsvallen
Go to the ice hockey
Gothenburg's local heroes, the Frölunda Indians, play their home matches at Scandinavium, a huge indoor stadium just a short walk from the city centre.
The atmosphere inside is electric on match nights, with a few thousand fans squeezing their bums onto hard plastic seats for a full hour of frantic puck chasing, all backed up by a relentless onslaught of adverts (and, occasionally, fisticuffs).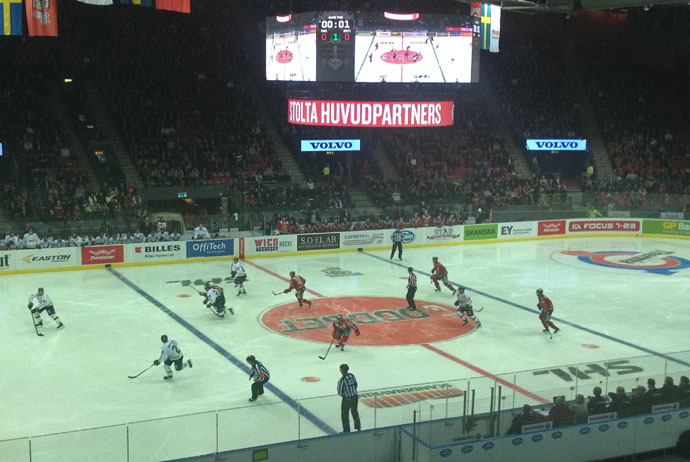 Games are divided into three periods, and the breaks are just long enough to head for a drink in the downstairs bar. You can't bring strong beer back into the arena itself, though 3.5% folköl, sold from the popcorn stands outside, is allowed.
If you fancy watching a game, the Swedish hockey season runs from the end of the summer until roughly mid-March. For tickets, the best option is to head to Ticketmaster, where you should be able to reserve seats; just search for 'Frölunda' and download an e-ticket that you can show on the door. Otherwise, you could try your luck at the stadium's ticket desk on match day; you'll know when a game is planned because the sides of the stadium are lit up red and green, the home team's colours.
Scandinavium
Valhallagatan 1
Tickets from around 200 SEK
See Ticketmaster for schedules
Take tram 2, 6, 8 or 13 to Göteborg Scandinavium
RECOMMENDED HOTELS IN GOTHENBURGMORE HOTELS
Step back in time at Två Rum och Kök
A little way out of town in the suburb called Kortedala, this quirky museum is tucked away inside a block of flats.
The museum takes the form of an old apartment done up in 1950s style, and is a kind of living time capsule. All of the furniture inside the flat dates from the 1950s and 60s, a crucial time in the development of Sweden's welfare state, and the cupboards and bookshelves are stocked with old products from that era.
The museum is completely free to look around, and the guides who work there have some great tales to tell about how life in the area has changed over the decades.
Kortedala Museum (Två Rum och Kök)
Adventsvägen 1
Kortedala
Free
Sunday noon–3pm
Take tram 6, 7 or 11 to Kortedala Allhelgonakyrkan
Bake yourself in a public sauna
Sweating it out in a sauna is a classic Swedish experience. But unless you're staying in a fairly swanky hotel or paying top dollar to visit a proper spa, it can be a tricky thing to try. Luckily, Gothenburg now has a free, public sauna down by the water at Frihamnen, a part of the city that's rapidly being redeveloped in time for Gothenburg's 400-year jubilee in 2021.
The sauna, which looks like some kind of giant metal robot from the outside, has great views over the harbour, and will soon be joined by a bathing area for people who want to splash around in when they're done with cooking themselves.
The only snag is that, in classic Swedish style, places inside the sauna have to be booked in advance (the website is also only available in Swedish). If you still want to give it a go, the most important thing to know is that dam means women and herr means men. Oh, and another thing: swimming gear is mandatory (not always the case in Swedish saunas).
Jubileumsparken
Frihamnen
Free
Book a slot on the Jubileumsparken website
Take bus 16, 45 or 402 to Frihamnsporten
Visit a (not-so) secret air base
Sweden maintained an outwardly neutral stance during the Cold War, but was quietly investing huge resources in defending against potential Russian attacks. One part of these secret preparations can be seen out by Gothenburg City Airport (now closed to commercial traffic), where a vast, secret air base was built below the ground.
This base is now open to the public as an interactive aviation museum called Aeroseum, complete with flight simulators, a coffee shop and fighter jets that you can clamber into and act out your Top Gun dreams.
Aeroseum
Holmvägen 100
100 SEK
Tues–Sun 11am–6pm
Take bus 35 from Hjalmar Brantingsplatsen to Granhäll
Catch a film at Hagabion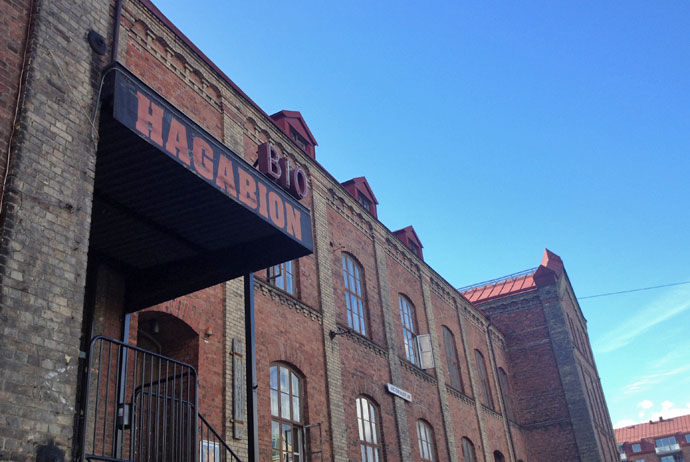 Going to the cinema in Sweden is a little different from most other countries because one nationwide chain has a virtual monopoly on movie theatres, deciding what gets shown and when.
But there are also a couple of independent cinemas in Gothenburg. The best one, Hagabion, has just one screen in a former schoolhouse and shows independent films from around the world.
Occasionally it also screens blockbusters at rates lower than regular Swedish cinemas – expect to pay around 80 SEK for a ticket, compared with around 110 SEK at a mainstream cinema. There's also a great veggie-friendly restaurant in the same building, and a fun bar down at street level.
Hagabion
Linnégatan 21
80 SEK per person
See website for film times
Take tram 1 or 6 to Prinsgatan
Kvibergs Marknad
The food and clothing shops in the centre of Gothenburg are generally pretty high-end, which means it's easy to lose control of that carefully planned budget.
For shopping in a completely different setting, make the trip north to Kvibergs Marknad, where you'll find a jumble of stalls selling everything from cheap jeans and dusty antiques to dodgy electronics. There are also food carts serving up cheap falafel and tasty wraps in case you get hungry.
Kvibergs Marknad
Kvibergs Regemente

Free
Sat & Sun 10am–3pm
Take tram 6, 7 or 11 to Kviberg or Beväringsgatan
Do the pentathlon at Liseberg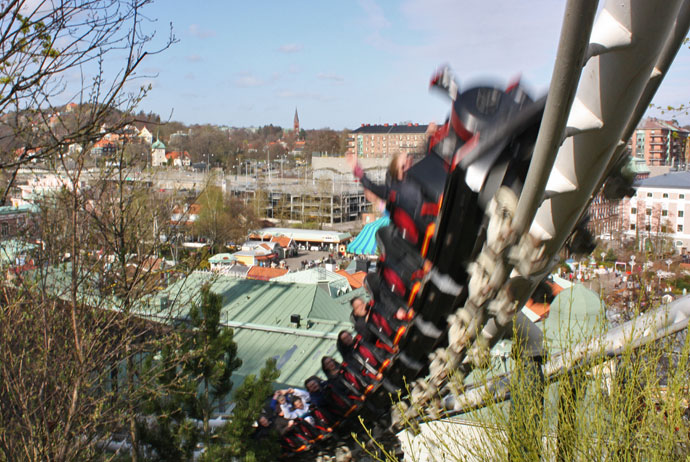 The main reason for visiting the Liseberg theme park is to try out some of the thrill rides, but the tickets for these can work out really expensive, especially if you're in Gothenburg with the kids. If you'd prefer not to spend so much, or would rather just avoid whizzy rides, do as the locals do and challenge your buddies to a femkamp (pentathlon) inside the park.
This is how it works: each person buys a book of five vouchers on the way into the theme park, and can then use these to compete in little fairground challenges like throwing basketballs through hoops and shooting down targets with a big-ass water gun.
You can choose any five games and the winner of each game wins a snazzy badge. To add a bit more excitement, agree in advance that the person with fewest badges buys the first round of drinks in one of the park's themed bars.
Liseberg
Main entrance on Örgrytevägen
Entry 90 SEK, pentathlon costs an extra 75 SEK per person
Hours vary depending on the season

Unusual things to do in Gothenburg
Like what you've been reading? Get our best tips by email!