If you're looking for an easy half-day trip from Gothenburg that combines beautiful inland scenery with some interesting local history, try the impressive manor house called Nääs Slott. Around an hour from town using public transport, or 40 minutes by car, it's one of the country's best-preserved 19th-Century homes, and a major centre for handicrafts.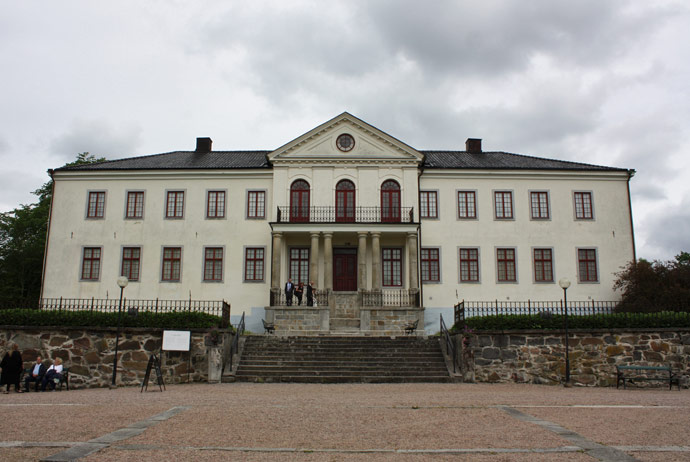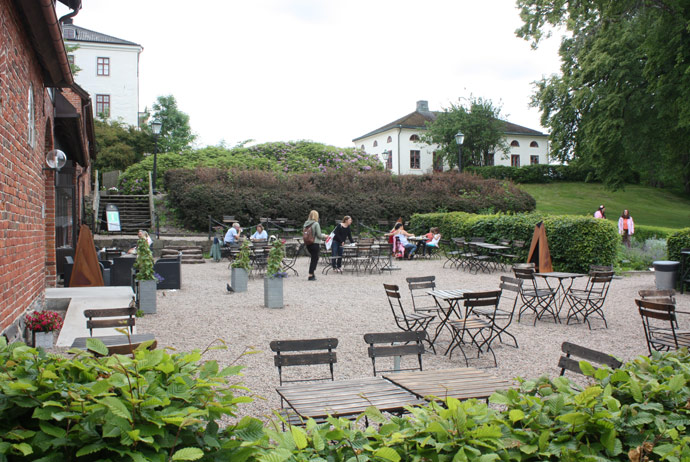 The manor and its pretty outbuildings sit on a teardrop-shaped peninsular that juts out into the middle of a lake, which means there's water visible on almost every side. Thick forests cling to the low hills in the distance, while paddocks and farmland edge the narrow country lanes.
The manor house itself was originally built in the 1600s, but was torn down and rebuilt in the 1700s when Jacob von Utfall, director of the globetrotting Swedish East India Company, took up residence. Later, a wealthy Jewish merchant named August Abrahamson moved in. He and his wife were the building's last private owners, so it's their mark that's felt most strongly as you walk through the richly decorated rooms.
Although there is a bit of a problem with damp (look closely and you'll see dehumidifiers working to keep the place dry) the interiors of the Abrahamson home are incredibly well preserved. On a guided tour of the building (officially in Swedish only, though guides should be able to give you an overview in English), you'll get to see the lavishly decorated reception rooms, done up with gilded frames, chandeliers, plush rugs and elegant rococo furniture. We can't show you pictures of the interior because taking photos is banned.
Many of the first rooms you'll see were never actually lived in – they were instead used for entertaining guests and showing off the rich pair's phenomenal wealth. All of these spaces – including the smoking room, which had spittoons to keep guests from spitting on the floor – are packed with exquisite paintings and elegant stone sculptures.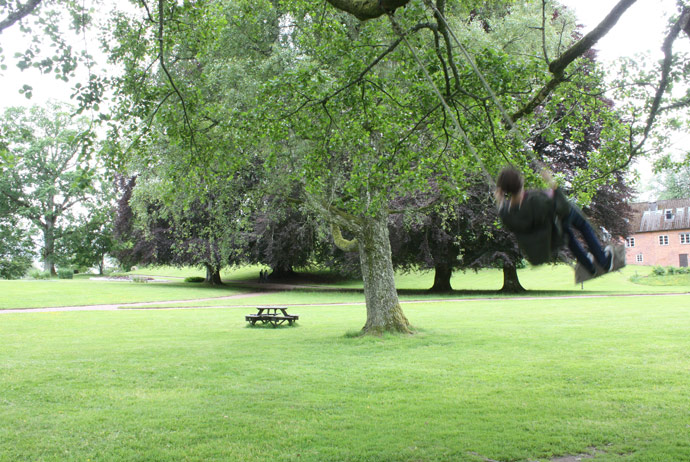 Other parts of the mansion reveal more about what daily life was like for the people who lived and worked there. Down in the huge kitchen, which sits in the oldest part of the building, you can see where house staff cooked. The vast oven and hob would have been used to prepare the meals that were served to the Abrahamsons and their respected guests.
Look closely as you walk around the mansion and you may notice little service bells hanging from the walls. Linked to other parts of the house with lengths of string that weave through the walls, these were apparently used for signalling to members of staff.
Unlike the kitchen and reception rooms, August Abrahamson's actual bedroom feels surprisingly small. It's hardly basic though – the walls are rounded and the solid-looking bed is made from several tonnes of heavy metal. The calendar in his study, the next room along on the tour, shows the date when he died in 1898.
Around the main building there are some lovely stretches of parkland, home to big, adult-sized swings that hang from the tall oak trees. There's a great café onsite too, which serves up an excellent brunch on Saturdays. In another building, where tickets for the guided tours around the house are sold, you'll find a gallery full of contemporary photography.
Walk behind the mansion and you'll spot a vast tree, apparently one of the oldest in Sweden. Continue away from the house and you'll see small trails leading down towards the water. You can follow these for a good half an hour or so, enjoying views across the water, passing allotments, sheep fields and forested areas along the way. Maps showing longer walking routes are available from the ticket office.
Nääs Slott gained a reputation as a hub for handicrafts in the 19th and 20th Centuries, and still runs a huge range of courses, from carpentry to book binding.
If you'd rather not visit Nääs as a day trip from Gothenburg, consider staying the night. There are decent rooms onsite. Alternatively try Nääs Fabriker Hotell & Restaurang, just across the water.
When you're back in central Gothenburg, check out the Abrahamsons city residence at Stora Nygatan 17 ½ – it's a big, attractive townhouse, and the only building in the city without a whole number in its address.
Entry
You can only get inside the house on a guided tour. These take place three times a day on weekends from May to September, and three times daily from early June to late August. Tours last 45 minutes, and tickets cost 100 SEK. Under 16s go free. It's possible to wander around the grounds, visit the café or look around the art gallery without joining a tour.
Getting there
Nääs Slott is around 32km northeast of Gothenburg. If you want to use public transport, take a commuter train (pendeltåg) from Gothenburg's main train station to Floda Station (departures approximately every 30 minutes). From there you can either walk – a 25-minute stroll, following the signs – or take a number 533 bus to Lilla Nääs. From there it's an easy walk up towards the mansion. If you're driving, there's pay-and-display parking available near the entrance.
Nääs Slott
Nääs Allé 10
Floda
+46 302 318 39
naas.se
Like what you've been reading? Get our best tips by email!