Cycling in Norway is challenging but immensely rewarding. The mountainous terrain, long road tunnels and extremes of weather make a long-distance cycling tour a tough proposition.
But don't put your Lycra back in the drawer just yet. Cycling is really popular – it just involves a change of mindset about where and how to do it.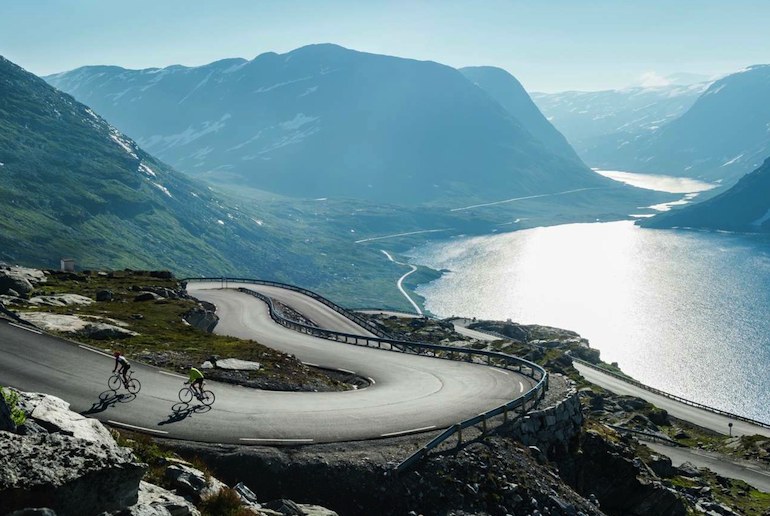 If you want to see some of the country's most scenic parts on two wheels, your best bet is to do one of Norway's organised bike trails – with rides ranging from a couple of hours to a week or more. It may take some planning, but once you're there, pedalling across a mountain plateau, through orchards or next to the still waters of a fjord is spectacular.
And if you go in summer, the long days give plenty of time for photo stops and sightseeing. In winter, check out the fat bikes trend – these mountainbike-alikes have wide tyres so you can cycle on snow.
Getting a bike
If you're doing a long trip, you may prefer to bring your own bike to Norway, though it can be tricky – and pricey – to put your bike on a plane. And with cycles available at hostels, campsites, tourist offices and sports shops around the country, rental may well be the better option. Prices start at around 150–300 NOK a day for a basic bike up to 400 NOK a day for a fancy road bike.
Ebikes are worth considering too, as they make demanding, mountainous routes far more do-able; rental costs from 390–690 NOK a day.
And if you're just doing casual city cycling, Oslo Oslobysykkel.no, Bergen Bergenbysykkel.no and Trondheim Trondheimbysykkel.no all have public cycle schemes with sturdy bikes available from docking stations around the city. All you need is a mobile phone number (any international number) and a debit/credit card.
Norway's best cycle routes
So, once you've decided you're up to the challenge, there are plenty of self-guided cycling routes you can do around Norway. Here are some of our favourites – you'll need "good legs" to tackle them, but they score 100% for drama and scenery.
The Rallarvegen (July to late September)
Railway workers created the Rallarvegen ('Navvies' Road') when they were building the Oslo to Bergen line in the late 1800s. Around 25,000 people pedal this challenging world-class route every summer.
From Haugastøl, head west across a rocky upland plateau to Finse (27km) and Myrdal (another 37km), from where you can take the Flåmsbana railway to Flåm – or freewheel the 16km down.

Getting there: Take the train to Haugastøl from Bergen (3hr) or Oslo (4hr 15m).
Where to stay: The only places to stay in Finse are the Finse 1222 Hotel (bike hire available), and the DNT Finsehytta lodge.
Tour de Dovre (early June to mid-October)
The 125km Tour de Dovre route was completed in 2017 and takes you through the Rondane, Dovre and Dovrefjell national parks. Highlights are Folldal and the beautiful Grimsdalen mountain valley with incredible views. Don't miss the chance to go on a musk ox safari – this is one of the few places in the world to see them.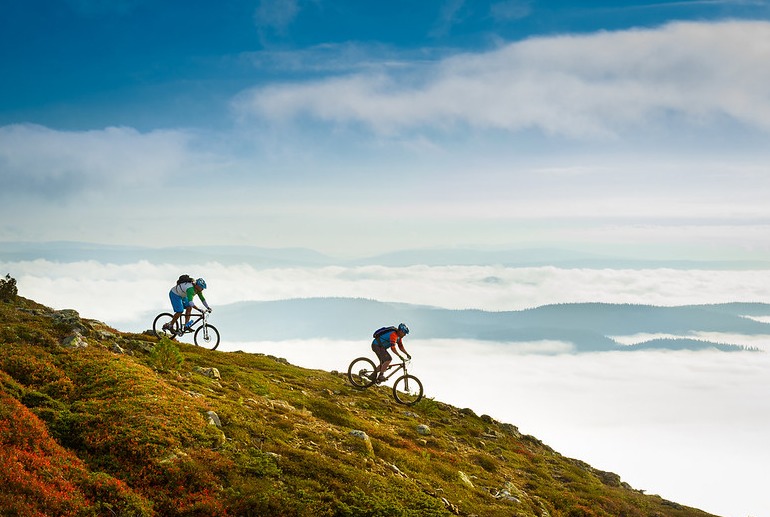 Getting there: Take the train from Oslo to Dombås (4hr), where you can rent bikes.
Where to stay: The Trolltun guesthouse in Dombås has dorms, doubles and cabins to rent.
Mjølkevegen in Valdres (July to late September)
The bucolic 250km Mjølkevegen in Valdres route, aka The Milky Way, crosses one of Norway's largest summer farm areas; the 205km stretch from Lemonsjø to Beitostølen takes seven days.

Getting there: Take the Valdresekspressen bus #N161 from Oslo.
Where to stay: DNT's oldest hiking lodge, DNT Gjendebu Mountain Lodge has been upgraded and extended and now has 119 beds – and relatively modern facilities.
The Canal Route (May–Sept)
The wild, dramatic 115km route from Ulefoss to Dalen along the Telemark Canal is a demanding ride – but you can hitch a lift on a canal boat if you get tired or opt for easier trails in the vicinity.
Getting there: Take the train from Oslo to Porsgrunn (2hr), then a bus to Ulefoss (55min).
Where to stay: There's simple waterside accommodation for cyclists and kayakers in wooden 'sleeping boxes' at Bandaksli and Fjågesund – the facilities are basic, but they're cheap and have all you need for a night's stay.
Hill-free cycling in the Lofoten islands
The Lofoten Islands have some superb flattish cycling. Although it can be very windy, particularly on the western side, the scenery more than makes up for it. It's fairly straightforward to plan a trip here yourself, but if you prefer to have everything organized for you, Freewheelholidays.co.uk and Skedaddle offer all-in packages.

Getting there: Take the express ferry from Bodø to Svolvaer.
Where to stay: Camp in a cabin next to the Austnesfjord, or stay in a rorbu (fisherman's shack) at Nusfjord Arctic Resort.
Long-distance bike tours in Norway
There are 10 National Cycle Routes and three Eurovelo routes – part of a pan-European network for serious adventure cyclists – but only some sections are signposted and the final National route is still on the drawing board.
For these to be fun you need to be fit, experienced, take a tent and have done solid forward planning – the weather can be extreme and shops few and far between.
Family-friendly cycling in Norway
The alpine tourism resort of Geilo, three hours by train from Bergen, has an awesome bike arena and wide, family-friendly trails among the dirt- and pump tracks. A traffic-free 10km tour around Ustedalsfjorden starts at Geilojordet, and you can make a day of it with a swim and a barbecue – there are built-in grills at several picnic places.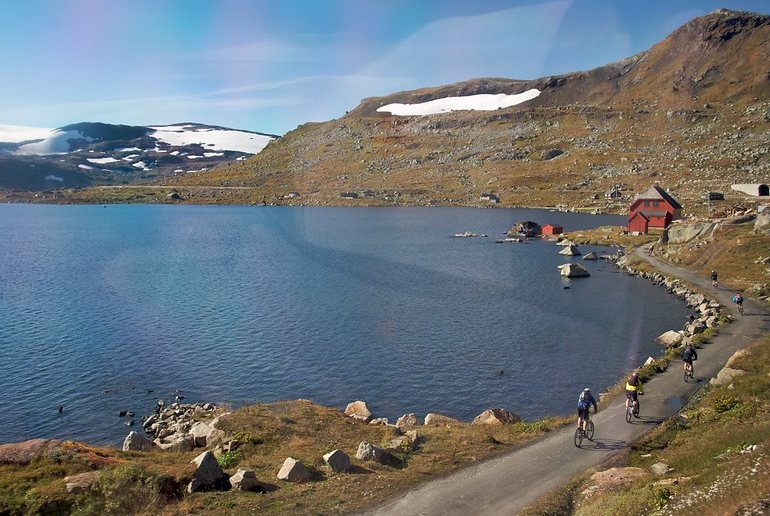 Many of Norway's long-distance cycling routes have a shorter section you can ride, perfect for beginners or smaller legs. In Jotunheimen ('Land of the Giants') National Park between Bergen and Oslo, for example, the Mjølkevegen Family Route is a 11km taster of the 250km tour (see above) across the undulating Stølsvidda high plateau.
Alternatively, skip the hill climbs and take the easy way up when you can. You can take bikes on the cable car from Rjukan up to the Hardangervidda plateau (886 metres above sea level), famous for its herds of reindeer roaming free.
A 30km pedal along a well-signposted, gravel cycle path brings you to the Kalhovd Turisthytte, good for dinner and an overnight stay. If you'd like everything organised, packages are available.
Top tips for a cycling holiday in Norway
So now we've whetted your appetite and you've chosen the tour that suits your abilities and activity inclinations, here are some handy tips to know before you get started.
Planning your route
The Norwegian Cyclists' Association (Syklistenes Landsforening) is a good starting point – click on 'turer' and filter rides by distance, location and type of ride (grønne sykkelrouter = green bike paths; familievennlig = family friendly).
Norway's cycling rules of the road
Cycle on the right – and give way to those coming from your right.
Road tunnels – you can't always pedal through these and, trust us, you wouldn't want to as they're dark, noisy and filled with exhaust fumes. Cycletourer.co.uk has a useful map which shows the tunnels you are and aren't allowed to cycle through.
Cycling on the pavement is okay if it's not busy – but adapt your speed and give pedestrians right of way.
Cycling on motorways is a no-no – you must not cycle on dual carriageways either.
A bicycle helmet is recommended in Norway, but not mandatory.
Taking a bike on public transport
You pay a flat fee to take bikes on local and intercity trains – reservations are obligatory on the latter (bikes travel in the guard's van or bike wagon at the rear of the train).
Many bus companies will let you stash your bike in the boot at the discretion of the driver – they'll charge a child's fare or half the adult fare to take a bike. There's usually no need to book a place for bikes on local ferries, but you will need to on Norled Express and Hurtigruten services.
Don't forget insurance
You are strongly advised to get travel insurance on any cycling holiday – both for medical purposes and in case your bike or any of your equipment is damaged or stolen.
There are some reasonably priced policies available – always shop around, make sure you get adequate cover and ask for a couple of quotes. Check that cycling and your bikes are covered – some policies include casual cycling, but not cycle touring – and add on extra bike cover, if necessary. We recommend World Nomads – you can get a quote for your trip below.
See also:
8 great hikes in Norway
Cycling in Sweden: what you need to know
Cycling in Copenhagen
Like what you've been reading? Get our best tips by email!