You may think of of Greenland as a vast empty island covered in ice and snow and indented with lacy fjords – and indeed, this popular image is not too far from the truth.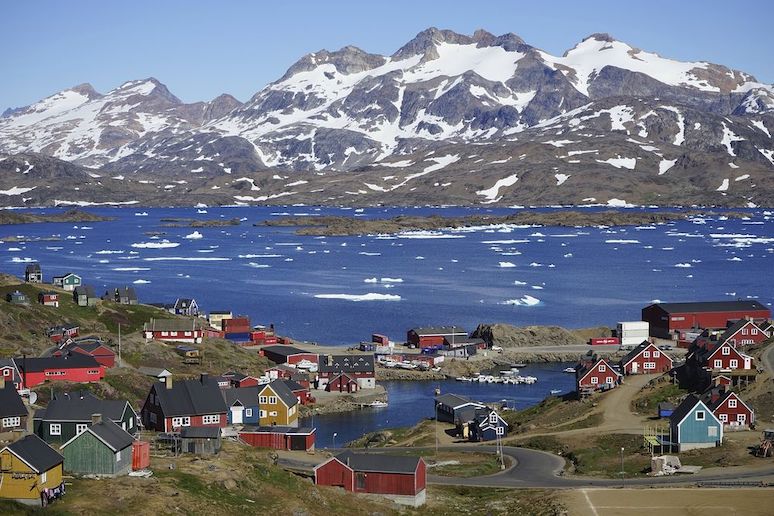 But what else do you know about the country? Where is it, how big is it and do people actually live in Greenland?
Where is Greenland?
First of all, we need to know a little about Greenland and its location. An autonomous country that is part of the Realm of Denmark, Greenland lies between the Arctic and Atlantic oceans.
Although nominally part of Denmark, it is actually nearer to Canada. Geographically, Greenland is part of the North American continent rather than Europe.
At its closest point, Canada's Ellesmere Island is only 26km away.
How big is Greenland?
At around 2.17 million square kilometres, Greenland is big – very big. In fact, it's the largest island in the world that isn't a continent in itself.
To give you some idea of its size, its southernmost point lies at around the same latitude as Oslo in Norway, while the far north of mainland Greenland is just 740km from the North Pole.
Deeply indented with fjords, Greenland's coastline is almost 40,000 km long – more or less the same length as the Equator, which runs around the entire earth.
Do people live in Greenland?
So, is Greenland occupied? Well, the simple answer is yes, it is.
What's the population of Greenland?
Greenland's population numbers some 57,000 permanent residents.
Admittedly this is a pretty small population for the world's largest island, giving Greenland one of the lowest population densities of anywhere in the world.
In fact, Greenland regularly ranks as the world's most sparsely populated country, with a population density of 0.03 people per square kilometre.
Why do so few people live in Greenland?
There's a simple reason that so few people live in Greenland and that's because 80 percent of the island is covered in a permanent ice sheet that is uninhabitable.
None of the settlements on Greenland are linked to each other by road or railway, so it's not easy to get around.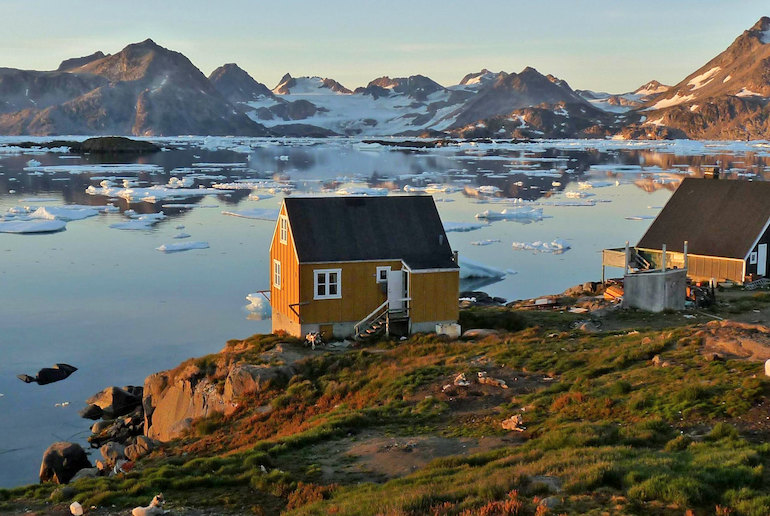 On top of that, Greenland is cold, with almost every town on the island staying below freezing for around six months of the year.
Where do most people live in Greenland?
So, where do people live in Greenland? Well, more than a quarter of the country's population lives in the island's capital, Nuuk. (Sometimes, this is incorrectly spelled Nuke. It has nothing to do with nuclear weapons!)
Its population of around 17,000–19,000 people makes it by far the island's largest settlement, but still one of the world's smallest capital cities.
Why do most people live in Greenland on the southwest coast?
Greenland's capital Nuuk lies on the southwest coast and has most of the island's infrastructure, its parliament building, the island's main hospital and its only university – so it's unsurprising that many Greenlanders choose to settle here.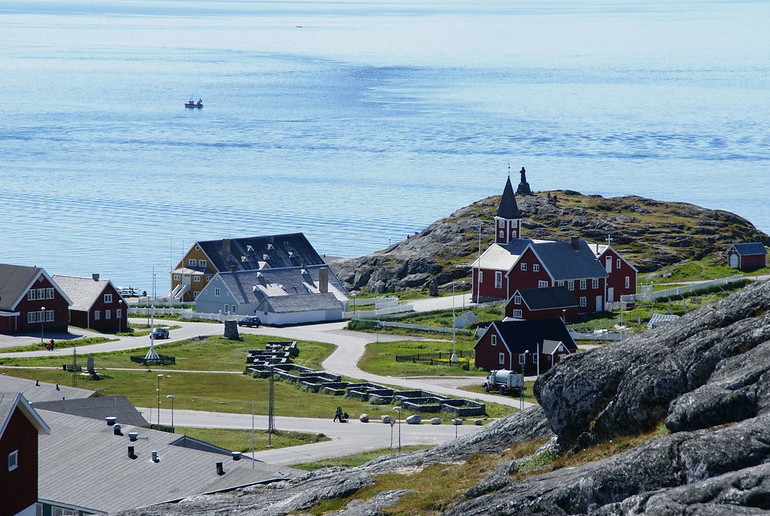 Nuuk is one of the greenest parts of the island, indented with fjords and is relatively sheltered with one of the mildest climates of any part of Greenland – although temperatures still get pretty low here.
Greenland's second and third largest towns Sisimiut and Ilulissat also lie along the more sheltered west coast, making it home to more than half of the island's population.
Do people live in northern Greenland?
Since most of Greenland is covered with ice year-round, there are few people who live outside of the sheltered ice-free west coast.
So, do people live in the upper half of Greenland? Well, not many no. The reality is that less than ten percent of the population lives in northern and eastern Greenland.
Greenland demographics
Despite Greenland being ruled by Denmark for more than 250 years, some 90 percent of Greenlanders are predominantly of Inuit ancestry – though these are mixed with early European immigrant blood.
Just ten percent of Greenlanders are of primarily Danish descent.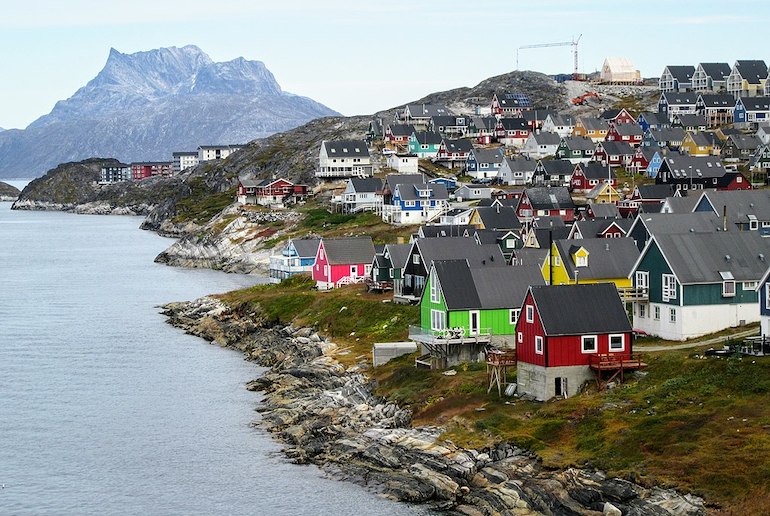 Like many of the Nordic countries, Greenland is seeing a decline in its population. Until the year 2000, Greenland's fertility rates were of replacement level, so that its population stayed relatively stable.
Since 2000, however, rates have begun to drop and if the trend continues it's predicted that by 2040, Greenland will see a 16 percent decline in its working age population.
What do they call people who live in Greenland?
The correct name for people who live in Greenland is Inuit or Kalaallit, which means "indigenous Greenlander" in the native language Kalaallisut.
In Kalaallisut, the country Greenland is called Kalaallit Nunaat, which means "land of the Kalaallit people".
How do people live in Greenland?
The biggest employers in Greenland are the public sector and service industries, with some 11,000 employees.
The next biggest sectors are the agriculture, forestry and fishing industries, which employ some 4500 people.
Why do people live in Greenland?
Despite the cold and isolation, there are many reasons that people chose to live in Greenland – not least, its stunning natural landscapes, dramatic scenery and unspoilt vistas.
And, of course, its tiny population is one of the very things that attracts some people – if you like living in a small community and having huge stretches of pristine landscape to yourself, you'll feel right at home here.
Since there are few roads, the most common mode of travel in Greenland is boat, although snowmobiles and dogsleds are also popular – who needs the tube when you can ski or take a helicopter to your destination?
And because the population is so small and more people have boats than cars in Greenland, there's very little pollution meaning that the air quality is among the best in the world.
But, it's not all wilderness and remote landscapes. Greenland has some good quality comfortable hotels, such as this one in Ilulissat, and there are even plans for a Michelin-starred restaurant.
Greenland is also one of the world's best destinations for viewing the northern lights. Since it lies so far north, Greenland has one of the longest seasons for northern lights viewing, so you have a good chance of catching the spectacular lights display.
For more on seeing the northern lights in Greenland, check out this post.
See also:
Greenland vs Iceland
A quick guide to the Scandinavian countries
Ten of the best igloo hotels in Scandinavia
Like what you've been reading? Get our best tips by email!