We're all trying to cut our carbon footprint and travel in a more environmentally friendly way. And going by ferry or train is certainly one of the greenest options if you want to get from the UK to the European mainland.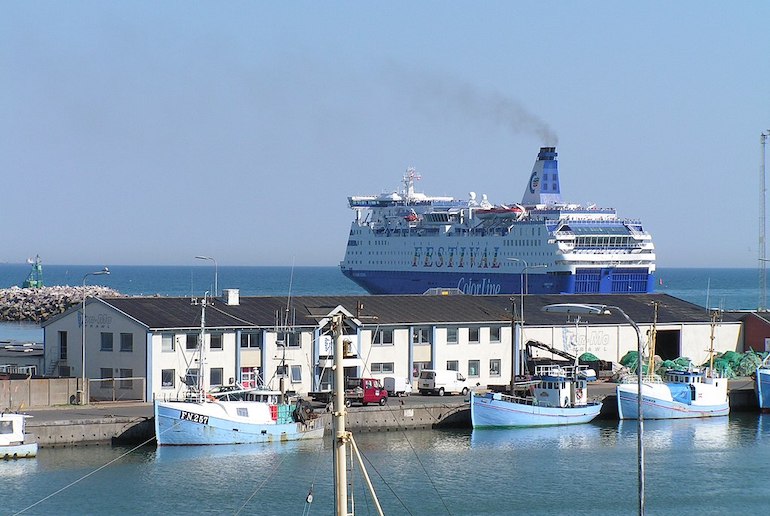 Historically it was a good way to travel from England to Scandinavia too. In the past, ferry routes have connected Newcastle to Kristiansand, Stavanger, Bergen, Haugesund and Oslo in Norway, as well as to Gothenburg in Sweden.
Today, sadly, there's no direct car ferry from the UK to Norway. However, plans to reinstate the Newcastle to Bergen ferry route in 2026 are being greeted with enthusiasm by environmentalists and fans of ferry travel alike.
The Bergen Cruise Line ferry
Newcastle and Bergen in Norway were linked by a ferry route for more than 140 years, until 2008 when cheap air travel led to its demise.
In 2026, the Bergen Cruise Line plans to resurrect this popular route with 3 services a week in high season (2 weekly in low season) running between Newcastle, Stavanger and Bergen.
The route will be served by a brand new low-emission ferry which runs on liquified natural gas and fuel cells.
Huge electricity storage batteries will power the boat when it is "harbour mode", so that it can sail into the Norwegian fjords emission-free.
The ferry will be 210 x 31 metres and will carry up to 2380 passengers with a large car deck and cargo space.
It's expected to cost in the region of 200 million USD to build, with restaurants, bars, a casino, theatre, night club, gym, shops and conference centre on-board.
The ferry is currently in the planning and design stage, with construction expected to start later in 2023. And it's hoped to be up and running in 2026 – a welcome new green travel route from the UK to Norway.
Alternatives to the direct UK–Norway ferry
Until the new passenger ferry to Norway from the UK is in service, there are a few ways you can get to Norway overland and sea via other European countries.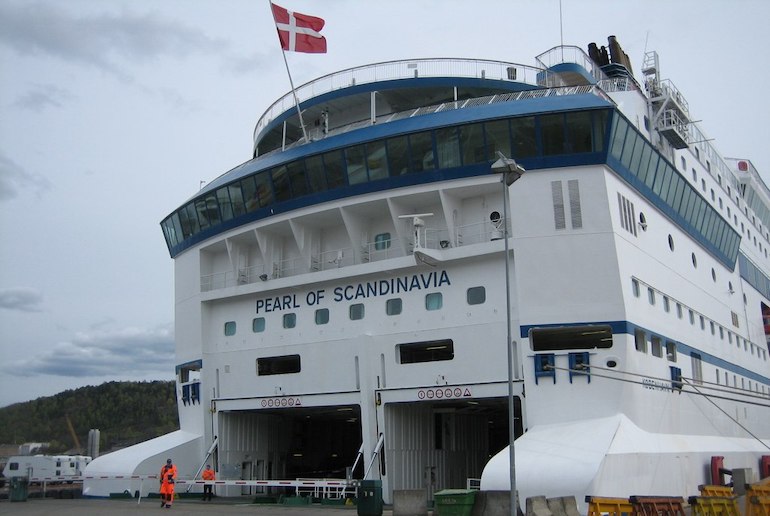 None of the routes is quick or straightforward, so you'll need to make the journey part of your holiday.
Via Amsterdam
First take the DFDS overnight car ferry from Newcastle to Amsterdam, which leaves Newcastle daily at 5pm and arrives in Amsterdam at 9.45am the following morning. The journey takes just under 17 hours, and there's a choice of accommodation available from inside bunk-bed cabins to smart en-suite double cabins with a sea view.
From Ijmuiden (the port for Amsterdam), it's a drive of three and a half hours along the A9 and the A7 to Emden in Germany.
From Emden, the M/S Romantika ferry leaves at 5pm, arriving in Kristiansand in southern Norway at 10.45am the following morning. There are four ferries a week in high season, two to three in low season and none in January.
From Kristiansand, it's about an eight hour drive north to Bergen. You can either take the coastal route via Stavanger, which involves two further short ferry trips, or the inland route via Voss. A third alternative is to drive from Kristiansand to Stavanger (three and a half hours), then take a ferry from there to Bergen. The ferry leaves Stavanger daily at 1.30pm, arriving in Bergen at 7pm.
Via Keil in Germany
Get the Newcastle to Amsterdam ferry (see above) from where it's a six-hour drive to Keil in Germany. Or, from London, it's a twelve-and-a-half-hour drive to Kiel in Germany via the Channel Tunnel, across France, Belgium and Holland.
From Keil, there's a daily Colour Line ferry to Oslo, which takes 20 hours. The best way to get from Oslo to Bergen is by train: read our guide for details.
Via Hirtshals in Denmark
Getting to Hirtshals in Denmark from the UK is not straightforward. You can either get the DFDS overnight car ferry from Newcastle to Amsterdam (see above), from where it's an eleven-hour drive through Holland and via Hambourg in Germany. Or if you're coming from London, it's a 17-hour drive through the Channel Tunnel via France, Belgium, Holland and Germany.
From Hirtshals, there are several routes to Norway on Fjordline and Colour Line ferries. The quickest is on the year-round fast cat to Kristiansand, which runs up to four times day in high season and takes two and a half hours.
To Bergen and Stavanger, ferries leave Hirtshals at 8pm, arriving in Stavanger at 6.30am and Bergen at 12.30pm the following day. To Larvik, ferries leave Hirtshals twice daily and take 3 hours 45 minutes.
Ferries from other parts of Scandinavia to Norway
Of course, getting to Norway is easier from other Scandinavian countries than it is from the UK. And there are several useful routes that you can use as part of a wider trip round Scandinavia.
| | | | |
| --- | --- | --- | --- |
| | Journey time | Frequency of sailings | Ferry company |
| Ferries from Denmark | | | |
| Copenhagen to Oslo | 17 hours 15 minutes | Daily | DFDS |
| Frederikshavn to Oslo | 9 hours 15 minutes | Daily | DFDS |
| Hirtshals to Kristiansand | 2 hours 15 minutes – 3 hours 15 minutes | Up to 5 daily | Fjord Line and Colour Line |
| Hirtshals to Larvik | 3 hours 45 minutes | 2 daily | Colour Line |
| Hirtshals to Stavanger | 10 hours 30 minutes | Daily | Fjord Line |
| Hirtshals to Bergen | 16 hours 30 minutes | Daily | Fjord Line |
| Ferries from Sweden | | | |
| Strömstad to Sandefjord | 2 hours 30 minutes | Up to 6 daily | Fjord Line and Colour Line |
What about ferries to other Scandinavian countries from the UK?
Since the demise of DFDS' Harwich to Esbjerg ferry in 2014, there are no ferries routes from the UK to anywhere in Scandinavia.
Taking a private tour
Of course if money is no object, there are ways of getting to Norway by sea.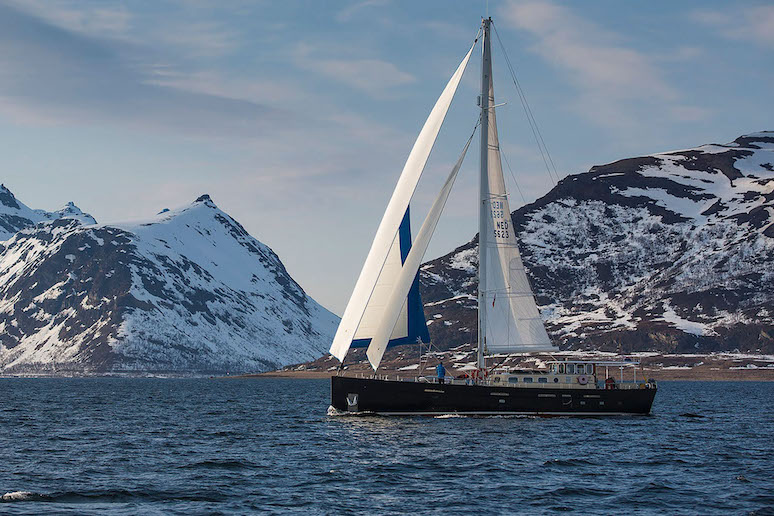 This luxury yacht trip cruises from Mallaig on the west coast of Scotland to Bergen in Norway via the Orkneys and the Shetland Islands. It takes two weeks so you'll need plenty of time and deep pockets!
Getting there by plane
As you can see getting to Norway by ferry is not a quick option, so you may be tempted to fly. And there's no shortage of airlines and routes if you do decide to take the plane.
Ryanair flies from Stansted to Oslo, Norwegian flies from Gatwick to Oslo, while British Airways and SAS fly from Heathrow to Oslo. Norwegian also flies from Gatwick to Bergen, Stavanger and Trondheim.
SAS and Norwegian fly from Manchester to Oslo, while Ryanair flies from Manchester to Oslo Torp.
Norwegian also flies from Edinburgh to Oslo, while Loganair flies from Aberdeen to Oslo and Newcastle to Stavanger.
The pros and cons of flying vs taking the ferry
Clearly flying is quicker, with a journey time of around two hours from London to Oslo compared to several days driving and taking the ferry.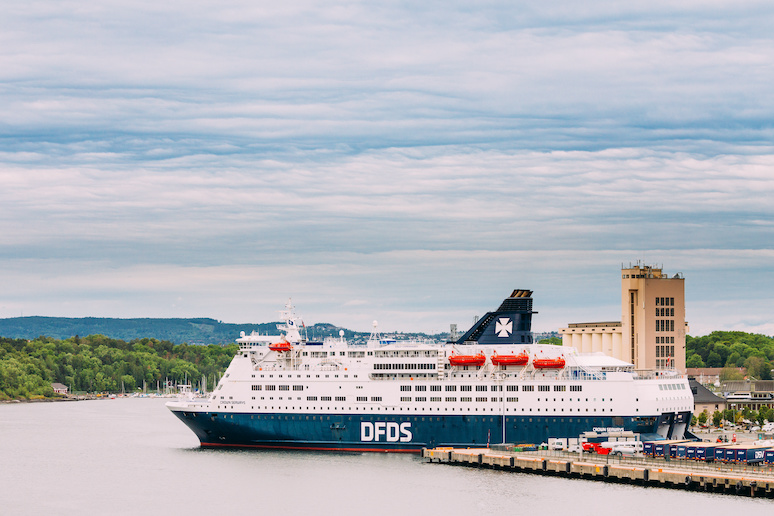 And flying is almost always cheaper too, with return fares from London to Oslo starting from around £50 if you book ahead.
Flying from a regional airport and booking last-minute will usually bump up the cost, but it's still likely to be cheaper than the ferry, especially when you've added on the cost of a car and cabin.
However, travelling by ferry and car is definitely the greener option, and a more interesting way to get to your destination. And once the new Bergen Line ferry is running, it will be greener still.
So, if you're short of time we recommend flying. But if you're in hurry and want to see some other countries on the way and make the journey part of your adventure, we suggest taking the ferry.
See also:
Hurtigruten cruises in Norway: all you need to know
Eco-friendly places to stay in Norway
Norway's best national parks