Marketed in Norway as 'the gateway to the fjords', Bergen is a place that tourists tend to whizz through on their way to some of the country's most spectacular beauty spots. But Norway's second-biggest city has a lot to offer those who stick around a little longer.
Bergen is home to some vibrant street art, some colourful wooden buildings and some life-affirming views, most notably from the top of Mount Fløyen. There's plenty more to keep you entertained, too, but as this is Norway, things can quickly get expensive. Here's how to enjoy Bergen without breaking the bank!
When to visit
Bergen is at its best and most beautiful during the spring and summer. The only problem is, it can be very busy during these times with tourists flocking towards the fjords (see below).
The real peak season is the time between May and August, so if you'd like to visit when the city is a little quieter, it's best to stick to the winter season or the shoulder months of April and September.
You'll find accommodation is significantly cheaper outside of the main summer rush. And, while the winter can be cold and wet, early spring and autumn both have the potential to offer milder day with occasional sunshine. One thing to bear in mind, even if you visit in summer: Bergen is the wettest city in all of Norway – bring a raincoat!
Getting there
You can fly to Bergen's international airport from quite a few European destinations, include London, Amsterdam, Reykjavik, Berlin, Prague, Paris and Zurich. There are even direct flights to Tokyo and Newburgh, USA.
In Bergen, the airport itself is around 18km southwest of the city. Airport express buses depart frequently from just outside the terminal, taking around 35 minutes to get into the city (one-way tickets cost around 105 NOK).
TIP: Cheaper light rail trains also make the same journey for around 37 NOK and are only a tiny bit slower, taking around 45 minutes to get to Byparken in the city centre. Buy tickets before you board to avoid paying an extra charge!
If you'd like to save money on flight tickets and make a bit of an adventure out of the journey, you also have the option of flying into Oslo with a budget airline and then taking the train up to Bergen.
The train journey from Oslo to Bergen (book tickets here) is known as one of the most scenic routes in the country and can be combined with the popular 'Norway in a Nutshell' tour.
If you're coming from Denmark then an excellent budget-friendly option is to take the ferry from Hirtshals to Bergen, which is operated by Fjord Line. If you're travelling without a car, one-way prices for the ferry range from around 200–450 NOK per person.
Another alternative, if you're up for a bit of a road trip, is to hire a car and drive to Bergen. The roads are safe and easy to navigate and you'll pass some lovely scenery on the journey west.
Where to stay in Bergen
The cheapest accommodation option in Bergen, especially if you're travelling in a group and are okay with booking ahead, is to stay at an Airbnb (you can get $25 off your first stay here). There are plenty of apartments to choose from and many are even situated in picturesque wooden buildings right in the middle of the city centre.
Looking for a hostel or a cheap hotel instead? You can check out Marken Guesthouse, YMCA Hostel, Basic Hotel or Citybox Bergen. Prices at the cheapest places start at around 800 NOK a night for a double room in the summer but rooms can be as cheap as 500 NOK in the low season.
The downtown area is surprisingly compact, so don't worry if the only place you can find looks to be just outside the centre (the local buses and trains are reliable and relatively cheap, anyway).
Visiting the fjords
If you've made it all the way to Bergen then it makes sense to visit the beautiful fjords nearby. You'll need to splash a bit of cash, but there are some great tours worth trying. You can go for a guided tour, like this spectacular full-day adventure that takes you to see some of the region's most stunning scenery, or this cheaper self-guided round-trip.
What to see and do
There's plenty more to see and do in Bergen, even if you don't want to go on a pricey fjord excursion! Here are some of the city's more affordable activities.
Visit Bryggen
With colourful wooden buildings edging the water, the pretty wharf area called Bryggen is so handsome that Unesco made it a World Heritage Site. Some of the buildings here date back to the early 1700s, and this is a really nice area to start exploring Bergen. Make sure you visit the lively fish market, wander around the little souvenir shops, and stop for a coffee or at one of the cosy cafes.
Check out the fortress
A short walk to the northwest of Bryggen, Bergen's stone-built fortress (Bergenhus Festning) is well worth a look – it's one of the oldest and best-preserved in the whole country. And while you have to pay to access some parts of it, large areas of the outside section are completely free of charge to explore and will keep you busy for a couple of hours.
Take in the views from Mount Fløyen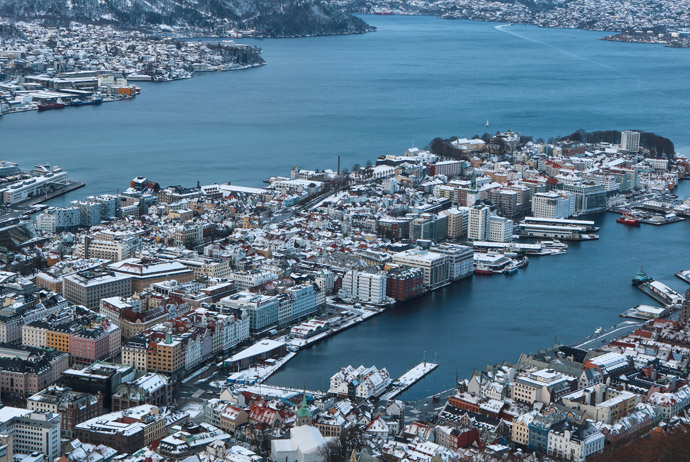 Just to the northeast of the city, Mount Fløyen offers some great views. A funicular runs to the top (around 95 NOK return) but if you'd like to save cash then you can use one of the many hiking trails leading up the mountain.
See the street art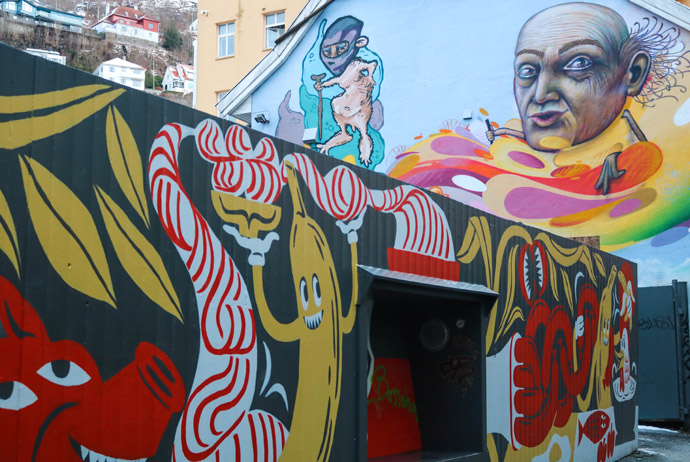 If you're into art, head out in search of Bergen's colourful murals and graffiti, or visit the art room Kraft and the gallery Stiftelsen 3,14 for free. If you're happy to spend a little bit on seeing some more traditional art then it's worth making a trip to KODE, Bergen's collection of art museums and composers' homes.
Consider getting the Bergen Card
If you're planning on visiting a few of Bergen's paid-for museums, consider purchasing the Bergen Card (from around 240 NOK), which gives you free admission to many of the city's attractions.
With the Bergen Card you can, for example, visit Bergen Aquarium, The Hanseatic Museum, Bryggen Museum, KODE, Bergen Science Centre, and the home of Edvard Grieg (Norway's most famous composer) either for free or with a discount of 10-50%. The Bergen Card will also provide you with free public transport and discounts in a couple of the city's restaurants.
Getting the card isn't always the cheapest option though, so the best approach is to work out how much each attraction costs to visit ordinarily and then see if the card will save you money!
It's available to buy on the local tourist board's website.
Where to eat and drink
Restaurants are expensive in Bergen so one of the best tips for a budget visit is to avoid eating out altogether, or at least keep it to a minimum. It's a good idea to rent somewhere with a kitchen, which will allow you to preparing all of your meals at home. Everyone likes to eat out occasionally on holiday, but we reckon you could easily save around 800 NOK (around $100) each day by taking care of your own meals this way.
If you do decide to eat out, it's always smart to have your main meal at lunchtime instead of the evening – most restaurants have lunch offers or even a special lunch menu that is much cheaper than the usual evening menu.
One of the cheaper hangouts in Bergen is the student café Det Akademiske Kvarteret, where you can enjoy a burger, baked salmon with potatoes, pancakes, bagels or a salad – all for under 100 NOK, even if you're not a student! Another affordable restaurant is Egon, just a stone's throw from Bryggen, where the yummy pizza buffet costs around 110 NOK.
Budgeting for a trip to Bergen
It's definitely possible to visit Bergen without breaking the bank – we'd recommend allowing at least 3000 NOK for a weekend trip that includes a few activities and one or two meals out.
The city is very compact so that you don't need a bus ticket unless you stay somewhere on the outskirts, and there are plenty of free museums and attractions to discover. And of course, some of the very best things to do in Bergen – like strolling along the city's alleyways and admiring the gorgeous wooden houses – are totally free anyway!
TOURS AND ACTIVITIES IN BERGENMORE TOURS
Pictures: Vanessa Brune
Like what you've been reading? Get our best tips by email!