The weather in Iceland varies enormously from month to month, from town to town and even from minute to minute. So how do you know when is the best time to go to Iceland? What is the temperature in Iceland like each month? And when is the best time to visit Iceland for the northern lights?
We look at the all the pros and cons of visiting Iceland in summer and winter and provide a handy month-by-month temperature guide, so you can decide for yourself when is a good time to visit Iceland.
You can visit all year round, but Iceland's seasons are hugely varied and the key to enjoying your trip is making sure you have the right clothes.
For warm weather and a better chance of sunshine, the best time to visit Iceland is late spring and summer.
If you want snow, aim to go between December and March, with January being the month when you get the most snowfall.
The best month to see the midnight sun is June, though the nights are still bright and the sun visible below the horizon from mid-May to mid-August.
The northern lights are best seen in winter, from September to March.
What's the weather like in Iceland?
The simple answer is that it's changeable! At pretty much any time of the year, you can have rain, sleet, snow, sunshine and gales all within the space of a morning. So native Icelanders are very used to tailoring their activities, lifestyle and clothing according to the whims of the weather.
Due to Iceland's proximity to the Gulf Stream, the temperature overall is milder than you might expect. Temperatures in coastal areas in particular are fairly moderate, though it's also the Gulf Stream that brings with it the wild, wet and stormy weather conditions that can change within minutes.
And, of course, it also depends on where you are in the country. Bright sunshine in Reykjavik, in the southwest of the island, is no guarantee that it won't be blowing a blizzard along the northeast coast – and vice versa.
When is the best time to visit Iceland?
There are pros and cons to visiting Iceland in all seasons. The country is stunningly beautiful in winter when covered in snow, and there are fewer visitors, though the days are short and the weather conditions may curtail some of your planned activities.
In summer, it's much easier to get out of the city, do some hiking (this 4-hour tour is a nice easy option) and get off the beaten track – plus the days are longer.
Why visit Iceland in summer?
Iceland in summer is great for getting out and about and exploring the country. The weather is usually good enough that you can go hiking, visit some of the country's more remote beaches and valleys, or even take a tour through lava fields on the back of an Icelandic pony.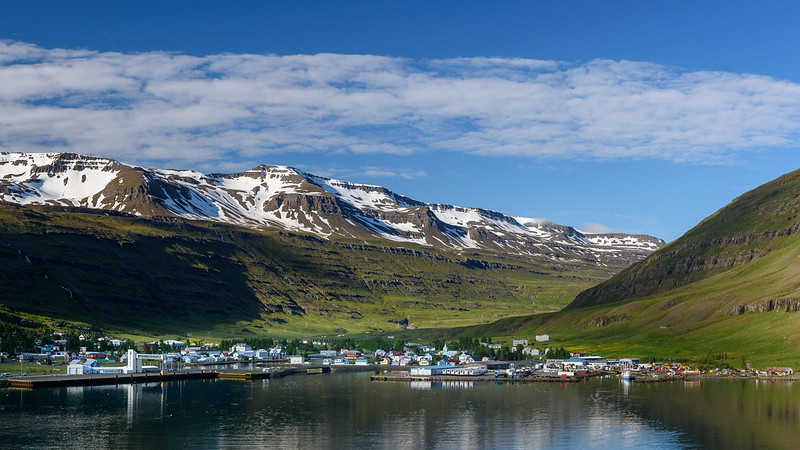 Visiting Iceland in July can be a good shout, as it's the warmest month, and Iceland in August is appealing too, since summer is the season for whale-watching, with plenty of boat trips leaving from Reykjavik in search of whales. June to August is the best time for whale-watching, though there's a good chance of seeing them from April to October.
Book tickets for a whale watching tour here.
Summer is also puffin season in Iceland. These appealing birds nest and breed in various spots along Iceland's coast between June and September. For more on where and when to see puffins in Iceland, click here.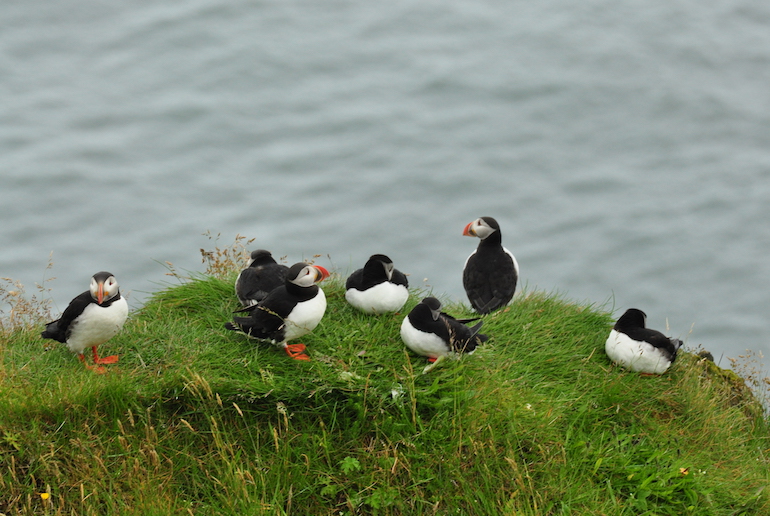 And, of course, the days are much longer in summer. In June, daylight lasts around 20–22 hours: in fact, it's never really gets properly dark – a phenomenon known as the midnight sun.
This slightly eerie half-light can make it hard to sleep – so some hotels have rooms facing into a internal well, with blackout blinds to help you sleep.
Why visit Iceland in the winter?
Obviously, snow and ice and the true grandeur of the landscape comes into its own in winter. The country is unbelievably picturesque when covered in a blanket of white. And there's no better experience that sitting in a hot geothermal pool surrounded by drifts of snow gazing up at the stars in a clear winter sky.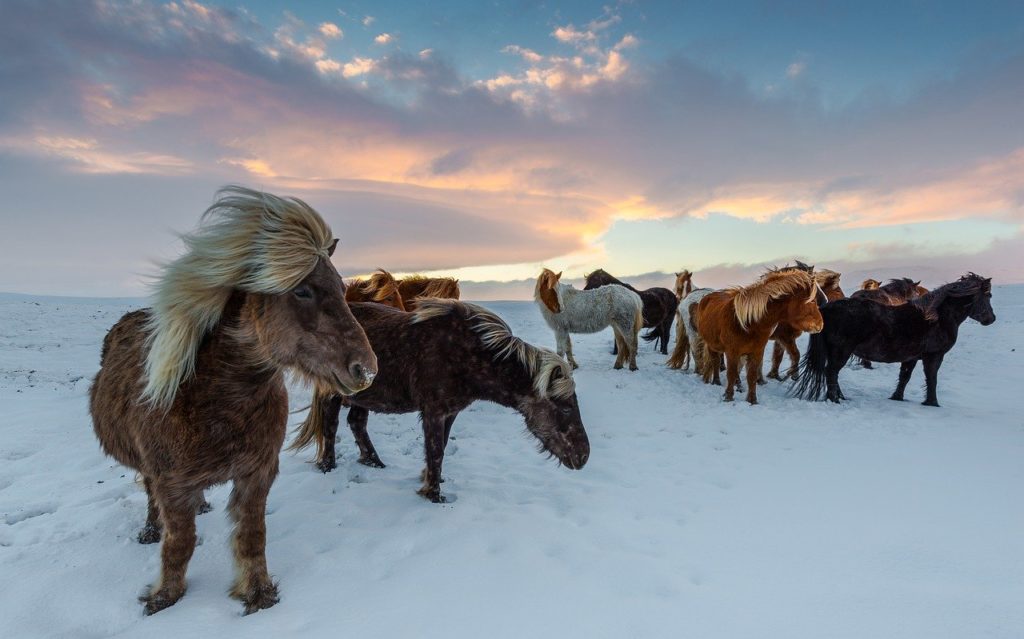 It's also the time to visit if you're into winter sports – snowmobile trips on a glacier, dog-sledding, skiing, snowboarding, glacier hikes and ice-caving are all popular winter activities. Check here for a whole raft of tours and activities that you can do in Iceland.
Winter is the best time to visit Iceland for the northern lights, too. Lying just south of the Arctic Circle, Iceland is far enough north to get great views of the Aurora Borealis.
From September to March, the nights are long enough that there is a good chance of seeing this amazing light display on any clear night. Many of the country's hotels will wake you up, if you ask them, when the lights appear.
Alternatively, an organised northern lights tour will take you to the best viewing location for that particular night, and if you don't see the lights, you can join again for free.
The downside of all this, of course, is that there are fewer hours of daylight in winter, especially the closer you get to December 22nd – around the winter solstice, it's dark for 19 hours a day.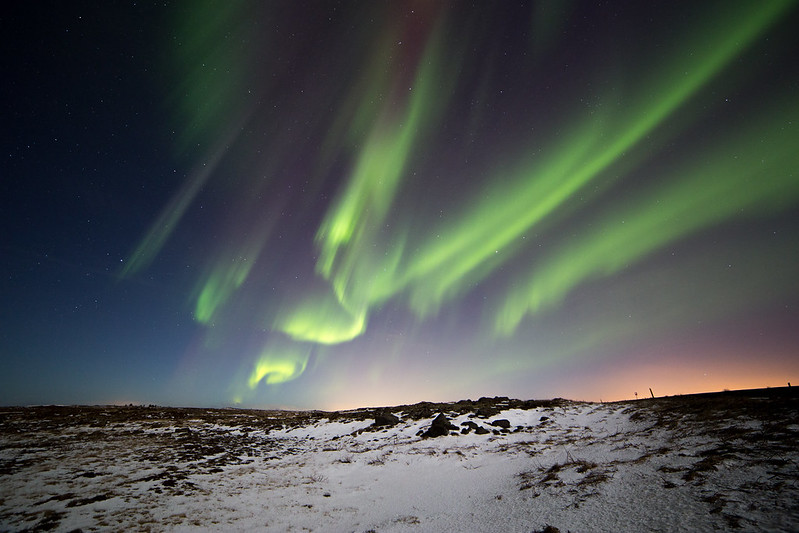 And the weather conditions mean that some roads may be impassable in winter, and some areas of the country inaccessible. Driving around the Iceland ring road is not advisable in winter and even if conditions are good when you set off, snow drifts can close roads very quickly.
Icelanders check road conditions regularly on this useful website when setting out on any trip in winter.
If you are travelling in winter, it pays to be flexible. Accept that any trip may well be cancelled at the last minute in bad weather, and don't stress about it. Do as the Icelanders do, settle in by the fire and wait for conditions to improve.
Month-by-month guide to temperatures in Iceland
Here are the monthly average daytime temperatures in Reykjavik, in the southwest:
| | | | | | | | | | | | |
| --- | --- | --- | --- | --- | --- | --- | --- | --- | --- | --- | --- |
| Jan | Feb | Mar | Apr | May | June | July | Aug | Sept | Oct | Nov | Dec |
| 0°C | 0°C | 0°C | 3°C | 6°C | 9°C | 11°C | 11°C | 7°C | 4°C | 3°C | 2°C |
| 32°F | 32°F | 32°F | 37°F | 43°F | 48°F | 52°F | 52°F | 45°F | 39°F | 37°F | 35°F |
And there are the monthly average daytime temperatures in Akureyri, on the north coast:
| | | | | | | | | | | | |
| --- | --- | --- | --- | --- | --- | --- | --- | --- | --- | --- | --- |
| Jan | Feb | Mar | Apr | May | June | July | Aug | Sept | Oct | Nov | Dec |
| -1°C | -1°C | -1°C | 2°C | 6°C | 10°C | 11°C | 12°C | 8°C | 4°C | 1°C | 0°C |
| 30°F | 30°F | 30°F | 35°F | 43°F | 49°F | 52°F | 53°F | 46°F | 39°F | 34°F | 32°F |
FAQ
What is the coldest month in Iceland?
The coldest month in Iceland is January with average temperatures of -1°C–1°C, though it can range from as low as -10°C up to 5°C.
When is winter in Iceland?
Winter in Iceland is generally agreed to be between November and March, since these are the darkest and coldest months of the year, and there's little sunshine. However, cold, cloudy and windy winter weather can strike at pretty much any time of the year in Iceland, so make sure you come prepared!
What is the warmest month in Iceland?
July is the warmest month in Iceland, and the least rainy, with daily temperatures of between 10°C and 15°C. Along the south coast, temperatures can reach 20–25°C on a warm July day.
What is the warmest it gets in Iceland?
Iceland's highest ever recorded temperature was 30.5°C in June 1939, while Reykjavik's highest temperature was 24°C in July 1976! However, these are once-in-a-lifetime events, and summer temperatures of around 12–15°C are far more usual.
When is the best time to travel to Iceland?
Provided you avoid the season around Christmas and New Year, the cheapest time to fly to Iceland is winter. You can usually find good flight bargains in January and February, and hotels often have off-season deals at this time of year too.
When is the best time to go to the Blue Lagoon in Iceland?
The Blue Lagoon is Iceland's most popular tourist attraction, so can be busy at any time of the year. The quietest time of day to visit is first thing in the morning as soon as it opens and last thing in the evening.
Visiting in the evening in winter is particularly atmospheric as you can sit outside in the dark in hot water with temperatures of 37–40ºC watching the stars in the sky above. You may even be surrounded by snow, and if you're very lucky there's a chance of seeing the northern lights too.
What is the best month to visit Iceland?
Well, they all have their pros and cons, with the summer months being busier and more expensive. But, overall the best time of year to visit Iceland is probably June, with its long hours of daylight, mild temperatures, verdant countryside and great opportunities for hiking and exploring.
See also:
10 of the best Airbnbs in Iceland
40 free and cheap things to do in Reykjavík
Getting an Icelandic sim card