In the space of a few short years, Copenhagen has joined the ranks of global fashion capitals like New York, Paris and Milan. And it doesn't take much to see why the Danish capital stacks up so well alongside much bigger cities. Danes are stylish.
Casual but classy, Danish fashion screams 'effortless, yet totally put together' and makes us all wish we had the same snappy sense of style. Chances are, you'll leave the country with a headful of inspiration or – even better – a big bag of new clothes you just love.
There are a few steps locals take to differentiate themselves from their equally stylish neighbours in other parts of Scandinavia – follow these rules and you'll soon be as dapper as the Danes!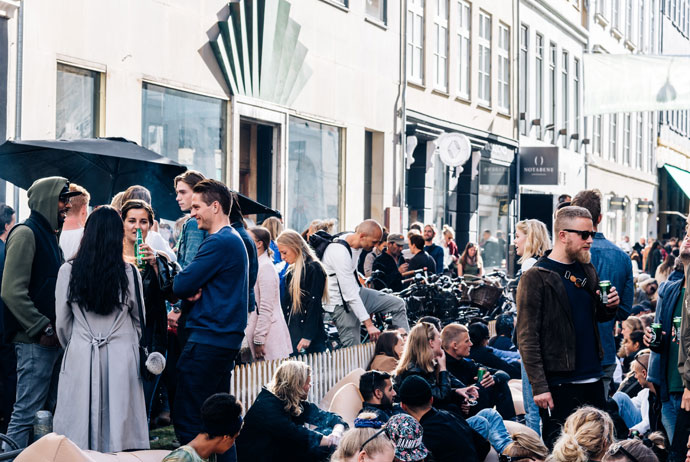 The rules of Danish fashion
Wear lots of black (but be playful with it)
Just like their Scandinavian counterparts, the Danes tend to wear a lot of black (and wouldn't you, too, if your winters were so harsh?). But Danes are also slightly more outgoing when it comes to what they wear.
Danish designers and brands tend to keep things simple, clean and minimal, but there are occasional bursts of colours and patterns. A great example of this is the Danish brand Ganni, which has tons of vibrancy in the clothes that it creates. Guys and girls in Denmark know that black is always the best base for a winning outfit, as it really lets the brighter colours pop.
Shoes matter
Big Danish cities like Copenhagen rival Amsterdam when it comes to being cycle-friendly. All of those long bike rides and cobbled streets can make heels or open shoes a bit impractical, so you'll see plenty of locals wearing good, flat shoes or tougher, splash-resistant Chelsea boots (handy when it rains, or when the snow turns to slush).
Of course, during the summer you can get away with trainers or a trusty pair of Converse All Stars, but they might leave you feeling a bit chilly when winter rolls around.
Layer, layer, layer
If there's one thing that's predictable in Denmark, it's that the weather is unpredictable. Especially in waterfront cities like Copenhagen, where the humidity is high and the winds can change quickly, you can go from toasty warm to ice cold in a matter of minutes. So whatever the time of year, it's worth copying the locals and wearing lots of layers.
Knowing how many layers to bundle up with – and how to match them together so neatly – is something that weather-obsessed Danes seem to have a certain knack for. Our advice is to follow their lead and always put practical items like boots, cute raincoats and stylish windproof jackets at the heart of your look, rather than tacked on as an afterthought.
Mix new trends with old classics
New trends come and go quickly in Scandinavia, and it can often seem like that top or bag you spotted for the first time last week is suddenly around every corner. Pick your trends wisely, rather than running after every new 'must-have', and mix in a few old classics along the way (see 'wear lots of black', above).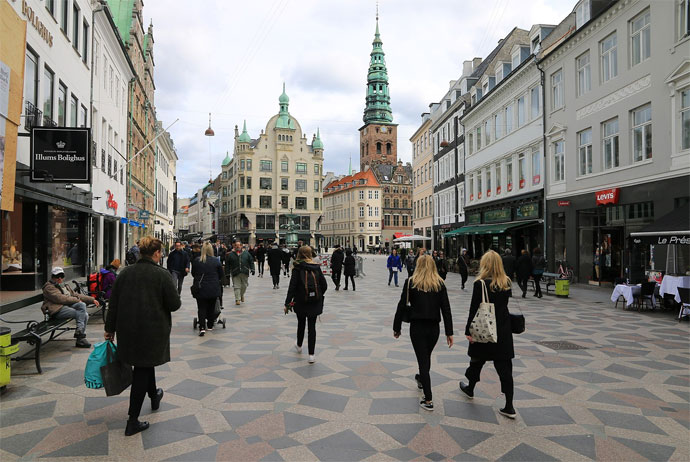 How to get the Danish look on a budget
Hit the flea markets
If you're looking to get the Danish look for less, head to the local flea market. During spring, summer and autumn, the streets of Copenhagen and other major cities are filled with 'sidewalk sales' offering bags of affordable fashion, furniture, and other quirky knick-knacks. This article has tips on some of the best markets in the Danish capital.
Rummage through the second-hand stores
While you're in Copenhagen, try hitting up some of the second-hand stores like Episode and Beyond Retro. These places have tons of pre-loved denim jackets and jeans plus retro one-offs like early '90s ski suits.
Head online
Sites like Amazon and eBay can be a handy starting place, especially if you're not actually in Denmark, but you won't often find the more unusual Danish brands. For secondhand goodies within the country, check out Denmark's answer to eBay (try dba.dk and guloggratis.dk). These websites sell more than just clothing, so even if you're looking at buying some new furniture or a vintage dresser, they're definitely worth a look (you may need someone to help you translate, though).
Try cheaper brands
If you're looking for brand-new Danish clothes but don't want to break the bank, there are quite a few Danish stores with surprisingly low prices. Try Envii and Moss Copenhagen, which both have shops around the country.
Visit the outlets
Danish fashion outlets often have great deals that you won't find online or in high-street stores. Dansk Outlet, one of the main players, is found all throughout Denmark. You might also want to try Sport 24 Outlet, which specialises in discounts sportswear and has shops around the country.
In Copenhagen, high-end Danish brand Samsøe & Samsøe has an outlet store called Samsøe History, which has selected pieces (including samples) available at highly discounted rates.
Danish fashion brands (and where to find them)
Most Danish fashion brands do sell to foreign countries like the UK and USA, but some do not. You'll find lots of these brands on big fashion sites like Yoox, ASOS, and Need Supply Co.
Baum und Pferdgarten Fun prints and bold designs make this brand fun, cool, and totally Danish.
Beck Söndergaard Female-focused accessory store founded on the love of Scandinavian design, and experimenting with colours.
Bruuns Bazaar Contemporary, well-cut designs for men and women.
By Malene Birger Sophisticated yet playful brand for women.
DAY Birger et Mikkelsen Popular fashion brand inspired by Japanese tailoring. Women only.
Designers Remix Looking for sultry and edgy? Look no further than this store.
Envii For the cool girl, with designs that walk the line between boyish and girlish.
Ganni This store has bursts of patterns, colour, and pizzazz – it's not what you'd usually think of when you hear 'Scandinavian design'.
Han Kjøbenhavn Started off as premium eyewear brand, this men-only brand has branched out into apparel.
Henrik Vibskov Original, trendy… one for the hipster crowd.
InWear Collection of cool and eclectic Danish clothing for her.
Ivan Grundahl Expect avant garde, dark nordic aesthetics, and a bit of a rebellious streak.
Just Female Your go-to place for leather essentials and clean-cut apparel.
Libertine-Libertine One of this brand's missions is to 'encourage people to express themselves through personal style.' Libertine-Libertine's clothes are perfect if you're looking for an investment t-shirt and a pair of perfectly tailored chinos.
Lovechild 1979 Luxury meets functionality. Lovechild 1979 offers a variety of amazing products – even just looking at their images is fun.
Mads Nørgaard Originally aimed only at guys, the Mads Nørgaard brand now makes classic pieces for both men and women. What's this designer's goal? "To make women sexier and men rougher."
Moss Copenhagen Fashion-forward brand with low price points.
Munthe Swanky and luxurious items. Women only.
Norse Projects Functional and high quality streetwear for both men and women.
Saks Potts Elegant female brand with retro-inspired pieces.
SAND Copenhagen Inspired by Southern Europe and fused with the classic Scandinavian silhouettes.
Samsøe & Samsøe This brand, founded by two brothers in Copenhagen, brings bright patterns, cosy sweaters, and hip accessories all together for a super-cool look.
Soulland A men's brand with a focus on innovation – like how their signature hat is a traditional men's fedora, but instead fused with a baseball cap brim.
Stine Goya Many of the classic Stine Goya pieces are coloured and accented with gold and pastel shade – expect a perfect mix of everyday and party clothes.
Won Hundred With a subtle rock n' roll vibe, this brand makes cool pieces for men and women, as well as unisex clothing.
Wood Wood Athleisure-like pieces for men and women. Many of their looks are styled with tons of layering, which is after all, the Danish way.
Danish shoe brands
Comfortable, trendy, and stylish, Danish shoe brands are the perfect compilation of functionality and fashion-forward.
ARKK Copenhagen Your go-to place for classic Danish sneakers.
Ecco Large collection of sneakers, sandals, boots, and heels.
Woden Cool, simple, yet totally modern and fun sneakers and sandals.
Danish fashion bloggers
If you're in need of some inspiration for your perfectly curated Danish outfit, look no further than these amazing bloggers and photographers.
Marie Jedig
Stine Mo
Emilie Delance
Søren Jepsen
Trine Kjær
Maria Kragmann
Isabella Thordsen
Danish fashion magazines worth checking out
If you're in Denmark and would like a bit of inspiration to take home, pop into the nearest 7-Eleven or Spar and pick up one of these great Danish fashion brands.
Copenhagen Fashion Week
If you're in the Danish capital in August or late January and are interested in learning about this season's best Scandi style tips, head for Copenhagen Fashion Week. This four-day extravaganza is the largest fashion event in the whole Nordic region, and is usually where local movers and shakers show off their latest designs.
See also: 
A guide to Swedish fashion
Flea markets in Copenhagen
Free things to do in Copenhagen
The best guided tours in Copenhagen