With loads of lovely lakes, miles and miles of woods and forests and plenty of outdoor wilderness, Finland is a great place for a back-to-nature camping trip. It's known as the land of a thousand lakes – although in fact there are nearer 2000 – and there's nothing better than pitching up lakeside and diving in for a bracing swim.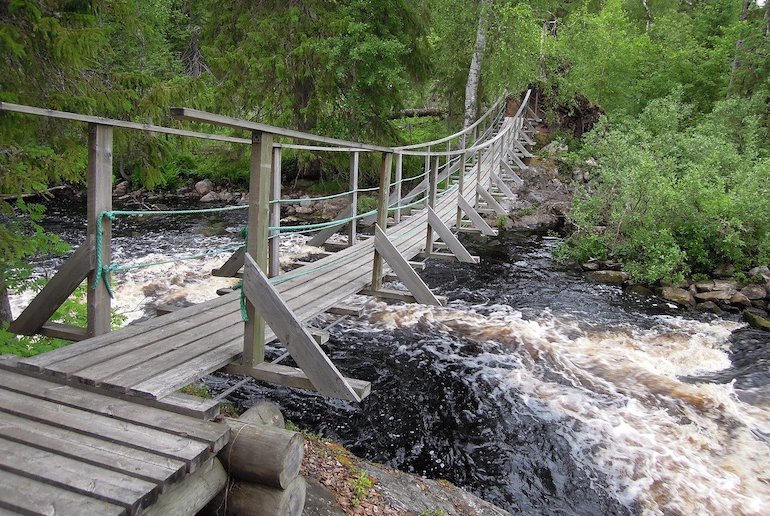 And since there are more saunas than people in Finland, it's not hard to find a campsite with a sauna too – there are more than 100 of them spread across the country. So why not do what the Finns do – warm up in the sauna, then leap into a lake for a refreshing dip?
Whether you like camping in comfort, or prefer to just pitch up miles from anywhere for a real wilderness experience, camping in Finland is hard to beat. Feeling inspired? Check out our Finland camping guide and find out all you need to know about camping in Finland.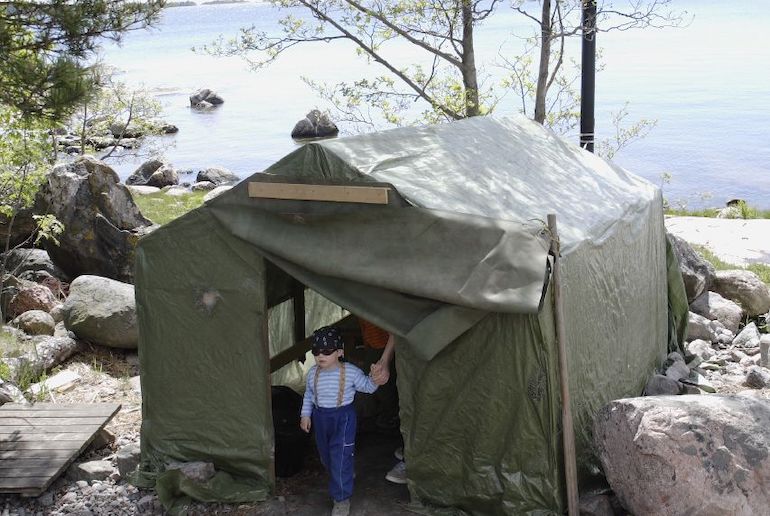 Can I camp wild in Finland?
The good news is that wild camping in Finland is completely legal. It known as the Finnish "every man's rights" or Jokamiehen oikeudet, and it means that you can set up tent or hike on any public land – and even on private land, as long as it is clearly not being used.
There are a few exceptions, such as some nature reserves and restricted areas, but the right to roam applies to some 90 percent of Finland's landmass, so there's plenty of space for you to camp pretty much wherever you like.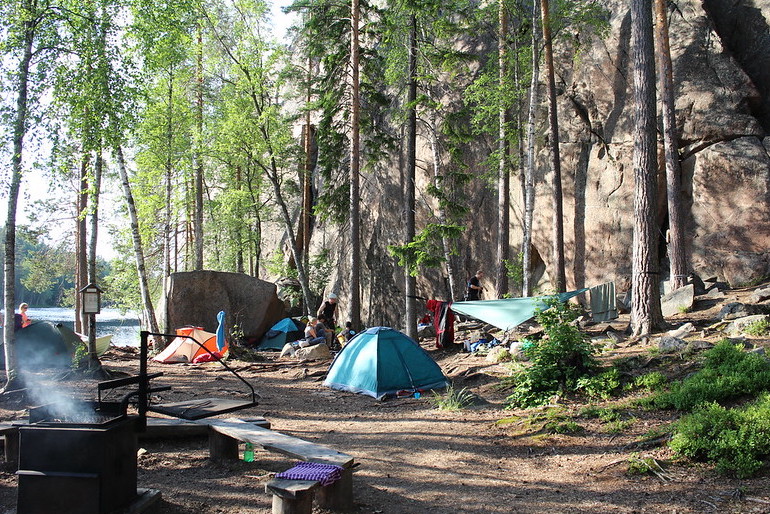 Some lake beaches even have free basic facilities for campers, such as toilet blocks, simple sinks, swimming jetties and barbecue grills – they're not as good as the natural gas grills you'd use at home, but you can still cook up a storm. All you have to do is turn up with a tent, settle in and watch the stars appear in the dark skies above.
The golden rules for wild camping in Finland
The right to camp and hike anywhere is a privilege, so you should use your common sense and follow a few basic rules.
Make sure you take all your rubbish with you.
Don't disturb any flora or fauna.
Only camp for a short period of time – a few days in each place at most.
Campfires are only allowed in designated areas. Always ask permission to light a fire, if you are on private land.
Avoid camping near – and definitely not in! – anyone's private garden, or fields that are being used for agriculture.
Can I forage and fish in Finland?
Yes, you can! Foraging and fishing are also including under the "every man's rights" rules. You can pick berries, wild flowers and wild mushrooms and fish in the lakes and rivers as long as it is only for your own consumption. If you're fishing you must use a simple hook and line – anything more complex requires a fishing permit.
Can I swim in the rivers and lakes in Finland?
The good news is that the Jokamiehen oikeudet also applies to the country's waterways, so you can swim in, kayak on – and, in winter, even skate on – Finland's many lakes and rivers. Just make sure you steer clear of any private homes.
Camping in Finland under the northern lights
If you're camping in Finland in the autumn or spring, you've got a good chance of seeing the northern lights from your tent.
Because the country is so sparsely populated, it's very easy to set up camp away from any centres of population, so that there's no light pollution. And because much of the country lies above the Arctic Circle, that makes ideal conditions for northern lights viewing. There's more on seeing the Northern Lights in Finland in this guide.
Can I camp in Finland in winter?
Many of Finland's campsites stay open all-year round and have warm wooden lodges and cosy cabins to rent, so that you can have all the fun of camping in winter, without any of the cold!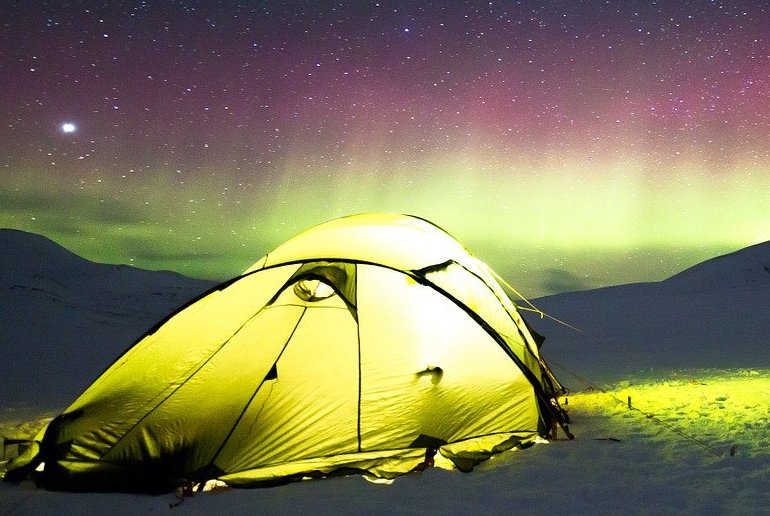 Only real hardcore campers would choose to stay in a tent in Finland in winter. But if you are considering it, make sure you've got all the right gear, including a proper winter tent – check out our guide to the best winter weather tents.
Camping sites in Finland
Of course, you may prefer a little more luxury and a few more facilities for your camping trip, but don't worry, there are plenty of well-equipped campsites in Finland, from simple lakeside spots to upmarket glamping sites.
Finland has no shortage of camping accommodation either, from cosy camping pods to comfortable yurts – and even tree tents, suspended up in the forest. So, if you're looking for some of the best camping in Finland, check out our five favourite Finnish camping spots.
Tent in a tree
Fancy spending the night suspended in a tree in the wilds of a Finnish forest? Then check out the Kommee Kurki Tentsile in Puumajoitus in Southwest Finland. The tree tents have a view of the lake, where you can see cranes and hooper swans, and there's a barbecue, campfire and eco toilets on site.
A veggie breakfast is available, and you can either bring your own sleeping bags or rent them here. All in all, this a great place to hang around!
Back-to-basics camping
For a real back-to-nature camping trip, but one that's less than an hour's drive from Finland's capital Helsinki, head to the Nuuksio National park, where there are several public campsites, which you can hike, kayak or paddle board to.
The Holma-Saarijärvi lake is a particularly appealing part of the park, with two free campsites, one by the lakeside and one on an island in the lake. Both have campfire sites, with firewood provided, so you can cook on an open fire.
Glamping under the stars
And if you fancy a little more luxury, check out the Laawu Kultaa site where the simple cabins, tents and camping pods have views of the Kymijoki River and its rapids.
There are barrel saunas and outdoor hot tubs down by the river, where you can warm up after quick dip from the private beach. There's even a buffet breakfast included in the price, and in the evenings you can barbecue down by the river.
Camping on Lake Inari
This is literally camping on a lake – you stay in a mobile cabin that is hooked up to a snowmobile at night and towed out onto the frozen lake. The cabins have a glass roof so you can lie in bed in the middle of nowhere and watch the northern lights in the sky above. Back on the mainland, there's a communal kitchen, lounge, showers and bathroom and, of course, a sauna.
Camping under the northern lights
The lovely riverside Arctic Camping has a camping field for tents and camper vans, as well as range of cabins and lodges to rent, if you prefer a little more comfort.
It has waterfront campfire sites and barbecues, saunas and hot tubs, and you can hire kayaks from the river beach – or leap into the water from the jetty, if you feeling brave! And as it's name suggests, it's in the Arctic Circle, so is a good spot for some northern lights' viewing.
See also:
Camping in Norway: the ultimate guide
Camping in Denmark: all you need to know
Camping in Sweden: the ultimate guide
Like what you've been reading? Get our best tips by email!