Once you've ticked off Denmark's main sights, like taking a selfie with The Little Mermaid or a few days of fun at Tivoli and Legoland, you may start looking for something different.
Well, Denmark has plenty of quirky attractions for off-the-beaten-path adventure seekers. Check out our list of unusual things to see and do!
Dive into a subterranean art venue
Built on Frederiksberg Hill, Copenhagen's highest point, this former water reservoir used to hold up to 16 million litres of H2O, and kept thirsty citizens hydrated until 1933.
Cisternerne has since been drained and today serves as an underground venue for art exhibitions and events.
You can take a guided tour through the vaulted cistern, which will take you below the surface of the Søndermarken park, near Frederiksberg Castle. But wear wellies and warm clothes – it can be cold and damp inside!
Face your fears on Funen
Afraid of snakes, spiders or scorpions? Then face your fear at the specialist reptile zoo Terrariet in the small town of Vissenbjerg on Funen.
This place has Scandinavia's largest collection of reptiles and amphibians, letting you get up close and personal with everything from Komodo dragons to anacondas and tarantulas.
Explore this urban park
You can take a stroll through the colourful and highly creative cityscape at Superkilen, an urban park just north of Copenhagen's city centre.
It's a public space that combines cafés, sports facilities, playgrounds, street art and green areas.
This park fully embraces diversity, with internationally inspired design elements such as English bins, Brazilian benches and street lamps from Iraq.
Sing along with Aalborg's celebrity trees
Visit the 'Park of Music' in Aalborg and look out for trees planted by the likes of Cliff Richard, Sting, Take That and Elton John.
Since 1987 a small forest has been growing here, with a bit of celebrity help. Performers who visit the city are asked to plant a tree here, to help the forest grow.
You can even hear the musical gardeners' top tunes, as many of the trees sit alongside speakers that play music by the artists who planted them.
Go hunting for giants near Copenhagen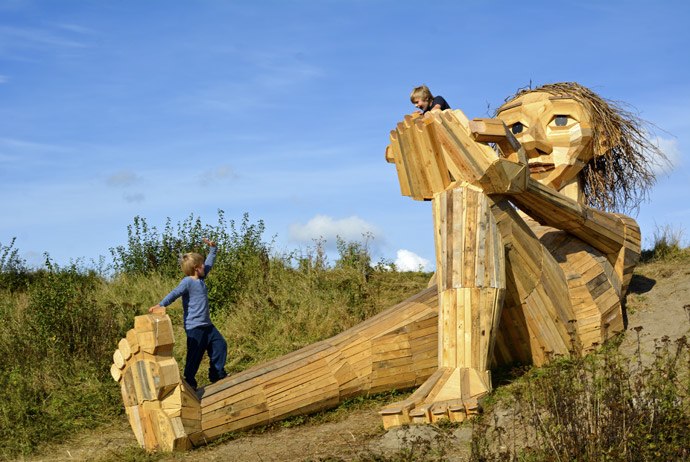 A sure-fire hit for families with young children and a great way to go exploring lesser-known parts of the city, The Forgotten Giants take you on a treasure hunt around six different Copenhagen suburbs.
The six friendly giant sculptures are built of recycled scrap wood, and have been hidden in beautiful nature spots around the city. Children will love searching out the sculptures (and clambering on them, too)!
Get all shook up at the Memphis Mansion
Who would expect to find a piece of Memphis in central Jutland, Denmark?
Elvis fans will fall in love with the Memphis Mansion, a copy of Elvis Presley's famous Graceland. Even larger than the US original, it's home to an event venue, an American-style diner and a museum dedicated to the King himself.
Enjoy towering views at Camp Adventure
Try not to get dizzy as you walk the 650m-long spiral to the top of Skovtårnet (The Forest Tower).
Opened in 2019, the tower is built of steel and oak, and has won several architectural awards for its unique design.
It takes you to a height of 45 metres with spectacular views across the surrounding forests of Southern Zealand.
Brave the waves in 'Cold Hawaii'
You might not find swaying palm trees and exotic cocktails here, but there's no shortage of surfing's main ingredient at 'Cold Hawaii' – the waves.
It's a tongue-in-cheek nickname for the former fishing town of Klitmøller on the west coast of Jutland, which has re-invented itself as a surfer's paradise, and is now a magnet for both local and visiting wave-riders.
Cross the Little Belt strait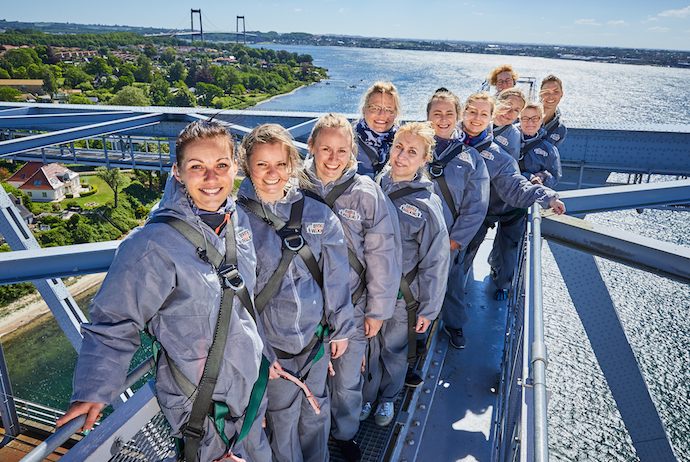 Why cross a bridge the regular way when you can get spectacular views from the top?
Bridge Walking is an adrenaline rush for the brave, and the ultimate challenge for those who fear heights. The two-hour walk crosses the older of the two Little Belt bridges connecting the island of Funen with mainland Jutland.
Get lost in the world's largest maze
Everybody loves a good maze and on the small island of Samsø you'll find the world's largest – verified by Guinness World Records.
Samsø Labyrinten stretches across 60,000 square metres – that's about 12 football pitches – and consists of more than 50,000 pine trees and 5.3 km of pathways.
Snap a selfie with these mules
While concrete bunkers left over from World War II aren't exactly picturesque, a few on Blåvand beach on the west coast of Jutland have been transformed into pieces of art.
As part of a large-scale art project, four old bunkers were creatively reimagined as mules in the 1990s by the artist Bill Woodrow.
Travel the world in minutes
No, we're not talking about a supersonic aircraft. Near Viborg in central Jutland, you can literally walk across all five continents and row across the Pacific Ocean without getting sore arms.
The impressive Verdenskortet is a large-scale, man-made map of the earth dug out on the edge of a lake, with 27cm representing 111km of real-world Planet Earth.
See also:
10 of the best small towns to visit in Denmark
Unusual places to stay in Denmark
Like what you've been reading? Get our best tips by email!