Aalborg has long been known within Denmark for its vibrant nightlife and for hosting the country's biggest carnival.
But it's recently begun to garner international recognition too, and a couple of years back was named by the New York Times as one of world's top 60 places to visit.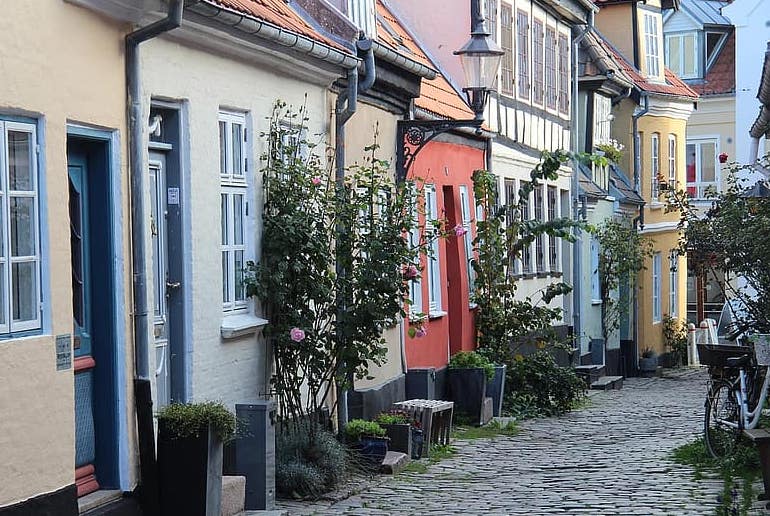 Denmark's fourth-biggest city, with 117,000 inhabitants, Aalborg is the capital of Northern Jutland and boasts world-class contemporary architecture, impressive street art murals and a calendar full of cultural highlights.
Tourism is on the rise here, and you don't need to spend loads of money to enjoy it. 
Aalborg offers a bunch of budget things to do, so check out our guide to 25 cheap and free things to do in Aalborg. 
Historic sights and attractions
1) Take a stroll through the waterfront district of Fjordbyen, a charming little village of former fishing sheds, allotments and a cultural centre. This customised walking tour of the city takes in all its main sights including the waterfront and won't break the bank, either.
2) Visit the park and the courtyard of the half-timbered sixteenth-century Aalborghus Castle. Both sections are free to enter all year round, while the castle dungeons and underground passages are open from May to October.
3) For just 60 DKK you can discover more than 1000 years of history at Aalborg Historical Museum.
Its permanent exhibitions include displays of local glass and silverware, while the beautifully-preserved Aalborgstuen, dating from 1602, is a highlight with its stunning Renaissance interior.
4) Visit the historic burial site at Lindholm Høje, just across the Limfjord canal, with hundreds of stone circles and approximately 700 graves from both the Viking era and the Nordic Iron Age.
There's also an on-site museum where you can learn all about the site. Adults 90 DKK.
Fun and entertainment
5) Aalborg is a big sports city, with successful clubs in Denmark's major sports leagues.
The city's red-and-white-striped football club AaB, plays at Aalborg Portland Park, while Aalborg Håndbold (handball) and the Aalborg Pirates (ice hockey) share the Gigantium stadium.
Tickets for an AaB match start from around 125 DKK, while admission to see an ice hockey match starts from just 40 DKK.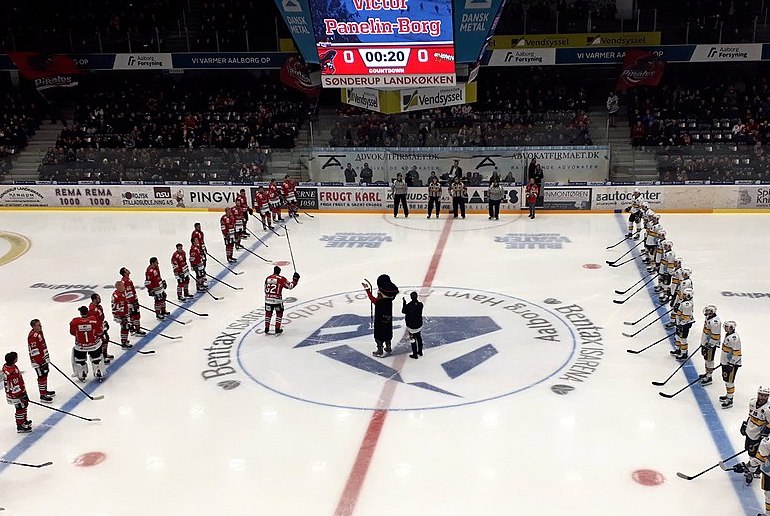 6) In a decommissioned power plant, Nordkraft hosts a cornucopia of sports, music, theatre, arts and cultural events.
It's also home to the city's only independent cinema Biffen (tickets from 95 DKK), as well as a few cafés and take-aways.
7) There's a lot of fun to be had if you find yourself in Aalborg in the last week of May.
This is when the annual carnival – the largest of its kind in Scandinavia – turns the city into a party-zone of parades and colourful costumes.
The carnival has been a cultural highlight in Denmark since 1983. Check their website for updates on this year's event.
Museums and galleries
8) Danish architect Jørn Utzon, best known for designing the Sydney Opera House, completed one last project before his death in 2008.
The Utzon Centre sits on the waterfront of the Limfjord, its contemporary architecture contrasting dramatically with the historic Aalborghus Castle next door.
The spectacular architecture is free to admire from the outside, while inside the culture centre you can take a guided tour, and see exhibitions and events (admission 80 DKK).
9) With more than 4000 artworks in its permanent collection, Kunsten (The Art) is Aalborg's shrine to Danish and international modern art. It's worth visiting for the building alone, designed by Finnish architect Alvar Aalto. Admission is 125 DKK. 
10) Dive into an ocean of knowledge at Aalborg's maritime museum, Springeren. Great for families, it explores all things naval, with the highlight being a decommissioned torpedo submarine. Adults 90 DKK, kids 50 DKK.
Public art and architecture
11) Check out Aalborg's eye-catching open-air gallery of street art.
Spread around the city are more than 70 impressive murals by some of the world's best urban artists. Best of all, it's completely free: check out where to find the murals here.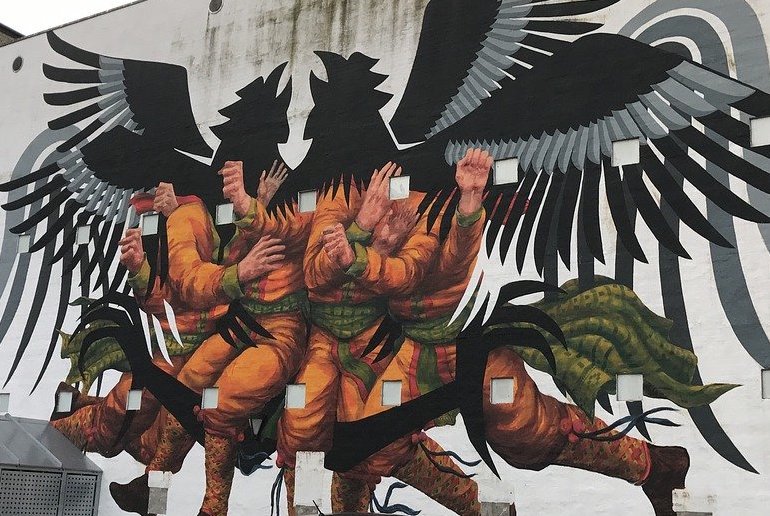 12) For incredible views of Aalborg, head up to the top of Aalborg Tårnet (The Aalborg Tower), a 55-metre tall observation tower perched on a hilltop just southwest of the city centre. The tower and its restaurant are open from April to October. Adults 40 DKK, kids 30 DKK.
13) Admire the contemporary architecture of Musikkens Hus (House of Music), which overlooks the waterfront.
Completed in 2014, it's home to the Aalborg Symphony Orchestra and the Danish JazzCenter. You can have a peek inside the mind-blowing foyer for free, or splash out on a concert or a meal at the in-house restaurant, Musikkens Spisehus.
14) Explore the city's exciting new neighbourhood, Spritten.
This former industrial site was home to De Danske Spritfabrikker (Danish Distillers), and is being developed to include an art centre, apartments and restaurants – not to mention the world's largest glass sculpture, Cloud City. 
Parks and nature
15) Listen to the "singing trees" at one of Aalborg's best-loved parks, Kildeparken. Since 1987, artists performing at the neighbouring cultural centre have planted trees when visiting the city.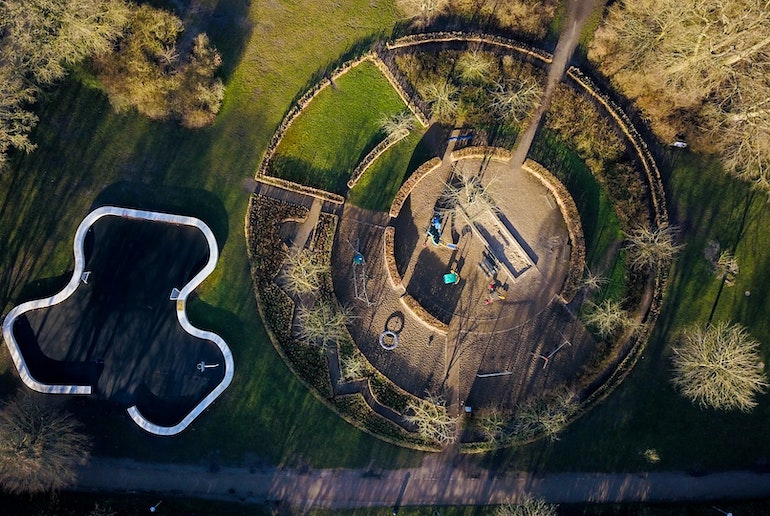 Several of them have speakers that can be activated by the push of a button, and the voices of Elton John, Leonard Cohen and Andre Bocelli will add a unique touch to your picnic.
16) See Aalborg from a different perspective with a scenic cruise on the Limfjord. The wooden ship MS Kysten, dating from 1940, runs 35-minute Promenade Cruises for around 60 DKK, or a 75-minute Harbour Cruise for 130 DKK. 
Excursions and day trips
17) Take a break from the city and hit the beach. The area around Hals and Hou, on Jutland's east coast, has some excellent family-friendly beaches just a 30–40 minute drive from downtown Aalborg.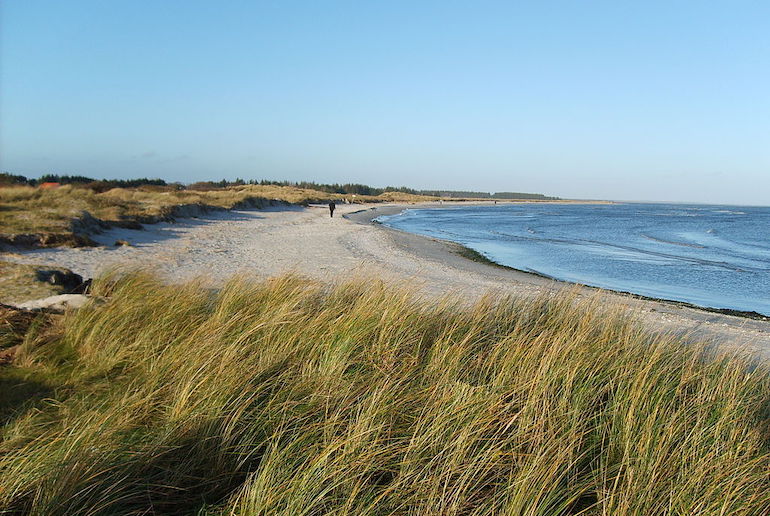 18) Board the tiny ferry to the island of Egholm in the Limfjord.
The crossing from Aalborg takes just five minutes and return tickets cost 20 DKK. Follow the island's hiking paths, pitch your tent at the campsite, or tuck into a traditional Danish meal at Restaurant Kronborg. 
Health and fitness
19) Take a summer dip at the Aalborg Havnebad (harbour bath). Marked by a floating bridge, this designated bathing area has a ship-shaped diving tower, and is free and safe for the whole family.
20) Burn off some energy at the Vestre Fjordpark, a waterfront recreation area where you can run, swim, kayak, play ball or do parkour, while kids can clamber around the playgrounds.
The park is free and open 24/7. From the city centre, take bus #2 to the stop at 'Steen Billes Gade', then walk five minutes to Vestre Fjordpark.
Window shopping
21) Tempt yourself on a walk down Bispensgade, one of Aalborg's liveliest pedestrian streets, then turn into Gravensgade, which is known for its design shops including the famous Danish silversmith Georg Jensen. It's free to have a look.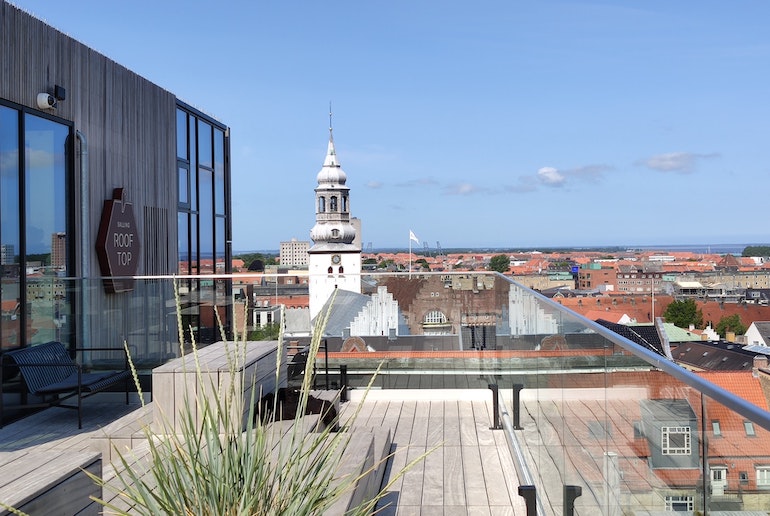 22) Take a stroll down Algade, one of the oldest streets in the city and one of the busiest when it comes to shopping. It's home to the popular Salling department store, where you get panoramic views for free from the lounge-style rooftop.
Brave the skywalk, a glass ramp 30 metres up above the streets – don't look down! – or treat yourself to a cocktail with a view.
Eating and drinking
23) Housed in a former furniture factory, Aalborg Street Food (also known as Køkkenfabrikken, the Kitchen Factory) has street food stalls selling cuisines from around the world, plus local specialities.
Dishes start from an affordable 50 DKK, and you can eat your meal at tables along the the harbourfront.
24) Party with the locals at the legendary Jomfru Ane Gade – known simply as Gaden, or The Street. Scandinavia's longest party-street is brimful of discos, bars and pubs of all kinds, plus comedy and live music venues.
25) For a cheap and filling treat, head to Pandekagehuset, a pancake-themed café overlooking the marina and the Limfjord.
They serve savoury pancakes too, but honestly, who can resist a pancake with Nutella, ice cream and banana? Prices from 55 DKK.
See also:
Unusual things to do in Denmark
10 of the best small towns to visit in Denmark
When is the best time to visit Denmark?
Like what you've been reading? Get our best tips by email!