Denmark is a land of castles and, if you're visiting its capital city Copenhagen, you can easily see a few of the most beautiful.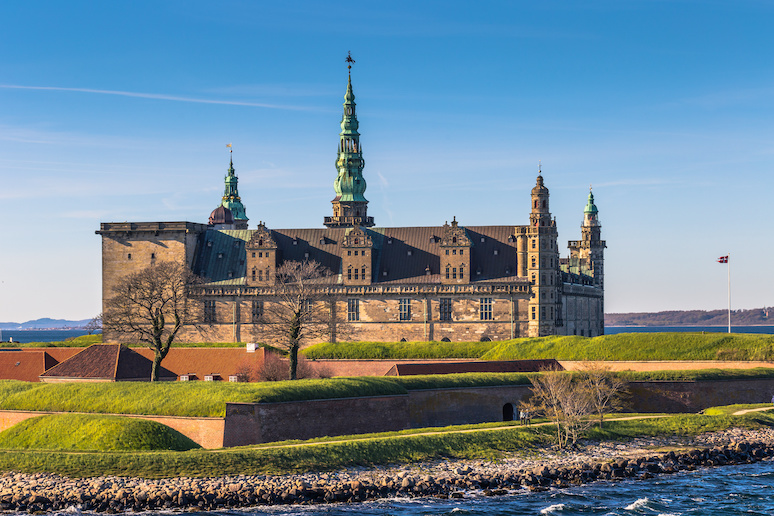 Some of the castles are in the city itself, while there are plenty of others that you can easily visit on a day trip from Copenhagen.
Denmark's castles come in all shapes and sizes. Some are real foreboding fortresses, while others are more like pretty palaces or majestic manor houses.
Here are our favourite castles in and around Copenhagen, along with all the practical info you'll need to visit them.
Castles in Copenhagen
There are three must-visit castles within Copenhagen itself: Rosenborg Castle, Christiansborg Palace and Amalienborg Palace.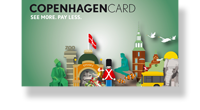 Is the Copenhagen Card worth buying?
Read this guide to see how much you could save during your trip!
Rosenborg Castle
Built in the 17th century on the orders of Danish king Christian IV, the Rosenborg Castle is surrounded by the beautiful King's Gardens right in the centre of Copenhagen.
It's stuffed full of royal treasures, including elaborate coronation thrones decorated with narwhal tusks, huge tapestries, gilded portraits of hundreds of years of royalty and one of the best collections of Venetian glass in the world.
The highlight, however, is the Treasury, where you can gawp at the Danish crown jewels, embellished with diamonds, rubies, pearls and some of the world's finest emeralds.
How to get there
The castle is really easy to access, right in the centre of the city. It's just 200 metres from the Nørreport metro station, and a 15-minute walk from Nyhavn.
Guided tours
If you just want to see the outside of the castle, this guided bike tour takes in the castle exterior and the surrounding gardens. Or, you can learn all about the castle's fascinating history on this tour that's led by your own private knowledgeable guide, with entrance tickets included.
Visiting independently
Entrance to Rosenburg Castle is included with the Copenhagen Card, so if you've already bought one of these you'll get in for free. Check our guide to see if buying a Copenhagen Card makes sense for you.
Without a Copenhagen Card, entrance is 130 DKK (84 DKK for students; free for under 18s).
Christiansborg Palace
The grand Christiansborg Palace was once the home of Danish royalty and now houses the Danish Parliament, the Supreme Court and the Ministry of State.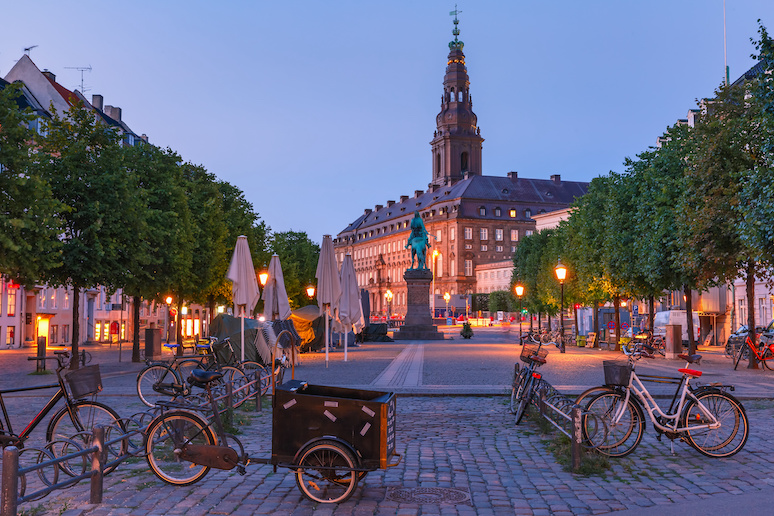 You can explore its grand state rooms, still used by Danish royalty to host visiting dignitaries, as well as the royal kitchen, stables and chapel.
The castle is on Slotsholmen (Castle Island), which has been the site of a royal castle for over 800 years, though the present palace only dates from 1928, since two previous royal buildings were burnt down.
How to get there
Driving is not recommended as there's limited parking, and it's not necessary anyway as the palace is close to the Gammel Strand metro station and bus stop.
You can also visit on harbour bus #991 or 992 and get off at the Royal Library quay, or walk from Nyhavn in less than ten minutes.
Guided tours
This private guided tour of the palace is a great way to discover the hidden secrets of the Danish parliament – Borgen fans will love the tales of intrigue and politics!
Or you can admire the stately palace from the water on this classic canal cruise from Nyhavn.
Visiting independently
Entrance to the royal reception rooms at Christiansborg is included with the Copenhagen Card.
Otherwise, admission fees are 175 DKK for adults (155 DKK for students; free for under 18s) for the Royal Reception Room, the Royal Kitchen, the underground ruins of the former castle and the Royal Stables.
To visit just the kitchen, the ruins or the stables costs 65 DKK for each attraction, and entrance to the Palace chapel is free.
Amalienborg Palace
The winter residence of the Danish royal family, Amalienborg is actually a collection of four former palaces surrounding Amalienborg Square. It's also where the Changing of the Guard ceremony takes place each day at midday.
Only one of the buildings is open to the public: Christian VIII's Palace, which houses the Amalienborg Museum.
Inside, you can look round the ornate Gala Room, where balls were hosted, the royal balcony, Queen Louise's saloon, and various studies used by Danish kings throughout the ages.
The highlight is the Fabergé Room, which displays some of the Danish crown jewels as well as works by the acclaimed Russian jeweller including an ornate champagne cooler and, of course, some of the precious eggs.
How to get there
Just over five minutes' walk from Nyhavn, Amalienborg is easy to get to on public transport. The nearest metro station to the palace is Marmorkirken (or Kongens Nytorv, a ten-minute walk away), while bus #23 stops nearby at Dronningens Tværgade.
Guided tours
A fun way to see the outside of the palace is on a Segway tour which takes in all the central sights of Copenhagen including Amalienborg.
Visiting independently
Entrance to Amalienborg is included with the Copenhagen Card.
Without a Copenhagen Card, entrance is 120 DKK (78 DKK for students; free for under 18s). Combined tickets for both Amalienborg and Rosenborg are available for 200 DKK (140 DKK for students; free for under 18s).
Castles near Copenhagen
And if those three central castles aren't enough, there are several Danish castles close to Copenhagen that can be easily visited on a day-trip.
Kronborg Castle
The top castle to visit outside Copenhagen is Kronborg, a Unesco World Heritage site in Helsingør which looks out over the Øresund Sound towards the Swedish town of Helsingborg.
Better known to Shakespeare fans as Elsinore, the home of Hamlet, the original castle was built in 1420 but has burnt down and been rebuilt since then.
Today's imposing Renaissance building dates from the 16th century and was built to show Denmark's wealth, with a grand banqueting hall and copper roof, as well as spooky dungeons that are fun to explore.
How to get there
Helsingør is about an hour's drive north of Copenhagen, or just 45 minutes by DBS train from Copenhagen Central Station. It's about 15-minute walk from Helsingør station to the castle itself.
Guided tours
Many people chose to visit Kronborg on a guided tour from Copenhagen. This private tour includes a professional guide to give you the lowdown on the castle, train tickets from Copenhagen and entrance fees to the castle.
Or, you can visit two castles, Denmark's ancient capital and learn all about the Vikings on this full-day tour of Roskilde, Kronborg and Frederiksborg Palace. We think this one is a great option if you love history and are pushed for time.
Visiting independently
Entrance to Kronborg Castle is included with the Copenhagen Card. Alternatively, high season (June, July and August) adult tickets to Kronborg cost 145 DKK (students 135 DKK; children free under 18).
Tickets are cheaper in low season (adults 95 DKK), but note that the castle closes on a Monday out of season.
Where to stay nearby
Just 1km from the castle, the comfortable Marienlyst Strandhotel has its own private beach, and lovely views of the Øresund Strait.
Frederiksborg Castle
Built in the 17th century by the Danish king Christian IV, Frederiksborg Castle sits on three small islands in the middle of a lake and is the largest Renaissance castle complex in Scandinavia.
It houses the Danish Museum of National History and is known for its beautiful baroque gardens, grand halls and ornate chapel.
How to get there
Frederiksborg Castle is in the town of Hillerød, about 50 minutes' drive northwest of Copenhagen.
It takes 40 minutes on the S-train (line A) from Copenhagen to Hillerød Station, a 15-minute walk to the castle (or four minutes on local buses #301 or #302).
Guided tours
You can take a half-day private guided tour to Frederiksborg from Copenhagen.
But we also like this full-day tour that takes in the castle plus Roskilde, Kronborg and a few Viking sites too.
Visiting independently
Entrance to Frederiksborg Castle is included with the Copenhagen Card. Otherwise, admission prices are 110 DKK; 90 DKK for students and over 65s; and free for under 18s.
Where to stay nearby
If you want to stay nearby, we love the Mariegaardens Gæstehuse. It's five miles from the castle, and is surrounded by beautiful gardens with its own private heated swimming pool that guests can use.
Egeskov Castle
One of Europe's best-preserved Renaissance moat castles, Egeskov sits on an island in the middle of a lake.
Originally built as a manor house, it was transformed into a highly fortified castle surrounded by a moat in the 16th century.
You can explore inside the castle and visit its many exhibitions, including one on camping and one on classic cars. The grounds are also beautiful, with formal gardens, a maze and a play park for children.
How to get there
Egeskov is on the island of Funen, south of Odense. It's a two-hour drive from Copenhagen to Egeskov via the E20, over the Grand Belt bridge.
Guided tours
You can book a one-hour guided tour of the castle for around 1220 DKK (up to 25 people).
Visiting independently
Admission to the castle and grounds costs 260 DKK (155 DKK for children aged 4–12), or you can just buy a ticket to the grounds, exhibitions and play area (no access to the castle) for 220 DKK (140 DKK for children).
Unique accommodation
We love this beautiful tree house built in an old beech tree with a double bed and bunk beds for children, just a mile from the castle.
You can eat out on the beautiful wooden balcony (with an outdoor shower!) and admire the views over the surrounding fields.
Breakfast is included and the owner will cook a delicious Vietnamese three-course meal for dinner if you want.
Dragsholm Slot
And if visiting a castle isn't enough for you, why not stay overnight in one?
In a beautiful location by Sejerø Bay, Dragsholm Slot is one of Denmark's oldest castles, dating back to the 13th century.
The countryside around Dragsholm, Odsherred is a UNESCO geopark and home to plenty of beaches, islands and more than 300km of hiking trails.
Guests can take a historical tour of the castle and estate, try their hand at archery or clay pigeon shooting, visit a local vineyard and go wine-tasting or explore some of the nearly islands and coastline.
And there's a Michelin-star restaurant on-site too, though there's also a more casual bistro and café, all serving local and seasonal food.
How to get there
It takes an hour and 20 minutes to drive to Dragsholm Slot from Copenhagen via Route 21.
Unique accommodation
Dragsholm Slot really is a unique place to stay and well worth splashing out on, if you want to say you've stayed in a real castle!
Castles in Sweden
And because Copenhagen is so close to Sweden, it's worth considering a couple of castles across the border that can be easily visited on a day-trip from Copenhagen.
For more on crossing the bridge to Sweden, see our guide to Getting from Copenhagen to Malmö.
Malmöhus Slott
The Malmöhus Slott is a 16th century Renaissance castle built on the remains of an old fort in the centre of Malmö. For more on the castle, see our guide.
Entrance to the castle is 60 SEK (free for under 19s), and this ticket also includes Aquarium and Malmö Art Museum.
Helsingborg Castle
Sitting just 4km across the Øresund Strait from the larger Kronborg Castle, Helsingborg's castle is a smaller counterpart to its Danish neighbour, consisting of little more than a well-preserved 14th-century fortress tower called Kärnan.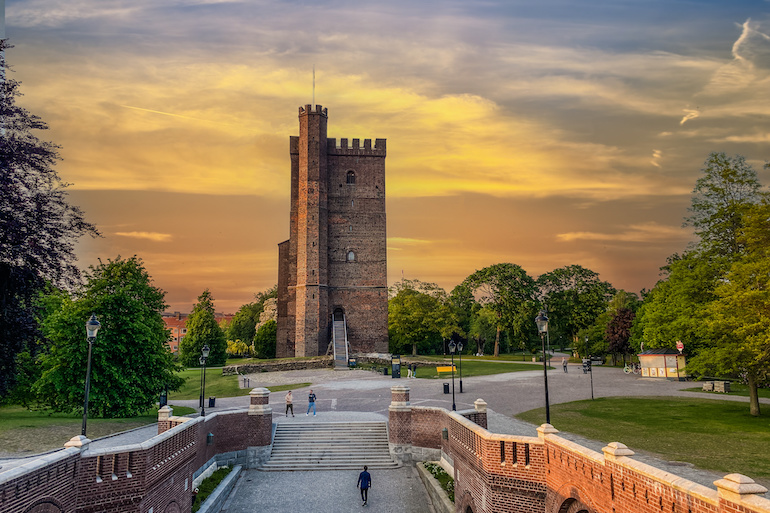 The roof terrace at the top of the 35-metre tower has great views over the town and across to Helsingør in Denmark. Entrance to the castle costs 80 SEK.
See also:
Viking attractions in and around Copenhagen
Swedish castles you can sleep in
Copenhagen's best breweries
Copenhagen's best spas and baths