Dating is very casual in Denmark and when you ask a local for tips they will often suggest you just go out for a beer. That definitely is a foolproof approach to dating in Copenhagen, but if you're looking for inspiration on how to make your new Tinder match or your long-time sweetheart swoon, read our suggestions below.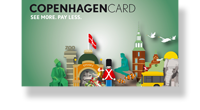 Is the Copenhagen Card worth buying?
Read this guide to see how much you could save during your trip!
The romantic date
Is your idea of a date staring into your lover's eyes by candlelight? Can't afford a Michelin-starred restaurant?
For an authentic experience, head to your nearest bodega. In Denmark, bodega is the term used to describe a sort of obscure dive bar visited mostly by neighbours from the block. Ask for some dice and challenge your date to a game of Snyd (it's often played as a drinking game) and don't forget to bring some change for the jukebox, so you can put on your crush's favourite song.
If you're lucky enough to be visiting Copenhagen during a sunny period you should definitely take advantage of the weather and schedule an outdoor date. All you need is a blanket, a few drinks and some snacks and you can set up camp in one of the city's lovely parks, such as the Botanical Gardens, Nørrebroparken or even by the canal in Christianshavn.
Disposable barbecues are available to buy at any downtown supermarket, as are hot dogs and marshmallows. Good spots to start grilling include Islands Brygge, where you'll also find a free swimming spot, and Amager Strand, one of the nearest beaches to town. You'll find info on both of these places in our guide to free things to do in Copenhagen.
You can also find a great selection of take-away beers and the latest cool magazines at Kihoskh on the corner of Sønder Boulevard and Dybbølsgade. Enjoy a few drinks on one of Sønder Boulevard's many grassy areas, or grab a delicious pizza from nearby Itzi Pitzi Pizza. A good alternative to a warm six-pack is to go for a glass of wine. Malbeck wine bar has a great selection at its romantic locations in Nørrebro and Vesterbro.
If you're meeting with someone you do not know very well (yet), Papirøen Street Food Market is your destination. The 'Paper Island' has become the centre of the young creative crowd and often hosts free concerts and other events.
The stands here each offer a different type of cuisine, which means you and your date will both be able to find something delicious to eat (even if you find out that they are raw vegan while you just wanted a juicy burger). When you feel like cozying up, you can always pull up a couple of lounge chairs and watch the sunset together.
The active date
Is sitting down for a meal with a stranger a little too intimidating? Let's hope your date feels the same and that they'll say yes when you invite them on a tour of the city and its surroundings.
The canal tours starting at Nyhavn are probably the most date-appropriate type of tourist attraction, but if your significant other is from Copenhagen they have probably been on it way too many times already. Instead, invite them on a swan pedal-boat ride at The Lakes, which you can rent at Kaffesalonen in Nørrebro. You won't get very far but at least you can both laugh at how funny you look in one of those giant mechanical birds.
Otherwise, the best way to get around is definitely by bike and doing it together just makes it more fun. Besides, exercise releases endorphins, right? You can suggest going on a tour of the city or bike to an area that you neither of you have been to before.
If you don't mind sweating a little in front of your date, the beautiful Dyrehaven park, populated by wild deer, is only about 17 km away. The cherry blossom trees at Bispebjerg Cemetery, around 6km northwest of the city centre, are a little closer – it's a great destination for a springtime date full of selfies.
Going to a free concert is also a good idea if you're worried that your presence alone might not be entertaining enough. Pumpehuset in the city center and Nemoland in Christiania often host free shows featuring emerging artists. If music is your thing and you have more confidence in singing than your flirting skills, head over to Sam's Bar (apparently Copenhagen's longest-running karaoke spot) to woo your date with a few covers. You'll find more suggestions for free activities here.
The thinking couple's date
Home of the celebrated thinker and father of existentialism Søren Kierkegaard, Copenhagen is full of spots where you can contemplate the meaning(lessness) of life.
Take your date for a stroll through Frederiksberg Have, southwest of the city centre. Apparently, this park was one of the philosopher's main hangout spots back in the day. You can feed the geese or spend a meditative moment by the Chinese teahouse, remembering the teachings of Confucius. As you make your way through the park, you might catch a glimpse of the Copenhagen Zoo and – who knows? – use this opportunity to reflect on the image of the caged animal as a metaphor for modern life.
If you want to show your date your fearlessness and non-conformism, invite them to join you in looking for Kierkegaard's grave at Assistens Kierkegård (this guide has more details). After your stroll through the cemetery, if your date hasn't found an excuse to leave yet, make your way down towards Griffenfeldsgade where you can enjoy a refreshing beer and some Japanese food for thought at Ramen to Bíiru.
The perfect place to end the evening is the bar Kind of Blue. Relax on its cozy pillows in the back area with a fantastic gin and tonic, and let your existential blues be cured by the sound of jazz, just as Jean-Paul Sartre's protagonist did in Nausea. But hopefully – if your date in Copenhagen goes well – you will not be feeling nauseous at all.
Like what you've been reading? Get our best tips by email!