Summer in Stockholm is a dream. With the long winter finally over, all the greenery comes out in full force and the Nordic city is suddenly the perfect temperature for outdoor fun.
Believe us when we say that, if it's warm, Stockholmers will be heading outside to enjoy nature to its fullest. After looking forward to summer for months on end, many locals want to make the most of the sunny weather – and most take weeks off from work to soak up as much vitamin D as possible.
If you're in Stockholm at this special time of the year, you'll soon notice that the waterways that run through and around the city are full of all kinds of boats, including brightly coloured kayaks.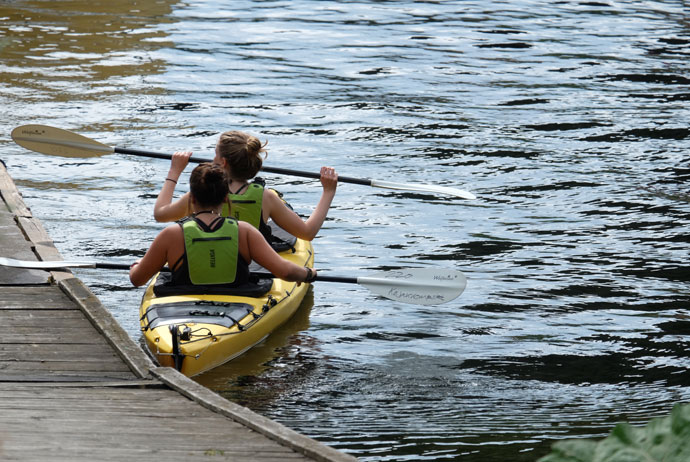 Kayaking is an easy and affordable mode of transport for tourists, and since the city is made up of islands, you can happily paddle about all day, combining fresh air with great views and a bit of sightseeing from the water. If you want to leave the city centre behind completely, you could take a daytrip out to the Stockholm Archipelago, where you'll discover peaceful coves, rocky outcrops and lots of lush green islands.
Now, unless you had room for a kayak in your suitcase, you'll want to hire one. These are some of our favourite kayak rentals spots in the city centre and beyond. All of the locations listed have helpful, knowledgeable staff. They also include life vests and gear in the price, and give you the option to rent single or double sea kayaks.
Kanotcenter Svima Sport
Svima Sport is a great kayak rental spot on the northwest side of the city. It's located just south of Pampas Marina in Solna, but is best reached from the Stadshagen T-bana station on Kungsholmen.
From there it's just a ten-minute walk – cross Ekelunds bridge, then stay left on the bike path and you'll soon spot the big blue building right on the water. The location is great for a sunny day; kayak under the bridges that connect Solna, Vasastan, central Stockholm and Kungsholmen and spot plenty of lilypads, boat docks, and sunbathing locals along the way.
At Svima Sport the cost for two hours on a single kayak is around 250 SEK, and for a double you can expect to pay 400 SEK. They offer introductory kayaking lessons on Tuesday evenings (for groups with reservations only).
Svima Sport
Ekelundsvägen 26, Solna
June–August: daily from 10am-6pm
You can also try this Archipelago Winter Kayaking and Fika Tour that starts in Skärgårdens Kanotcenter.
★ SUGGESTED DISCOUNT
Save with the Stockholm Pass
Get up to 50% off at Stockholm's top attractions, including the Vasa Museum, SkyView Stockholm and The Viking Museum, plus discounts on some of the city's best boat trips.
Kajakkompaniet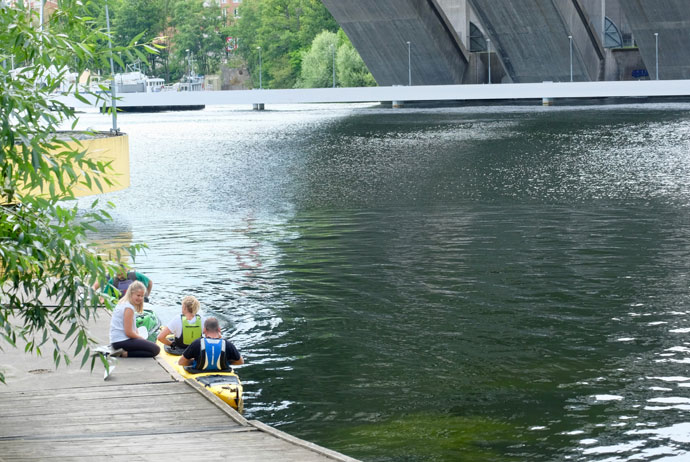 Just west of the city centre, Kajakkompaniet is located on Kungsholmen, a five-minute walk from Kristineberg T-bana station.
Although the location is a bit hidden (keep an eye out for the 'Kajakkompaniet' banners and a graffiti-covered red building!), this spot is highly recommended for those who want to kayak around Kungsholmen, drinking in handsome views of Stockholm's famous City Hall and the islands of Långholmen and Södermalm. There's nothing quite like seeing the city's stunning skyline from the water.
Kajakkompaniet offers three hours on single kayaks for around 350 SEK, and for a two-person kayak you can expect to pay 450 SEK. Three hours is the perfect amount of time to kayak all the way around Kungsholmen (a journey of around 10 km), and this should leave you enough time to go for a dip along the way and not have to worry about rushing back.
This place also offers a variety of guided kayaking tours. It's a popular spot, so remember to book in advance!
Kajakkompaniet
Kristinebergs Strand, Kungsholmen
May: Sat & Sun 9am–5pm
June–August: Mon–Fri noon–9pm, Sat & Sun 9am–6pm
Långholmen Kajak
Långholmen Kajak is a perfect spot for people who want to check out some nature right in the center of the city. The closest T-bana station is Hornstull, and from there it's just a 10-minute walk through trendy Södermalm and across a small bridge onto the beautiful island of Långholmen, which is home to a fascinating prison-turned-hostel.
The rental shop sets you off in a charming little canal between the two islands, and allows you to glide by scenic boat docks, bridges, and greenery on a lazy kayaking trip. Popular routes from Långholmen Kajak are around Långholmen island and also into Årstaviken, the inlet to the south of Södermalm.
Renting a single kayak for two hours will cost you around 200 SEK and the same session in a two-person kayak costs about 400 SEK. This is another popular spot, so make a booking in advance to avoid missing out! There are guided tours offered every Friday, Saturday and Sunday in summer.
Långholmen Kajak
Alstaviksvägen 3, Långholmen
July & August: daily 10am–9pm
September (until Sept 15): daily 11am–8pm
Paddlesports Saltsjöbaden
For those wanting to get out of the city to explore the countless islands of the archipelago by kayak, Paddlesports Saltsjöbaden is a great starting point.
The rental shop is southeast of the city and takes about 40 minutes by bus from the bus center at Slussen T-bana station (faster trains may be running by the time you read this). After getting off at Saltsjöbaden station, the shop is just another two-minute walk towards the water, right near the Saltsjöbaden Grand Hotel.
Saltsjöbaden is lovely in the summer, and many Stockholmers head there for mini vacations to soak up some sun and nature. Although the rates are a bit higher for short rentals, we recommend Paddlesports for those looking for longer adventures out into the archipelago by kayak.
Even for beginners, this location is ideal because its relatively sheltered from the wind. For a whole day (around six hours hours), a single kayak costs around 450 SEK and a double kayak costs around 550 SEK. Kayak south to swim in the bay Våggardssjön, or have an adventure around Ingarö island to the east.
Paddlesports Saltsjöbaden
Hotellvägen 2, Saltsjöbaden
Mid-May–mid-Sept: Mon & Tues 11am–6pm, Wed & Thurs 9am–5.30pm, Fri-Sun 9am–6pm
See also:
Guided tours in Stockholm
Swimming in Stockholm
Map of kayak rental places in Stockholm
Like what you've been reading? Get our best tips by email!