Wandering around Stockholm, you may notice the brightly painted horses that are offered for sale in souvenir shops. These are dalahästar, traditional wooden toys that have become so… well, traditional that they're something of a national symbol.
These souvenirs are not the only kinds of horses you can encounter in central Stockholm. If you know where to look, you can go riding on big, real-life horses right in the city centre. You don't have to be a master equestrian to give it a shot (although some experience is needed) and we reckon Stockholm looks even better than usual when seen from up in the saddle.


Several companies offer riding tours but most of them are located outside the city. There's nothing wrong with that, of course, but if you're looking to ride in central Stockholm it makes sense to start nice and local. One place – Häståkeriet – does a few different tours, including one that goes right through Stockholm's old town, Gamla Stan.
Getting to Häståkeriet in Stockholm
The Häståkeriet stable is located in Gärdet, a huge green area just to the east of downtown Stockholm. A good landmark to look out for is Kaknästornet, the TV tower that once upon a time was the tallest building in Sweden (there's a great view from the top).
Gärdet is part of the Royal National City Park, a 27 sq km tract of parkland and forest right near the city centre, and there are excellent opportunities for spotting deer and other wild critters as you explore.
To get to the stable from central Stockholm, ride the red tunnelbana (subway) line to Karlaplan and then walk a few hundred metres north to the bus stop on Värtavägen. From there, ride bus #72 to Lindarängsvägen. The stable is a 500m walk to the southeast along Greve von Essens väg.
There are a whole load of different tours available, depending on what you want to see and how experienced you are in the saddle. Here are two options: one for newbies and one that's more suitable for experienced riders.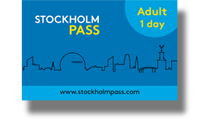 Is the Stockholm Pass worth buying?
Read this guide to see how much you could save during your trip!
New to horse riding?
If you've only been riding a few times before, we'd suggest trying the beginner's tour, which takes you through parts of Djurgården. The tour starts with a short theory session and a practical course where you will learn how to tack up the horse.
All in all, it lasts around 90 minutes. How far you get and what you see while out riding will depend on the skill level of others in your group.
For more experienced riders
A couple of different tours are available for experienced riders but one of the most popular is the early morning ride (summer only). For this you'll have to meet at the stable at 5.30am on a Saturday or Sunday morning – it's early enough that you may well see people on their way home from a big night out.
The three-hour trip sees you trotting into town along Valhallavägen and then past flashy Stureplan, with its nightclubs, restaurants, shopping centre and spa. Riding along Kungsgatan you'll be able to admire the first skyscrapers in northern Europe, a pair of tall towers that were completed in the early 1920s.
By the time you reach Hötorget, the early-rising market traders will stop what they're doing to see you and your fellow riders line up for a photo in front of Konserthuset, where the Nobel Prizes are handed out each December.
After that you'll continue through Kungsträdgården and past the Parliament building on your way to the island of Riddarholmen. From there you'll have a scenic view over Lake Mälaren and the imposing City Hall. Then comes the big highlight: you and your new four-footed friend will ride through some of the narrow streets of the old town as tourists look on and snap pictures.
The journey back to Gärdet tends to go a little faster as the horses know that they're on their way home and like to speed up. A little warning: if your horse suspects that you are not in full control, you might end up at the stable sooner, rather than later.
Good to know: riding in Stockholm
Häståkeriet runs plenty of other horse-riding tours in Stockholm so if you can't find exactly what you're looking for, the best bet is to call them and ask.
Bear in mind that some of the tours require a minimum number of participants in order to go ahead. Some tours, including the early morning option, are only available in the summer.
More info: hastakeriet.se; +46 73 663 60 08
From 600 SEK per person
Like what you've been reading? Get our best tips by email!