Fancy a Christmas break with a difference? Want to go somewhere where you're guaranteed snowy mountains, Christmas markets and outdoor hot pools to warm up in?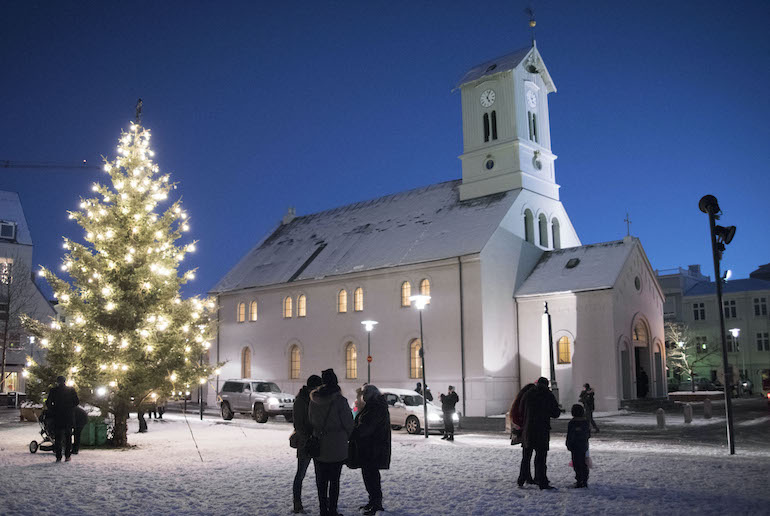 You may think Iceland sounds a good bet, but do you know what Christmas in Iceland is really like? How do people in Iceland celebrate Christmas and is December a good time to visit?
We've looked into the festive season in Iceland to give you a simple overview of how things work. Read our ultimate guide to find out all about Christmas in Iceland!
Fun facts about Christmas in Iceland
First of all, let's start with some Iceland Christmas facts to get you into the festive mood!
Icelanders start the Christmas celebrations on December 23rd, traditionally by eating fermented skate (a rather pungent fish, rather than something you'd wear on your foot!)
Icelandic children leave a shoe on the window-sill from December 12th, which is filled with a present on each of the 12 nights before Christmas.
Presents in Iceland are delivered by mischievous trolls, called the Yule Lads.
The Icelandic Yule Lads have names like the Sausage-Swiper, the Window-Peeper, the Doorway-Sniffer and the Meat-Hook.
Traditionally, children who are naughty get taken by the evil orgress Grýla, who makes them into soup! 
The Christmas Cat eats any children who don't get new clothes for Christmas.
Icelanders drink jólabland at Christmas – a mix of fizzy orange and brown ale.
Merry Christmas in Icelandic is Gledileg jol
What does Iceland do for Christmas?
Traditions in Iceland for Christmas start with an advent wreath holding four candles. The first candle is lit on the first Sunday of December, with the remaining ones lit every Sunday until Christmas.
On December 12th, children put a shoe on the window-sill, and the Yule Lads start to come down from the mountains to leave presents in the shoe. 
A different Yule Lad comes each night to leave a present – provided the children have been good, of course. 
For more on the Yule Lad, their peculiar ways and individual characteristics, read this guide.   
December the 23rd, or Thorlaksmessa, is when Icelanders celebrate with friends – the shops normally stay open until at least 10pm, and people head downtown to meet friends in bars and do their last-minute Christmas shopping. They then head home to (traditionally, at least) eat fermented fish!
In Iceland Christmas Eve (called Aðfangadagur) is the big day, as in many other parts of Northern Europe. The shops close at midday and people head back home to their families. 
The festivities begin at 6pm with a large Christmas meal that traditionally consists of ham, smoked lamb (hangikjöt) and ptarmigan (a type of game bird).
Dessert is often a creamy rice pudding that contains one almond. The person who gets the almond gets an extra present.
Presents are exchanged on Christmas Eve too. The tradition of Jolabokaflod (which means Christmas book flood) takes place with Icelanders giving books to friends and family.
They often then settle down on Christmas Eve to read their new books, while drinking hot chocolate or jólabland.
It's also a tradition to give new clothes for Christmas which should then be worn on Christmas Day.
Jóladagur, or Christmas Day, is a relaxed day when Icelanders meet up with family and friends, wear their new clothes, read their new books, eat leftovers and the children play with their new toys.
Is Iceland cold in December?
Yes it is, but perhaps not as cold as you might think. The average temperatures in Reykjavik in December range from -1°C to 4°C, so it's not unbearable provided you're wrapped up warm. 
Does it snow at Christmas in Iceland? Well, it definitely can, but it's not guaranteed that you'll see the white stuff falling.
This post has handy tips on the best time to visit Iceland, and what to expect from the weather in Iceland over the Christmas holidays.
Where to spend Christmas in Iceland
Reykjavik is the obvious place to base yourself for a Christmas trip to Iceland.

The capital has easily the best Christmas decorations in Iceland, with lights strung across the streets and Christmas trees in the squares.

What's more, Reykjavik's shops are full of tasteful Christmas decorations and ornaments.
And of course there's a good chance of snow to make the streets and buildings look pretty!
It's also worth bearing in mind that there are only about four hours of daylight a day at Christmas, which limits the amount of time that you can spend outside.
So that makes Reykjavik's many cosy cafés, bars, restaurants and museums seem even more appealing.
Of course, you may want to head out of Reykjavik for wide expanses of snow and ice, but bear in mind that some roads can be impassible in winter and driving conditions can be difficult.
Going on a guided tour with a professional driver and experienced guide is probably a good idea in winter. This one takes you round Iceland's dramatic south coast, and includes a walk on the Mýrdalsjökull glacier.
And if you do fancy spending a few days out in the wild countryside, the Hotel Husafell is close to a glacier and hot spring and gets into the Christmas spirit by giving guests a gift from the Yule Lads each night leading up Christmas.
What to do in Iceland at Christmas
So if you fancy a festive trip to Iceland, here are some fun things to do over Christmas time.
See the northern lights
Of one of the main advantages of having about four hours of daylight a day is that it increases your chances of seeing the northern lights.
You can certainly see them in December in Reykjavik on a clear night, though you're better off heading out of the city where there's little light pollution.
This four-hour evening tour takes you into the countryside with an experienced guide, who knows the best viewing spots and will explain all about the spectacular light show.
Star-gaze in a thermal pool
Now this is where Iceland really comes into its own at Christmas.
How many places are there in the world where you can spend the evening swimming around in wonderfully warm thermally-heated water looking up at the dark sky and stars above, surrounded by snow?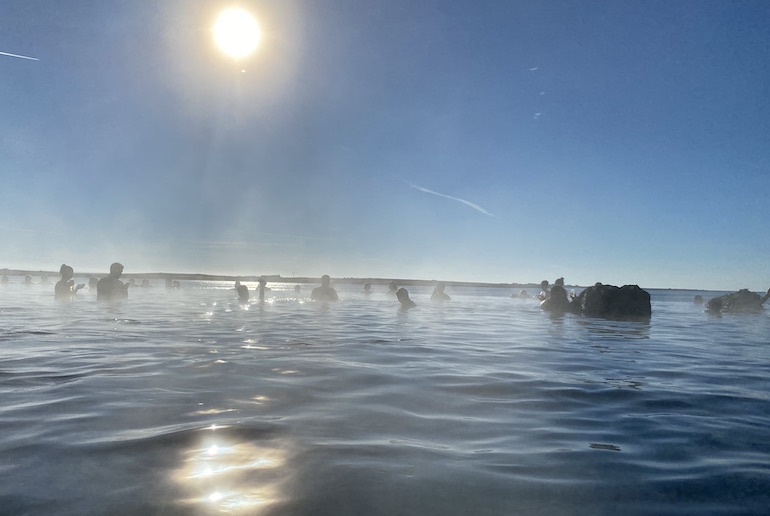 Reykjavik's Sky Lagoon is on the edge of the city overlooking the Atlantic Sea, so is a great place for star-gazing from the comfort of a warm pool or a glass-walled sauna.
And if you're lucky, you may even see the northern lights, while you're sipping your cocktail in warm water!
Visit a Christmas market
Christmas markets in Iceland are popular for socialising as well as shopping.
Reykjavik's main Christmas market is around Ingólfstorg square, where the streets are filled with alpine stalls selling warm food and drinks and Christmassy treats.
The town of Hafnarfjörður, just outside Reykjavik, also hosts a popular Christmas market every weekend in December, selling Icelandic jewellery and crafts, plus hot drinks and snacks.
See the Yule Lads and the Christmas Cat
Each year, holograms of the Yule Lads are projected on different buildings around Reykjavik so that children can go on a city-wide Yule Lad treasure hunt.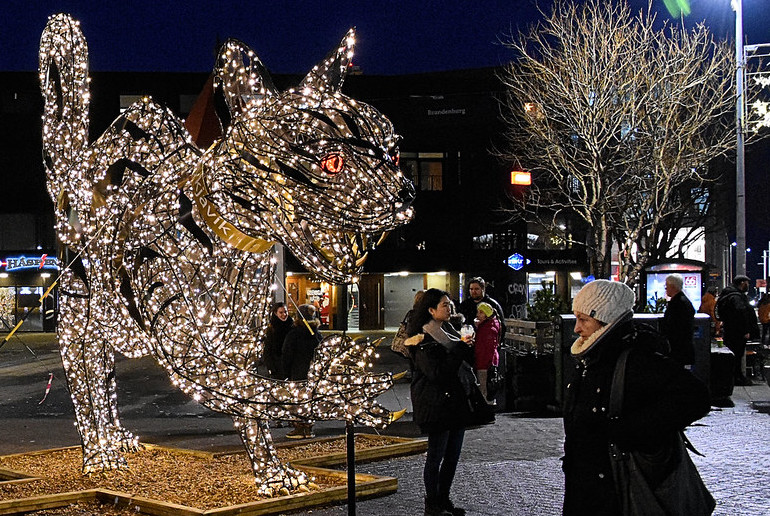 There's also a huge illuminated sculpture of the fearsome Christmas Cat in Lækjartorg square.
Take a snowmobile ride across a glacier
This great snowmobiling tour combines seeing all the famous sights of the Golden Circle – a continental rift valley, exploding geyser and gushing waterfall – with the fun of a snowmobile trip on the ice fields of the Langjökull Glacier.
Go ice-skating
From December 1st to 23rd, there's an atmospheric outdoor ice rink on Reykjavik's central square Ingólfstorg, surrounded by twinkling lights and decorations.
If you've got your own skates it's completely free, or you can rent skates for around 1000 ISK an hour.
Explore ice caves and glaciers
Ice caves are only accessible in winter, so Christmas is an ideal time to kit up and head into the icy blue wonderland.
This tour provides an experienced guide plus all the gear you need to walk on Europe's largest glacier, Vatnajokull, and takes you into an awesome ice cave.
Join the New Year's Eve party
Icelanders love New Year's Eve, with big bonfires around Reykjavik and fantastic fireworks. As well as the formal firework displays, people let off their own fireworks which light up the skies all evening.
The best places to gather to watch the displays is from the front of the Hallgrímskirkja or on the terrace of the Perlan restaurant. 
See also:
The Reykjavik city card: is it worth buying?
40 free and cheap things to do in Reykjavik
The 11 best hot springs in Iceland
Like what you've been reading? Get our best tips by email!