It's not likely that you'd find Magles Smiley Inn by chance. Tucked away on a narrow backstreet in the city centre, the guesthouse has a tiny sign by its front door – otherwise there aren't many clues that you can even spend the night here.
However, if you want somewhere quiet and central to stay, it's worth making the effort to find it. The cool, clean and brightly painted rooms inside are all pretty spacious, and feel great value compared with some of Lund's run-of-the-mill chain hotels.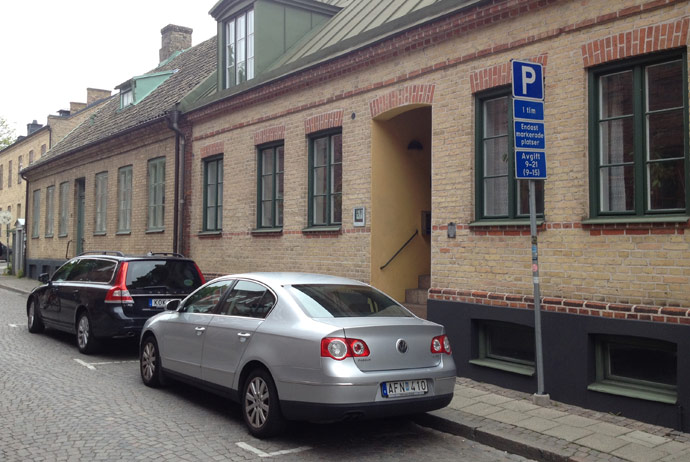 The single room we looked at (the blue room) had a good-sized bed, clean white sheets and a smart en-suite bathroom. The much bigger double room, painted banana yellow, is more spacious still – it comes complete with a tube-shaped rain-shower area which has narrow glass panels looking back into the bedroom.
Books are available to borrow from shelves out in the hallway and the rooms themselves come with DVD players (and free wifi if you'd rather work or stream a film).
The friendly owner, Sebastian, prepares a simple buffet breakfast for guests each morning – it's served in the dining area near the entrance.
The location here is great: Magles is a quick walk from the central sights but still in a calm and quiet enough spot that you should be able to get a good night's sleep.
---
Make a booking now
---
Magles Smiley Inn
Stora Kyrkogatan 8
Lund
+46 708 400 717
smileyinn.se
Last updated: July 2015