Fancy staying somewhere a bit different this year? Well, Scandinavia has plenty of cool and quirky Airbnbs to choose from.
From igloos and treehouses to grass-roofed hobbit houses and hyper-modern designer dwellings, here's a round-up of some of the region's best and most unusual Airbnbs.
New to Airbnb? You can get 329 SEK off your first trip by signing up here.
Live like a lighthouse-keeper
Lofoten, Norway
Fancy being alone on an island in the Arctic, with no cars, no shops, and no bars? Then, maybe this lighthouse keeper's house is for you.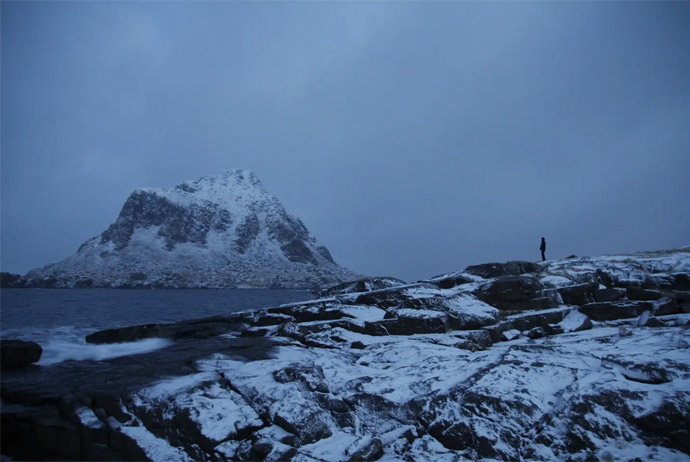 The little house, and the lighthouse itself, are the only two buildings on the island – so there's no need to worry about noisy neighbours. In fact the lighthouse owner, who will pick you up in her own boat, is the island's only resident.
You get to roam free around the island, and can climb the lighthouse, borrow kayaks and explore the surrounding inlets and beaches at your own pace. Or you can simply sit back and watch the sea and snow-capped mountains on the neighbouring islands.
The kind of edge-of-the-world experience may not be for everyone, but nature lovers who enjoy their own company will relish the peace, tranquility and closeness to the elements.
Relax in a lakeside cabin with a hot tub
Near Ivalo, Finland
Well, this cabin might look like a simple wooden hut in the woods, but it's way more than that.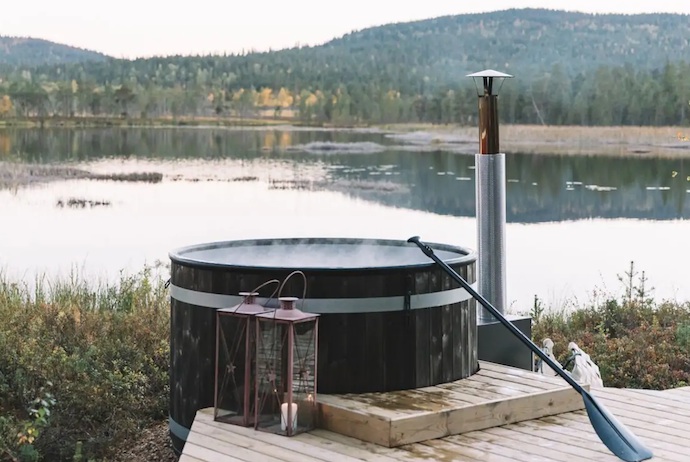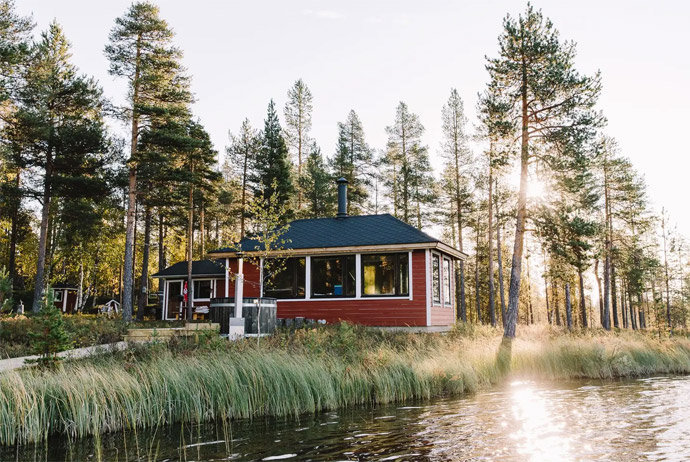 Right on the edge of the lake and with its own jetty, this eco-friendly cabin comes with a private wood-fired sauna, Finnish lake-water bucket shower, an outdoor open-fire kitchen and barbecue room, and a lakeside hot tub.
It's all wood-fired, solar- or wind-turbine powered – check out the quirky bear-shaped fireplace – and there are paddle-boards and a rowing boat and fishing rods for guests to use, if you fancy catching your own dinner.
Grab a glass of wine, hop into the hot tub and look out for the northern lights in the sky above  – they don't call it the Lovers Lake Retreat for nothing!
Rent a floating Airbnb
Copenhagen, Denmark
What could be more Scandi-chic than staying in a stylish houseboat on the waterfront in the centre of Copenhagen?
This beautifully decorated houseboat has a huge outdoor deck with a dining table and views over the water, while inside it's all wooden doors and floor-boards and Danish design.
The boat is moored in a peaceful harbour-front location, yet it's an easy walk to local shops, cafés and restaurants and city-centre sights of Copenhagen.
Stay in a tipi
Austbygdi, Norway
Camping in the wild Telemark mountains of Norway might not be for everyone, but this comfortable tipi has an open fire inside to keep you warm and cosy.
Set on an organic farm, it's a real back-to-nature escape where you can help pick berries, feed the chickens, tend the bees or just sit back and enjoy the views along the valley from your tipi.
There's an outdoor wood-fired bath tub in the woods for cold evenings, and a tasty breakfast made from farm produce is served up in the farmhouse kitchen each morning.
Chill out in a cube house
Bankeryd, Sweden
Nivå 84 is so-called because it sits on a granite cliff 84 metres above Lake Vättern, with wonderful watery views from its front balcony.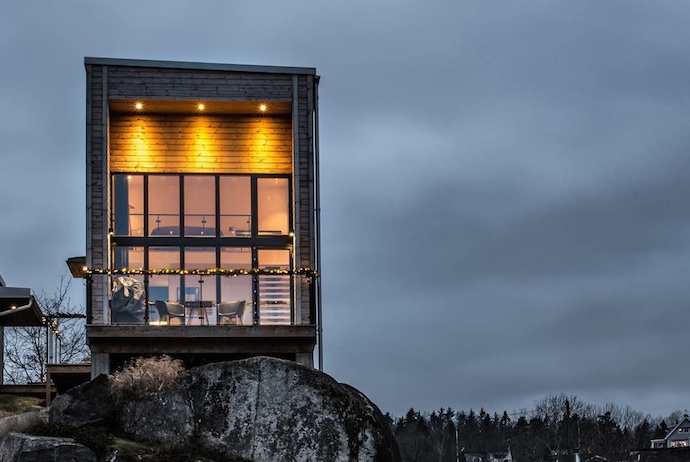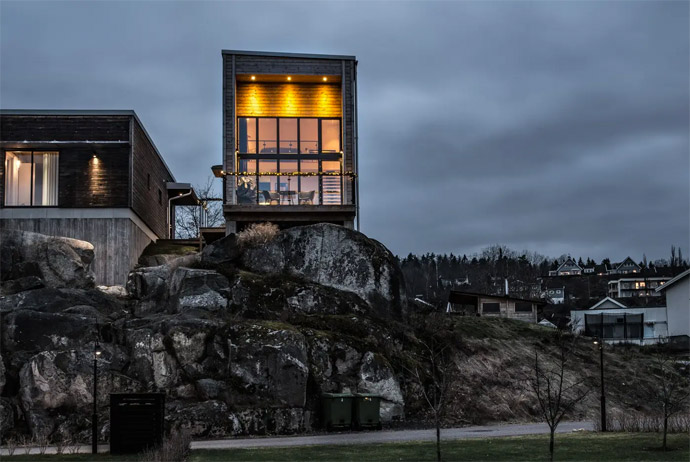 This hi-tech cube-shaped house is a short stroll from the lake with plenty of hiking trails nearby.
It's also roughly equidistant between the three Scandinavian capitals, so a day-trip to Copenhagen, Oslo or Stockholm is possible – and there's even a charging point if you're coming by electric car.
Cosy up in an igloo
Pelkosenniemi, Finland
These cosy snow igloos on the shores of Lake Pyhäjärvi, way up in the Arctic Circle, are rebuilt every winter. Temperatures inside are always below freezing, but don't worry – you get real beds to sleep on, covered in reindeer pelts and super-warm sleeping bags.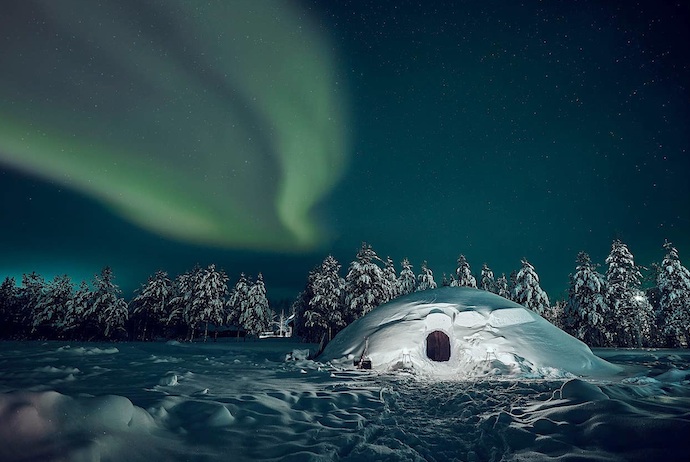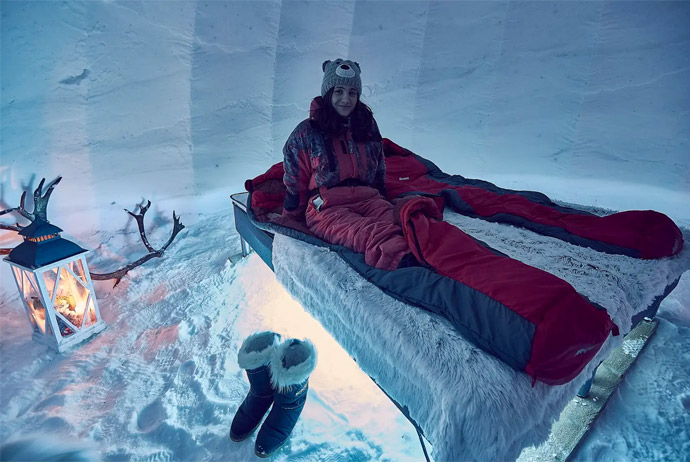 There are plenty of activities nearby, including horse-riding, snow-shoe treks, ice-fishing and snow-surfing. Or just cosy up in your igloo and keep an eye out for the northern lights.
Hang out in the trees
Forsbo, Sweden
Get back to nature in this rustic treehouse known as the Magpie's Nest, which overlooks the Dalälvan river.
Set in the woods on an organic farm, the treehouse has running water, a shower and a toilet – and there's even a sauna and hot tub on the ground for guests to use.
You can go skiing nearby in winter, and swimming, boating and fishing in the river in summer. Or just relax around the farm, go foraging in the surrounding woods and look out for elk and moose.
Hole up in a hobbit house
Hol, Norway
Keep warm and cosy in this grass-roofed hobbit house on the edge of the Hallingskarvet national park. A real one-of-a-kind Airbnb, it's all wooden beams and posts inside, with a central wood-burner to gather round on cold nights.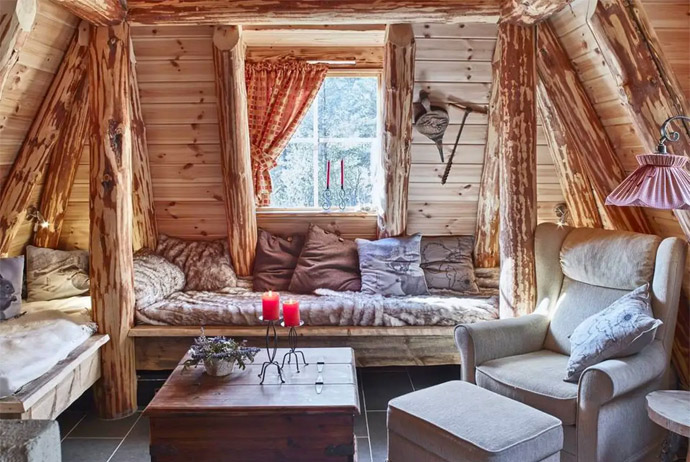 Outside are hammocks, a picnic table, a fire-pit, pretty woodlands and a nearby lake for fishing and boating.
Cross-country ski paths pass right by its door, with a downhill ski centre a short walk away. There are also some spectacular hikes nearby in the mountains, and it's just an hour's drive from the fjords. 
Enjoy cool loft-style living
Oulu, Finland
This amazing designer house sits right by the River Oulu, in the suburbs of Oulu, and is probably one of the most luxurious Scandi homes on Airbnb.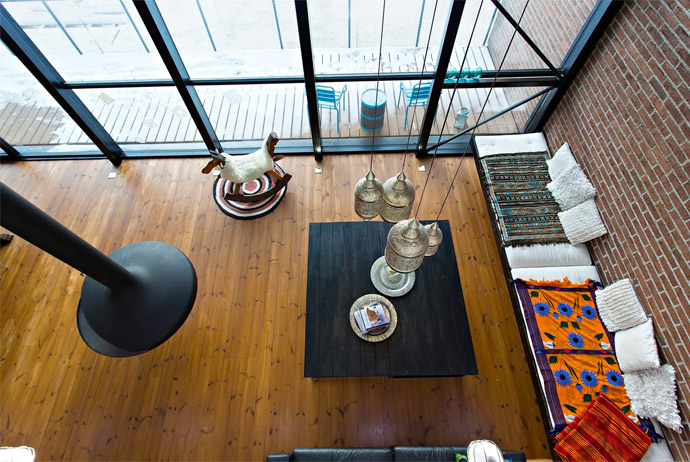 With huge floor-to-ceiling windows, industrial-style décor with homely touches, three balconies and a sauna, it feels like you're living in the pages of a design magazine.
It's surrounded by woods, so you can enjoy the natural surroundings in total comfort and luxury.
Stay in a (rather luxurious) barn
Holte, Denmark
It may be a barn with a thatched roof and ponies grazing outside, but this former farm building has been done-up with a typical Danish sense of style.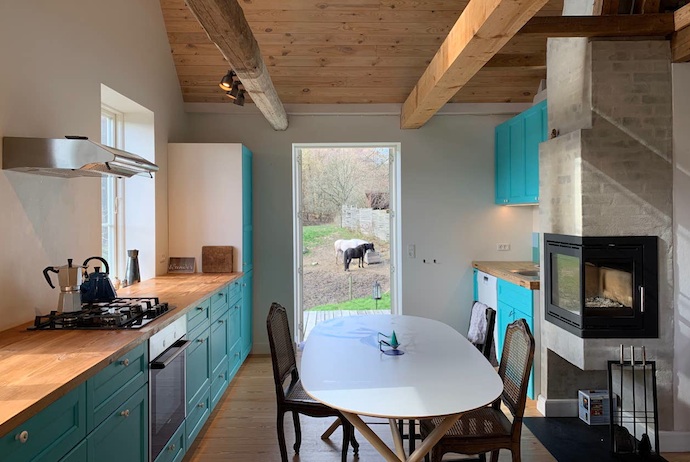 It's warm and cosy inside with a contemporary wood-burner to gather around, while outside there are views over fields, woods and a lake.
The barn is in the Søllerød nature park, giving you a feeling of being right in the middle of the countryside, but is still only 20km from Copenhagen, so it's easy to access some good city sightseeing.
See also:
Unusual places to stay in Denmark
Swedish castles you can sleep in