Christmas is coming and all our thoughts are turning to a wintry wonderland of snowy landscapes, twinkling lights, ice hotels, reindeer and husky sledges.
Yes, Scandinavia is the archetypal yuletide destination – not to mention being the home of Father Christmas himself (depending on who you ask). And there's no shortage of Christmassy tours and activities that you can take to get you into the festive spirit.
Visit Father Christmas in Rovaniemi
Well, of course Christmas wouldn't be the same without a trip to see Santa Claus. And where better to see him than in Santa's village in the Arctic Circle?
This tour from Rovaniemi in Finland takes you up into snowy Lapland, where you'll visit Santa's official post office (where all the letters to Santa arrive), and meet Father Christmas and his helpers. Check out this other popular tour of Lapland here.
Afterwards, you get an exciting snowmobile trip out to meet Santa's other helpers, the reindeer, on a farm. Then, hop into a traditional wooden sleigh pulled by reindeer for a sleigh ride through the snow. Scandinavia doesn't get much more Christmassy! For another magical reindeer Christmas experience, you can also try out this Snowmobile Safari, Reindeer and Husky Farm where you can get to know the life of a musher. The Apukka Husky Adventure offers a similar experience, where you get to be the musher in a 5- to 10-kilometer long sleigh ride.
Another popular Christmas destination is Snowman World where you can try ice skating, snow art, and ice bar refreshments with the whole family!
Otherwise, this northern lights tour is one of the most popular activities in Rovaniemi. There's also another tour where you get to witness the wilderness and local animals together with the northern lights chase!
Tours to see the northern lights
Joining an organised northern lights tour can be expensive, but it makes a lot of sense if you want to get out into the countryside, learn some new photography skills or combine aurora-spotting with another outdoor activity.
If you're looking for an organised tour to see the northern lights, this photo adventure near Abisko in Sweden is hard to beat. The tour is run in small groups and gives you the chance to capture stars and the milky way (plus hopefully lots of beautiful aurora) in the beautiful Abisko National Park.
On this amazing three-hour sailing tour from Tromsø in Norway, you'll glide out into a fjord aboard a catamaran and find the perfect place to watch the aurora, far from major sources of light pollution.
Hug a husky in northern Finland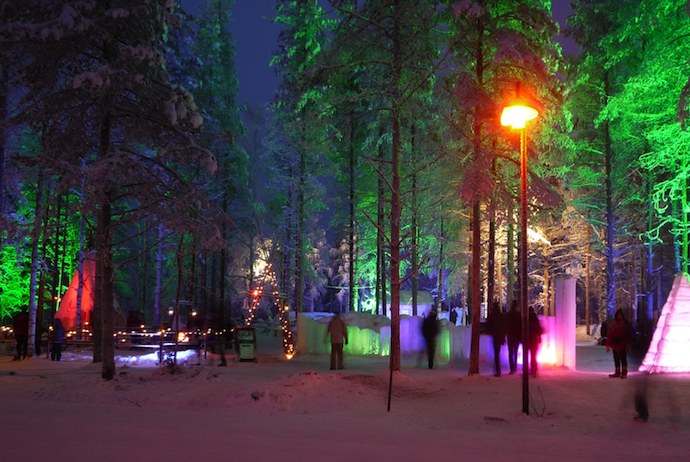 This Christmas tour includes a trip to see Father Christmas in his Arctic village, a chance to pet reindeer and have a short reindeer sleigh ride – plus a visit to a husky farm.
Here, you can cuddle the fluffy dogs, learn all about their care and then go on a snowy husky-sledge ride through the Arctic forests. A cute animal and Christmas combo – what more could your children want?
Take a lantern-lit tour of Stockholm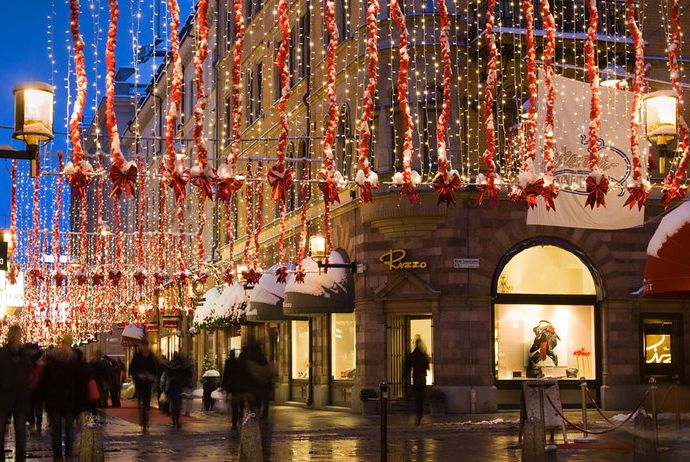 It may be a little more low-key and less glitzy than the full-on Santa Claus experience, but this Christmas lantern-lit stroll through Stockholm's old town will definitely get you into the festive spirit.
Learn all about Swedish and Viking Christmas traditions while wandering through the cobbled streets of the old town, and admiring the city's beautifully-lit historic buildings festooned in festive lights.
Then try some traditional Swedish gingerbread and a glass of warming glögg, the Swedes' favourite seasonal mulled wine drink.
The tour starts near the old town square, home to one of the city's most atmospheric Christmas markets, where you can browse stalls selling arts and crafts and tasty Christmas treats.
Join a carol concert in Sweden
Join a beautiful torch-lit procession from Sweden's iconic Ice Hotel to the Jukkasjärvi village church for a concert of Christmas carols.
Spending Christmas in the Ice Hotel, which is rebuilt every year from blocks of ice from the nearby river, is special enough, but a Christmas Day trip to the local church to hear soloists singing and piano playing is the ice-ing on the cake.
It's a magical experience, walking through the snow to the church and attending the traditional concert. Ticket cost 300 SEK and it's a good idea to book in advance as the church is small and the concert popular.
Go Christmas camping in Arctic Sweden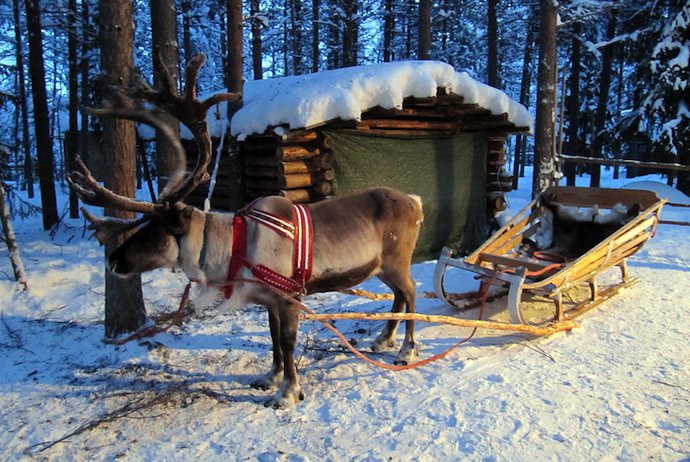 Camping may not be the first thing you think of at Christmas, especially not on an island in the Arctic Circle, but this tour includes an overnight stay in a traditional Sámi tent called a lavvu.
The tents are warm and cosy with a fire inside, reindeer hides to sleep on and winter-grade sleeping bags to hole up in. Your Sámi hosts will tell you all about the local culture and cook you a traditional Sámi stew and hot drinks.
You also get to learn all about the reindeer, feed them and then go on a sleigh into the forest pulled by reindeer.
Take a festive Segway tour through Copenhagen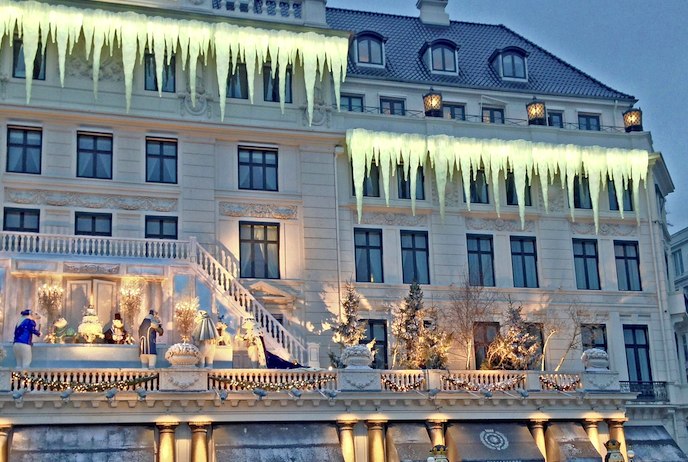 Ok, so it may not be the most traditional form of Christmas transport, but this seasonal segway trip is a fun way to explore the sights of Copenhagen – and two of the city's Christmas markets.
Copenhagen's shops are known for their stylish and festive decorations at Christmas, and this tour takes you around many of the city's decorated sights and lights.
The tour goes along mostly pedestrianised streets, then stops at the Christmas markets for some seasonal shopping and browsing. Afterwards, you can warm up with a tasty cup of organic hot chocolate.
Try to book onto the late afternoon tour if you can – it's even more festive, as you'll get the full impact of the city's Christmas lights.
See the northern lights (by reindeer) in Tromsø
December is a great time to view the spectacular display of dancing colours that make up the northern lights. And, although this is not a specific Christmas trip, what more festive way is there to view the light display than on a sleigh pulled by reindeer?
The long dark December nights in the Arctic Circle increase the chances of seeing the northern lights, and travelling by reindeer sleigh allows you to get out into the wilds and escape any light pollution.
You can even stop off and feed the reindeer, and your Sámi hosts will cook up a warming stew and tell traditional stories round the campfire. There's more about seeing the northern lights in Norway in this guide.
See also:
Christmas in Denmark: the ultimate guide
Christmas in Sweden: the ultimate guide
Like what you've been reading? Get our best tips by email!