With quirky ice sculptures, furniture made from ice, freezing drinks and ethereal icy blue colours, an ice bar has got to be the coolest place on earth to have a drink.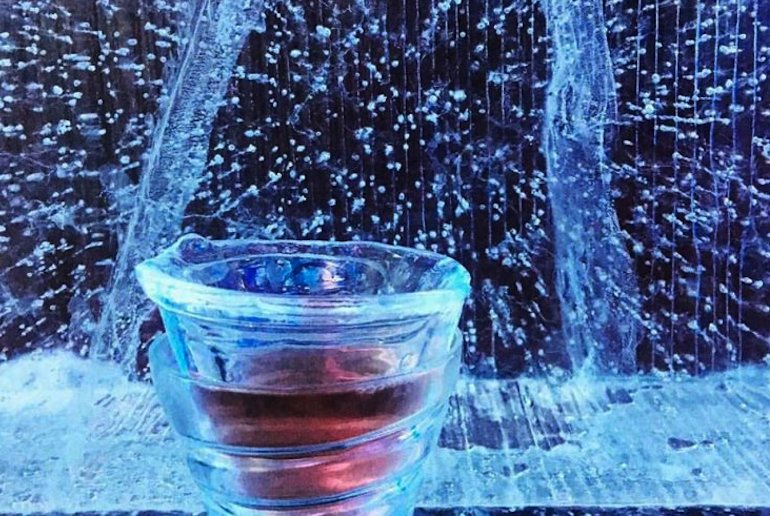 Scandinavia is naturally home to a whole load of these ice bars, made from giant blocks of ice, where you can drink out of a glass carved from ice, sit on ice benches, and even dance on snow-covered dancefloors.
Ice bars tend to be kept (artificially) at a temperature of about -5°C or below, so you'll need warm clothes, though many places also provide capes and gloves to keep you cosy.
So whether you fancy an upmarket city hotel bar filled with elaborate ice sculptures and artworks, or prefer a down-to-earth remote igloo rebuilt each year out of the local frozen lakes, check out our guide to the best ice bars in Scandinavia.
Icebar at the Icehotel, Stockholm
The world's first permanent ice bar, Icebar in Stockholm has been treating customers to drinks served in ice glasses and a changing display of ice art since 2002.
With enough space for around 60 people, the bar is built out of frozen blocks cut from the River Torne, and new ice sculptures are designed and carved each year.
The entrance fee gives you a 45-minute slot inside the bar and a drink, plus gloves and a cape to keep you warm during your stay.
Icebar, Ice Hotel, Jukkasjärvi, Sweden
Not only is the bar here built of ice – the whole hotel is. Some 200km north of the Arctic Circle, the world's original and largest ice hotel was first constructed in 1989, and has been rebuilt every year since out of snow and ice hewn from the local river.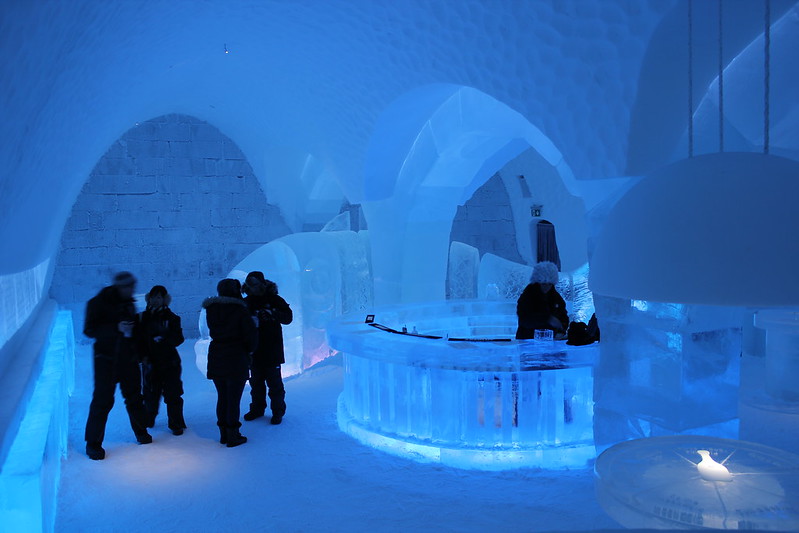 The original hotel is only open from December to April, but there's a permanent year-round hotel here too, which houses the Icebar.
Entrance is free for hotel guests: non-residents pay an admission fee which includes access to hotel's amazing ice sculpture hall where you can see frozen artworks by more than 40 artists.
So, wrap up warm and head to the bar, where you'll be served champagne in a glass made of ice from an ice bar, and can dance on a snowy dancefloor.
Artico Ice bar, Honningsvag, Norway
High up near Norway's North Cape, the Artico Ice bar is an independent ice bar rebuilt every year using 55 blocks of natural ice from the local Lapland lakes. It's a chilled place, where you can sit around inside an igloo on reindeer hides and admire the natural beauty of the surrounding ice and snow.
There are no sculptures here – the owners prefer to showcase the raw, pure state of the ice, with images of the Arctic environment projected onto a screen made of ice.
The bar is open from around mid-February until early autumn.
Ice bar, the Arctic Snowhotel, Rovaniemi, Finland
Some 26km north of Rovaniemi, the Arctic Snowhotel lies just inside the Arctic Circle in Finnish Lapland.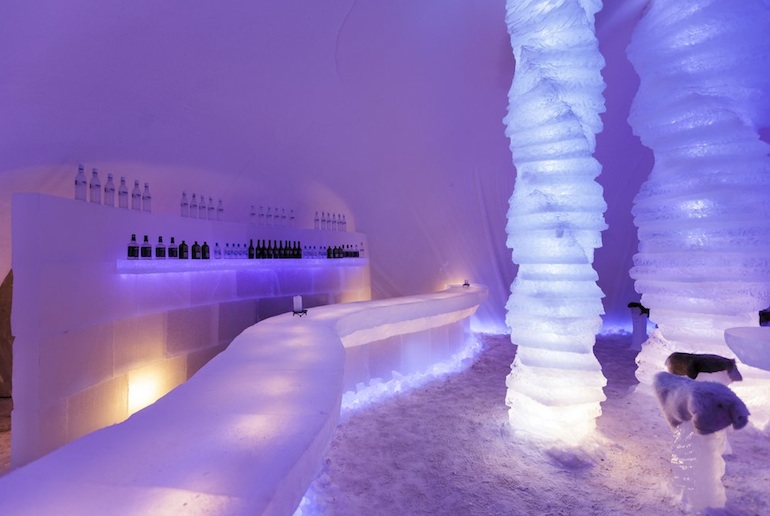 Not only does it have an ice bar where you can settle down on warm reindeer hides for a drink, but there's also a full-on restaurant made of ice here, where up to 200 dinners can have a meal at ice tables while sitting on ice benches.
The hotel and bar are open from December to March each year.
Alternatively, this northern lights tour is a popular option.
Ice bar, Snowhotel, Kirkenes
The final stop on Norway's Hurtigruten, Kirkenes lies in the far northeastern corner of Norway, close to the Russian and Finnish borders.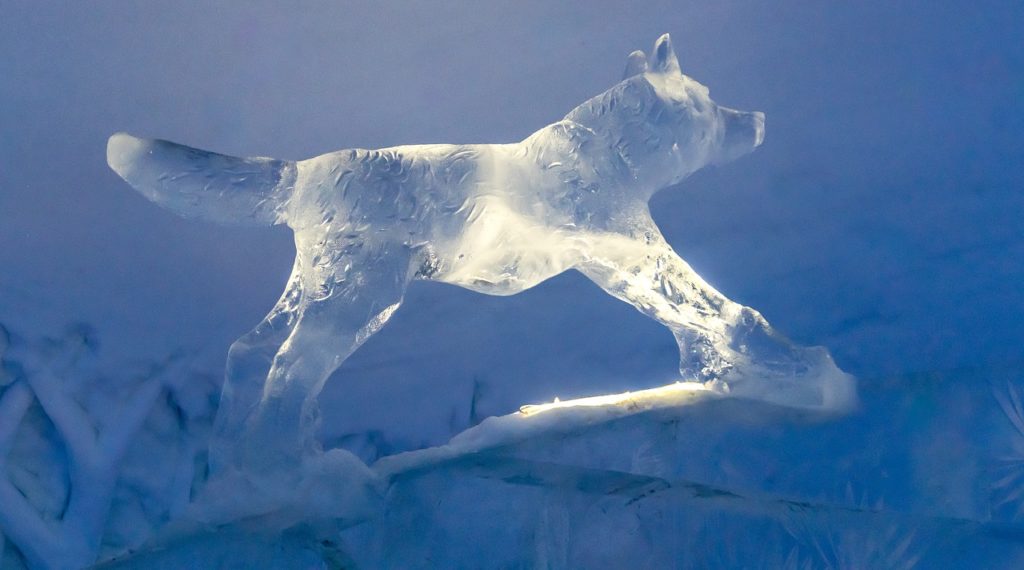 Here, you can stay overnight in an icy igloo at the Snowhotel and, of course, have a drink at the bar, with its serving bar and tables made of ice and a snowy floor, or eat at the ice restaurant.
Non-residents can visit year-round: the admission fee includes access to the whole hotel, plus a visit to the en-site reindeer, huskies and puppy farm.

Magic Ice bars
The small Norwegian chain Magic Ice has ice bars in Bergen, Oslo, Tromsø and Svolvær – and even one in Reykjavík in Iceland.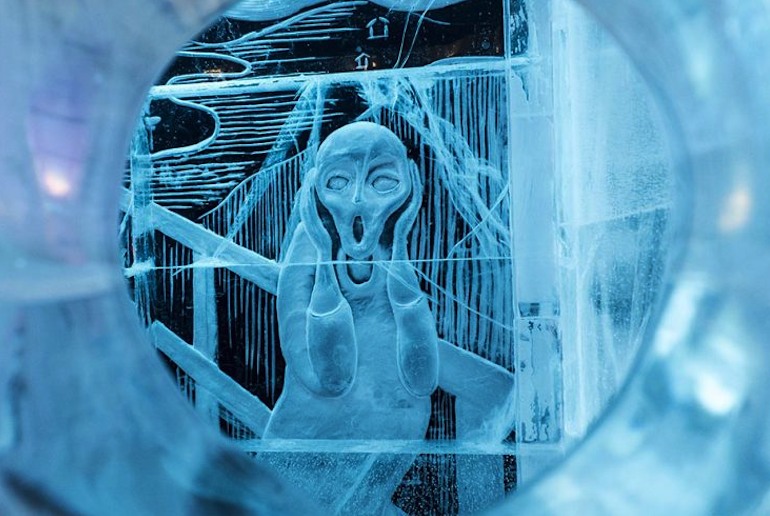 All the bars have galleries with sculptures and artworks carved from ice and snow and lit by atmospheric LED lighting plus, of course, a bar, tables and chairs made from ice.
The artworks by well-known ice-carvers and artists vary from bar to bar: some are inspired by famous Norwegian artists such as Edvard Munch, others are on historical and cultural themes such as the Vikings, Samí life and fishing.
Entrance to the Norwegian bars costs 250 NOK (3900 ISK in Reykjavík) and the admission fee includes a drink served in a glass made of ice, plus a poncho and gloves to keep you warm during your stay.
See also:
Cool places to stay in Scandinavia
Best places to visit in Scandinavia
A quick guide to Scandinavian countries