Stavanger is sometimes called 'the oil capital of Norway', but there's a lot more to this coastal city than rivers of black gold.
Pay a quick visit and you'll see that Stavanger manages to mix slick street art with some of the world's most breathtaking landscapes and views. There's also a refined restaurant scene, along with barrels of good bars.
Only trouble is, Stavanger regularly appears in round-ups of the world's most expensive cities. This guide will show you how to see the city without breaking the bank, and give you some tips on fun things to see and do!
Getting there
Thanks to the global reach of the oil industry, Stavanger Airport offers plenty of international connections, including direct flights to Berlin, London, Amsterdam, Stockholm and Reykjavik.
Stavanger is also just a quick flight (or an eight-hour train journey) from Oslo, so you might want to consider a stopover there en route. Coming from Denmark? You can fly from Copenhagen or take a ferry from Hirtshals with Fjordline.
When to visit Stavanger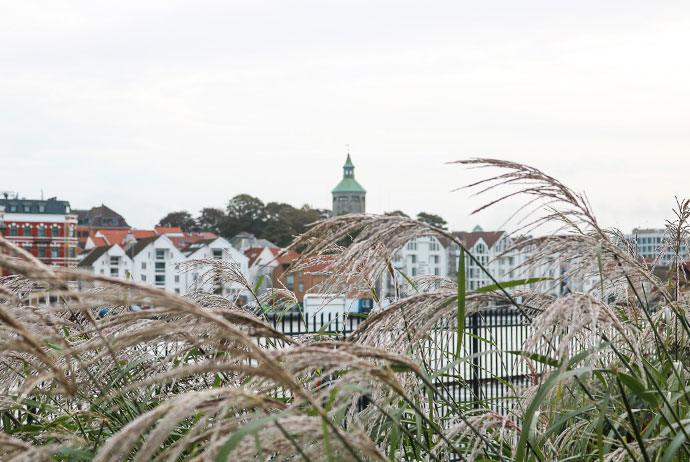 Summer is the peak season for tourism in Stavanger with many a cruise ship entering the city's harbour, usually on fairly brief visits. If you want to beat the crowds while still enjoying the long days and warm temperatures, consider visiting in early June or late August, when things are less crowded and prices at local hotels tend to drop.
Early autumn is also a nice time if you'd like to go for a hike in the region, with Lysefjorden Hiking Festival (held in early September) offering cheap deals on guided hikes and boat trips.
What about winter? Well, Stavanger certainly can be quite charming during the Christmas season and even offers a 'gingerbread village' to keep young visitors amused. Keep in mind, though, that the winter weather in Stavanger is characterised by a lot of rain and strong gales, mostly due to the city's location at the coast.
Where to stay
When it comes to accommodation in Stavanger, there's plenty to pick from. The main choice is between Airbnb rentals (you can get money off your first stay here), a few fairly expensive hostels, and lots of mid-range hotels that are aimed mostly at business travellers.
The Scandic chain, for instance, has four hotels in Stavanger alone – you might want to check out Scandic Stavanger City or Scandic Stavanger Park, which are both situated in the city centre. The Norwegian-owned hotel chain Thon also has two hotels in the city center: Thon Hotel Stavanger and Thon Hotel Maritim.
If you're looking for a more budget-friendly place, check out Stavanger Bed & Breakfast, or the local hiker's hostel Stavanger St. Svithun Vandrerhjem.
What to see and do
Stavanger is Norway's fourth-biggest city and there's a good mix of natural and manmade sights to get to grips with. If you're interested in exploring the great outdoors, the main draw is the spectacular fjords and mountains at Lyse. In the city centre there are a few decent museums and attractions worth checking out. Here are some of the main highlights, both in and out of the city:
Hike to Preikestolen (the Pulpit Rock)
One of Norway's most popular sights and the star of countless selfies, Preikestolen attracts more than 300,000 visitors a year.
The hike to the top of this vast rock formation, a climb of some 350m, tends to be quite crowded in the summer, but can also be attempted during the rest of the year. However, this hike is no walk in the park; don't attempt it if you're not in reasonable shape. And, for your own safety, join an organised tour if you're heading there in the off-season.
Go on a street art tour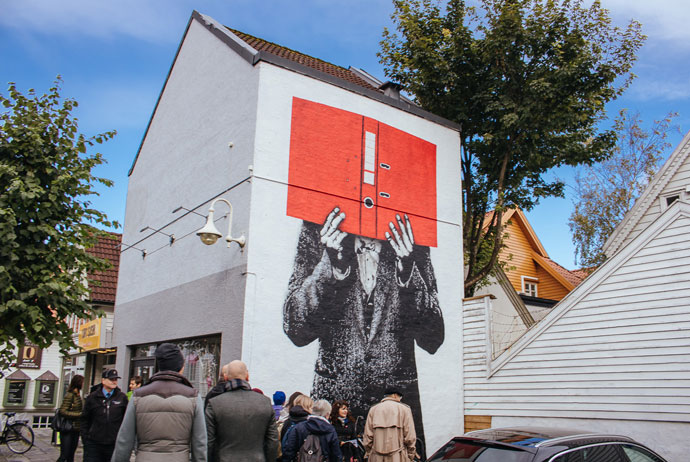 Each year in early autumn, the NuArt Festival takes place in Stavanger, gathering street artists from all over the world. When the festival comes to town you can go on street art tours, learning more about the artworks and the artists who created them. If you're not one for tours, it's always possible to take a stroll around the city and try to find some art yourself.
Visit the Norwegian Petroleum Museum
With Stavanger being Norway's oil town, a visit to the Norwegian Petroleum Museum can feel like a bit of rite of passage. Here, you can learn more about the extraction of oil in the North Sea, and see what it's like to be an oil rig worker first-hand. It's informative, neatly organised and rather high-tech, as you might expect from a place that's sponsored by Shell, Total and other oil giants.
Wander around the Old Town
The Old Town of Stavanger, hugging the west side of the bay, is characterised by cobbled streets and tiny white houses with beautiful gardens. It's a charming and fun neighbourhood to explore on foot, especially if the sun is shining. There aren't a huge number of souvenir shops and cafés here, which only adds to the appeal.
Visit the 'Swords in Mountain' monument
The 'Sverd i fjell' (Swords in Mountain) monument at Hafrsfjord commemorates the famous naval battle that took place in around 872, when King Harald Fairhair managed to unite a previously divided Norway. The monument is made up of three, 10-metre-high bronze swords, which are 'stuck' in the rock forever as a symbol of lasting peace.
Learn more about the Iron Age at Jernaldergården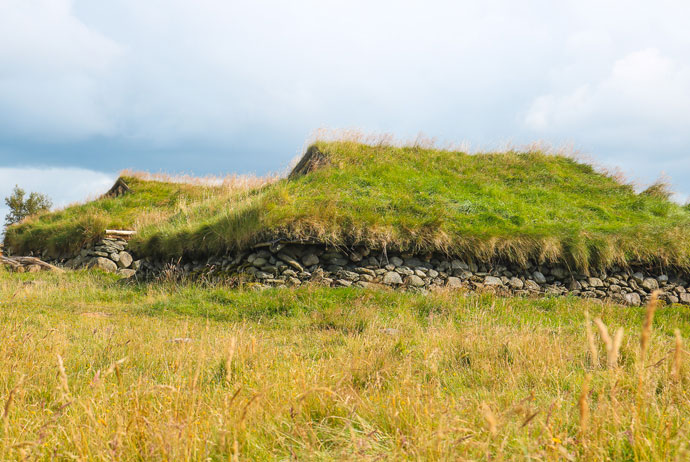 Just outside the city, Jernaldergården is a clever open-air museum that's home to replicas of old Iron Age longhouses. Here, costumed staff help visitors to learn more about life in this part of Norway 1500 years ago, and can shed light on some of the exciting archaeological discoveries that have been made in the area. As you might expect, it's only open during summer (roughly mid-June–mid-August).
Bonus idea: admire Stavanger from above
Stavanger is charming to look at from ground level, but it's maybe even better when seen from above. There are several good places to get a bird's eye view of the city. Try the Ullandhaugtårnet telecommunications tower in Madla or Valbergtårnet in the city center.
Where to eat and drink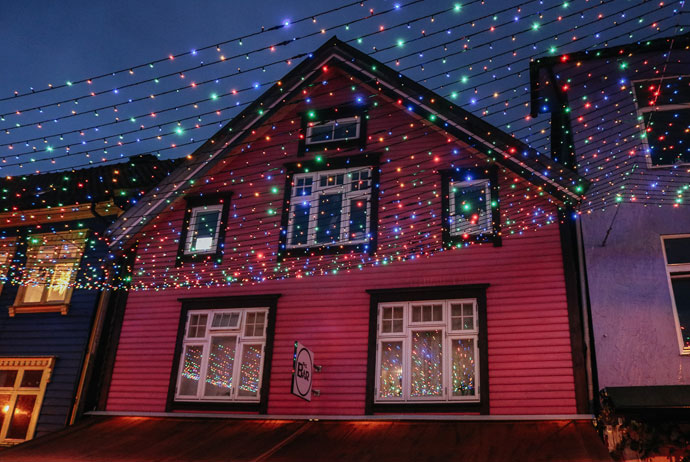 There are three Michelin-starred restaurants in Stavanger (Maaemo, Sabi Omakase and Re-na), so the city's culinary scene is definitely alive and kicking – some say it can give Bergen and Oslo a bit of competition. Other swanky places include Fisketorget, for the best seafood in town, and Mexico, which is a safe bet for tacos.
For more affordable eats it's worth checking out the cafés and pubs along the 'colour street' (Øvre Holmegate) – it's a super vibrant part of town with colourful houses edging the pavements. There's all sorts to choose from in this part of town, including Indian, pizzas and pub food.
If you're really on a budget then there are a few good fast food places, or you can head to one of the neighbourhood's small supermarkets. There's one at the Straen center, off Lars Hertervigs gate, where you'll also find a branch of Norway's chain of alcohol monopoly stores.
All pics (c) Vanessa Brune (unless marked otherwise)
Like what you've been reading? Get our best tips by email!