Although it's a couple of hundred miles away, the Finnish capital Helsinki is surprisingly easy to reach from Stockholm and can make for a really nice weekend break.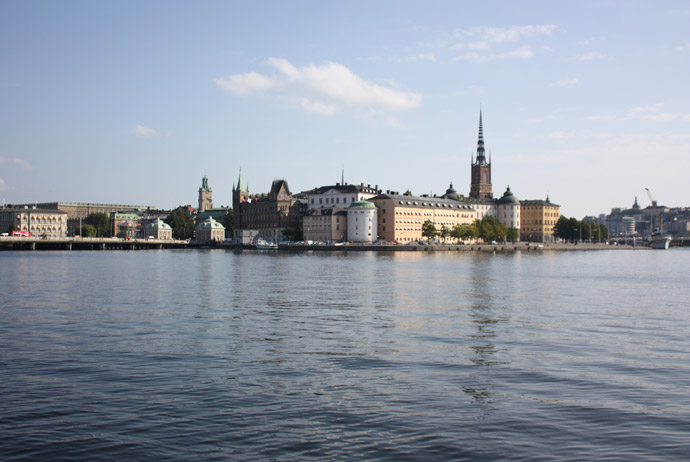 The fastest option is to fly between the two cities – there are daily flights in both directions, taking around one hour.
If you have a little more time to spare, you could consider taking the ferry. It's a much more enjoyable alternative to flying, with loads of on-board entertainment and some great scenery along the way.
It should be said that these journeys tend to be very boozy, especially on weekends – expect to see lots of heavily refreshed Swedes taking advantage of the tax-free prices and on-board bars.
Quick take: Stockholm to Helsinki by ferry
Two companies run boats from Stockholm to Helsinki: Viking Line and Tallink Silja Line
Ferries make stop at the Åland islands along the way
Boats run all year long, but less frequently in winter
You can buy single tickets or treat yourself to a 3-day cruise instead
These ferry rides and cruises tend to be quite boozy
There are two big ferry companies running services on the Stockholm–Helsinki route: Viking Line and Tallink Silja Line. Both make a stop at Åland (a Swedish-speaking part of Finland) along the way.
It's a nice enough place but the main reason for stopping there is that Åland – an autonomous region of Finland – is not subject to the same EU tax rules as Sweden and Finland.
This clever loophole means boats can sell tax-free goods (including booze) on both legs of the journey.
The St Peter Line which used to run ships from Stockholm to Helsinki and onto St Petersburg in Russia is not currently running, and unlikely to restart any time soon.
Is the journey different in summer or winter?
Of course, conditions are almost certainly going to be rougher in winter. And it's worth bearing this in mind, especially if you're a poor sailor.
The ferries runs less frequently in winter too. Viking Line for example, runs daily ferries from early March to September but only every other day from October to early March.
So, make sure you check the schedules if you're travelling in winter.
Viking Line
Viking Line ferries run from Stockholm to Helsinki once a day in summer, and every other day in winter.
Boats depart Stockholm at 4.30pm in the summer (4pm in winter) and arrive in Helsinki at around 10am the next morning (9.15am in winter), following a late-night stop at Mariehamn on the Åland Islands.
How long is the journey?
Ferries take around 16 hours to get from Stadsgårdskajen in central Stockholm to Skatudden in Helsinki. Around six hours into the journey, boats makes a quick stop at Mariehamn (Åland).
What's the onboard experience like?
There are plenty of facilities onboard to keep you busy, including tax-free shops, restaurants and a spa with its own sauna.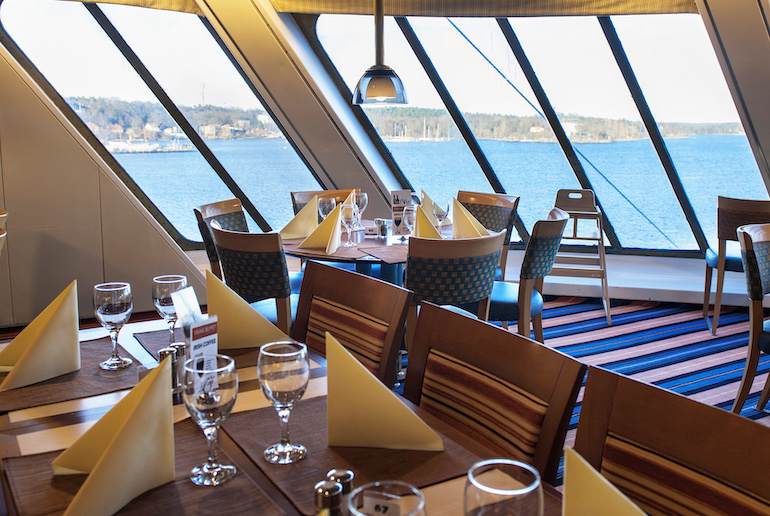 Catering to the party crowd, there are nightly live music performances and DJ sessions – take a boat early in the week (Sunday–Wednesday) if you'd rather have a quieter crossing.
Choosing a ticket
How much you pay depends on your choice of cabin and comfort, and whether you bring a car or not.
The cheapest standard passenger tickets include a basic bunk bed in a shared room.
These come with either three or four beds each and are similar to the kind of rooms you'll find aboard sleeper trains. On some crossings, the cheapest rooms don't have the en-suite facilities.
Is the Helsinki Card worth buying?
Read this guide to see how much you could save during your trip!
Stepping up a level, comfort-wise, it's possible to reserve your own private en-suite room.
These come in around a dozen different formats and comfort levels, from small-ish rooms that are suitable for wheelchair users and allergy sufferers right up to spacious suites with big windows.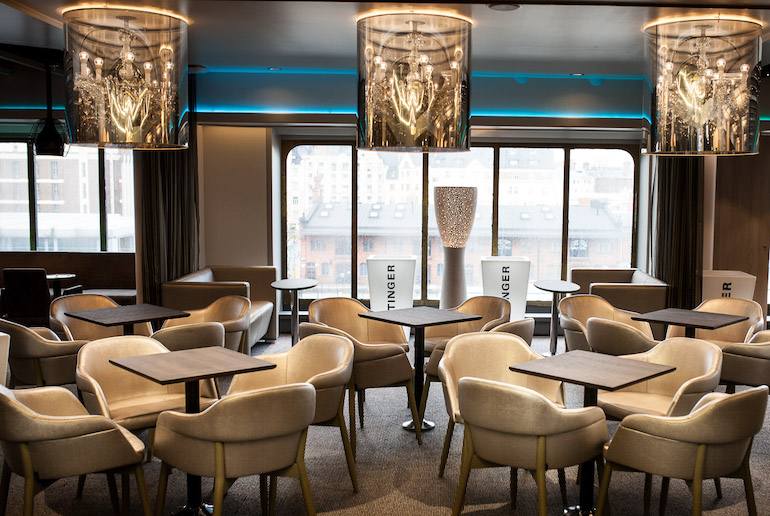 The smarter the cabin, the more you'll pay, of course!
Cars, motorbikes and bicycles are permitted on both of the Viking Line ferries running between Stockholm and Helsinki. You'll have to pay extra, though – prices are dependent on the size and type of vehicle.
Note that when you book online, you'll have the choice between an organised 'cruise' and a regular ticket (either one-way or return). The cruises are usually good value but often only give you one day in Helsinki.
Buying a regular ticket gives you more flexibility, especially if you're planning on visiting other parts of Finland and are not sure when (if ever) you'll head back to Stockholm.
How much does a standard ticket cost?
Prices vary depending on availability and the time of year, and taking a car will add to the price significantly, as will choosing a private cabin.
However, ticket prices start at around €75 (US$92) one-way which includes a bunk in a basic inside cabin, sharing with three others.
Getting to the ferry terminal
Viking Line's terminal for ferries to Helsinki is at Stadsgårdskajen, just east of Fotografiska on Södermalm.
Getting there from Stockholm's main train station is easy – jump aboard a #53 bus bound for Finnberget/Henriksdalsberget and get off at Londonviadukten. From there it's a couple of minutes' walk down to the harbour.
Alternatively you can get the T-Bana to Slussen, then bus #471 to Londonviadukten.
Our guide to getting around Stockholm has more info on using the buses and T-Bana and paying for journeys.
Getting to and from the centre of Helsinki
In Helsinki, boats pull up at Skatudden, just east of the centre. Tram #4 runs from nearby Puolipäivänkatu, taking around 20 minutes to reach the middle of town.
Tallink Silja Line
Viking Line's big rival on this route, Tallink Silja Line, also runs a daily service from Stockholm to Helsinki year-round.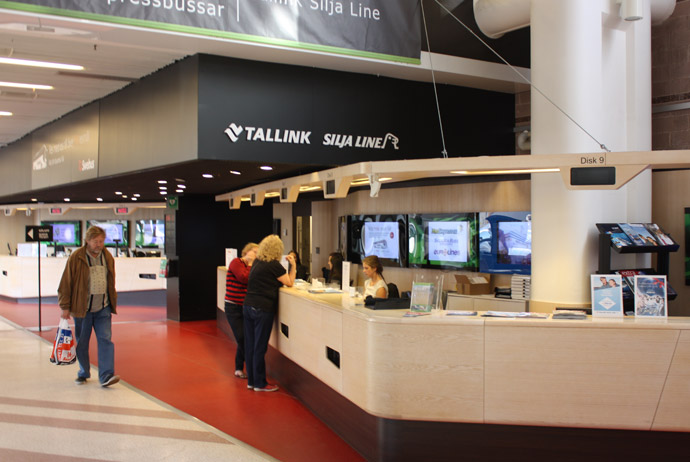 How long is the journey?
Just like the Viking Line ferries, these boats usually depart from Stockholm at about 4.45pm, make a stop at Mariehamn (Åland), and then arrive in Helsinki around 10.30am the following morning.
The total journey time is around 18 hours.
What the onboard experience like?
Two boats runs this route, the Silja Symphony and the Silja Serenade. As well as the usual bars and restaurants, the two boats offer a spa, tax-free shops, a midnight dance show, a casino and a kids' play area.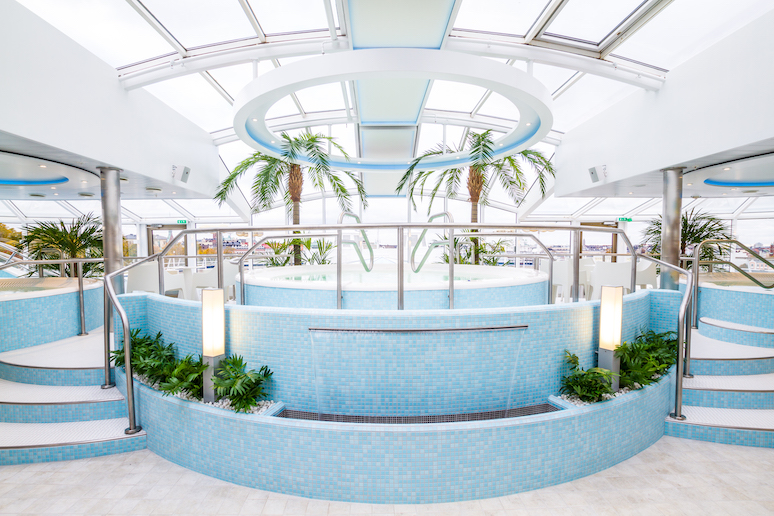 They both have a seafood/sushi restaurants, designer shops, a sauna and cabins decorated with Moomin designs.
And, given the sheer number of options for eating and drinking, you can expect at least some of the passengers to get rather merry.
Choosing a ticket
The cheapest Tallink Silja Line tickets include a basic bunk bed in a shared inside cabin.
Alternatively, you can pay extra and choose a private luxury en-suite cabin with its own balcony – or, of course, something in between!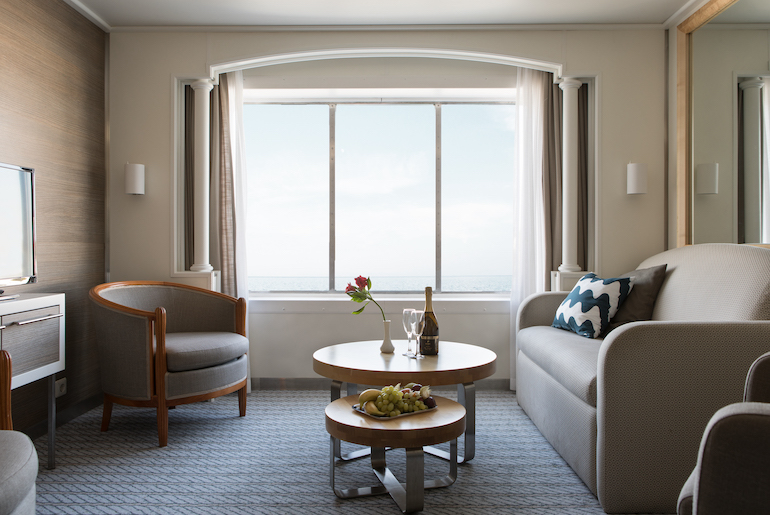 Cars and other vehicles can be transported aboard the Tallink Silja Line ferries on this route, but there's an extra charge depending on the size of the vehicle.
How much does a standard ticket cost?
If want to spend longer than one day in Helsinki, you can buy a standard ticket from the Tallink Silja Line website.
A one-way ticket with a bunk-bed in a shared, inside C-class cabin (the cheapest available) starts at €78 (US$85).
Like on the Viking Line, however, prices vary enormously depending on the time of year, whether you have a car or not and what level of cabin you choose.
Taking an organised cruise
You can also book good-value organised cruises from Stockholm to Helsinki which give you two nights on-board the ship and one day to sight-see in Helsinki.
This three-day cruise includes a return trip with two nights in a private sea-view cabin with breakfast included for a bargain €130 (US$140) per person.
And if you are just travelling one way, you can book this one-way trip in a sea-view cabin with breakfast included for just €94 (US$100) per person.
For both options, you can add on a buffet dinner on-board or spend the evening in the sauna or at the karaoke bar!
Getting to the ferry terminal
Tallink Silja Line Ferries bound for Helsinki depart from Stockholm Värtahamnen, around 4km northeast of the city centre.
Getting there with public transport is fairly easy: take the T-bana to Gärdet and walk northeast for 15 minutes, or take a #76 bus from Slussen or Nybroplan to Värtahamnens Färjeterminal – the stop is right near the harbour.
See our guide to getting around Stockholm for tips on how to use the public transport network.
Getting to and from the centre of Helsinki
These ferries stop at Helsinki's South Harbour (also known as Olympia terminal).
It's close enough to the city centre that you can walk there in around 15 minutes, but if you've got a lot of luggage you might want to take public transport – tram #2 will take you up towards the central station.
Which ferry is best?
Pricewise, there's little to choose between the two companies operating ferries on this route, so our advice is to check both of their websites first and go with the cheapest option that suits your schedule.
It's worth noting that if you're travelling around northern Europe with a Eurail or Interrail pass, you can get between 20 and 50% off the cost of a standard ticket on both Tallink Silja and Viking Line ferries.
Both companies offer a limited number of discounted tickets, so check the websites to see if you can get a discount.
In terms of facilities, we like the spa and sauna on the Viking Line ships. For a real relaxing trip, you can book in for a massage or treatment and get free access to the sauna, steam baths and hot tubs.
Viking Line also has good entertainment with live music from a variety of singers and bands and tribute acts plus DJs, magic shows and dance classes.
In terms of decor, we prefer the cabins on Tallink Silja ships, which come with cute Moomin designs (which are great for kids) and we really like the Marimekko design cabins too.
We also like the spa on Tallink Silja ships, which is reasonably priced and can be booked without a treatment. Ninety minutes use of the sauna, jacuzzi and sun deck costs just €14 per person, and can be accessed if you choose to book the 3 day cruise.
If shopping is your thing, we recommend the mall on the Tallink Silja ships, which has designer outlets including Marimekko and Tommy Hilfiger.
In terms of restaurants, there's little to choose between the two companies – both have a good range of places to eat including good value buffet tables.
Though, personally, we really like the Happy Lobster on the Silja Serenade which serves up fresh seafood at reasonable prices and the Sushi bar on Silja Symphony.
Our top tips for ferry travel
Travel off-peak. Both companies run special offers at quieter times of the year.
Book in advance. Both companies use dynamic pricing so the fuller the ship, the more the tickets cost.
Travel mid-week if you want a quieter trip. Weekends can be busy and noisy!
Get a discount with Interrail and Eurail. Check the websites for disounts off up to 50% with an Interrail card.
Have a sauna. If it's cold outside, book the sauna and jacuzzi on the Tallink Silja for just €14 a session.
Book meals in advance. If you fancy dinner in the buffet restaurant on-board, it's 10% cheaper if you book it in advance. Just add it to your reservation.
Book a three-day cruise. If you just want to spend the day if Helsinki, you'll save money by booking a cruise ticket that includes a sea-view cabin and two buffet breakfasts.