So you've touched down, picked up a network on your phone and found your bags on the carousel. You're ready to hit Oslo.
But first of all, you need to know how to get from Oslo Gardermoen airport to the city centre. Does Oslo airport have a train station? And what's the cheapest way to get from Oslo airport to the city?
The good news is that there are a handful of ways to cover the 47km journey from Oslo's main airport Gardermoen south to the city centre.
There's a route to suit all budgets, with the price going up, mostly, as the journey time comes down. Read on to find the option that suits you best.
The airport express (the fastest way)
Regional trains (the cheapest way)
The airport bus
Taking a taxi
Private transfers
Apps to help you
Other places you can stop
FAQs
The fastest way: take the airport express
If you just want to get into Oslo as quickly as possible, we recommend taking the Flytoget airport express, a sleek, silvery grey train which will whizz you from the airport to central Oslo in around 20 minutes.
Punctuality is key, with frequent departures every 10–20 minutes from 5.30am til 12.50am.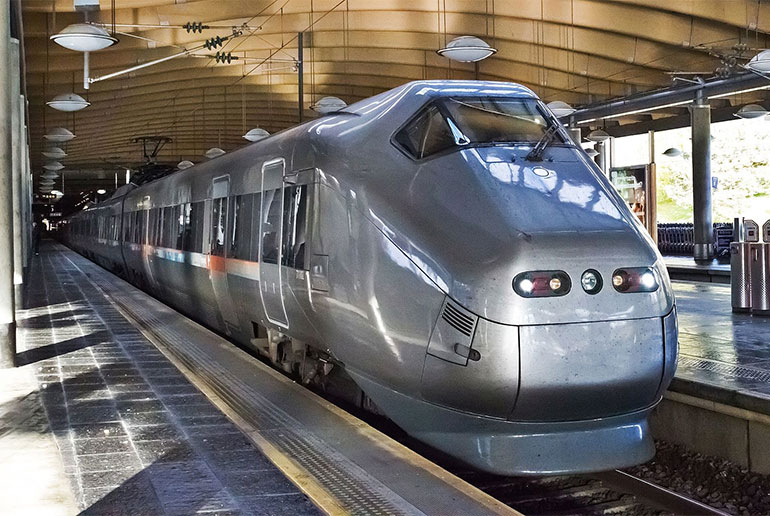 Big comfy seats, plentiful sockets for charging devices, free wifi…. what's not to like? Well, perhaps just the cost.
One-way tickets cost around 230 NOK, with a round-trip double the cost at around 460 NOK (so you don't save anything by booking a return journey).
You can get 50% off fares however if you're a student, a senior (over 67), or aged 16–20.
You can buy tickets online in advance, or via the Flytoget app (see below).
Tickets are valid for ninety days after purchase and you don't have to specify which train you want to travel on, so there's no problem if your flight is delayed – or even early!
Alternatively, you can simply use your credit or debit card as a ticket. You just swipe it in the machine before boarding the train, then swipe it again at the barriers when you arrive.
If you have more than one card with you, make sure you swipe the same card on boarding and departure otherwise you will get charged twice.
If you need a receipt for your journey, you'll have to pre-register your card on the Flytoget website.
The Flytoget express takes you direct to Oslo Sentralstasjon – known as Oslo S – and most trains continue to the Nationaltheatret station at the western end of Karl Johans gate, the main street through the city centre.
It's also worth knowing that if you book your return trip back to the airport with Flytoget, they offer an amazing travel guarantee.
If there's a delay of more than 30 minutes that causes you to miss your flight, Flytoget will pick up the tab for you rearranging your travel.
The cheapest way: take a regional train
If the cost of getting from Oslo airport to Oslo central station is key, we suggest  taking a regional or local train.
Cheaper than the airport express, three Norwegian Railway regional trains an hour make the journey from the airport to Oslo S in 23 minutes.
The trains you can take are the RE10/RE11 regional trains or the R12 local train, which run every 10–20 minutes from 5.15am until 11.43pm, stopping at Lillestrøm on the way.
A one-way trip costs around 118 NOK; seniors (67 and over) pay 57 NOK; and six-to-17-year-olds pay 46 NOK; under 6s are free.
Check the Vy website for timetables and to buy tickets.
Regional trains are likely to be busier than the airport express but are still a good way to travel and there's space to stow luggage during the journey.
Just bear one thing in mind – these services don't give the same guarantee of being on time as Flytoget, so build in leeway for possible delays when returning to the airport at the end of your trip.
Money-saving bonus: when you reach Oslo S, keep hold of your ticket if you're planning to do more travelling – these train tickets are valid for 2hr 30min for further travel on Oslo's buses, trams and metro.
Is the Oslo Pass worth buying?
Read this guide to see how much you could save during your trip!
The way with the most drop-offs: the airport bus
If you're not staying in downtown Oslo, one of Flybussen's five routes may be more useful, with more than 100 stops across the city.
Lines FB2 and FB5 both terminate at the Radisson Blu Scandinavia Hotel at Holbergs Gate, just east of the Palace Park.
Busses run hourly every day from 4.15am until 1.15am and make 11–13 stops between the airport and Oslo S bus station, with a journey time of 42 minutes.
At around 219 NOK for a single ticket from the airport to Oslo S bus station, the Flybussen isn't cheap, though the return price of 359 NOK works out slightly cheaper.
If you're a student (under 31 with ID) or aged 6–17, the single/return fare drops to 129/229 NOK.
You can buy tickets online in advance, from machines at the airport or on the bus itself. You can pay in cash or with a card on the bus, though ticket prices are higher than those online.
The Flybussen airport express has a joint ticketing arrangement with Ruter, the company which runs Oslo city transport.
So if you buy a Ruter 7-, 30- or 365-day ticket for getting around Oslo you can also use it on the Flybussen as long as it's valid for the whole journey. A one-way Flybussen ticket is valid for onward travel on Oslo buses, trams and metro.
The lazy way: grab a taxi
If you have heavy baggage, or there's a few of you travelling together, there's something to be said for getting a taxi. There are plenty of cab companies that operate from the airport.
To book a cab, head for the taxi booking machine outside the terminal building on the ground floor by the taxi pick-up area. You can also get an idea of prices to your particular destination here.
Drivers are obliged to offer you a fixed rate before you start your journey. You should get a cab within about five minutes.
How much is a taxi from Oslo airport to the city centre?
The downside of taking a taxi is that the fare is whopping – expect to pay at least 945 NOK (US$90) during the day and up to 11,560 NOK (US$110) at night and in the early morning.
It's also worth bearing in mind that, depending on traffic, it won't necessarily be the quickest way to get downtown.
You can also get Ubers from the airport, but you'll pay around the same as in a fixed-fare taxi.
The VIP way: take a private transfer
If you don't mind splashing the cash and want a stress-free arrival into Oslo, consider taking a private transfer. This option includes easy a meet and greet service inside the terminal and comes with free cancellation.
This VIP option cuts out some of the hassle of waiting around for a taxi but – at around 1,170 NOK (US$112) per person – it certainly isn't cheap.
Free apps you can use to plan your journey
Downloading travel apps in advance can give you an insight into your destination and allow you to check information and buy tickets without being online.
Here are some of the useful apps that we recommend downloading to help you plan your trip to Oslo.
The Flytoget app
If you're planning to travel on the airport express train to get to Oslo, we recommend downloading the Flytoget app.
You can buy tickets via the app, and it also provides real time train departure and arrival information. It's also the only way that you can buy the Kiss and fly ticket.
This allows you return train travel for the price of a single fare, provided you return within three hours – useful if you're dropping someone off or meeting someone at the airport.
The Oslo Pass app
If you're thinking of buying the Oslo Pass, the most convenient way of doing so is via the app. Although you have to be online when you actually buy the pass, you can be offline when you use it.
So if you're getting on a bus or train or entering an attraction, there's no need to use potentially pricey roaming data.
To see if the Oslo Pass can save you money, read our ultimate guide to the Oslo Pass: is it worth buying?
The Ruter app
Ruter is the transport company for buses, trains and boats in Oslo and the surrounding area.
We think its app is useful because it allows you to plan journeys (including cycling and walking itineraries), gives live public transport departure times, and you can buy tickets on it.
It also gives discounts on fares and shows the availability of bicycles in the city bike scheme.
Where else can I get to from Oslo airport?
So you're not heading directly into the centre of Oslo from the airport. Never fear, the airport is well connected to a variety of other places by public transport.
The train line that passes through the airport runs as far north as Trondheim, a six and a half hour journey.
This lively, historical city (formerly Norway's capital) is a great jumping-off point for exploring the Trondheimsfjord.
We recommend exploring the city's beautiful natural surroundings on a guided hike. Or, why not go sledging via the world's northernmost tram?
For more on the city, and what to see and do, see our guide to Visiting Trondheim on a budget.
And if you don't want to go as far afield, regional trains also stop at Lillehammer, on the edge of Lake Mjøsa, a winter sports hub and the venue for the 1994 Winter Olympics. The journey takes around one hour, forty minutes.
If you want to visit Oslo's Nationaltheatret and the nearby Konige Slott, the royal palace and gardens where Norway's king and queen still live, you can take the Flytoget and get off at Drammen or Stabekk.
Alternatively you can take the Flybussen, and get off at Prof. Aschehougs plass, a five-minute walk from the Nationaltheatret.
The bus also goes through Grünerløkka, one of Oslo's coolest neighbourhoods. Get off the bus at Københavngata, and you're just a five-minute walk to the centre of the action.
Alternatively, you can get off the Flytoget train (direction: Drammen or Stabekk) at Skøyen, close to the Bygdøy peninsula.
This green, leafy area is home to some of the city's best museums including the Fram Museum, the Kon-Tiki Museum and the open-air Norwegian Museum of Cultural History.
This guided tour takes you round the city's main sights and includes entrance to the Bygdøy museums.
But wait, I'm landing at Sandefjord Torp Airport instead!
"Help! I'm not at Gardermoen. I'm at Torp! So how do I get from Oslo Torp airport to the city centre?"
Yes, you've come in on a low-cost airline and arrived 110km southwest of Oslo.
But don't panic.
A shuttle bus (35 NOK) will take you from the airport to Torp Train Station. From there, regional train R11 runs hourly to Oslo S in 1hr 30min starting from 249 NOK each way.
We recommend booking a combined shuttle bus and train ticket online in advance for the same price – just search for Sandefjord lufthavn. It costs no extra and ensures that the shuttle bus and train co-ordinate. The whole journey including the shuttle bus takes 1hr 40min, and costs from 284 NOK.
Alternatively, the airport express bus runs to Oslo S bus station, with fares from around 279–309 NOK return. It takes around 1hr 40min and its departure coincides with flight arrivals, so there may be long gaps during the day when there are no buses.
FAQs
Which airport is closest to Oslo city centre?
Gardermoen is definitely the closest airport to Oslo, lying 45 km north of the city. Torp airport is 110km southwest of the city.
Which Oslo airport does Ryanair fly to?
Ryanair has flights to both Torp and Gardermoen, so make sure you check which one you are going to when you book. The flight code for Oslo Torp is TRF, and for Gardermoen it's OSL.
Is Oslo airport big?
Gardermoen is Norway's largest airport with 72 gates and around 28 million passengers passing through each year.
It has just one terminal, but the recent Oslo airport expansion project has doubled the size of the terminal with 34 new check-in desks and expanded security and baggage handling capacity.
Where to stay at Oslo airport
The three closest hotels to the airport are all within a few minutes walk from the terminal building along direct covered walkways.
The Radisson Blu Airport Hotel , the Radisson RED and the Radisson Hotel & Conference Centre are all comfortable, modern, clean hotels with all the facilities that you would expect of an airport hotel.
How to get from Rygge airport to Oslo city centre
There is a third Oslo airport, Moss airport at Rygge about 60km south of Oslo.
It used to serve budget and domestic airlines, including Ryanair, but when Ryanair withdrew all its flights in 2016, the airport closed down. It has remained closed to all civilian flights ever since.
Does the Oslo Pass include travel from the airport?
The Oslo Pass includes all public transport in Oslo within zones 1 and 2, but does not include the trip to or from either Gardermoen or Torp airports.
So, if you're thinking of buying an Oslo Pass, you'll need to buy a separate ticket for the airport.
Check out our guide to see if the Oslo Pass can save you money on your trip.