We all know how popular all things Scandinavian – and Swedish, in particular – are at the moment, and that includes girls' names!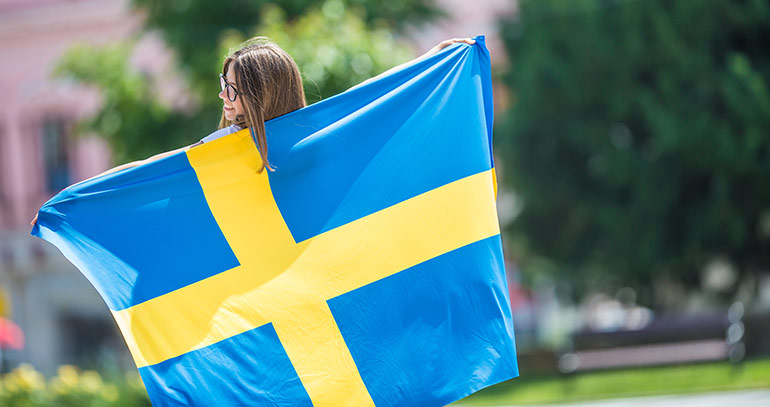 After all, the Swedes have a bit of a reputation for being wholesome, happy and healthy, and why wouldn't you want those attributes for your new-born baby girl?
Add to that the (very stereotypical) image of Swedish women being blonde, blue-eyed, strong and independent, and you can see why Swedish names for girls are having a resurgence in popularity.
So, if you're thinking of picking a Swedish name for your baby, we've done the leg work for you – we've looked into which are most popular Swedish girls' names right now, and which are the most common Swedish girls' names overall.
We've also looked into the origins of some of the most popular Swedish baby names for girls, so that you know what each name means and where it came from.
The top 10 Swedish girl names in 2022
Swedish girl names and their meanings
Classic Swedish girl names
Famous Swedish girl names
Unusual Swedish girl names
How to pronounce Swedish girls' names
200 Swedish girl names (A-Z)
The top Swedish girls' names in 2022
So what are the most popular names right now? We've ranked Swedish girls' names here by popularity. So, here are the top ten Swedish girls' names for newborns. 
Astrid
Maja
Alma
Vera
Freja
Leah
Ella
Alice
Selma
Lily
Swedish girls' names and their meanings
Some Swedish names originate from ancient Norse sagas, some from more recent traditions, while others derive from nature or religious cultures.
Often different sources suggest different derivations, and sometimes the origins have evolved or got lost over the years, leading to some names having several different meanings.
Here's an insight into the origins of some of the most popular Swedish names for girls.
Astrid
Top of the rankings, Astrid is currently the number one name for newborn girls in Sweden, and has long been a popular choice.
And what's not to love about this popular Swedish girls' name, which has Norse origins and means "divinely beautiful" or "God's strength"?
Sweden's best known Astrid is Astrid Lingren, author of a series of books about the independent, quirky and archetypical Swedish girl Pippi Longstocking.
Non-Swedes may associate the name more with the mellow tones of Brazilian Bossa Nova singer Astrid Gilberto, whose soulful rendition of the classic Girl from Ipanema is known the world over.
Maja
A truly Scandinavian name, Maja is a very popular name for girls in Sweden. Some sources say that it means "splendid" or the "goddess of springtime and warmth", while others claim is a corruption of the Arabic Marie, or Maria, and means "of the sea".
Either way, it's a very pretty name for a girl and certainly has a Swedish vibe.
Alma
The origin of the name Alma in Sweden is "loving", though its Latin origin means "nourishing" and "kind' – either way, they're pretty good characteristics to bestow on a baby!
Vera
A traditional name that is seeing a comeback in popularity in recent years, the name Vera is of Slavic origin, and means "faith".
It's thought to derive originally from the Latin word verum, meaning "true".
Freja
Freja is an old Norse name that means "lady or noblewoman". Freja (also sometimes spelt Freya or Frida) was the Norse Goddess of love, beauty and fertility, who is depicted as a blonde blue-eyed beauty in traditional Norse lore.
Leah
The name Leah has entered the Swedish top ten for the first time this year – perhaps surprisingly since it means "tired" or "delicate"!
It's a biblical name that is thought to derive from Hebrew word meaning "weary".
The alternative Latin derivation means "lioness", a very apt name for the England football player, Leah Williamson, who captained the Lionesses to victory in the 2022 Euros!
It's also the name of the feisty Princess Leia in Star Wars.
Ella
The name Ella come from German origins meaning "all, complete" or a "fairy maiden". However, it's more commonly used in Swedish as a diminutive of Elisabeth or Eleonor (meaning "shining light").
And there are no shortage of famous Ellas to take inspiration from, from the singers Ella Fitzergerland and Lorde (real name Ella Yelich O' Connor) to the Swedish actress/gymnast Ella Wahlestedt and Swedish film director Ella Lemhagen.
Alice
The name Alice comes from Germanic or English roots and it means "kind" and "of  noble origin". Lewis Carroll's Alice in Wonderland provided a possible early inspiration, though perhaps a more common influence today is Alice Cullen from the Twilight series of books and films.
Selma
Short for Anselma, Selma is a name of Celtic origins that means "beautiful view" or an old German word meaning "helmet of God" and "safe".
Lily
The name Lily (and its Nordic variations Lilja) derives from the flower, with the significance of "innocence" and "purity".
It come originally from the latin word lilium.
Well-known Lilys include the singer Lily Allen, the comedian Lily Tomlin and the actress Lily James.
Classic Swedish girl's names
And if you're looking for a more traditional Swedish girls' name, it's worth checking the most popular names for all Swedish women.
So, here are top ten favourite Swedish names for women of all ages, according to the latest figures from Sweden's official statistics bureau (compiled in December 2022). 
Anna
Maria
Eva
Karin
Lena
Emma
Sara
Kerstin
Malin
Linda
Anna
Anna is the most common name in Sweden for women of all ages, and means "grace". It is also a diminutive of the pretty Swedish name Annali, meaning "graceful meadow".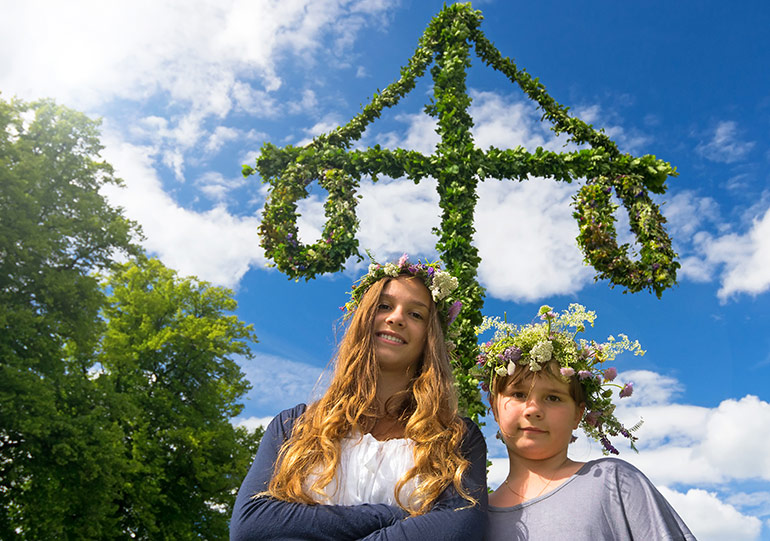 Maria
Although it's of Latin origin, Maria is very popular in Scandinavian countries and appears way back in several of the Norse sagas.
There are many variants, including Marie, Mary, Mariah, but the most common meanings of the name are "wished for child", "bitterness" and "rebellion". Other sources claim it as an Arabic word meaning "of the sea". 
There are plenty of well-known Marias to inspire, including opera singer Maria Callas, influential educator Maria Montessori, double-Nobel Prize winner, Marie Curie and tennis player Maria Sharapova.
Eva
Eva is a popular name in Scandinavia, Czech Republic and Poland and means "mother" or "life". The name is Hebrew in origin and, of course, is a variation of Eve, the first mother. Swedes often combine it with a second name, as in Eva-Lisa or Eva-Karin.
Karin
Pronounced a little bit like "car-in", Karin is of Swedish origin and means "the pure one". Originally, a Swedish variant of the name Katherine, it's been a consistently popular name in Sweden for many years.
Lena
Lena means "light" or "ray of light" and has connotations of being bright – a good choice if you want your daughter to grow up clever and studious! It's also often used a diminutive of longer names such as Helena, Yelena and Madalena.
Emma
Popular throughout Europe and the US, Emma has Germanic origins. Some sources suggest it derives from the Germanic word ermen, meaning "whole" or "universal", though other sources say it comes from ermunaz meaning "strong and powerful".
Either way, it's a good choice of name for a well-rounded child.
Sara
Originally from Hebrew, the name Sara means "princess". It's been popular in Sweden for a long time, with the first recorded use being way back in 1464.
Kerstin
A variant of Kristina, the name Kerstin is popular in Sweden and simply means a Christian or "follower of  Christ". It's thought to derive from the ancient Greek christos, meaning "anointed one".
Malin
The Swedish version of the name Magdalene, Malin is of biblical origin and derives from Mary Magdalene, a disciple of Jesus.
It's a unisex name that is popular in Nordic countries for both and women, and it means "high tower" or "women from Magdela".
Linda
The name Linda derives from the Spanish, Portuguese and Italian linda, meaning "beautiful girl" or "pretty girl".
It's also a popular abbreviation of the Swedish name Gunhild, which means "war" or "battle."
Famous Swedish "girls" (women!)
Greta is a well-known name shared by two eminent Swedish women: the Swedish-American film star Greta Garbo (1905–1990) and the inspiring climate activist Greta Thunberg.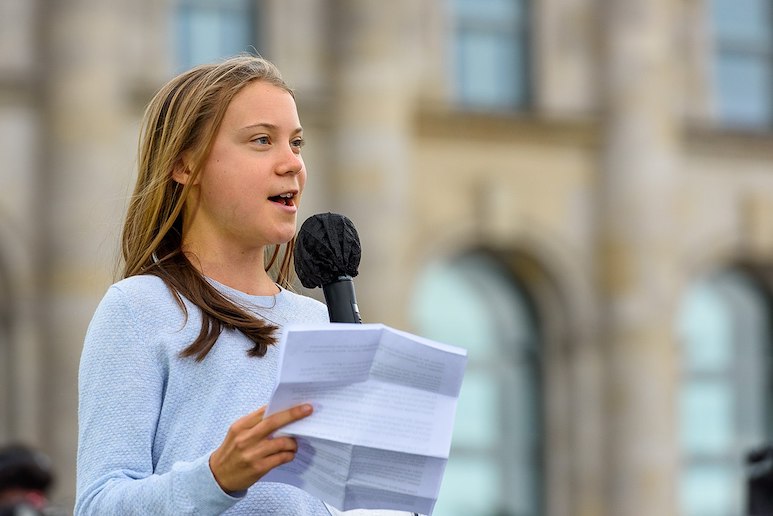 Short for Margareta, it comes from Greek origins and means "pearl" or "little pearl".
Probably the most famous Swedish Ingrid is the film star Ingrid Bergman (1915–1982), whose name means "beautiful Ing". This refers to the God of fertility, Ing, who was said to be particularly handsome.
Ingrid of Sweden is also, confusingly, the name of the Queen of Denmark from 1947 until 1972. She was the daughter of King Gustaf VI Adolf of Sweden and married King Frederick IX of Denmark.
The Swedish-Canadian actress Malin Åkerman, who has acted in many Hollywood films and TV series, is possibly responsible for the name Malin entering the top ten of popular names this year.
Annifrid, or Frida, Lyngstad is the name of a singer in one of the world's best-known pop bands, Abba. An Old Norse name, it means "beautiful eagle".
The name of Abba's other female singer, Agnetha Fältskog, is a Scandinavian version of the Greek name Agnes, and means "pure" or "chaste".
Unusual Swedish girl names
But maybe you want something completely different, a name not at the top of the popularity lists. And one that no-one else in the school playground is likely to have.
Here are five options for unusual Swedish names.
Wilma. Short for Wilheminia, it means "strength" and and derives the Germanic word for "helmet". A good choice for those wanting to bring their daughter up strong and brave.
Berget. The Swedish version of Bridget, Berger means "power" and "strength" – also a great name for a girl.
Gunilla. A great Swedish name, that is often shortened to Nilla. It was the name of one of Thor's daughters and means "battle maiden".
Ronja. Created by the Swedish author Astrid Lindgren in her book, Ronja Rövardotter, the name Ronja comes from the middle letters of Lake Joronjaure in Sweden.
Saga. Pronounced "say-aa", Saga means "prophet" or "all-seeing one". Saga was the Norse goddess of storytelling and poetry, and the brilliant detective in the Nordic crime drama The Bridge.
How to pronounce Swedish girls' names
And if you want to know how to pronounce some of these names in the truly authentic Swedish way, check out this video:
200 Swedish girl names (A to Z)
Not a fan of the top ten Swedish girl names? Try these other Swedish girl names, from Agnes to Yvonne! These are the top 200 most common names for females in Sweden, according to the official statistics bureau.
| | | |
| --- | --- | --- |
| Agnes | Agneta | Aina |
| Alexandra | Alice | Alicia |
| Alma | Alva | Amanda |
| Andrea | Anette | Angelica |
| Anita | Ann | Ann-Charlotte |
| Ann-Christin | Ann-Marie | Anna |
| Anne | Anneli | Annelie |
| Annette | Annie | Annika |
| Åsa | Astrid | Barbro |
| Beatrice | Berit | Birgit |
| Birgitta | Britt | Britt-Marie |
| Britta | Camilla | Carin |
| Carina | Carolina | Caroline |
| Catarina | Catharina | Cecilia |
| Charlotta | Charlotte | Christina |
| Christine | Clara | Claudia |
| Cristina | Daniela | Daniella |
| Desiree | Edith | Eivor |
| Elin | Elina | Elisabeth |
| Ellen | Elvira | Emelie |
| Emma | Erika | Erna |
| Ester | Eva | Evelina |
| Frida | Gabriella | Gun |
| Gunilla | Gunnel | Hanna |
| Helen | Helena | Helene |
| Hilma | Ida | Ines |
| Ingela | Inger | Ingrid |
| Irene | Isabel | Isabella |
| Isabelle | Jeanette | Jenny |
| Jessica | Johanna | Josefin |
| Judit | Judith | Julia |
| Julie | Karin | Karina |
| Karolina | Katrin | Kerstin |
| Kristin | Lena | Liliana |
| Linda | Linn | Lisbeth |
| Liselotte | Liza | Louise |
| Lucia | Madeleine | Magdalena |
| Malin | Margareta | Maria |
| Marianne | Marie | Marina |
| Marit | Marta | Mary |
| Mathilda | Matilda | Monica |
| Nathalie | Nina | Nora |
| Olga | Paula | Pernilla |
| Petra | Rachel | Rebecca |
| Regina | Renate | Rita |
| Rosa | Rose | Rose-Marie |
| Rut | Sabina | Sabrina |
| Sara | Sarah | Signe |
| Sigrid | Sofia | Sonja |
| Stina | Susanne | Sylvia |
| Tanja | Terese | Therese |
| Tina | Ulla | Ulrika |
| Ursula | Valentina | Vera |
| Veronica | Viktoria | Wilma |
| Ylva | | |
See also:
Swedish boy names
Stockholm for kids
Female Viking names and their meanings
Theme parks in Scandinavia