Many trips to Finnish Lapland begin in Rovaniemi. It's the 'official' home of Santa Claus and the starting point for several tours into the wilderness.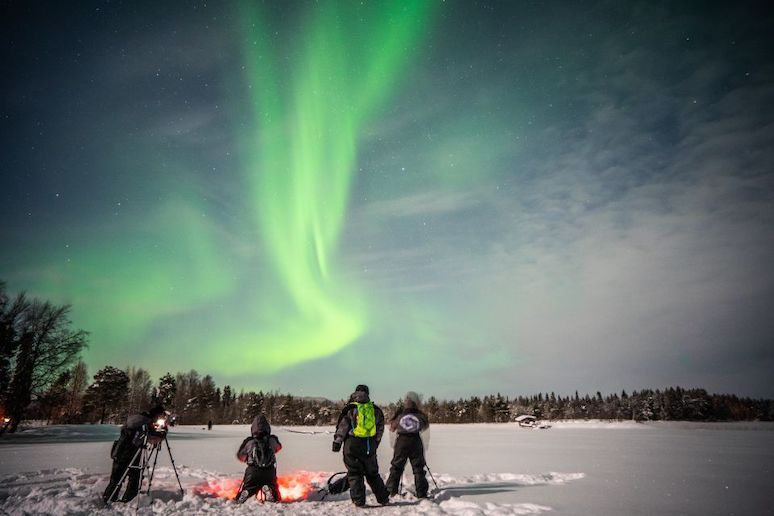 Rovaniemi is an excellent place for photography, and joining a tour can inspire your creativity and help you meet like-minded people.
We'll cover five of Rovaniemi's very best photography tours in this article, so grab your tripod and let's start shooting.   
Why is Rovaniemi such a great place for photography?
Rovaniemi enjoys a scenic backdrop, and you don't need to travel too far out of town for abundant landscape photography opportunities.
And if you're into urban photography, don't let the bland first impressions put you off – there are still some fun spots for city snapshots. 
For example, the distinctive Lumberjack's Candle Bridge is one of the most iconic structures in Finnish Lapland.
And if you're into drone photography, you might want to capture Rovaniemi from above.
With aerial photography, you'll be able to see how Finnish architect Alvar Aalto's design of the downtown area resembles a reindeer's head. Yes, really.
When's the best time of the year for photos in Rovaniemi?
Autumn is arguably the most scenic time for photography in Rovaniemi, and you'll find breathtaking colours in the foliage of the forests nearby.
Temperatures aren't too low yet, so you can spend longer outside – and you don't have to worry about the cold damaging non-weather-sealed equipment.
Autumn is a short season in Rovaniemi, lasting from roughly late August until mid-to-late October.
Snow usually starts falling in November, and it typically stays until April.
With more daylight hours than December, March is arguably the best time for winter photography in Rovaniemi.
June and early July are also worth considering; a visit during this period will coincide with the Midnight Sun.
How much do photography tours usually cost in Rovaniemi?
Prices vary, but you can expect to pay between $100–190 (approx £85–160) for a half-day photography tour in Rovaniemi. 
What are the best photography tours in Rovaniemi?
So if you're ready to start snapping, check out our five favourite photography tours in Rovaniemi, to help you get perfect pics.
Take perfect pics of the northern lights
Many photographers visit Rovaniemi to capture the northern lights, and this tour is ideal for those looking to get the perfect pics of this fantastic phenomenon. 
You'll be accompanied by a professional photographer who'll take you to a few locations around Rovaniemi and give you tips on getting the best shots.
The 4–5 hour tour includes winter clothing and stuff to make a BBQ with if you wish. The guides will also provide hot drinks and snacks for your adventure.
Bring a tripod with you just in case!
Snowshoe across the wilderness on a photography adventure
If you're looking for a daytime photography adventure, add this experience in the snow to your Rovaniemi itinerary.
You'll receive tips from a professional photographer, and the tour will take you to hidden locations in Finnish Lapland's glorious natural wilderness. 
Snowshoes and poles are included in the tour and you'll receive warm clothing, along with hot drinks and snacks.
During the adventure, you can also shelter from the cold in a rustic wooden hut with a campfire. 
Go on an awesome aurora borealis photography trip
This aurora photography trip transports you outside Rovaniemi, and you'll receive tips on capturing the phenomenon from a pro photographer.
Moreover, you can also get your own picture taken amongst the illuminated sky.
The tour will pick you up from the city centre, and you can enjoy cookies, hot drinks, marshmallows and more.
If you don't have a tripod, you can rent one – but you'll need to pay an additional fee. Winter clothes are provided.
Discover Rovaniemi city on a photography tour
You don't need to leave downtown Rovaniemi to capture memorable shots for your Instagram feed.
This two-hour tour focuses primarily on the city, where you can photograph some of Rovaniemi's iconic landmarks – such as the city's main bridge.
You can also get stunning shots of the surrounding nature.
Besides taking your own photos, the guide will take shots of you and your friends. So, if you're looking for a new profile picture, this might be the tour for you.
Head into the Nordic forest wilderness on a photography expedition
If you're into nature photography and want more of a low-key experience, this expedition should be on your radar.
The five-hour tour provides excellent vantage points for your photos, and you'll experience numerous scenic landscapes throughout your trip.
The tour provides warm clothes plus a light lunch. Moreover, you can light a BBQ and enjoy both drinks and snacks. If you don't bring a backpack, you'll receive one for the trip.
Tips for choosing a photography tour in Rovaniemi
Many tours provide warm winter clothing and warm boots, but others don't. Check before you book. 
Think about whether you need a tripod. Photographing the Northern Lights will require you to use a long exposure, which is almost impossible to do handheld. If you bring your own, use a carbon fibre tripod to withstand the cold. 
Some tours include drinks, meals and snacks; others require you to bring your own. Read the tour info carefully and pack a few extras just in case.
Are you travelling with children? Some photography tours in Rovaniemi aren't suitable for children under 10. Check the age requirements before booking. 

Are there camera shops in Rovaniemi?
Rovaniemi has a selection of camera shops if you need extra tripods, SD cards or batteries. Two to consider are:
Cool places for photographers to stay in Rovaniemi
And if you're looking for somewhere to stay in Rovaniemi while you do your tour, here are some good options.
Nova Skyland Hotel
Do you fancy staying in a cabin in the middle of a forest with nothing but trees, lakes and reindeer around you?
Then check out the Nova Skyland Hotel, right next to the Arctic Circle Husky Park and not far from the Santa Claus Village.
Riekko Chalet
The Riekko Chalet is just outside Rovaniemi's city centre, and you'll find plenty of hiking trails within close proximity.
You can also hop in the sauna here because – let's be honest – what trip to Finland is complete without doing that?
Pandomes Aurora Igloo Hotel
Stay in an igloo in the middle of the Finnish wilderness, at this hotel just over 30km from the Santa Claus Village.
As you're far away from the city, there's little light pollution, so you might get lucky and see the northern lights. If you don't, the surroundings are scenic enough.
See also:
The best snowmobile tours in Rovaniemi
The best places to visit Santa in Sweden, Norway, and Finland
Sweden vs. Finland: Which country should you visit?