Up in the Arctic Circle, Levi is Finland's largest ski resort and a great place to try winter sports and activities of all types.
One of Finland's most northerly ski centres, it has a long ski season, with snow from around October to May.
Skiiing and snowboarding are big attractions here, but the resort also has plenty of places where you can try other activities such as dog sledding, reindeer sleigh rides, ice-fishing, Santa visits, northern lights trips and, of course, snowmobile tours.
So what is snowmobiling?
Basically, it's like jet-skiing but over snow rather than water! A snowmobile is a motorised vehicle that runs across the snow on caterpillar tracks or on skis.
Sometimes also called skidoos, snowmobiles usually seat one or two people.
For some local people, snowmobiles aren't just for tourists – they're used for all sorts of everyday jobs like going to the store or even heading to work.
If you're going on an organised snowmobile tour, all the safety gear will be provided, including thermal overalls, helmet, goggles, balaclava, boots and gloves.
What types of tours are available?
You can choose pretty much any combination of snowmobile tour in Levi. There are night tours that go out in search of the northern lights, day tours where you get to see the pristine natural landscapes, and family tours where you can take the kids for a fun snowmobile ride across the snow.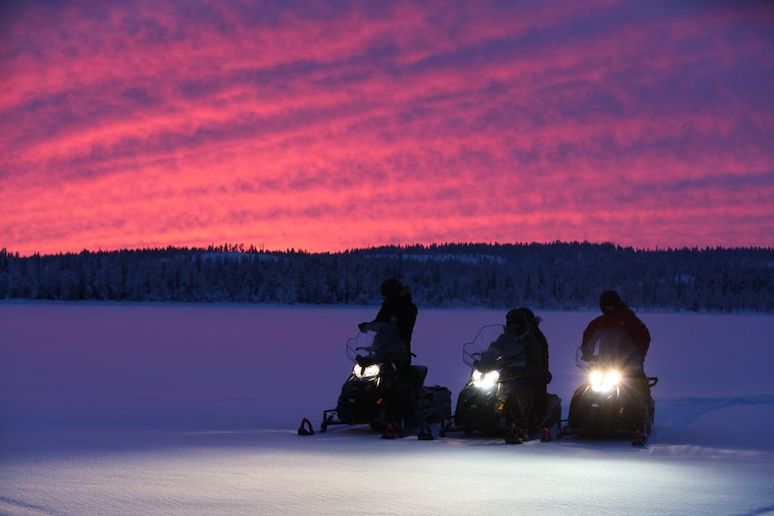 You can also combine a snowmobile tour with learning about local Sami traditions, going ice-fishing or exploring the remote forests and lakes of Lapland.
Our 6 favourite tours
So, which tour to choose? Well, we've picked out our top six favourite snowmobile trips to help you decide.
Have a half-day snowmobile adventure
This classic small group snowmobile tour takes you out into the unspoilt snowy wilderness around Levi. You'll whizz over the snow on a 50km trip past frozen lakes, through towering pine forests and magical landscapes.
See the northern lights by snowmobile
Combine two bucket-list experiences in one, with this northern lights hunt by snowmobile. You'll set off through the Lappish landscape beneath the stars and moon, in search of the glow of the aurora.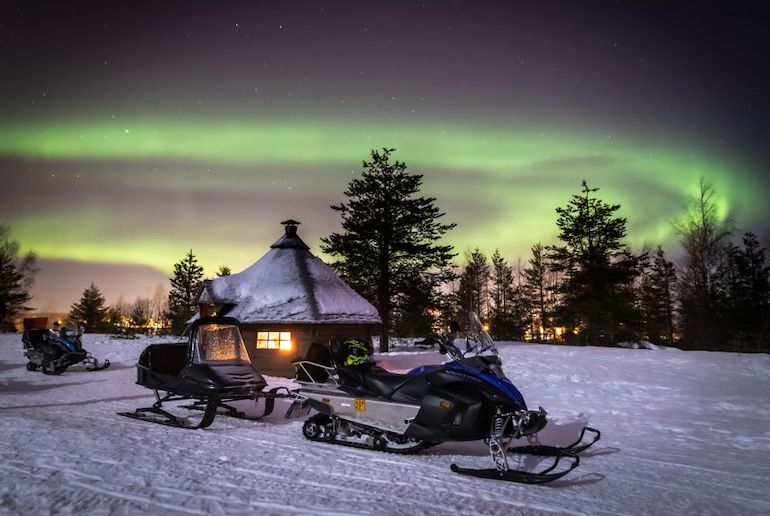 Then, you'll stop for a barbecue and a warming drink round the campfire, far from any light pollution, with the northern lights above – if you're lucky!
Enjoy an eco-friendly electric snowmobile trip
Reduce your carbon footprint by opting for an electric snowmobile ride through snow-covered forests and pristine landscapes.
Not only is it better for the environment, but it's quieter than a conventional snowmobile so you can enjoy the peace and tranquility of the Lappish countryside.
Double the thrills with a snowmobile and ice-karting trip
For the ultimate in adrenaline adventures, this tour combines a snowmobile trip through the countryside with an exciting session of driving a go-kart around a professional ice track.
Expert tuition and all the gear is provided for this super-thrilling tour.
Go ice fishing by snowmobile
Learn the ancient Arctic art of ice-fishing with a modern twist. You'll head out to the frozen river by snowmobile, where an expert guide will help you drill a hole in the ice and teach you all the skills and techniques of fishing in freezing conditions.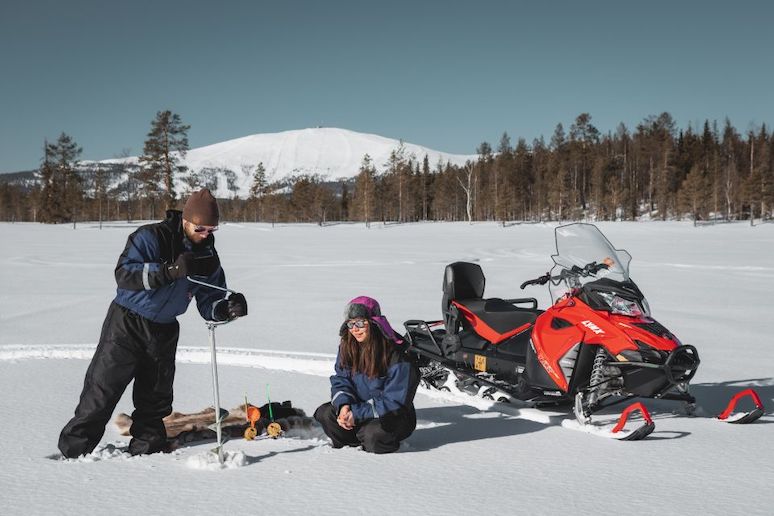 While you're fishing, the guide will light a campfire and cook up a traditional soup for lunch to accompany your catch.
Visit the Snow Village by snowmobile
Levi is home to the Snow Village – a winter wonderland of creative ice sculptures, igloos, an ice bar and restaurant, and a hotel with themed rooms built of snow and ice.
And what better to way to arrive there than by snowmobile? This trip includes a snowmobile trip there, plus entrance into the Snow Village itself.
Skill levels and requirements
Most snowmobile tours in Levi are suitable for complete beginners, with expert advice and tuition provided.
You can usually opt to either drive the snowmobile yourself or ride as a passenger on the back. Either way the guide will give you safety instructions and teach you all you need to know.
Only adults can drive the snowmobiles, and will need a full valid drivers licence, though children over 140cm tall are usually allowed to ride as passengers.
However, this varies depending on the trip and company, so always check the T&Cs before booking.
Most trips are not suitable for pregnant women or those with impaired mobility.
What to expect
The typical terrain around Levi that you'll experience is snowy landscapes, frozen lakes and pine forests.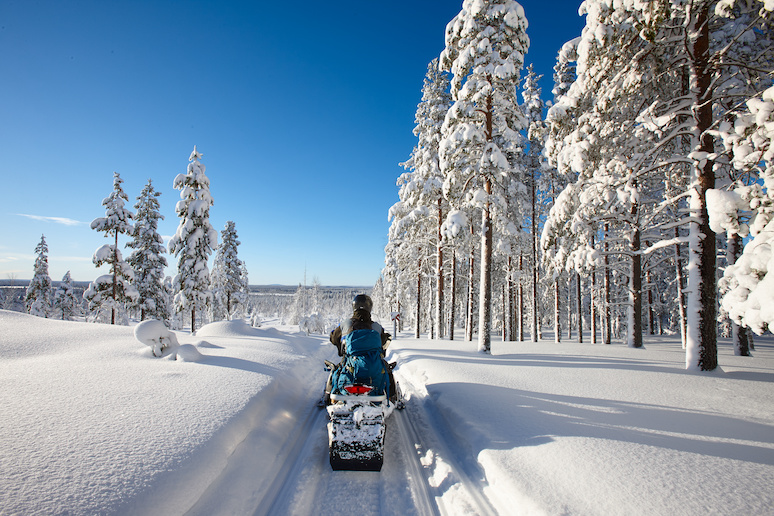 The tours vary from a one-hour taster tour to a five-hour trip that combines snowmobiling with other activities, such as ice-fishing or visiting the Snow Village.
Many tours include a stop en-route, with refreshments or warm drinks round a campfire.
Safety and preparedness
Snowmobiles are pretty hardy and most trips take place in rain or sun. If you're going on a northern lights snowmobile trip, it's a good idea to check the forecast before booking as you won't see anything if the sky is not clear.
If the company cancels your tour due to extreme bad weather they will usually reschedule or give you a refund, but check individual T&Cs first. If you cancel because it looks a bit cold or wet, you're unlikely to get a refund!
Most operators provide good quality gear, including thermal overalls, helmets, gloves, socks, boots and balaclava so you should be warm enough.
And all companies go through safety instructions and emergency procedures, as well as teaching you how to drive the snowmobiles.
Beyond snowmobiling
Once you've experienced the thrill of snowmobiling there are plenty of other activities that you can do in Levi, including husky tours, ice floating, reindeer rides, snowshoe trips, Finnish pony rides, skiing and snow-boarding.
Or for a more relaxing post-tour experience, why not learn how to ice-sculpt or chill out in a Finnish riverside sauna?
And if all that exercise has made you hungry, you can try some traditional Sami food at the restaurant Sámi Gammi, which serves up tasty Sami dishes, such as fish soup and reindeer, by an open fire.
See also:
Snowmobile tours in Iceland
Snowmobile tours in Rovaniemi
Snowmobile tours near Kiruna, Sweden