Finland is full of fun and fantastic places to stay, whether you're looking for an upmarket design hotel or a simple cabin in the woods. We've trawled through a selection of treehouses, private islands and lakeside lodges – many with their own sauna, of course – and picked out our 10 favourite places to stay in Finland.
Try a treehouse in the Arctic Circle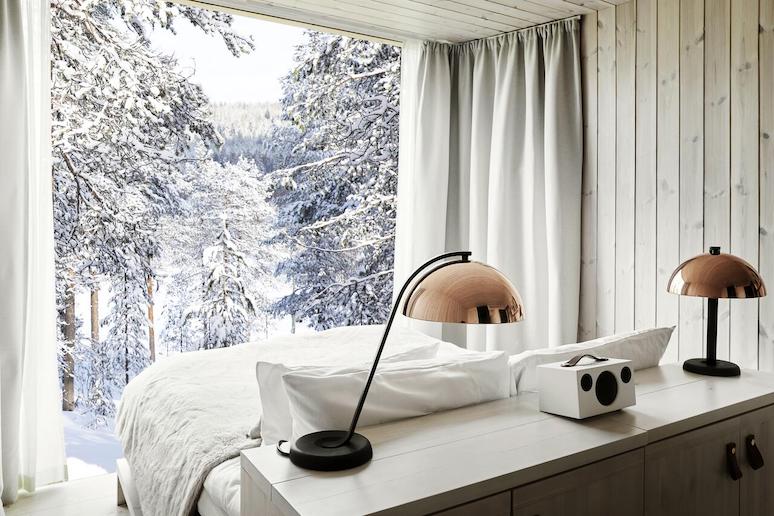 These super-smart cabins in the woods have floor-to-ceiling windows with fantastic views over the forest. Near the town of Rovaniemi on the edge of the Arctic Circle, these comfortable elevated rooms have chic Finnish design and are close to all the festive action of Finland's iconic Santa Claus village.
Relax on a private island
For a real Robinson Crusoe experience, this wooden cabin sits on a private island in the middle of Lake Tuomiojärvi. It has an outdoor hot tub, a sauna and its own private beach – or you can simply sit back on the wooden deck with a glass of wine and watch the water drift by. And if you need a bit more action, it's just a ten-minute trip by rowing boat to the nearby town of Jyväskylä.
Enjoy the views from this lighthouse on an island
Fancy staying in a lighthouse on an island in the Bothnian Sea? Built in the 1950s, the lighthouse sits on Kylmäpihlaja Island off Finland's west coast. Some 30 metres high, the lighthouse has 12 floors, with the guest rooms in the tower itself – and all have wonderful sea views. There's an outdoor hot tub and sauna plus restaurant on the ground floor too. Boats out to the lighthouse leave from the mainland port of Rauma.
Gaze at the northern lights from this glass igloo in Lapland
High up in Finnish Lapland, these glass-domed igloos are perfect for lying in bed and looking up at the northern lights in the skies above. In a remote location, close to the Urho Kekkonen National Park, the igloos are great for an away-from-it-all trip, but with plenty of activities nearby. Some igloos come with their own sauna, and husky, reindeer and snowmobiles can be arranged, while there's good skiing at the nearby resort of Saariselkä.
Hang out in a tent in a tree near the Russian border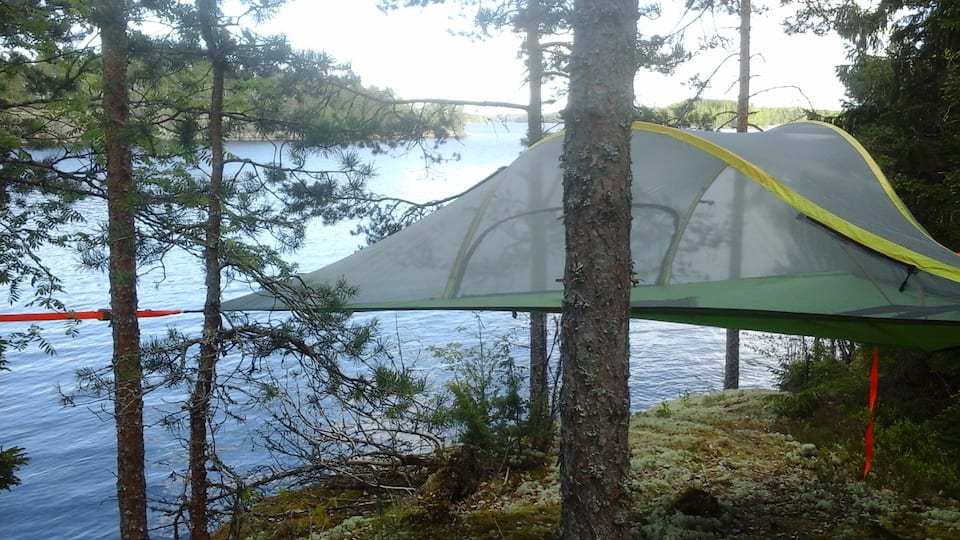 For those who like camping, the tent-in-a-tree is a cross between a tent and hammock and is slung up in the woods to give you a comfortable night's sleep surrounded by nature. There are several sites in Finland where you can sleep in these cosy tree-tents – including one on an island in the centre of Helsinki – but this one really caught our eye.
In the east of Finland, towards the Russian border, it's in a peaceful spot down a remote track on the shores of lake Saimaa, with wooden sauna cabin and a swimming jetty close by.
Stay on the water in this Helsinki houseboat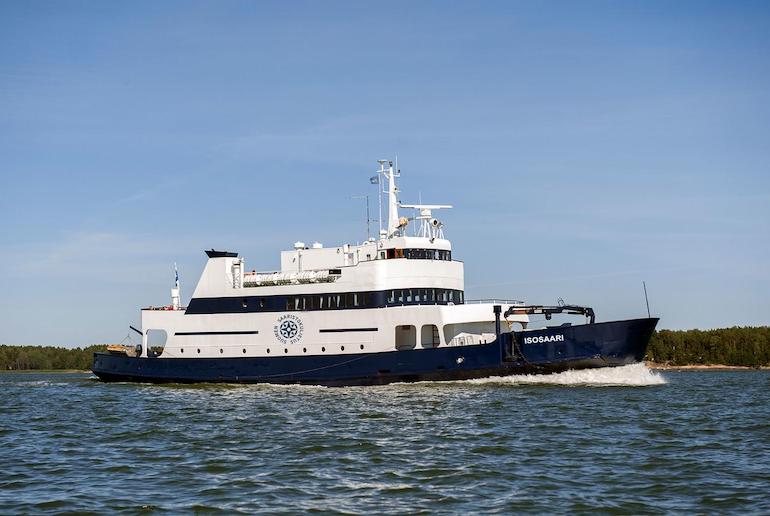 Cheap, cheerful and fun, this hotel on a boat is moored on the harbour in the centre of Helsinki. The Hotel Boat Isosaari has cabins with bunk-beds and portholes, a communal kitchen/lounge and – this being Finland – an on-board sauna. The rooms are basic, but it's clean and in a great central location.
Chill out at this designer house by a lake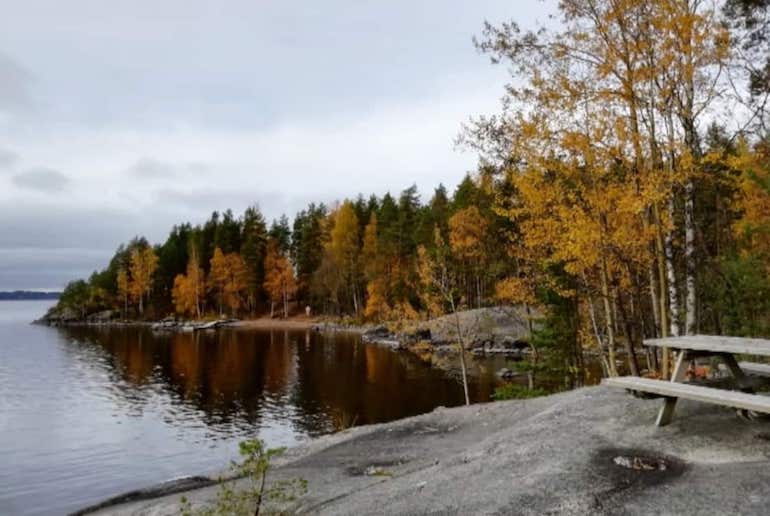 This lovely lakeside house combines stylish Finnish design with a back-to-nature vibe. It's got great views of Lake Päijänne, and plenty of walking trails through the surrounding woods and countryside. The decor is contemporary minimalist chic, and it comes with all mod cons including, of course, its own sauna.
Admire the art at this design hotel in Helsinki
Fans of Finnish design and art will love the swish Hotel St George in the centre of Helsinki, which has been hosting upmarket guests to the city since the mid nineteenth-century. The hotel is festooned with artworks and sculptures by well-known Finnish and international artists, including Ai Weiwei, while Alvar Aalto's iconic Angel Wing lamps light up its Wintergarden lounge.
Cosy up in this log cabin in the woods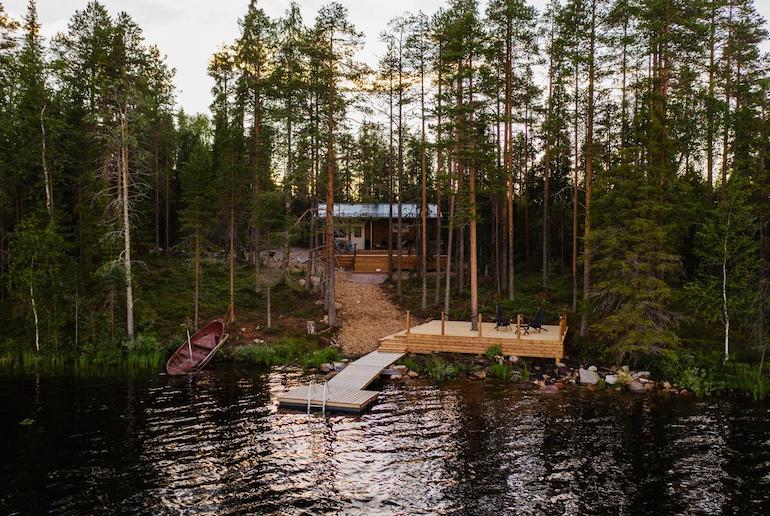 This lovely log cabin in the woods comes compete with its own sauna, outdoor hot tub on a wooden deck, swimming jetty and fantastic views of the lake. There's even a boat for exploring Lake Viiksjärvi – and the nearby husky farm can take you out dog-sledging.
Chill out in a snow hotel in the Arctic
And for the true Arctic experience, you can't miss out on a night at the Arctic Snow Hotel near Rovaniemi. You'll sleep in a room made of ice and decorated with ice sculptures, on a bed made made ice – though you'll be in a super warm thermal sleeping-bag, of course. Snow-sculpting, ice-fishing and snowshoe trips can be arranged too, in case you haven't had enough of the white stuff!
See also:
12 of the best places to stay in Scandinavia
10 of the coollest Airbus in Scandinavia
10 amazing hostels in Scandinavia